Last week on a trip to Vrancea, I visited the impressive mausoleum of Marasesti built in 1919. An imposing site and final resting place to a prestigious list of Romanian military names amongst them Henrik Cihoski and Eremiah Grigorescu, the mausoleum holds the remains of 5,073 Romanian soldiers and officers killed in the First World War. It is dedicated to the commemoration of the Battle of Mărăşeşti and the Romanian army.
The memorial took architects George Cristinel and Constantin Pomponiu 15 years to build and was unveiled on 18 September, 1938 by King Carol II.
I was profoundly moved by one particular memorial - that of Mariuca Zaharia. Why? Because Mariuca was only twelve years old when she died.
What was she doing interred in a military mausoleum, you'll be asking if you aren't Romanian and thus don't know the story any more than I did.
Well, here it is:
Mariuca (or Maria as she was baptised) was born in the village of Razoare in 1905, not far from Marasesti. The surrounding forests and Mariuca's village itself were part and parcel of an ever-growing dispute between Romanian and German troops.
Her grandfather Ion Zaharia built an observation post in a walnut tree at the back of his house for the Romanian artillery from whence one could see all that was going on along the Front. In the event of an attack, the soldier on watch duty would telephone and report the exact coordinates to the artillery who would then open fire on the oncoming enemy.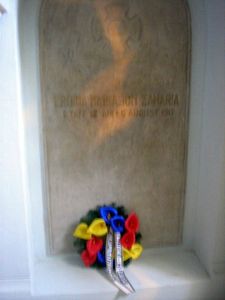 A few days later, the soldiers on duty were joined by Ion's grand-daughter, little Mariuca. They were most amused it seemed, and probably glad of the company. They showed her where the German lines were and let her use their binoculars. With time, Mariuca became a very proficient watchman, transmitting data on German advances to the Romanian soldiers from her post up in the walnut tree.
One day, the enemy was spotted advancing amongst the trees in the forest. It was not the soldiers who noticed the German troops however, but Mariuca herself who alerted the Romanian watchmen on duty and saved the day.
In August 1917, at the age of twelve, Mariuca was killed by a German sniper.
A film was made about Mariuca Zaharia in 1969 starring Brândușa Hudescu and Ion Caramitru - Balada pentru Mariuca.
If anyone deserves a place of honour at Marasesti it's Mariuca Zaharia, the all but forgotten fallen hero of WWI - a child gunned down in a grown-ups bloody war before she'd had the chance to live a full life of her own...
(Photos by Sarah In Romania)