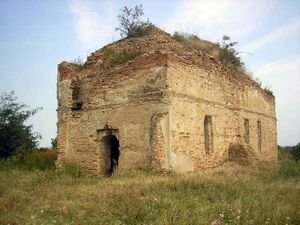 In Odobesti, jud. Vrancea, southern Moldova stands a church. Or the remains of a church. More the shell of a church. If there is anything left to see of it at all, it is no thanks to contemporary efforts made, but to a spankingly solid structure built to last two and a half centuries ago. It is a masterpiece in architecture boasting impressive quality material and majestral ornamentation. But one can see very little of that today.
Found on str. Cazaclii in the Satul Nou neighbourhood, the history of the church dedicated to Saints Peter and Paul built in 1777 by the cazaci (cossack) wine merchants from the Caspian Sea who traded between Romania, Ukraine and Russia (cazaci from the Turkish Kazaclii meaning 'adventurer' or 'free man') is linked to the very heart and soul of Odobesti - wine. It was probably an important point on the wine trail and a direct consequence of the wealth the grape brought to the rich Odobestians of the time.
The church of Sfinţii Apostoli Petru si Pavel was damaged by several serious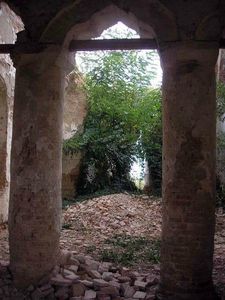 earthquakes in the first half of the XIXc, devastated by German troops in WWI and then finally abandoned in 1940. Unfortunately and despite much goagaling, I cannot find any photos online of how it once looked in its glory days before the decline from 1859 onwards.
In 2009, it was approved for the list of historic monuments, classified Group A ref. VN-II-m-A-20956 and published in Monitorul Oficial 560 on 12th August of the same year. And yet nothing so far has been done to protect any further deterioration. Nothing has been added by way of a make-shift roof for example; no fence has been placed to surround it, and as far as I could see, there is nothing to even point out that it is a historic monument. Somebody did tell me that things were in the pipeline to save it, but it's taking a very long time. A bid was made by the townhall to various companies for the renovation, but the one that was actually charged with the contract didn't agree with the townhall (or vice versa) on several levels, if I understood correctly. Result: Nimic. So much for Historic Monument status...
However, I was assured that Odobesti isn't Bucharest, that things DO get done and that care and respect ARE given to historic monuments. There is a great deal of work going on by way of projects, both with the help of the EU and independently, to bring Odobesti back to the beautiful town it once was before communism - see THIS excellent article from RL on what communism did to Odobesti and the surrounding wine region - and signs of that ARE evident. For this church though, I am crossing fingers hard. It is a beauty, both structurally and historically. To lose it would be a tragedy.
Photos: Sarah in Romania (please ask before nicking)