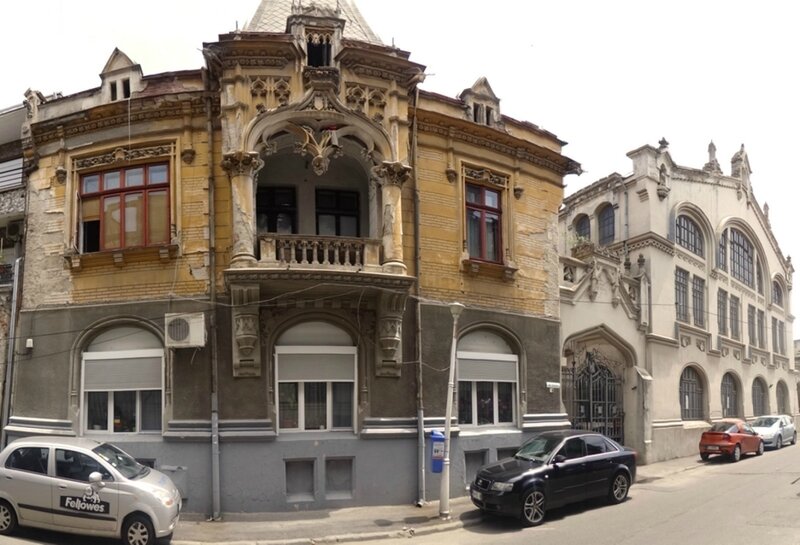 (Photo source: Cotidianul) Passing these two striking buildings joined by a passerelle whilst out for a walk with a friend on Friday afternoon, I wondered, not for the first time, what tales lay behind them. Somebody had told me a long time ago that the larger one on the right had been a synagogue, and this medieval-looking edifice in the middle of the city certainly does have something synagogue-ish about it, with its imposing neo-gothic architecture.
A security guard in a yellow plastic jacket (he must have been boiling in 35°) was behind the gate in the courtyard. Seeing us standing there, he and a woman he was chatting to came over to see what we were up to.
"Sorry to bother you. Could you tell me anything about these incredible buildings?" I asked him.
He looked at me as if I must have been hit on the head by a flying bag of spanners, and shrugged.
"Was this one ever a synagogue?" I indicated to the right-hand building.
"No. Never," he replied.
"So, what was it?" I persisted.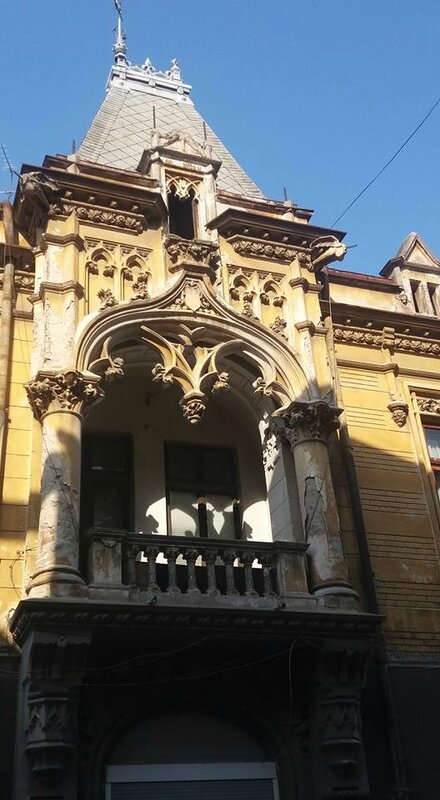 (Photo source: Sarah in Romania) Of course he wanted to know where I was from and why I was so interested, so I explained that I had passed it many times and was simply curious to learn the history of such a majestic pair of buildings.
Satisfied that I wasn't related to anyone out to claim back a heritage or with some other hidden motive apart from admiration of the touristic sort, he explained that it had been a factory in the times of Regele Mihai, but didn't know what kind. Now, he told me, it was used to store archives.
Pleasantly surprised to find a guard who actually knew something about the buildings he was taking care of, we thanked him very much, lingered in front of the larger building a while longer as my imagination went bonkers and then continued our walk. I was determined to find out more as soon as I got home.
We did rather doubt the security guard's explanation, though. How on earth could such a stunning building have been a factory? And archives, I thought as we walked. Really? With grimey windows and such an unoccupied air? Could it house something as important as a part of the country's archives? And what about the ornate house next door?
When I got home, I put out a message to friends asking for info.
Mara Popa replied almost at once with THIS article written by Dan Ghelase in Cotidianul featuring some splendid photos of the interior plus THIS video, and confirmation that the larger building had indeed been a factory. For carriages.
A monument of industrial architecture, it is registered on the LMI as a category B, reference B-II-m-B-19597.
Radu Oltean then answered with the same info, adding that the first building, more residential-looking but in the same sort of architectural style, had been home to the factory's owner.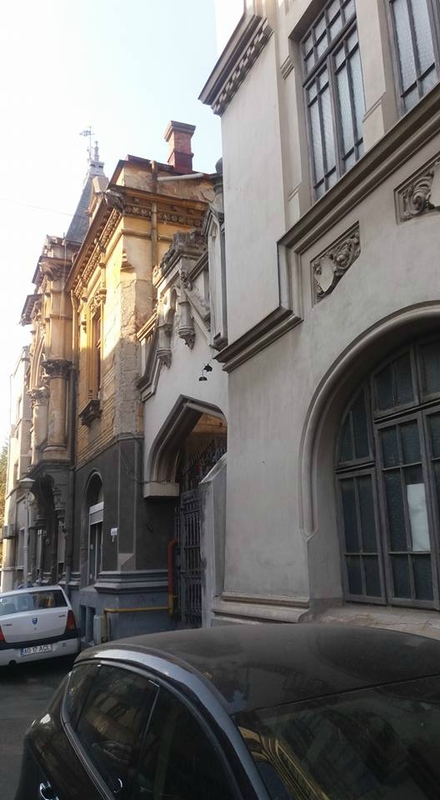 (Photo source: Sarah in Romania) Next came a very informative reply from Silvia Colfescu who said that the richly decorated predominantly neo-gothic house with Art Nouveau detail dated pre-1899 and, due to its style, could possibly have been the work of architect Ziegfried Kofszinsky also responsible for Carul cu Bere, whilst the newer factory with its eclectic façade and decorative Byzantine-Moorish elements was built between 1911-1927 by German architect H.I. Rieber. The Carriage Factory, she explained, became a car service (garage?) for German cars during the interbellic period until it was nationalised.
Today, she wrote, the Carriage Factory (or Rieber Factory, as it was known) building is owned by the state and does indeed house a section of Romania's National Archives, whilst the house, says Dan Ghelase's article (dated 2014), is in the throes of a restitution battle.
So now we know. And the security guard wasn't far off after all.
For more information, see Metropotam and Hai la Bord.
My thanks to Mara Popa, Radu Oltean and Silvia Colfescu for all their wonderful information so promptly shared.