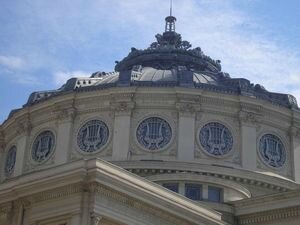 (Photo: Sarah In Romania) The steps of the Romanian Athenaeum concert hall in the centre of Bucharest have long been a favourite vantage point for watching the world go by while concert (and sometimes conference) nights in this beautifully ornate, circular, domed main hall leave you entirely at one with both surroundings and history as the music ebbs to its sublime close. Ateneul Roman is very much part of home to Bucharest's music-lovers.
Today, it is residence to the George Enescu Philharmonic Orchestra and choir, along with the George Enescu International Music Festival. Take a look at this marvellous virtual tour if you've never had the pleasure to put a foot beyond its doors.
In 1865, cultural and scientific personalities Constantin Esarcu, V. A. Urechia, and Nicolae Creţulescu founded the Romanian Atheneum Cultural Society. To serve its purposes, the Romanian Athenaeum, a building dedicated to art and science, was erected in Bucharest, says Wikipedia.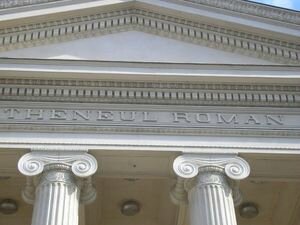 (Photo: Sarah In Romania) Designed by French architect Albert Galleron on a property that had belonged to the Văcărescu family, it was inaugurated on 14th February, 1888, although work continued until 1897. Built with funds collected publicly following a national lottery - 500,000 tickets were issued at one leu each. The scientist Constantin Esarcu (1836-1898) addressed an appeal to the people of Romania: "Give one leu for the Ateneu'!" - a lesson in unity and an awakening of national conscience. The slogan is still remembered affectionately today.
In addition to being a great symbol of culture, Ateneul Roman is also a historical site, for, on December 29, 1919, a conference of leading Romanians voted there to ratify the unification of Bessarabia, Transylvania, and Bukovina with the Romanian Old Kingdom to constitute Greater Romania.
The graceful, circular-form of the building is owed to an already existing foundation in the Diocese Garden (Grădina Episcopiei), once destined for ... a circus. Its facade, inspired by the architecture of ancient Greek temples with its majestic row of columns, is supported by a triangular pediment. At the time, its placement was much criticised, but today, Ateneul Roman is an oasis close to the bustle of Calea Victoriei and a nearby carpark - one can't imagine Bucharest without it.
When I lived here back in 2008, I was treated to a tour (my first) of this exceptional gem by one of the pianists hired to accompany the George Enescu choir. Back-stage we went, full of what had been scenery and all kinds of bits and pieces, the room where the choir members could change, eat, etc. In the main hall, I stood there like a goldfish, opening and closing my mouth in wonder, as she explained the fresco encircling the walls depicting the history of the Romanian people in 25 'chapters'. Of course, I had sat in the audience many times and gazed at it, but hadn't known who was who nor what chapters referred to which parts of history.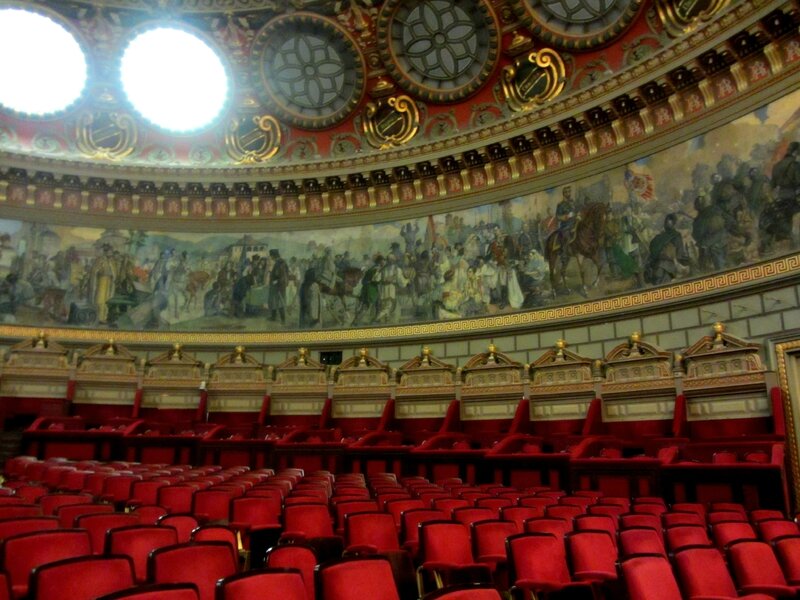 (Photo: Sarah In Romania) There, all the stories I'd been told unfolded before me - Emperor Traian entering Dacia; Stefan cel Mare (who was actually not so 'mare' but rather short!); Mihai Viteazu and the unification of the three principalities; Horea, Closca and Crisan the three heroes of the Peasants' Revolt; Carol I; King Ferdinand and Queen Marie of Romania and many more.
Here too, I was told, on 1st March 1898, the chords of George Enescu's divine symphonic suite "Poema Romana" rang out for the first time. Holding the baton was George Enescu himself, aged just seventeen. Other great names who had performed on that very stage flashed before me: Celibidache, Lipatti, Arthur Rubinstein, Pablo Casals, Stravinsky, Richard Strauss, Bartok, Ravel....
Moving closer to the present, my marvellous guide explained that by some miracle, Ateneul Roman had survived the bombardments of World War II while many buildings surrounding it had succumbed. The beautiful fresco had been covered up during the communist era so people would not be able to see their history of Emperors and Kings - King Carol II and King Mihai were erased completely. Extensive reconstruction and restoration work was carried out by a Romanian construction company and the restoration painter, Silviu Petrescu, in 1992.
(Photo: Silvia Colfescu) A friend from the US and writer of the blog, Tom's Place, visited Bucharest that summer. He had never been inside Ateneul Roman, so we popped into the little office round the corner and begged the caretaker to let us in since the main door was closed. He accompanied us to the main hall, the "Mouse Hole" (the little hall downstairs) and once again, I swooned at the majestic marble staircases, the graceful lines and architectural beauty. We stayed for a couple of hours photographing everything we could like a pair of things possessed until our (or rather, my) camera batteries went flat. Since then, there have been countless visits with friends to this wonderful culture-capsule of sheer elegance - both for tours (I can't get enough of them) and concerts.
Memories of this incredibly romantic place are always swamped with great affection. Imagination is overwhelmed with enchanting, magical snap-shots in rapid succession of a Bucuresti de alta data back in a time when one dressed up for concerts (actually, there, they still do), when top-hatted gentlemen helped ladies in elegant gowns clutching tiny, beaded bags and opera glasses out of carriages or motor-cars and when there was a real and admirable inteligentia alive and well in Romania's capital. Ateneul Roman is a major part of 'my' Bucharest and my heart longs to be sitting on those steps once again waiting for friends or lost in my book. It longs for the lovely circular concert hall, the stunning fresco and the first lulling notes of Fauré's Requiem or Schumann's "Carnaval" to envelope it.
La Multi Ani, dear Ateneul Roman - and many, many more!