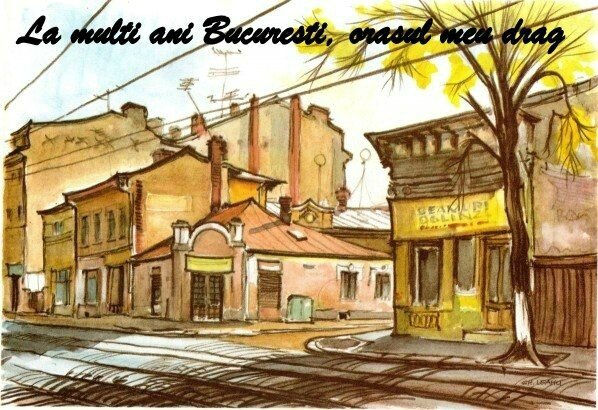 [Gheorghe Leahu: Popa Nan, source]
In 1459, 557 years ago today, Bucharest first appeared in a written document. 557 years....
Bucharest became Romania's capital in 1862. This, from Wikipedia: "Its eclectic architecture is a mix of historical (neo-classical), interbellum (Bauhaus and Art Deco), Communist-era and modern. In the period between the two World Wars, the city's elegant architecture and the sophistication of its elite earned Bucharest the nickname of "Little Paris" (Micul Paris). Although many buildings and districts in the historic centre were damaged or destroyed by war, earthquakes and Nicolae Ceaușescu's program of systematisation, many survived."
A fost odata a city where beauty stood on every turn, where every corner was a photo opportunity and where history, patrimony and heritage mattered. Along with culture. A fost odata a city which valued education and promoted learning, where the university was reknown and the doctors admired. A fost odata a city (and country) whose musicians exuded incredible poetry through symphonies and suites and whose concert halls were filled with names that would wow any 'mélomane'. Yes, times were hard, of course they were. But, on the whole there was respect and far more pride than we find today. There was elegance. A fost odata...
Of course one can still find beauty in Bucharest - that reticent grace and charm that brings a lump to one's throat every time one is confronted with it, concealed under a veil of dust, grime or graffiti or in a crumbling courtyard. Perhaps, for visitors as well as for many Bucharest residents, one must be told where to look - the splendid streets around Dorobanti, the hidden villas behind Unirii, the sleepy oldy-worldiness of Armeneasca, the charm of what's left around Cismigiu on all sides, the dignity of Cotroceni and Icoanei - and that's just for starters. Bucharest demands to be loved. Few of us actually oblige. Indeed, there IS beauty for willing eyes and hearts.
All elderly ladies deserve kindness and respect. Bucharest is no exception.
Happy birthday, my dear beloved city. May what remains of your quiet and timid loveliness be preserved and treasured yet a while...