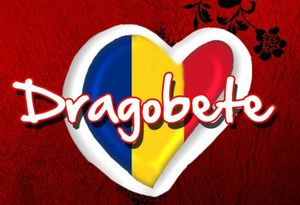 Dragobete is the Romanian version of Valentine's Day celebrated on 24th February. It is sooooo much lovelier than Valentine's without all the commercial bruhaha and is steeped in tradition. Dragobete (also named Dragomir), traditionally the Romanian god of love and well-being, was the son of Baba Dochia, the main character in the pagan myth related to the arrival of spring and the end of the harsh winter.
The legend of Dragobete goes as follows:
Baba Dochia is said to have been a very cruel mother-in-law, who never missed an opportunity to mistreat her son's wife. One February day, she sends the girl to pick berries up a mountain - an impossible time of year to find such fruit. God, however, helps the girl in her task and she returns with her basket full.
On seeing the fruit, Baba Dochia, believing spring has arrived, takes her sheep and
her son, Dragobete, up the mountain. Although she loads herself with 12 lambskins, she loses them. The story has two versions at this point: they either get wet due to rain or she throws them away as she gets too warm. Either way, both she and her son freeze to death on the mountain.
From ancient times, I'm told, Romanians have celebrated Dragobete on 24th February for this is the day when nature wakes from wintry slumber, birds think about feathering their nests and people (especially the young) follow nature's course.
.
In the country villages,
girls and boys dressed in traditional costumes meet in front of the church and go searching together for spring flowers. They sit and talk around the fires lit on the hills around the village. According to custom, the girls run back to the village at noon, each followed by a boy who has supposedly fallen in love with them. If the boy catches the girl he has chosen (and if she likes him), they kiss in front of everybody. This kiss signals an engagement for one year.

Interestingly, tradition also says that those who take part in Dragobete customs are protected from illness for the rest of the year. Now, there's a good incentive!
Although this is principally a countryside tradition, it has become pretty popular these days in Bucharest too, with fairs, exhibitions and celebrations held in several museums.

Here are some charming traditions connected to this (literally) heart-warming festival:

- On the day of Dragobete one doesn't work - not in the fields (if you do, Dragobete will punish you by stealing your voice and replacing it with that of a bird) nor in the house. You may however do a little spring cleaning, symbolic of everything new and fresh (unless you're like me and chronic at housework). Carpets and other textiles are shaken out on this day in order to bring wealth.


- It is believed that any man who hurts or upsets a woman on Dragobete is doomed to bad luck for the rest of the year (see, I told you it was lovelier than Valentine's Day!!).

- If the weather is nice enough to be outside, the guys must go into the forest (if they are near one) and gather snowdrops from under the snow. Those who can bring the snowdrops back home before they melt prove that they are ready to begin wooing a potential wife.

- Couples wanting to stay together must kiss today (presumably more than other days!) and if you're a single lass and are fed up with being so, then make sure you see a man at some point today or you'll remain single for the rest of the year.

- In some parts of Romania, single women gather the last snow and melt it, for it is believed that the water is very effective when used in a love potion.

- Tradition declares that on Dragobete, as all birds are considered messengers of love, it is therefore forbidden to hunt them and that includes chickens and turkeys. Birds obviously love Dragobete, too.

See? Lovely!

Dragobetele saruta fetele!