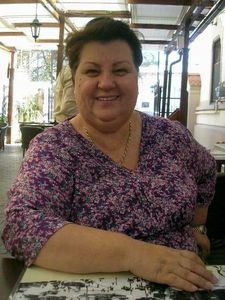 (Photo by Sarah In Romania) It's not often I write blogposts recommending restaurants, but this is an exception to the rule. Just before leaving Bucharest for yet another great jaunt, I was invited to lunch by a friend on str General Berthelot here in Bucharest. We went to Chez Marie, a lovely pad style 1930's owned by Maria Popa who is something of a star.
With her thirty year career as head chef at the British Embassy behind her, she has cooked for an impressive list of British PMs visiting Romania over the years along with Prince Philip, Prince Charles (of whom she is very fond) and Princess Anne. Her restaurant walls are adorned with photos and good wishes, including Christmas cards from GB's royal family, corgis and all. Her English is excellent too, should any Brits in Bucharest be reading who don't speak Romanian but are feeling peckish.
When Maria's time came to retire from the Embassy in 2010, she decided that sitting in front of Romanian soap operas doing generally not much wasn't her cup of tea, so she opened her own restaurant on str D. Lupu near the Anglican church in a lovely old house she renovated for the purpose. An instant hit. She has recently opened another, the aforementioned, on str Berthelot. Take a virtual tour HERE.
Not only is Maria a superb cook, an excellent business woman and a marvellous, welcoming hostess, she is also an absolute sweetheart - and as if feeding her clients isn't enough, she does a great deal for childrens' charities, too. "Giving something back is essential," she told me as I demolished her salata de vinete with unadulterated bliss, accompanied by ardei copti on the side. It's not often one hears this phrase - certainly not in Bucharest anyway. My heart swelled as my tummy followed suit.
"My soul vibrates for all that happens in Romania," she said. "When I hear news that Romanians have done something good, particularly abroad where our reputation leaves a lot to be desired, I am so proud."
Maria has even created a fabulous childrens' area at the back of her immense garden on str. Berthelot. A shame I was too big to play on the slide.
Good for Maria Popa. Big lady, big arms capable of very big hugs - and a huge heart.
Should you be thinking of eating out this evening and can't decide where, go see Maria. The menus are as long as your arm catering for both Romanian and international preferences, the ambiance charming, the service excellent and Maria herself if you haven't already gathered, is a dream of delight. I was loathe to leave.
Strada Dionisie Lupu, 48:See menu HERE
07 30 34 48 10 / 03 11 07 20 33
Strada Gen. Berthelot, 44: See menu HERE
03 14 27 87 76
Both restaurants serve daily from 11h-23h30