(Please click on source HERE) Just this evening, I noticed a message on Facebook that was doing the rounds, complete with photograph of the actor Serban Ionescu, today very seriously ill from Lyme disease. A little background for those who do not know the plight of this man: due to the tardiness of his diagnosis, Mr Ionescu and his family are now seriously considering the possibility of his transfer to a clinic in Vienna for treatment - the doctors in Romania have no idea how to treat him themselves (Lyme is apparently a new concept in Romania) and the rightful treatment has not been administered - precious time wasted, in other words. Just tonight, Realitatea reported on an original article from Cancan full of total misinformation, quoting a doctor who stated that it was probable that Mr Ionescu's family and neighbours had 'caught' the disease [from him] and it was also likely that 80% of the population of Romania were also infected with Lyme... that coming from a 'doctor'. Unbelievable. It is a known fact that Lyme disease is NOT contageous and that it is treated by a month-long course of high-dose antibiotics as early as possible. A terrible tragedy for Mr Ionescu and his loved ones.
But that, though bad enough, is not why I am as angry tonight as I am. I am angry because this afore-mentioned message on Facebook claimed that with each 'share' of the photo, 0.5 lei would be donated for the cause of Mr Ionescu. Of course, it did not say what for exactly, nor how the money would be spent. Can clicking 'share' really mean the donation of half a leu? I'll let you be the judge of that... but it sure does multiply its advertising and the number of people reached.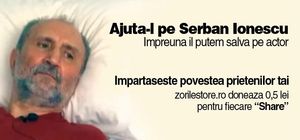 (Please click on source HERE) The account posting this photo of a very ill Mr Ionescu belongs to Zorilestore.ro. Beside it, one reads the following: "UPDATE: Multumim tuturor celor care au dat share si s-au implicat in aceasta actiune umanitara. Datorita implicarii voastre am strans suma de 100 de milioane de lei (10.000 RON) in mai putin de 5 ore. Acesta a fost bugetul maxim pe care compania noastra l-a alocat actiunii pe Facebook. Nu putem suplimenta acest buget destinat share-ului pe Facebook, dar vom dona 1% din cifra de afaceri in perioada 15.05 – 15.06.2010 pentru a suplimenta fondurile. Va multumim inca o data si va asteptam pe site.
Suntem multi romani pe Facebook. Peste 4.4 milioane. Ganditi-va cat de mult inseamna pentru acest mare actor, 2 secunde din viata voastra, atat cat dureaza sa dati un share. Doua secunde din viata ta pot insemna ani pentru viata lui Serban IONESCU.

Ajuta-ne sa ajutam!!! Share pentru Serban Ionescu!"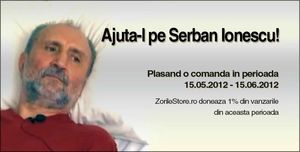 (Click on source HERE) In this album are three identical photographs of Serban Ionescu, with different captions, and when one googles Zorilestore.ro, the same photo is visible on the main home page on a loop with images of 'papuci'. Be patient and you'll see the photo of Mr Ionescu (with details of the campaign) between Puma pumps and Fila trainers. Yes, Zorilestore is no other than a commercial site selling trainers, flip-flops and other footwear...
With every order placed, Zorilestore promises to donate 1% of their sales figures to Mr Ionescu.

Clearly, Serban Ionescu's sufferance is seen as a great marketing opportunity along with a way of herding more traffic to their site.... Certainly, their FB page has over 9000 'likes' tonight. Their whole concept isn't bad, really - but they should have known to stay away from a 'cause' such as this purely out of decency. They are not the first to 'donate' to a good end - but how very ungracefully done... I expect they really do mean well and really do intend to donate 1% of their sales figures - but not before they have increased their own traffic and sales figures on the back of a man's pain and suffering. Good intentions apart, that really is unforgivable...



On another note, news of Mr Serban and his serious health state is all over the web. Since he is such a public figure, people have been mobilising all over Romania to find ways of helping. For example, I received very touching news that, on 26th May at TNB, a theatre performance of 'Dineu cu proşti' will take place at 11h starring Caramitru, replacing Serban Ionescu. All funds will be donated to Mr Ionescu. Also starring are Horaţiu Mălăele, Medeea Marinescu, Alexandru Bindea, Costina Ciuciulică, Dorin Andone/ Tomi Cristin and Alexandru Georgescu. Wonderful!
More good news, Victor Ponta stated this evening that he had spoken to the Ministers of Finance and Health regarding the releasing of funds to pay for Mr Ionescu's expenses at a clinic in Vienna or perhaps Germany, adding that he hoped it would not be too late. (UPDATE, 17th May: article from Mediafax HERE)

However, new business concepts that disregard human suffering while profiting from the pain of others? NO!!!

I ask you, please, to go to the links cited above next to the images and give your view.
Our thoughts and prayers are with you, Mr Ionescu, for a speedy and full recovery.
I am out of words and leave the rest to you....