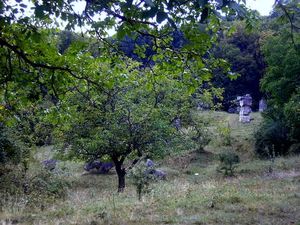 At approximately 30km from the city of Buzau, sculptures cut in stone from the limestone quarries of Naeni and Ciuta adorn scattered clearings in the hills of Magura. They are a tribute to local ancient stonecutting traditions and were created for the largest exhibition of its kind in the country and one of the biggest in the world.
The Sculpture Camp, held between 1970 and 1985, was initiated by sculptor Gheorghe Coman and supported by the Union of Romanian Artists to mark 16 centuries since the first documentation of Buzau. The idea was that over a symbolic 16 years, 16 sculptors per year would spend two months (August and September) creating a work from a block of stone obtained by the drawing of lots. Nothing was imposed in terms of theme/topic, giving the artists page blanche to simply go with the flow.
Over those 16 years, 163 sculptors chiselled and conceived 256 stoneworks some considered masterpieces by art critics, all of which were donated to the county at an official ceremony.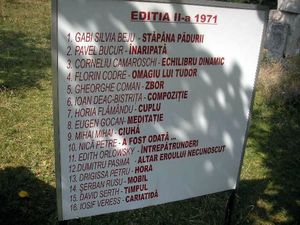 The sculptures are unmarked regarding their stonesmith and title, but they ARE numbered. A word of advice: Photograph the numbered lists given at the beginning of each clearing showing who sculpted what, so you can compare the number on the sculpture to the works listed, (almost) in order of their positioning.
The 21 hectares used for this fabulous outdoor museum that exudes folk art is owned by Ciolanu Monastery and rented by the cultural authorities (Buzau County Museum of History) who manage it - an arrangement that seems to work well.
For a comprehensive list of sculptures and works at Magura, see HERE. Amongst the big names in Romanian art found here are Horia Flamandu, Radu Aftenie, Grigore Bradea, Florin Codre (now more famous for his King Carol I at Pta Revolutiei and the scandal it wrought with the Mestrovic family) and Ioan Bolborea (known for his bronze Caruta cu paiate in front of the National Theatre).

I have read here and there that the site suffered from neglect and decay at some point (perhaps before the authorities took it over?), attacked by vandals and nesimtiti. I saw no evidence of that whatsoever. No rubbish, no graffiti, no damaged works. The camp did in fact undergo restoration back in July 2007.
There is something deeply inspiring, almost spiritual, about the Sculpture Camp at Magura. When I first saw it, I took it for a cemetery. There are tales of paranormal activity where gravity went berserk which really doesn't surprise me much at all. One example given is a car left at the bottom of the nearby hill with handbrake on and engine off later found much further UP the hill, defying all laws of physics.
Peaceful, tranquil and yet emotional, the Sculpture Camp is charged with a particular energy that I cannot put into words. Each sculpted stone has its own message, its own history leading to another world entirely. And I loved it.
(Photos by Sarah In Romania - please ask before borrowing)