This is one of thousands and I don't know why everyone is so surprised. It's what they do. They have turned ripping off the social security into a profession. Wakey, wakey Western Europe to how 'they' get rich fast (and I'm saying 'they' so I don't get into trouble for being racist regarding a certain ethnicity...the journalist says 'Roumanian' but you know what I think about that), how they build their eyesore villas that scar the streets and countryside and how they get to drive their mercs... Of course, they do not get their kids educated or marry off their daughters any later. While the unsuspecting Brit public is feeling sorry for them and bashing Sarkozy for his strict reactions sending them home (though he hasn't been very clever re; where home actually is, this is true), the UK benefit system is getting screwed through the nose.
While westerners who have absolutely no idea are feeling sorry for these people, they are scrounging off the state, the tax-payers money and are up to their necks in gangs and any dodgy dealings available to make money - child trafficking, drugs, prostitution, selling their own grannies (and kids as we have already seem on numerous occasions)... the do-gooders who howl their woes and want their integration do not know what they are talking about. Ilie Schian is but a drop in the ocean. The problem is huge and so wide-scale it's overwhelming.
Glad he will be serving jail time in UK as he would get away scot-free in Roumania. The Roumanian justice system works nicely if you have the money to pay for your freedom - Schian and other scumbags just like him know how the system works there, know what hands to grease and know how to terrorise those weaker than themselves to climb the ladder to wealth no matter how foul and dirty the notes may be. It's sickening. Sending this man back to Roumania for justice to take its course would have been laughable...and he would have been back under another name to rip the Inland Revenue off once again. The biometric fingerprinting enforced by Sarkozy was for this very reason - and I have to applaud him for it. These low-lives think they are cleverer than us all and have an audacity that makes me balk...the proof, Schian managed to squeeze the system for ten years by yelling poverty - playing on sympathy, compassion and pathos of the British people. These days, one must be careful who one pities...
Below seen in the Enfield Independent: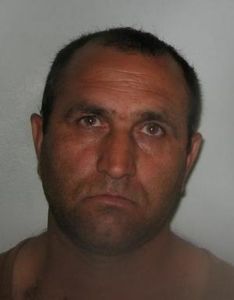 Enfield benefits cheat owned mansion in Romania
Friday 19th November 2010
A ROMANIAN fraudster who falsely claimed more than £113,000 in benefits from Enfield Council and other authorities to fund his lavish lifestyle has been jailed.
Illie Schian, 46, of Enfield, was jailed for three years at Southwark Crown Court today after admitting to cheating the the department of work and pensions, HM Revenue and Customs and the council using the alias Nelus Gheorghe.
Despite his poverty-stricken image, Schian was living a life of luxury in Romania with a nine-bedroom mansion and a garage full of expensive cars.
Schian, who moved to the UK in 1999, was arrested on July 20 following a long-running investigation into the organised crime gang he was part of. It is also alleged the group was involved in child trafficking.
Chief Inspector Colin Carswell, who investigated the case, said: "Schian, as a member of an organised crime gang, spent ten years in the UK exploiting the weakest from his own community as well as making a deliberate and sustained attack on the UK benefits system.
"He portrayed the image of being poor and in need of money from UK benefits. Our Romanian colleagues alongside my team proved this to be a lie. In Romania he owned a nine-bedroom mansion, a BMW X5, Audi TT, motorbikes and quadbikes.
"In one of his Romanian bank accounts was the equivalent of £20,000. Schian now needs to answer the charges, laid against him in Romania, that he and others are responsible for trafficking 181 children to the UK."
Schian will be recommended for deportation to Romania at the conclusion of his prison sentence.