11 juin 2008
French TV station M6 fined for calling Romanian team "hen thieves"
de Radu Rizea HotNews.ro
Miercuri, 11 iunie 2008, 14:50 English | Top News
The French authority for radio and TV regulations and survey decided to impose sanctions against the M6 TV station, which broadcast live the Romania - France (0:0) football game, given the fact that a journalist referred to the Romanian national team as "hen thieves" (Fr.: "voleurs de poules").

Journalist Dominique Grimault said during the "100% foot" show that the Romanian players are nothing but petty thieves. The CSA (the authority for radio and TV regulations and survey) reacted promptly, describing the language as offensive and discriminatory.

The game reached an audience of 9.6 million viewers, which is an absolute first for M6.
09 juin 2008
From Nine O'Clock:
Tiav Gallery to open a new exhibition room
published in issue 4198, p. 12, 09/06/08
The Foundation SOCIETA Club UNESCO will open a new exhibition room at the Tiav Gallery in the old part of Bucharest (end of str. Cauzasilor, sector 3, just north of Bd. Unirii, off Mihai Voda) on Wednesday 11th June. A group of artists both from Romania and abroad will have permanent exhibitions here. Among them are Letitia Oprisan, Mircia Dumitrescu, Lorin Lucan, Aurel Pastrascu, Radu Dumitru, Rares Pantea, Andrei Romoceanu, Iulia Lucan, Emilia Kiss, Dumitru Cosma, Daniela Trandafir, Giuseppe Lisciotto – Italy, Marc Huet Zoro – USA.
Opening hours: Tuesday to Saturday: from 10.30 and 19.00; Mondays: 14.00 and 19.00. Closed Sundays.
The opening of the new room at the Tiav Gallery will take place with an inauguration ceremony and piano recital by Leonard Mocanu.
See more: http://www.tiavgallery.ro/ A mixed bunch of styles but maybe worth a visit? Of course I will be working Wednesday 11th June til 20h30, but do go, my Bucurestean friends, and tell me all about it. xox
08 juin 2008
Dear Everybody,
Happy Sunday! I've just come back from a lovely walk around the Kiselef area with Eugenia. Nicole sent me an album with some gorgeous houses, some of which were in this neighbourhood, and I was keen to go and see them. Eugenia was just as keen, and we'd already had a lengthy discussion regarding the Toma Stelian House. So, this morning we hit the road.
Wending our way down str. Bruxelles and str. Washington, we found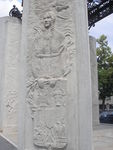 ourselves on Piata Quito. Flori and I had spent a lot of time here trying to fathom a strange looking monument of four sculpted columns crowned with golden eagles and a globe inscripted with signs of the zodiac. I'd completely misunderstood the symbolism at the time and Eugenia was enthusiastic to educate me. The sculpted columns depicted not an Indian squaw with long plaits resembling Pocahontas to a tee at all, but a peasant from Moldavia (cow's head is the mascot of Moldavia). The chiselled man, I'd been sure, was a second world was soldier. Not at all. He represents a peasant too. He's not holding a gun as I had imagined, but an instrument a little like a very long flute used for calling his sheep. The branches are from an olive tree, symbolic of
peace. The angel above him is visible on all four columns and represents the Guardian Angel of Aviators. She was clearly having an 'off' day, as this memorial is for Mircea Zorileanu, 1884-1919, an aviator killed in action. Aeroplanes are all over the columns and I hadn't noticed them before. It was built in 1937. There is no plaque, and therefore I hadn't had any idea of the reason for such a strange monument. Eugenia, however, polished the marble with her foot and there was the name M. Zorileanu. Just goes to show! I was so glad to have understood this memorial as it had puzzled Flori and I for such a long time. I have walked past it often, wondered and wondered. Now I know, and instead of finding it strange, I like it very much. The eagles are not a symbol of the Third Reicht or of occupation as I had supposed. They represent aviators.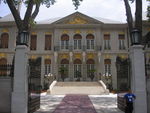 We continued our stroll along the shaded streets approaching the elegant Soseaua
Kiselef. A horror was close by. The beautiful Ausnit house (architect Louis Blanc?) that became the Embassy of Argentina after World War 2 and is now the administrative mansion of Gigi Becali, the soit-disant politician. Such a beautiful house has been defaced by gold leaf and utter, unthinkable kitsche. Red carpet from the pavement leading up to the majestic front steps is one thing, but the horrendous and aberrant crucifix in the garden is the cherry on the cake to make you want to reach for a bucket. It overlooks bd. Aviatorilor and was, I heard, placed there just before the Nato Summit, probably to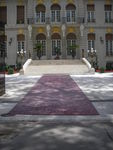 impress the VIPs. This is an Orthodox country, and the crucifix is not a symbol of the faith. It is a huge scream of ignorance and blasphemy, offensive and vulgar. I had wanted to check it out as I'd driven past it on the way to work, but there was never any time. I almost wish I hadn't bothered. Ugh. How sad that this beautiful, elegant house should be turned into a Barbie mansion of tasteless gaudiness.
Fortunately, to assuage our disgust, we could drink in the lovely house o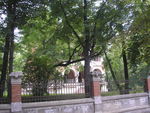 f Elena Lupescu,
mistress and eventual wife of King Carol II. It stands on the corner of Aviatorilor and Aleea Modrogan, and is surrounded by a gorgeous park. Today, it is the Democratic Party Head Quarters. About Elena Lupescu, Nicole my history teacher (!) and rechercheuse extraoooooordinaire says the following: "She was née Gruenberg, father jewish, mother catholic, King Carol II's lover for many, many years. As you know, he abdicated in 1940 and left with many precious paintings that belonged to the national museum, among them an El Greco.They settled in Estoril, a magnificent resort in Portugal where they spent a leasurely life, ignorant of the war. They married in 1947, in Brazil and lived happily ever after; he died in 1957 (not sure) and she followed much later, in 1977." So now you know everything I do. Thank you, Nicole, as always.
On to Kiselef, via str. Ion Mincu, we passed in front of the Doina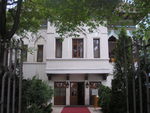 Restaurant, a gorgeous piece of architecture. I'm hoping someone can tell me a bit of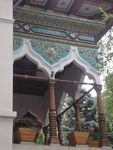 history concerning this elegant house built in typical Roumanian style (pix left).
Across the road, the house of the politician Tache Ionescu -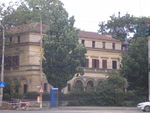 remember him (pic right)? He had another house in what is now str. Tache Ionescu between Pta Lahovary and Bd. Magheru.
A little further along, the target of our walk, the Toma Stelian House. The caretaker was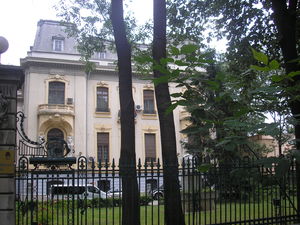 quite adorable. I explained that I was a journalist interested in Roumanian architecture, and could I look around (this ruse often works!). He was genuinely sorry to tell me that a conference was under way
inside, and that due to the high security and TV cameras, he'd be very happy to show me around if I came back in twenty minutes or so. Eugenia tried not to splutter with laughter. Anyway, said the caretaker, as long as the politicians were having their meeting, photos were forbidden anyhow... Eugenia was very attached to this gorgeous house. She had spent many hours here as a child, when it was a museum. I don't think she really wanted to go inside now that it was the PSD head quarters, and all the beautiful exhibits were at the Museum of Art Collections on cal. Victoriei. I'll come back another time alone now that I know the caretaker will give me a tour. In the garden is an ugly statue of the head of Eminescu. It has no connection whatsoever with the style of the house, and sadly the defunct poet is devoid of respect and elegance here.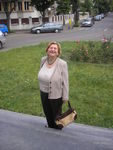 It was time to return to Pta Dorobantilor and go our separate ways, Eugenia on towards str. Bruxelles, and me home for Andra and her mum, visiting me for tea at 5pm.
It was such a nice morning. I would like to have a bit more info. on the architects, history of these houses and their old occupants. As soon as I find them, I'll add them to this post.
In the meantime, enjoy the Sunday afternoon!
Thank you Eugenia! What a nice way to spend a Sunday.
Love, Sarah xox
07 juin 2008
From the Herald Tribune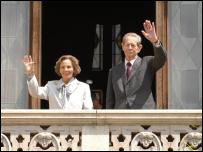 BUCHAREST, Romania: The Romanian government said Thursday it would return a castle and other confiscated property to former King Michael.
Peles castle was built in the mountain resort of Sinaia in the late 19th century by Romania's first German-born king, Carol of Hohenzollern-Sigmaringen. It was confiscated by the former Communist regime after Michael abdicated in 1947. The nearby Pelisor and Foisor palaces also will be returned.
Michael, 85, hailed the return of his castle, a place where he spent most of his childhood.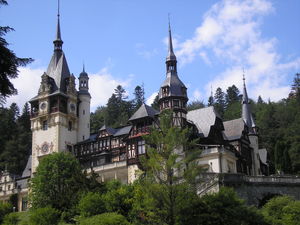 "This is not just about returning a possession, but also an act of moral and historical reparation," he said in a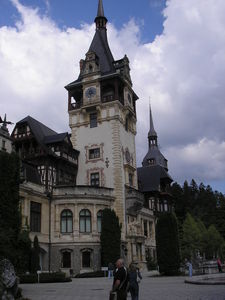 statement. He added that the castle, which is well preserved and is one of Romania's top tourist attractions, would remain forever a museum, and would never be used for commercial purposes.
The former king is the last living European leader who was in power during WWII.
The government has agreed in principle to buy the Peles castle back from the former king, with a memorandum to be signed next week. The royal family wants to use the Pelisor palace as its headquarters, but parts of it will remain a museum.
Michael and his daughter, Princess Margarita, have been acting as goodwill ambassadors in recent years, supporting Romania's efforts to join the European Union in 2007.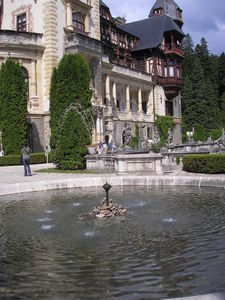 Romania has passed legislation to return property seized by Communist-
era authorities to its former owners.The government and Michael initially reached a deal in 2005 in which the former king would be paid €30 million (US$40 million) instead of regaining the Peles castle, but a court invalidated it, ruling that Michael could not be given special treatment. Michael's representatives have said he would sell the castle to the state for the same price.
Last year, the government returned the 15th century Bran Castle, known
for its ties to medieval prince Vlad the Impaler who inspired Bram Stoker's "Dracula" novel, to other members of the former royal family.
Bran Castle will remain open to the public as a museum for the next three years, according to an agreement signed by the Culture Ministry and the new owners.
(See video: http://video.aol.com/video-detail/regele-mihai-peles/1652213727 )
Following the outrageous video released by Virgin Media in UK for the Euro Cup, I scribed a rant on Wednesday night and removed it yesterday as it really WAS a stinky rant. Regret removing it now. Should have left it there. VM have since withdrawn the film, due to a massive reaction from the public, which showed Italy symbolised by the Colosseum, Germany by the Brandenberg Gates and Roumania represented by...fat gypsies complete with 'burta' and gold chains with huge Becali style crosses on the end. I was so horrified, disgusted.... The symbol of Roumania is surely the Ateneum, is it not? Or the rolling hills and monasteries of Bucovina, the Danube Delta with its magnificent wildlife, Bran Castle perhaps or Peles, the majestic mountains of the Carpati range? No wonder racism against Roumanians continue in the west with idiots like Virgin Media launching such uneducated, insulting tripe. If you want to see it, here's the link: http://www.youtube.com/watch?v=UZxqCu0deHg
VM have 'offered' an apology to those who felt 'offensed' say HotNews. As punishment they should be forced to read history books and take a month's trip to Roumania. I say punishment, as for these idiots, it seems that a cultural period would be pure purgatory. Huh. It's what they deserve. Then maybe they'll be capable of making a film which really shows off this beautiful country and its people for what it is. That would be the apology deserved and justly merited. VM don't have the brains, intelligence or sensitivity, however, to understand a darn thing. Cretins. They are going to re-edit the film...I dread to think what they will come up with next.
On to beautiful, happy seeming things. My marvellous and ever resourceful friend Nicole has introduced me to an architect and painter, Gheorghe Leahu. I don't mean REALLY introduced as in a handshake and all. No. I mean that she has sent me some of his paintings to peruse. What gorgeous watercolours. They depict the Bucharest de Alta Data, Milla's Bucuresti, and I'd like to share a few with you. Virgin Media, look and learn...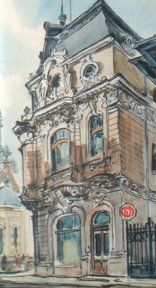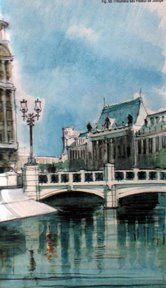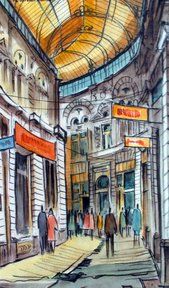 Aren't they lovely? Warm, holiday colours. They are as follows: 1) Univers Bookstore on Mosilor; 2) str. Doamnei; 3) Hanul lui Manuc; 4) str. Lipscani; 5) Old houses along the Dambovita; 6) The Russian Church, str. Ion Ghica; 7) Sutu Palas; 8) Mitza Biciclista's house; 9) Ministry of Justice; 10) Passajul Villacrosse.
Thank you so much, Nicole. Another blinder!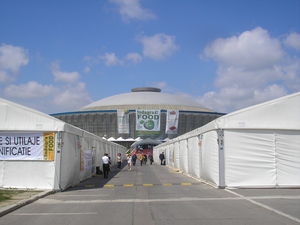 What else to tell you? Ah yes, went to the BookFest yesterday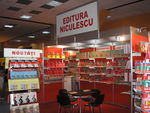 at RomExpo. Must say I was disappointed, but I hate to admit it. In this country of literary maniacs, where were they? The place was a ghost town. Okay, it was 10h30 on a Friday morning. But still. I wanted to find a book on Bellu, and all the stand owners looked at me as if I were a fruitcake. What on earth do I want one of those for? There aren't any.
Point barre... No international stalls,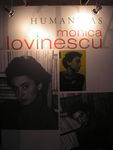 everything in Roumanian, no translations, nothing on tourism, history of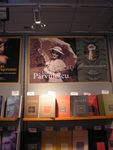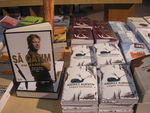 the country that I could find, guidebooks. There were dictionaries, though. Lots of stalls, but nothing that interested me. If I was to buy a novel it would take me so long to read (I've been reading Alice in Wonderland for three years and haven't got to the Queen of Hearts yet - it's the longest tea party in the history of Lewis Carroll), and poetry is out of the question. I bought Bacovia just to say I'd bought something, but I can't read it in its original form. Poetry is far too deep and cultural for my useless, shameful Roumanian. Maybe one day. I left to go and see Tantza with heavy heart presuming that the Food and Drink Expo had probably hauled a larger public. It's better advertised, even in RomExpo itself.
My class with Eugenia was fun. She's progressed so much that I wonder if she's swallowed a microchip. She told me all about the three Capsa brothers, about Tudor Vianu (originally Jewish who converted before the war, apparently. Antonescu realised how useful he was and left the poor man in peace, she said), Toma Stelian and a mass of other interesting people. All in English. Improvement indeed!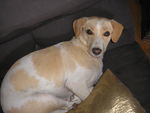 Took Rosie to Parcul Verdi this morning for a free run. It's a bit like Wimbledon Common there - complete with horse dung. She decided to roll in a mountain of it and had to have a bath on return to base. She still smells awful and en revanche, the whole flamin' flat smells ditto...George will come to dinner tonight (I've made a fatouch Lebanese salad and am very proud of myself!) - just hope the obnoxious affluvia has dissipated by then!
Love to you all and til the next entry,
Sarah xox
05 juin 2008
Dear Everyone,
Lots of you have asked about the results of our mayor vote. Glad you're taking an interest even outside Roumania. Imagine how proud I was to vote for the mayor of 'my' sector...and he won! Chiliman knocked'em dead in Sector 1. Hurrah! The mayors for Sectors 2 and 5 remain the same. The fight continues for central mayor, to be voted in two weeks. A very difficult decision though since it's between Oprescu and Blaga. It'll have to be Blaga however as Oprescu as mayor is unthinkable. Diaconescu is out. It reminds me a bit of the Chirac v. Le Pen fight we had in France...one can only vote Blaga, if you see what I mean. And one can't NOT vote.
What to tell you about the week so far? Saw Tantza yesterday who was quite depressed. She's home from hospital and her leg looks much better, but her get up and go has got up and gone. Please spare her a thought.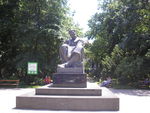 Tuesday (I think - lost track of time) I went on a mission to find Mestrovic's Bratianu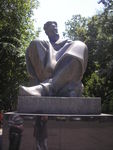 statue on bd. Dacia, not far from the Roumanian Literature Museum and opposite the German Institute. It stands in a nice square backing on to the gardens and house of the Bratianu Foundation (which does...what exactly?). Who did I see there busily snapping the same statue but Dan, Nicole and Serge's friend. In Nicole's guidebooks she was quoted that the statue was in str. B. Amzei in the courtyard of the Collections, so that was my next port of call. I hadn't covered it on Nicole Tour 1 due to Rosie being with me - there was a large number of cats roaming around and I didn't want any fur flying.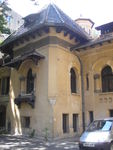 The courtyard is no longer much to speak of. What used to be cobbled gardens filled with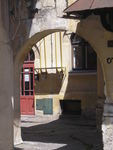 flowers, lawns and statues (perhaps this one?), there are now only cars and skinny though very talkative and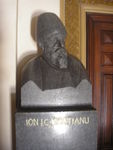 friendly pusscats. I did find a bust of Bratianu, however, in the hallway of the museum. The architecture of the museum, university and surrounding houses is quite lovely, and I sought shelter under a tree from the hot sun for a while to absorb it all, very glad to have returned there.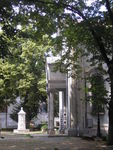 My next visit was to Mavrogheni
Church off Soseaua Kiseleff next door to the Peasants Museum. Rumi thought the statue was here. As I'd never heard of it, I thought
I'd better go and have a nose. Delighted to have done so as it's a gorgeous church, built in the later part of the 18th century. It has a pretty garden, is quiet and an oasis of peace after the traffic on the busy Pta Victoriei nearby. There certainly wasn't any trace of anything vaguely Mestrovic-like anywhere in the gardens or the church itself. I spent quite a long time looking, then collapsed on a bench in the shade with a street dog to talk to. He didn't know anything about any statues either, but was appreciative of half a KitKat. So Rumi, if you're reading, your Bratianu is on Dacia, not in a churchyard. And very elegant it is, too.
That was my culture for the week so far.
Rebecca came in to work with Miri yesterday, who's become quite the most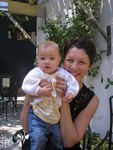 gorgeous, giggly baby. It was lovely to see them both. Apart from that, life at BC continues much the same. We're past the mid-term mark so it's a bit of a rush now to get the syllabus covered. Today being World Environment Day meant no photocopying (!!), so that rather slowed everything down. One of my students gave me the address of an osteopath at the Osteoclinic. I'll call him Monday and make an appointment just to meet him before I let him anywhere near my back, dodgy to say the least since Monday. The weather has been weird with ever-changing pressure which probably explains it.
The Bookfest is on at RomExpo, and I shall pop in Saturday morning on the way to Bellu - my mission for this weekend. Would you believe that I went to every bookshop on Dorobanti, this end of Stefan Cel Mare and Magheru for a book on the afore-mentioned cemetry - none anywhere. Not even Noi or Cartaresti. Not even a pamphlet. Thank heavens for Nicole and Internet! Speaking of Nicole, she's still suffering terribly from lumbago - today being Day 10 of her ordeal, with no improvement despite horse pills. Please spare her a thought too, and send her healing vibes.
Lucia has left for Geneva back Sunday afternoon, Aura's plane took off (with her in it, presumably as I have no news to the contrary) bound for Istanbul at 19h30 this evening return early July, Mary has left for Paris and Gaby is with her mum 25km from Bucharest...so the team is depleted.
And that's my news. The BC timetable has seen to it that I have no life from Monday to Thursday, and tomorrow I have cover to do for a colleague on paternity leave, plus a private lesson with Eugenia and a cup of tea with my Tantza. More as it happens.
Two sad pieces of news to share with you: Lidia in Brasov lost her beautiful black snoutzer dog Nenah this week, and Dana has just e-mailed to say her dog died this evening. How awful for them both. Losing an animal is like losing a child for those of us who either don't have any or whose children are now grown and no longer need nurturing. I remember Paul Dunn preaching at St. Paul's after the death of Norrie's dog (or maybe it was his own dog - I don't remember). He said that there is, of course, an animal heaven, full of glorious adventures, especially for dogs - bone burying and digging, cat chasing, tummy rubbing, ear scratching, rolling in lush green grass and endless good nosh. I know that this place exists for animals for they deserve it far more than we do. Infinite loyalty and goodness, trust and fidelity. Animals don't know cruelty from their own race, how to torture one another, how to double-cross or destroy lives for pleasure. For that reason, heaven is there for our wet-nosed, four legged friends. I'm quite sure of it.
Love to you all, Sarah xox
01 juin 2008
Sunday night already, and just back from the celebration for 60 years of Israel and a little time with my Lucia and George. It was a lovely evening, and albeit having to leave early and the absence of the klezmer I was so dying to hear, the show was great and the ambience even more so. A lady sitting near us told Lucia she felt as if she was in Israel.
The foyer of the National Theatre was decked with stalls of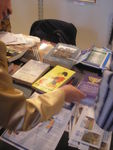 books, travel info, school data, religious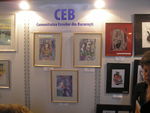 objects, jewellery, art, wine and there was even a group of children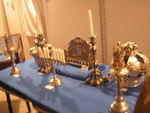 dancing traditional folkmusic which was rather sweet.
It was a very moving show. The whole audience seemed to know every song. They were up on their feet dancing and singing, even the crumblies amongst us!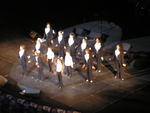 Bravo and thank you JCC for organising such a wonderful celebration. Roll on 70th birthday! Maybe I'll be able to stay long enough for the Hatikva. My flag is in a vase on top of my bookcase waiting.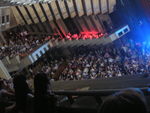 I knew Caru' cu Bere had always been a beer cavern, founded in 1875 and so-named because a beer cart delivered there...but that was the extent of my knowledge. Its history, however, is fascinating.
As the Peace treaty was being signed in Berlin in 1878, Ioan Cabasan was buying a delapidated house behind Zlatari Inn, on str. Stavropoleos in central Bucharest. At the time, much of the original Constantin Voda Inn there before had been demolished. In 1861, this was a large open area, opening onto the Stavropoleos and St. Ioan cel Mare inns. To the south, imposingly towering over the slums was Nicolae Brancoveanu's palace, where the Mogosoaia Bridge began.



For an businessman, this space was pretty interesting, albeit a dump! Soon more substantial incentives appeared, such as the wooden panelled circus "Walhala," alternatively used by German artists and politicians.



The constructions of "La pisica neagra" and "Baltador," both located in the Zlatari Inn wing opening onto Stavropoleos, rapidly turned the area into promising commercial potential. In 1878, a merchant from Bacau, Dumitru Marinescu, set about building a brewery in the neighbourhood, finished in 1899 and known as the Bragadiru brewery. The owner was already looking for clients to sign sales agreements, and among them was Cabasan. Under such favourable and fool-proof circumstances to trade, the latter decided take the plunge into business. On May Day 1879, he opened a beer house in the building on str Stavropoleos and named it "La Caru cu bere" (The beer cart).
It was to be shared with the Capsa brothers' company, a celebrity untouched by the passage of time. A new era began. The owners commissioned the plans for the reconstruction and redecoration of the pub to Austrian architect Siegfrid Kofezinsky. Radical reconstruction and improvement works began in 1888 - the date is mentioned in several memoirs - and was completed eventually in 1924. The old, modest building was demolished, the central building erected, along with the cellar, the kitchen and the front part, in neo-Gothic style.



The interior is decorated in a myriad of styles, with a Byzantine influence represented in balconies and banisters, combined with the gilded frescoes and the stained-glass windows of the Bavarian academic style. A statue of old Ghita the cellarman holding a lamp in his hand was added later at the foot of the stairs, next to the balcony. The pub features were also changed, and in 1902 it was both a beer house and a restaurant, although ads tried to reassure the old customers that "special beer from the Bragadiru brewery is served every day and evening, until after the late night shows." Brothers Nicolae, Ignat and Victor Mircea, born in Cata village near Medias, had new ideas, French rather than German. As far as the menu was concerned, customers from Transilvania, the most numerous over the years, reminded them of the taverns at home. The Praguer sausages with horse radish, frankfurters, boeuf salad, mushy peas were very popular not to mention the always present "small bottle" of "Lacrima Cristi" wine, which old Ghita the cellarman took care of for over a quarter of a century, in the cellar. Beer drinkers were offered draught beer directly from the cask. (pic left: the bar)
"Caru cu bere" was indeed unique and its unrivalled fame was secure. Before the WW1 outbreak, one of the brothers, Victor, abandoned the family business and set up his own beer house especially for officers, under the new Military Palace inaugurated in 1912. Ads indicate that he took full advantage of the fame gained in "Caru cu bere," and he named his pub "the Victor Mircea beer house." A man of innovative spirit, he was also the one who took over the management of the restaurant inside the Gara de Nord (railway station). Thus, the Stavropoleos pub was left with two owners only. Soon, Ignat was also to try to start his own business. With his brother Nicolae's support and advice, he bought a tavern and costly transformed it into a beer house named "Ignat Mircea." He too tried to take advantage of the fame that "Caru cu bere" had secured for the Mircea family. He failed however, and in 1929 the Roumanian-British bank declared him bankrupt. Unfortunately he didn't go down by himself. As he had guaranteed his brother's credit and the bank threatened to take away his pub, Nicolae committed suicide, falling from the second floor above the cellar, as we learn from the newspapers of the time. Bucharest locals decried the misfortune, but equally clear was their concern with the future of the famous pub. Times were testing but the company and the beer house survived.

Apparently, the new owner did not interfere with the "house customs," which explains the popularity of the beer house among the German officers between 1942 and 1944. Then came the occupation by the barbaric Red Army and the abusive seizing of the pub in 1948-1949 (so-called "nationalisation"). The Russian officers, bothered by the "German paintings," ordered that they be covered in red paint, so that everybody would know who the new master was, and that decorations be covered in white paint. Whether communist or apolitical, Bucaresteans were appalled by the mutilation of their beer house and shortly after Stalin's death 1953, works were carried out to remove the red paint.

Under new ownership, the "bourgeois" tradition lost its appeal: the horse radish Praguers were replaced with the more popular Olt sausages, the mushy peas were taken off the menu.... "Caru cu bere" was perhaps doomed to become a regular Socialist beer house. Clients were still numerous however, and most of the time graced by artists. The decadence lasted until 1986, when large-scale restoration work began, coordinated by painter Nicolae Gheorghe. He restored not only its past elegance, but also its lost dignity, at the expense of proletarian clients. Today, the Caru' Cu Bere is part of the City Grill network. Murals and frescoes on the walls and ceilings and the gilded decorations look just as they did 100 years ago, tables have been reconditioned, along with the oak wood furniture. Superb stained-glass windows filter the light, and chandeliers have regained their lustre. Downstairs in the cellar is a genuine museum displaying beer steins and pints from various periods.

There is also an unrestored part of the building that gives access by winding stairway to other apartments and rooms above and behind the restaurant (see pic right). I have to go and check it

out!
It's a great place to meet, drink and eat, the live music is usually very good, though sometimes a little overbearing, and ranges from gypsy music - see HERE, traditional Romanian music. No kitsch at all (with the exception of 'Voulez-vous Coucher Avec Moi'!!!). Bravo! Just a little word of advice: don't forget to reserve in advance - the queues sometimes stretch past Stavropoleos Church, and as the service isn't that rapid, you could be standing there waiting all night! Everyone wants to experience a bit of Caru' cu Bere, and who can blame them, for this is a sparkle of Bucuresti de Alta Data, a memory of the Little Paris that was and is still present here in this haven of marble, wood, frescoes and ambiance.
31 mai 2008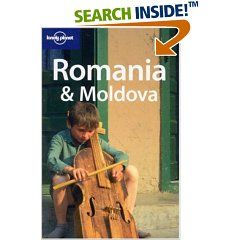 Lonely Planet 2008 Guide:
Foreign tourists who visit Romania are advised to avoid pickpockets, taxi drivers without taximeters and stray dogs
by Radu Rizea HotNews.ro
Miercuri, 28 mai 2008, 9:51 English | Bucharest
"Thieves, taxi drivers who don't use their taxi meters, stray dogs,
unpleasant surprises with restaurant bills and the aggressive driving are main issues in the Lonely Planet article about Bucharest, in the 2008 edition of the guide.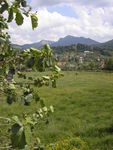 The guide warns that pickpockets and thieves are an issue not only in Bucharest, but also in Brasov, Constanta, Iasi, Suceava and Timisoara. Bags should therefore kept zipped and out in front, so they can't be cut.

In restaurants, the author finds three problems: different menus (one to order and a more expensive one, when it is time to pay), prices per 100 grams, while the portion is at least 400 grams or serving other wines than ordered, at significantly higher prices.

The guide also warns tourists not to use taxis without taxi meters and to avoid dogs,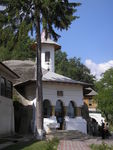 claiming that each and every citizen in Bucharest was at least once bitten by a dog. Furthermore, medical services are not trustworthy enough in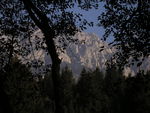 case a tourist is bitten.

The Lonely Planet guide, taken over in 2007 by BBC Worldwide, publishes some 500 titles, produces the "Lonely Planet Six Degrees" TV series for Discovery Networks and owns the lonelyplanet.com and lonelyplanet.tv websites.

The author of the article says he stayed for 18 months in Romania in order to gather information. Similar recommendations were published by Le Routard guide for the 2006-2007 edition."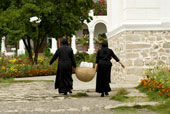 Yes, yes, okay it's all true. Taxi drivers without metres are cruising for targets and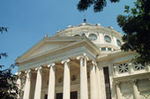 you'd be an idiot to get into one, there are restaurants who rip off tourists, the medical services are chronic if you're daft enough to travel without medical insurance which entitles you to good care at the Euroclinic. But as for the dogs...guys, what on earth would you be doing touching a wild dog anyway??? Come on. Even if you're a passioned dog-lover, you can tell which dogs you can pet, and which ones would rip your arm off at a glance. Be reasonable!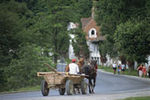 Of course there are negative points travelling here, but that's the case in EVERY country. I haven't read the 2008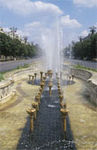 Lonely Planet, so I can't really comment. I just hope that the wonderful things about Roumania are mentioned, too - the incredibly overwhelming generosity and hospitality, the warmth of the Roumanian people, their fabulous and completely silly sense of humour, their gift of throwing the most marvellous parties at the drop of a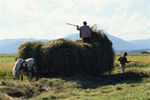 hat, the art, literature, music and history, the beautiful buildings and parks, the great food... I could go on for hours, and that's only Bucharest! The joys of the mountains, coast, delta and countryside would take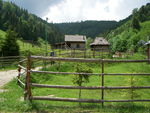 another week!
I've always appreciated LP for its excellent guide books and hope this isn't the beginning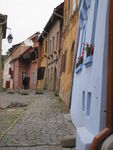 of the end of that particular happy relationship! Don't be put off by the criticism. Just be streetwise and sensible, wherever you're travelling. This is one country not to be missed -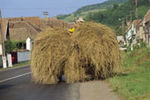 it'll touch your heart and perhaps even change your life as it did mine. It certainly makes you prioritise and look inwards. How I love it!
Incidentally, the pix are all mine (apart from the book cover at the top) showing: Rucar, Cheia, Piatra Craiului, a lovely church carved into the mountains visited with Lucia and George (can't remember the name - sorry), Agapia, the Atheneum, a road in Bucovina, violinist in str. Lipscani, fountain at Pta Unirii, hay-making near Piatra Neamt, another field in Rucar, hay cart somewhere in Moldavia and a cobbled street in Sighisoara. Roumania really does look like this. So, let's have no more of it! Do notice there isn't a street dog in sight. But if you want one, là voilà! I'm sure you'll agree that he doesn't look very vicious! Actually, he ate my Easter cake as we were leaving Cocos monastery....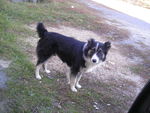 Love, Sarah
THE RELEVANCE OF THE COMMUNIST PAST 28/05/2008
Radio Roumania International
"Launched at the Romanian Cultural Institute in Bucharest, the project is an effort to reconstruct the history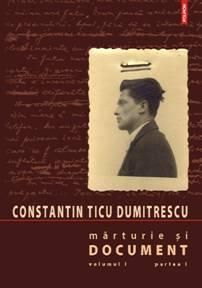 of the Romanian gulag. Arrested by the communist political police in the late '40s, while a high school student, the former Christian-Democratic MP and member of the Senate Committee for the investigation of abuse and corruption, Constantin Ticu Dumitrescu (http://ro.wikipedia.org/wiki/Constantin_Ticu_Dumitrescu), is the president of the Association of Former Political Prisoners and initiator of the Lustration Act- the law that was supposed to ban former communist dignitaries from power.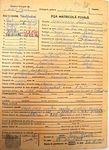 The first part of the series, titled "Recourse to Memory" and written between 1979 and 1981, when Ticu Dumitrescu was running a small forestry site in Vrancea mountains, Eastern Romania, includes the actual memoirs. The other two volumes, entitled "Recourse to Documents," include statements, transcripts and reports on the interrogations he was subject to. Dumitrescu presents here information on the operation of the communist repressive apparatus, the Securitate in particular. Unlike other authors that have approached similar topics, Ticu Dumitrescu had an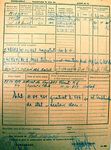 opportunity to study the Securitate archives within the CNSAS, which contributed to the exposure of hundreds of people who collaborated with Securitate or were involved in political policing, and at the Justice Ministry, where he obtained copies of important documents.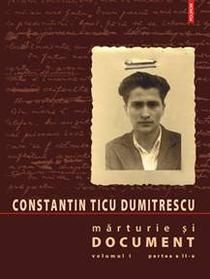 Attending the event, President Traian Basescu, who in December 2006 officially denounced communism as criminal and illegitimate, resumed his criticism of former communist party leaders who are still present in today's political arena. He stated that, while he would never go as far as to claim that he was a dissenter, he would nonetheless struggle to have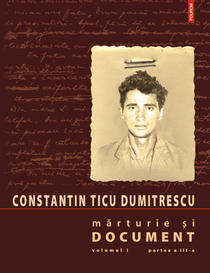 "the truth on communism brought to light." Ticu Dumitrescu decided to publish these memoirs, which he felt was a "moral duty," after having survived persecution in communist prisons, so that his experience may help the generations to come. They are only one page in a large-scale trial of communism, added to other works that look at the crimes of the former regime. During thousands of days of incarceration and investigation, Ticu Dumitrescu never lost heart. This earned him, quote, "the most paradoxical title of nobility in the history of mankind:" that of political prisoner. It cost many people their lives. Those who received this title didn't seek it, and those who offered it didn't realise it was ennobling."
See also: http://www.hotnews.ro/stiri-cultura-3095032-marturie-document-constantin-ticu-dumitrescu.htm
http://www.eurotopics.net/en/presseschau/autorenindex/autor-dumitrescu-constantin-ticu/
http://www.icr.ro/lansare_marturie_document
http://www.roconsulboston.com/Pages/InfoPages/Commentary/Communism/DumitrescuBook.html