27 mai 2008
My God, how Monica Lovinescu is missed.

Here she is introducing the book 'In The Beginning Was The End' by her friend, Adriana Georgescu, one of the first victims of the pro-soviet government which came to power on 6th March, 1945. A talented journalist, she was also President of the Tineretului Liberal University, a member of the Tineretului National Liberals and was Chief of Staff to General Radescu's cabinet. In July 1945, aged 28, she was arrested in Bucharest, accused of anti-communist conspiracy. Adriana Georgescu Cosmovici was repeatedly and brutally raped, beaten and tortured by a team of communist secret police investigators one of which was soviet agent Alexandru Nicolschi who later became the chief of the Securitate. She fled to Paris and then to England where she married and settled, deeply traumatised and forever scarred by her incarceration and the depicable cruelty inflicted upon her at the hands of aberrant brutes. 'In The Beginning Was The End' is her story.

From www.memoria.ro

Introduction to "In the Beginning Was the End" by Adriana Georgescu

Monica Lovinescu

This introduction was written for the Romanian edition in Paris, March 1991 and translated into English by Dr. Dan Golopentia in 2004.
(Pic below Monica Lovinescu)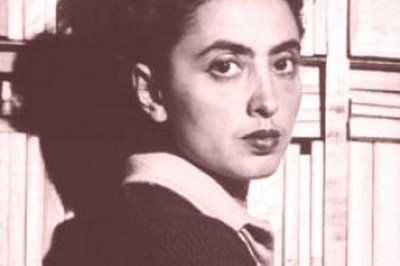 I met Adriana Georgescu again in April 1990 in University Square in Bucharest. I knew that she was now living on the other side of the Channel in a British town. That she had changed her name, after a new marriage, to Westwater. That her appearance had been changed not only by the passing of time but also by the incurable trauma of her prison experience. I had followed year after year her evolution and her tragedy. Still she seemed to belong amidst the youth here. When they sang with humour – a humour pierced by bullets – the "golanilor" anthem. And then, kneeling, when they picked up another refrain, "Oh Lord, please come Lord, to see what is left of the humans". Between the lyrical-revolutionary illusion of the beginning and the disconsolate premonition of the end was Adriana's real place.
Adriana Georgescu was a symbol of the obstinacy with which Romanian students and youth in general defied the Soviet occupation after the war. Near Mihai Fărcăşanu's unmistakable silhouette leading the Liberal Youth demonstrations, and inseparable from it, was Adriana's golden hair, athletic slenderness, confident laugh. Newspaperwoman, very young attorney, just out of the University, then General Rădescu's Chief of Staff, the anti-communist resistance found in her an emblematic figure. She was also to become one of the first sacrificial victims of the first show trial in the long series that Nicolschi imposed upon Romania, a series that was to lead to the unfinished symphony of horror at Piteşti. That diabolical stage hadn't yet been reached, but even these initial exercises had been enough to change Adriana's whole existence, henceforth accompanying all the stages of her life with their unending nightmare.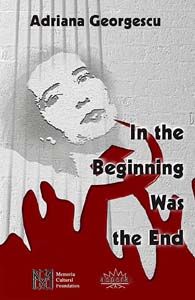 When we met in Paris at the end of 1948, despite what she had been through, Adriana seemed unchanged. She was still General Rădescu's Chief of Staff, stopping here on the road of exile that was to take him to the United States. Adriana could still laugh as well as before, she hadn't given up hope. Of course it was also true that all of us, students or recent graduates, in Paris in sufficient numbers to turn Boulevard St. Michel into a sort of Calea Victoriei away from Romania, we all shared the same recklessness of our age. I only knew one exception: Virgil Ierunca. He walked among us actively pessimistic and was the only one whom I never heard using at New Year or other holidays the ritual formula, "Next year in Bucharest". I myself had come to Paris with the firm belief that Malraux could be convinced to set up international brigades to free Romania.
But I had come to a Paris that was convalescing after one war and unable to prepare for another, and I was among Marxists, Marxist sympathizers, communists, and other fellow travellers for whom Moscow was an anti-fascist Mecca. Among the representatives of the Great Powers who made up the Nuremberg Tribunal, the representatives of the Gulag were trying the heads of the Nazi concentration camps.
One couldn't talk about the satellite-ization of the East without being labeled a fascist. Our stubborn refusal to admit to the division of Europe and the flagrant injustice of the peace was not dulled by aggressive contact with reality. We printed newspapers, we agitated, we held meetings, we knocked on all the doors, we wanted to open eyes that had chosen to remain closed. Such an out-of-sync attitude cannot be explained only by our youth. A very mature Grigore Gafencu did the same thing at a different level. In the United States Committees of the Captive Nations were formed – we even had two, one led by C. Vişoianu, the other by General Rădescu and Mihai Fărcăşanu. The legitimacy of regimes that came to power in falsified elections seemed easy to challenge.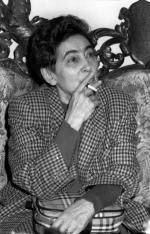 The word exile is actually misleading: there are a number of very different types of exiles. Ours was mainly made up of people who had run not to escape, but rather to continue fighting.
And we kept fighting. Without weapons, without those tanks in which we still dreamed of returning to Romania. We fought with our pens, with our words. Only in 1956, when we saw in amazement that the bloody suppression of the Hungarian Revolution took place without any reaction from the Western Powers (a single United Nations plane carrying the General Secretary of the UN to the Budapest airport, in answer to Imre Nagy's desperate call, would have probably been enough to stop the slaughter and to change the course of history), only then did we realize that our wish was in vain. And since then there have been many types of exiles. The ones determined to continue – true courage, said Simone Weil, is to fight when there is no hope – did it, each in his own way, living their life as a hiatus between what was, and what had almost no chance of coming into being. Others more or less adapted. Others assimilated. And in the waves of exile that followed some were strictly "economical". Seldom "political". In 1956 there occurred the first great loss from the first great exile: Grigore Gafencu, while coming back from a radio station where he had launched a last appeal to save a revolution which could have spread beyond Hungary's borders, was brought down by a heart attack.
But it wasn't yet 1956 when I saw Adriana again in Paris. We still lived with the conviction that eyes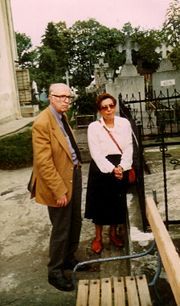 must be opened. In the cafés of St. Germain-des-Près, instead of talking about existentialism and looking for Sartre and his cohorts, we came up with a strategy. Adriana would write an eyewitness account, and I would translate it into French. The sooner the better. The urgency was measured by the number of prisons that were filling up in Romania. We agreed that she would bring me every day what she had written the previous night. When she didn't have time the night before, she would write at my house and I would translate it on the spot. "My house" was in fact an attic room ("chambre de bonne" the French call it), the kind poor Parisian students had in those days. And for the first time in my life I was quite poor. But I admit I didn't completely dislike this bohemian lifestyle, which I hadn't known in Romania: university eating halls, rooms without running water, unlit staircases.
There, at 44 Boulevard Raspail, Adriana climbed daily to the seventh floor, and of course there was no lift. Sometimes with three or four pages written in a hurry, sometimes without any so she had to write while I prepared something to eat. Because Romania had broken cultural ties with France we were left without stipends and had only minimal student aid. I didn't really know how to behave when one is left with nothing, but for some reason poverty was connected in my mind with mămăliga. So we looked in all sorts of specialty stores for corn flour, which was rather expensive in those days, out of which, I due to my ignorance, Adriana due to her extreme concentration on the manuscript, we made a rather poor mămăligă. We ended up with some lumpy stuff which we complemented with American chocolate. Various American charitable associations sent food and second hand clothing parcels for East European refugees. They shipped it all together so that our chocolate smelled of... moth balls. We smoked and we drank, Adriana tea and I coffee. And we worked.
When she left, usually late, down the unlit staircase, Adriana sometimes dropped the pages that had been translated, or threw them crumpled into the waste-paper basket. They weren't very important to her, she wrote with a single goal in mind: "to open eyes". During our breaks we behaved childishly or even ridiculously: we put Romanian words to the French Partisan song and imagined ourselves in the first battalions that would throw open the prison doors. We projected the obsessive, in those years, images of the French resistance onto the Romanian reality. And after an intermezzo of hallucinations we would start again: she to write, I to translate.
When she got to her first experiences with prison and torture, Adriana put her fountain-pen down. Her whole body started to tremble. Her teeth were chattering. (This trembling has accompanied her throughout her life, it has been her eternal present.) I gave her another cup of tea. I opened the window that looked out over the Paris roofs. But she was still in the darkness of the Bucharest prisons. Before starting to write again, she told me, still trembling, all the things that she couldn't put down on paper. Then gradually she calmed down and wrote, torturously, sparely, allusively about the unnamable. She threw those pages into the fire immediately after I had translated them into French, seemingly believing that by burning them she could also consume her past. The paper turned into ash but her burden remained.
But even among her prison memories were episodes that were not tragic. She remembered with humour and tender emotion her prostitute and thief cellmates. In order to translate Romanian slang into French, a friend introduced me to one of his resistance comrades who talked only in argot. Plain, massive, primeval even, seemingly still holding in his hand the machine gun which he hadn't yet completely set aside (he told me he kept his weapons hidden under his bed), a simple and courageous man – he had also been behind bars for honourable reasons – he told me everything he knew. Thanks to him the Dâmboviţa felons, thieves, and prostitutes were able to talk just like those on the shores of Seine. A single word remained unchanged: "rag" – the friendly way Adriana's prison-mates called her. I remember it because Adriana and I adopted this name and used it later in our conversations, and after her departure for England in our mail. Never "dear Adriana" or "dear Monica". We used "rag" instead as a sort of a link – unconscious? – between what we were hoping for then and what was never going to happen.
Adriana busied herself not only with the writing of the book, finished in record time due to our rhythm and working style. She was always active. As a member of the Liberal Party. As Rădescu's secretary. She made things clear to politicians, newspapermen, she went to meetings, she kept talking, she kept talking. At the trial brought by the heads of the democratic parties from East and Central Europe against the communist author of a book that was making waves in those days, L'Internationale des Traîtres, Adriana, in her deposition, warned the West that if it failed to do something for the "other Europe" it would eventually be faced with neurotic societies. Her prophecy, based in part on her own suffering, was confirmed by the state of Romanian society after 1989.
The book was published by Hachette in 1951. I signed the translation with a pseudonym (Claude Pascal). I had a hostage in Romania: my mother. In spite of this she was arrested in 1958, at the age of 70, sentenced to 25 years, and in the end murdered in prison through the denial of medical care. Not, however, because my pen name was deciphered, but absurdly (and what wasn't absurd in communist Romania?) for "espionage". How? By sending me printed silk scarves on which she supposedly drew... military maps. Needless to say, my mother didn't know how to draw maps and I never received any scarves from her.
Despite the leftist milieu, Au commencement était la fin was favourably received in the French press. Adriana assumed that the Romanian Embassy bought the whole edition so that the book wouldn't reach the public. I don't know if this was the case, totally or partially, although such "mass purchases" were used by the communists at the time. In any case the whole edition sold out.
What is left to say is why I think the publication in Romania of Adriana Georgescu's book is salutary and of current interest. Salutary because we suffer, and are going to suffer for a long time, from Romania's image in the media as the Eastern European country with the weakest dissident movement. And, with a few well-known exceptions, this is a fairly accurate description of the last decades. But not of the first decades after the war. The resistance movement in Romania after 1944 was probably more numerous, more unified, and more determined that that in neighbouring countries. And longer lasting. In September 1947 in Vienna, after I had clandestinely crossed a border (even though my passport was in order… but that is another story that I am not going to tell here), I was in the office of a French officer in order to get a new visa in my passport already filled with stamps. Behind his desk there was a huge map of Romania with small flags marking the resistance bases in the Carpathian mountains. The officer wanted to know if I was aware of any other resistance centers. I wasn't. I was aware though of the resistance that was more or less open in society ("civil society" we would call it today; and it existed in those days).
I was the delegate of the Literature Department of the University of Bucharest to a large student congress in May 1947 in Cluj. The communists and the various "fronts" behind which they were hiding wanted to force us to stigmatize and "fire" the professors resistant to the new order. We withstood the pressure so well (universities from the whole country were represented) that the congress ended without any positive results for the communists and with the Royal Anthem being sung in a large hall filled with students. I was lodged in the medical student dormitory, and we plotted in long sleepless nights what tactics to follow. Among the intellectuals there was the same determined attitude. Together with Ştefan Augustin Doinaş and other members of the Sibiu circle we went to see Lucian Blaga. Blaga wanted to know details about how the Bucharest writers and university professors were surviving. His long periods of silence were punctuated by anxiety and determination. "Silent as a swan", Blaga was listening to the future.
I think this initial resistance has to be emphasized in order to re-establish the truth, to honour those who are no longer with us, and to rid ourselves of one of our rare undeserved complexes (so many are justified!).
As far as the current interest of this testimony goes… I assume it isn't necessary to dwell on it. The readers will judge for themselves. For me it was enough to meet Adriana again in University Square in 1990.
There are some essential differences though. In 1945 we had a civil society, but also the Red Army, in a land abandoned to Soviet "influence" . In 1989-1990, the society, with a few well-known and wonderful exceptions, seems ill, "neurotic", Adriana would say. On the other hand, Europe is no longer divided, and the Red Army is busy at home.
In 1945 everything depended on foreigners. Now everything is in our hands. In principle, there is no reason for the beginning to be the end.

Monica Lovinescu
Paris, March 1991
See also: http://www.romanialibera.ro/a123276/la-sfarsit-a-fost-inceputul.html (in Roumanian)
25 mai 2008
What a lovely weekend it's been! How good to have Marie Jo here and to see Chantal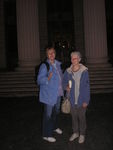 relaxed, having a good time. After a tour of my new neighbourhood with Rosie yesterday, dinner at the Ateneu Bistro complete with Jewish musicians singing Yiddish Mome and the like, then a tour of the centre by night, we got back to Hotel Carpets in str. Matei Milo after midnight. Poor Marie Jo could hardly walk but being Marie Jo she just kept on at a stagger with, as she said, her backpack keeping her straight,
snail fashion. They liked my new flat very much and are thrilled to be back in Roumania again. They both love it. Marie Jo is keen to visit her beloved museums (Roumanian art and Zambaccian), so they're coming back earlier from Sighet than planned, as they're both closed tomorrow! In fact, everything seems to be closed on Mondays and I'd never noticed. I'm working too, so they'll meet up with Lydia in the morning and get train tickets, then explore Bellu Cemetery, which really is lovely. All you people out there who hate cemeteries, think again, for Bellu deserves a visit next time you're in town.
This morning I went to teach Eugenia and then met them both once more at Pta Romana to do the Nicole Tour 3 taking in Dorobanti, str. Polona, str. Dumbrava Rosie, Pta Lahovary and str. Tache Ionescu, stopping off to see Tantza en route before she goes into hospital tomorrow. There's so much to tell you, so with all credit to Nicole for doing so much research and sending me such a wonderful walk (sorry we left out Dacia as the interesting bits were mostly the other side of Pta Romana - another Nicole Tour 3bis to be done with Aura and Lucia at a later date), please join us for another fabulous Nicole Tour of this wonderful, rich city.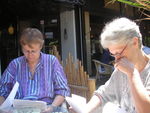 Having first stopped for fortification (and examination of the tour, see pic left) at one of the café's on Dorobanti/Dacia, Rosie included, we began on Bd. Dorobantilor (a 'dorobantz' says Nicole 'was a type of soldier during Roumania's war for independence') with the British Council at nr. 14, originally the Simionescu-Ramniceanu house. No information is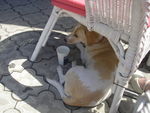 available regarding the original owners, but I do know that the British Council are now the legal proprietors. Since when I don't know but I certainly intend to find out. After all, I'm spending more time in this historical building than out of it! Next door at nr. 16 is the house designed by Berindey for Bratianu, the famous liberal politician who was imprisoned and consequently died in Sighet (remember his palace I visited on Viserion during Nicole Tour 2?). Today it is home to the Ukrainian Embassy. See http://jurnalul.ro/articole/9481/amintiri-pe-calea-dorobantilor for interesting article in Roumanian. Its neighbour at nr. 18 is the Filitti house, today the Croatian Embassy, with its beautiful terrace. the cretin in the kiosk in front of it didn't know what embassy it was, who lived there or why we weren't allowed to take photos, much less who forbade photography of this gorgeous building. So, I positioned Marie Jo and Chantal in front of it, pretended to photograph them, focused on the building behind and took three. Then, like the idiot I truely am, I erased them by mistake when sitting having coffee a little further up the road. Oops! I'm as cretinous as the stupid guard! Pix of nrs 14 and 16 were also forbidden so I'm afraid I can't show you anything of the lovely architecture.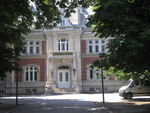 Crossing Dorobanti to nr. 39 is the superb mansion that belonged to lawyer, diplomat and conservative politician Ion Lahovary. This little palace was designed in French renaissance style (I'm quoting Nicole here, so pleased don't be impressed with my non-existent knowledge) by Louis Blanc at the end of 19th century. It has a vast garden with beautiful, shadey trees. Princess Marthe Bibescu, a fascinating woman née Lahovary of Mogosoaia fame spent most of her childhood here. For more on her see http://en.wikipedia.org/wiki/Marthe_Bibesco. Today, it's the Cambridge School.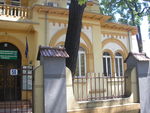 Back on the other side of the road at nr. 58 on the corner of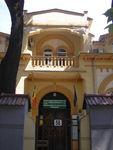 Dorobanti/str. Ioan Bogdan is a really lovely house that belonged to historian Ioan Bogdan. Today it's a children's hospital: Spitalul Clinic de Urgenta Pentru Copii 'Grigore Alexandrescu' (Roumanian poet see http://en.wikipedia.org/wiki/Grigore_Alexandrescu). I don't know if there is a connection between Alexandrescu and this house. If not, why doesn't the hospital bear the name of Ian Bogdan?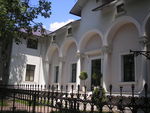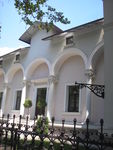 Next door at nr. 60 is a really fabulous house. It used to be the Slatineanu nursing home for old ladies (very nice, too!) but today is the Continental Hotel. It was designed in 1884 by architect Paul Gottereau.
Nicole's instructions advised taking a look at an ensemble of buildings named 'The Zodiac' designed by Radu Dudescu on the same side of the road. Lo and behold at nr. 36-40 there it was. She mentioned an interior
courtyard, but I didn't find one. Certainly no garden to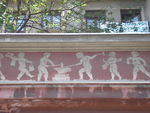 mention at any rate. An empty space acting as car park and dustbin area would be more accurate. The buildings on the outside are hefty and quite attractive with pretty sculptures and paintings above the main door and under the big windows. Not quite Art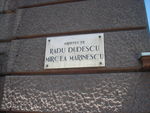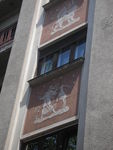 Nouveau, but nevertheless trying. The buildings surrounding the 'courtyard' are epoch and elegant. A huge, snarling alsatian dog (albeit chained up) kind of putting me off exploring any further.
'At nr. 72' (quote Nicole) 'is the house of the late diplomat,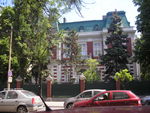 politician and conservative Prime Minister Petre Carp. It's a beautiful three-storey villa with a balcony supported by two columns. The Embassy of Turkey purchased it in 1931'. I walk past it very often and admire it. There's a lovely garden at the front with trees that sweep the pavement and hide the top of the security guards' kiosk. Again, photos forbidden, it being an embassy, but here's one anyway, taken from the other side of the road (pic on right)....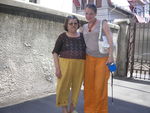 Nothing else worth exploring beyond the busy Stefan Cel Mare crossroads, so we popped down str. David Emanuel into Polona and paid a visit to Tantza at the cave. How I've missed her. She was so glad to see us even though she was busy preparing food for the week she'll be in hospital (I do hope no more) for her grandson Dinu. She's so worried about going and frankly, I don't blame her. She hugged Marie Jo and Chantal like long-lost relatives and then exclaimed with a shriek that I'd caught far too much sun and started to pinch me. Ow! 'Tantza! that hurts! What are you doing?!!!' She gave her Tantza grin and replied that if you pinch sunburn then rub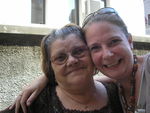 squashed tomotoes into your skin then it doesn't hurt anymore. 'But Tantza, mama, it doesn't hurt now!' She shrieked with laughter til she cried and then gave me an update of news in str. A. Philippide. We stayed for about half an hour and then she had to get on with her cooking. How wonderfully Roumanian. When you're stressed, uptight or nervous, beat it to the kitchen! I found it very hard to leave her and shall go and see her in hospital on Tuesday as it's just round the corner from Icoanei Park.
From the cave, through the park opposite the French Institute where I now feel sad
because I can no longer walk Rosie there and meet Lucia or Aura, then round the back to str. Dumbrava Rosie. This road is full of real architectural treasures, not to mention hibiscus bushes, azaleas that take your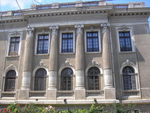 breath away, bourgainvillier and wisteria everywhere you glance. Colour and perfume govern this little street which overlooks Ioanid park. Along we wandered pausing in front of every villa without exception, chatting to the security guards of which only one knew anything at all about history of the house he was surveilling and then...we arrived at Nicole's advised visit - nr. 5. In a street where numbers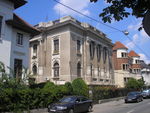 aren't visible this was something of a fete, but the security guard in front of the Austrian Embassy at nr. 7 knew exactly what we were looking for. the Procopiu villa stands proud and majestic, a little out of place in this line of romantically designed creations by Staadeker, Stoicescu, Cerchez, Smarandescu and other great names of Roumanian architecture. It's an impressive house and I wish I could get inside for a good nose! It's owned by a family, lived in and loved, but by whom, I can't tell you.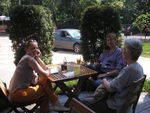 We stopped at the Garden Café in Icoanei Park for refuelling. Stupid new signs have sprung up all over the lovely park informing that dogs are forbidden. How ridiculous. We met a dog-walking friend of mine Doina who speaks fabulous French and so entertained Marie Jo and Chantal with all sorts of tails whilst her dog Piki and Rosie played together. She has decided to sell up and move to Spain. She says she can't stand it any more and just wants to go elsewhere where she can be happy away from idiots. I should have pointed out that they exist everywhere and there are probably a fair share in Spain, too, but I didn't want to burst her bubble.
Along str. D. Lupu to Pta Lahovary. At nr. 9, the imposing mansion of a wealthy industrialist (quoting Nicole again), owner of the first steam mill, Bazil Assan. After studying in France and Switzerland, Assan commissioned Ion Berindey to present him with a mansion fitting his position in society. The result is a Louis XVI-style villa placed in the middle of a beautiful garden. The villa has two façades. One on the street of course, and the other round the back. It's a restaurant today, and my first lunch with colleagues in BC back in September last year was there on the terrace. Since the days of its nationalisation (1948) it has housed the Club of Scientists (casa oamenilor de stiinta).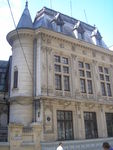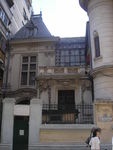 Along str. Tache Ionescu are two lovely houses. At nr. 25 you'll find a residence that once belonged to a well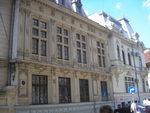 known lawyer and conservative politician and minister, Tache Ionescu. Designed by Louis Blanc in French Renaissance style, it houses the 'Constantin Brailoiu Institute for Folklore and Ethnography'. Nicole adds 'Behind this house, Ionescu's widow (second wife), Adina Olmazu (1889-1975!) who had married Polish Prince Korybut Woroniecki in 1929, commissioned architect Alexandru Zaharia to design a villa in Florentine style on the place of the former stables'.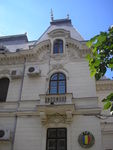 Next door at nr. 27 is the house of politician and writer Constantin Xeni. Today, it is home to the Roumanian Automobile Club.
We moved on to Magheru and caught the bus here to Pta Dorobanti, walked through str.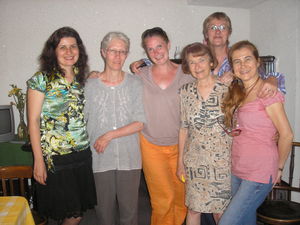 G. Calinescu and collapsed in a heap up in my treetop house. With half an hour to prepare, a high tea was foreseen for 5pm with Lydia and her friend Dana, Aura, Aylin and us three. It was a lovely afternoon and evening with so much to hear and discuss. Marie Jo kept saying 'ce n'est vraiment pas juste - vous êtes toutes belles, intelligentes, vous parlez plein langues, vous connaissez tellement de choses...ça ne va pas du tout!' How she loves my friends and being here. It was a French evening and despite not missing France, I do enjoy speaking the language very much - with Jacques Brel for ambiance and Barbara's 'Petit Sonate', a room full of fascinating people with so much to express, good food (Aura must have left Carrefour empty!) and PGTips, my only regret was that Lucia and George weren't amongst us. They'd have enjoyed it so much.
I saw Marie Jo and Chantal finally to the taxi rank on cal. Floreasca, walked Rosie a bit and now here I am after a skype chat with dear Nicole, who's suffering from a sudden and very acute attack of lumbago. As we were doing her walk, she wasn't walking anywhere at all, poor darling. Please spare her a thought - lots even. It must be dreadful for such an energetic little thing as Nicole to be 'foarte cuminte' and still. The more good thoughts we send her, the quicker she'll get well. So, get sending good thoughts and warm wishes by telepathy. Anyone who's ever had the dreadful pain and inactivity of lumbago will know how much she needs them.
Good luck for the week to come! Write soon!
Love, Sarah
23 mai 2008
Hi Everyone,
It's been such a busy week that I'd better update you now before everything becomes merged into one swirling haze.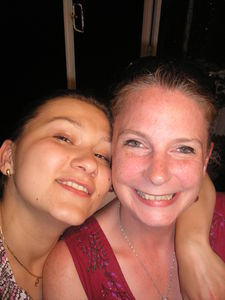 Gaby returned from her three months in London - it's gone so fast and reminded me horribly that my days here are numbered too...three months left and then back to Paris. Anyway, she came round Monday night and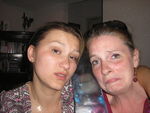 we sat up til 3am talking, catching up, gossiping which became progressively more slurred as the morning approached (see pic right for reflection on my return to Paris) - so much to say as e-mails are never enough. It was so good to have her back again. Bucharest without Gaby was rather like Paris without the Champs Elysées! She set up my Facebook account whilst she was here, which is, apparently, how you Brits are communicating these days - 'you have
to do it!' she insisted when she saw how worried I looked as I don't have enough time for communicating by cyberspace as it is - 'everyone's doing it in London. Noone bothers with e-mails anymore'. I can hardly believe it. But anyway, nice to be back in contact with Ruth, Stephen, Steve and how funny to see Flori and Aless there under assumed names! I wondered whether maybe I should be known as Matahari, the Black Mademoiselle or 007.9 Secret Agent...! I got quite into it when Gaby came round again last night with the intention to dye my roots for me. Put 50 pix on the page and any thought of hair colour kind of vanished. How wonderful to have her jhere again, amongst us all. She had a night with the girls Wednesday but I couldn't go as these long days at BC have paralysed any kind of social life Monday to Thursday unless friends come round here.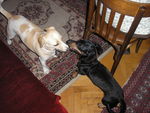 Tonight, Lucia and George came for dinner. It was their first visit and I was thrilled to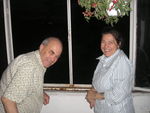 have them with me in my new home. They brought their dog,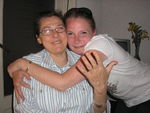 Picu, the noble sausage dog with them and he and Rosie hit it off immediately. Rosie was so thrilled to have a friend round for tea that she was more than happy to share her evening biscuit ration with him. She misses Kitzu and Pépé the Perv very much. Perhaps we'll walk round and see them tomorrow.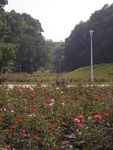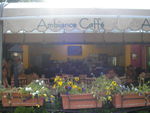 Yesterday morning between classes we went on an exploratory walk north of str. Bach, Rosie and I, to see what lay around the Bd. M. Eliade area. Nicole had advised me to check it out as there are gorgeous houses to be seen. I didn't find any though, so I guess they're the other side of the cal. Floreasca/Eliade intersection.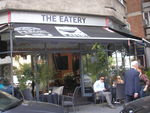 Instead, however, we discovered Floreasca Park and the lake, some lovely restaurants and bars (one allowed Rosie to sit at a table outside and even brought her a bowl of water as I sipped my decaf. The roses are in bloom, the grass a rich emerald, the smell of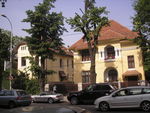 honeysuckle overwhelming just about everywhere...so many parks around here it's hard to remember I'm still in Bucharest. It's a really lovely neighbourhood. I miss the cave, all the goings on and being so central though. Getting to Tineretului for work at 8h30 yesterday took nearly an hour when it used to take me only 15 minutes with time to spare for covrigi hot from the oven en route. Those days are gone!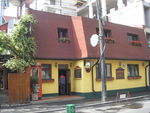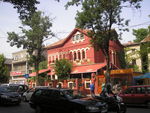 But what a pretty area I've moved into. Really. Some very cosy restaurants, yuppy cafés, beautiful villas and gorgeous little palaces to be seen and experienced. I even have a local pub, the White Horse, on G. Calinescu which is deceptively quiet on the outside though blows your brains out with loud music when you cross the threshold! I'll give it a wide berth I think as it's rather too ex-pat community for me. They have draught guiness however, which is worth remembering! I also have a very red but with good menu Italian Resto that I'd like to test. Charming old house, completely renovated. Shame about the colour. It must match the arrabiata...
Tuesday, I met up with Dan, a friend of Nicole and Serge. What an interesting man, passionate about architecture and saving as much of this beautiful city and its heritage as he can. He has plenty to say, makes for very interesting listening and is a mine of information. He seemed to know everything about everyone from politics to the 21st Dec Association, who wrote what in which newspaper and when and of course, historical figures, agreements, who lived where and why they left. It was a fascinating morning. We'll try to meet again when there's a lull in the rush.
I've discovered that Iulia, a Roumanian colleague at BC also lives in str. Bach - in the next block actually! Small world. So, we'll try to organise regular coffees and walks in the park, beers in the local café up the road and other such neighbourly get-togethers. She's a very nice person. We've always had a laugh when meeting for a cigarette me between classes, she during a pause in her ever-increasing admin. Nice to have a neighbour I know so close, as well as Nicole's friend Lula in str. Chopin whom I'm yet to meet. Seems like living here will be as sociable as str. Telenovelo. Speaking of which, I popped in there yesterday and what did I find? Tolea in the cave painting it white again after my cigarette smoke had tainted it all rather. Everything was out in the courtyard, and Mandita was there too, giving orders. Again she repeated, 'if you don't like it, come straight back!' Nice to know one's missed! My poor Tantza has to go back into hospital on Monday and I'm very concerned about her. Her bad leg isn't improving despite Reiki. It seems the veinous return is more than just sluggish as her ankle is horrifyingly swollen and her skin has split. Reminds me of a case of dropsy I once nursed at Queensclyffe. If it's not treated properly and quickly she'll end up with awful ulcers so I hope her doctor is half-way decent. Needless to say, I'll go visit her as often as I can as the hospital is near Icoanei, not far from BC and round the corner from the cave. Poor, dear Tantza. I saw Mr. Viagara as I was leaving who must now surely know why I moved out, for he mumbled 'buna ziua', eyes glued to his feet and wouldn't look at me for all the world. Mandita gave one of her sniffs and ignored him completely, squeezing my arm in an act of support. I ignored him, too. How anyone could beat my Rosie, or any other dog for that matter, just surpasses comprehension...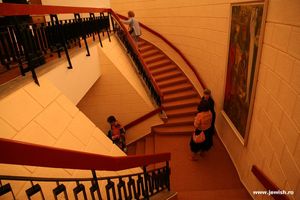 This morning I finally made it to the Jewish Community Centre in str. Popa Soare, not far from Ptas Unirii and Universitateii. What a lovely area. Beautiful old houses, villas, little palaces right, left and centre. The centre itself is more modern but very nice all the same. I'd hoped to meet Adi Guerain at last, but he'd just left. So, I took my six tickets reserved for 1st June and chatted a while with the receptionist who was very amusing and full of info. Maybe I'll take a crash course in Roumanian for Foreigners if I can find the time, for I don't feel that my lessons at BC are sufficient, expecially now I've moved from the cave and no longer have Tantza and Mandita to talk to. Time is so rare though - I haven't skyped with Nicole for over a week and there are so many people here I'm neglecting as there simply aren't enough hours in the day.
And that's all my news so far. Tomorrow, Marie Jo will arrive with Chantal, so that's the afternoon and evening taken care of as I'm sure Marie Jo will want to do her beloved museums. Perhaps we'll have dinner with Lucia and George if they're free. Sunday, Lydia of Gradinitsa will be here too and we've arranged a tea at mine with the three of them, plus Aura and Aylin. I'm hoping for a little time to recharge batteries, but it's looking increasingly less likely. Oh well...never mind. Hair dying is becoming more than just urgent! I've taken to wearing a headscarf to cover the iron bars around my forehead and decorating my temples. Oh, vanity!
Love to you all, and more Sunday. Have a great weekend.
Love, Sarah xox
21 mai 2008
I've heard it all, now...see video at the bottom of this post!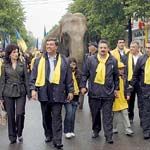 The Times of India, 21st May, 2008:
BUCHAREST: From parading an elephant through the streets to wrapping a condom on a finger or posing as Jesus, Romanian politicians are finding new ways to woo voters ahead of municipal elections on June 1.

In the Black Sea port of Constanta, a bulky candidate for mayor, nicknamed "the elephant," publicized his campaign by walking the animal through the town centre.

"It eats peas," the candidate Victor Manea said, poking fun at the current mayor of Constanta, whose last name, Mazare, means peas in Romanian.

The election for thousands of city mayors and county council members is an important gauge of the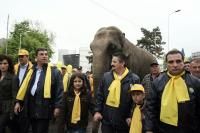 popularity of Romania's centrist government ahead of a parliamentary election this year. Hence the eye-catching stunts.

A candidate from the western city of Arad has printed banners showing himself sitting behind a long table, together with 11 colleagues, in a depiction of the Last Supper. His message is he "believes" in his team.

Banners in central Romania display images of a finger with a condom wrapped around it. The candidate for city hall in Bistrita, Gelu Dragan, hopes to show he will protect voters against ever-present corruption.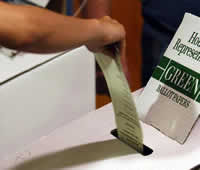 And in what a Romanian blog called "eggvertising," a candidate for the Navodari sea resort stamped his name on eggs to be sold in supermarkets. Their sell-by date is set for a week before a potential run-off on June 15.

Many voters, angry about Romania's dilapidated infrastructure and poor public services, are not impressed.

"I feel harassed," said Ileana Zamfir-Berca, a 49-year-old accountant from Bucharest.

"These people will do anything to get into power but just because they are walking an elephant doesn't mean they'll repair roads."
Romanians had also, for the first time, elected their representatives to the European parliament on 25 November last year.
Have a look - here's a clip from Realitatea: http://www.realitatea.net/video_299652_candidatul-pnl-la-primaria-constanta-s-a-plimbat-cu-elefantul-prin-oras_186626.html
And I'm allowed to vote, but I'm totally foxed as to who will get the cross next to their name. They're all as bad as each other...anyone have any helpful opinions?
Love Sarah
18 mai 2008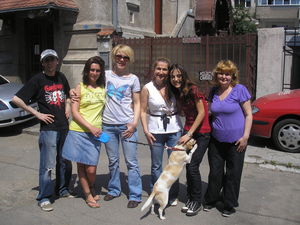 Dear Everyone,
Well, this is it! I'm above the treetops! I've moved! My wonderful friends were true heroes, and from the moment we started packing the cars to the moment everything was here in str. Bach, I guess about 45 minutes had passed. With Aura's and Oana's cars, we only had to make one trip from the cave. Brigitte was here waiting for us, and everything went like clockwork except for the internet connection.
The administrator here (the dodgy one I mentioned last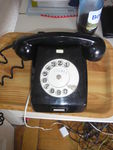 posting) had installed a phone and phone connection...well, if you'd seen the phone (a real museum piece) and the connection you'd have taken photos. What a mess! Held together with red tape and not much else. I'm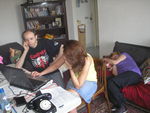 almost afraid to use it! Anyway, to cut a long story short, of course the ancient and fossilised phone wasn't compatible with the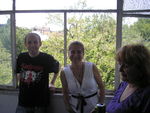 connection needed for internet. So, Aura and Aylin, bless them, dashed back to theirs to bring me a touch dial phone instead. You know, a modern one. That had the right connections. Aless and Bogdana set about getting me connected without success.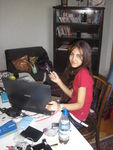 Hours (literally) on the phone with Romtelecom gave only one conclusion - there was a fault with the modem. Aura contacted someone she knew at Romtelecom. And what do you think?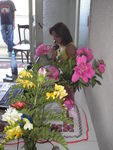 This afternoon at 15h, the doorbell went - two nice chaps fom Romtelecom to sort out my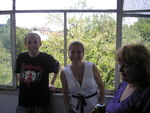 internet! They were here for all of five minutes, which included playing with Rosie. They refused tea, coffee, sandwiches and money which leads me to one conclusion only: that customer services has at last arrived in Bucharest!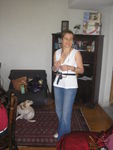 So here I am back on line. I'm so, so grateful to Flori, Bogdana, Aless, Oana, Aura and Aylin for all their fabulous help yesterday, their efficiency, kindness despite my stress levels (!!), understanding and general adorableness as always.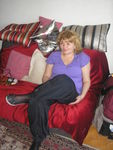 Thanks also to Brigitte for this lovely flat and to my dear Lucia for finding it for me in the first place.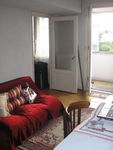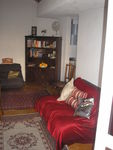 I'm sitting at the table in my sitting room, sun streaming in through the balcony door, the chorus of birds in the acacia tree that I can almost touch, deafening. How am I going to leave this lovely place in September. Okay, I know I'll be back, but still.
Rosie and I went out this morning before my private student arrived. We wanted to get to know the street dogs and neighbours a bit better. I knocked on the door of the flat directly below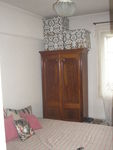 me. Brigitte had said she was a miserable old bag, so I took flowers with me. 'Hello, I'm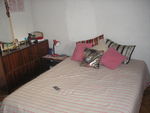 Sarah, your new neighbour from upstairs' and then hastily apologised for any noise, Rosie barking, etc. She hadn't heard a thing, and introduced herself as Lidia. She was very smiley and not such an old bat. Nice people also in the park opposite and two lovely street dogs of Ciobanesc race. Huge, like cows! One tricolor, the other beige and very pretty. Normally, Rosie gets panicked by big dogs, but they were so sweet and gentle she liked them at once. I haven't let her off the lead though in case she runs off to the cave.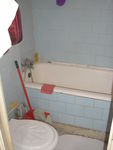 Went to the market early afternoon for fruit and veg - a boiling hot day again, inciting shade only. Oof! My shoulders felt burnt to a crisp just from the air. I do hope this isn't the start of yet another 'canicule'. The flower market is lovely, smells heady and although expensive has good quality. The Floreasca market though, is to avoid. Outrageous prices. 20 ron for a punnet of blueberries. So, I trotted off to Bila where it's a third of the price and yet still more than Carrefour.
And that's all my news to date. More when it happens. Tomorrow's Monday. back to reality! Gaby's back at noon. Tuesday,meeting with Nicole and Serge's friend Dan. My usual Wednesday morning off-site class will be held here as they have a conference nearby at 10h30. Nothing else planned til Marie Jo and Chantal arrive Saturday at 16h, but you know by now that surprises and news crop up in the most unexpected places to encourage a blog posting! At the very least, Nicole's sent me lots of info on the Bd. M.Eliade area and I haven't even done the Dorobanti/Dacia one yet. Better get my skates on, though I wait for a cooler day and a time when both <aura and Lucia are free to accomapny me as they both showed great interest.
Housewarming when Gaby's back and Aless returns from Dubai (25th) - maybe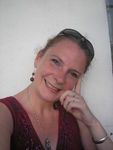 I should ask Old Lidia from downstairs for a drinkypooh first to get her tipsy so she won't mind the noise!I saw her again this evening whilst out walking Rosie or rather she spotted me first, making a bee-line for us. I wanted to ask her where the dustbins were. Try to explain that when you don't know the words for dustbin or rubbish. I had to mime. An oscar winning performance, even though I say it myself. She's a bit slow is Old Lidia (have to call her that to differentiate between my dear Lidia in Brasov who's young and full of beans and French Lydia who's older and full of beans too) She started off by shouting 'Police? Comisariat? Hospital? Administration?' Now where did she get those from the mime I was brilliantly inacting??? She got it in the end, though I was a bit redfaced by that point. Incidentally, it's out the back in a built-up concrete kind of place. The flies are rife and the intelligent thing would be to go there first thing in the morning, not when it's 30°!
Enjoy the pix!
Love Sarah xox
17 mai 2008
My 100th blog entry corresponds with my last night at the cave. Moved the first load of stuff with Aura and Aylin this pm (thank yoooooou!!). Brigitte has been great and thought of everything - even got a new fixed phone (looks like its pre-war, with old phone dial! I love it!!) and has put flowers on the balcony for me. Bless her heart! As we pulled up in the car, three fat dogs were sitting in the park opposite my block...with an equally fat cat. It looked like a typical teachers' meeting at BC! The 3rd dog had dozed off. My point exactly! (Photo taken by Aylin)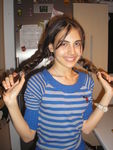 Evening spent with Rosie at Aura's for dinner as prospect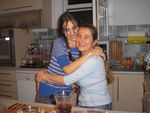 of the evening here at empty cave wasn't that tempting. Good choice as we had a great time as always. We got a bit legless, but I strangely and rapidly sobered up as soon as I got back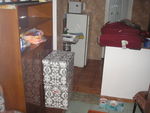 here and found empty shelves and cupboards, and boxes up to my nose. I arrived here with a few suitcases and now I have four plus four large boxes full of stuff. How? Its not like I've been a hundred times to Ikea! Its an enigma.
Nine months have passed since I arrived at the cave - and grand months they've
been too, spent with Mandita, Nicu, Tantza and Mr. Viagara. The arrival of Rosie has admittedly put strain on the Mr. Viagara situation for us all, and the absence of natural light was starting to get me down. But apart from that, I'd have stayed til September if it hadn't been for Mr V's cruel treatment of Rosie. Tantza is practically family, the food's wonderful, there's really never been a dull moment. However, strada Bach is full of trees, much less humid, is light and airy. I'll come back and visit Tantza as often as I can and return for Reiki as regularly as possible.
Love to you all, and next posting will be from the new pad. Hope internet will work as planned! I don't trust the block administrator, but I'll have Aylin, Aless and Bogdan to help with that. Quite frankly, I'm hopeless. The administrator (Roumanian version of concierge) is a shady character who'd make a nine bob note look kosher...he's not getting a penny out of me for the rates without an invoice to prove the amount, that's for sure. Brigitte told him that my accounts were all managed by the expert comptable at the French Institute (Lucia!) - nice one! He wasn't amused. Had a face on him like a bulldog chewing a wasp!
All for now and til soon, hopefully tomorrow, with more news.
Lots of love, Sarah xox
15 mai 2008
Dear Everyone,
Blimey, what a day. Rushed to BC this morning for a lesson. Strange...no students, and another teacher in my classroom...what's going on? Well, got the day wrong. I was convinced it was Wednesday today not Thursday...tragic, huh? And then when I wanted to call Brigitte here in Bucharest, I in fact called my other dear Brigitte in Paris. She also has two friends called Sarah, which lead to a very bizarre ten minute conversation on totally crossed wires. The preparations for moving are obviously turning me into a fruitcake, so thank heavens by Saturday evening it'll all be over.
The cave looks like an entrepôt, boxes and suitcases everywhere. Rosie has given up trying to make head or tail of any of it, and spends her time snoring. Not a bad idea all things considered.
Thank heavens for a large bowl of vinete in my fridge which is always the answer to everything!
I'm so grateful to my wonderful friends here who are going to help with the exodus. What would I do without them.
Love Sarah

Dear Everybody,
I'm posting this on behalf of Prof. Rumiana Mestrovic who got in touch with me through the blog.
You may remember a while back that I wrote about the new statue of King Carol by Florin Codre on Pta Revolutiei. A great deal has happened since then and my head is spinning rather. Having searched before writing it on Wikipedia, I read that, apart from other things, the sculptor of the original statue the Croatian, Ivan Mestrovic, had been payed damages for the destruction in 1948 by the communists of the afore-mentioned oeuvre, and that Florin Codre had said that his new statue would be inspired by the old one. I also mentioned that it had caused something of a polemic due to reports that the legs of the defunct monarch were too short and the face looked nothing like him. Remember?
Well, Prof. Rumiana Mestrovic (or Rumi as I have come to know her) posted a comment, including mails sent to a journalist at the Cotidianul newspaper and also to Codre himself. A great many lies have been told regarding the Mestrovic family, one of them being that they had been awarded damages for the destroyed statue - this didn't happen at all. Pure fabrication.
Anyway, to cut a long story short, I feel bound morally to share Rumi's last mail with you (please copy/paste the links), so that you can see the untruths that have been circulating in the Roumanian press. If any of you have any contact with good journalists who would be interested in this, please let me know. I have already sent various documents to Lola and Romulus for Nine O'Clock and Romania Libera. I know that Rumi wants to set the record straight, is profoundly angered by the lies and slander and rightly so. Apart from sharing her mail with you and passing on all information that she sends me to people who can publicise, write articles, help her make some noise etc, I don't know what else to do. It's frustrating and I so want to help. So many lies, false information...and in newspapers, from high sources...it cannot be allowed to continue. It must come to an end.
As you will see from the e-mail below, Rumi's goal is not to have the original statues of her father-in-law restored, but to protect his art from plagerism, defamation and abuse.
So, without further ado, here below please find Rumi's e-mail of this evening. If anyone would like any further information (letters/e-mails written to the journalist at Cotidianul, to Codre etc), please don't hestitate to let me know. Rumi has sent me heaps of documents by e-mail and she would be happy for anyone who can help to see them. Over to Rumi:
The important issues that I want to share with you are the following :
1.We consider the work of Mr. Codre a plagiarism of Mestrovici's monument of HM Carol I since any remodeling or reshaping of a sculpture without the permission of the copyright holder is a violation of the law. The copyright for all of Ivan Mestrovic's sculptures belongs to us, his 4 heirs till 2032, according to the Copyright Law .We were never asked by the Bucharest City Hall to grant such permission .Therefore any action taken in connection with the equestrian statues of the Romanian monarchs destroyed by the communists in 1948 is illegal , if it is taken without the written authorization of the four heirs , who jointly hold the copyright (irrespectively of the ownership of a particular sculpture) . This can be confirmed by any lawyer specialized in copyright law. You can draw a conclusion also by comparing the attached photos of the old monument and Codre's version.
2. Even if we ignore the legal side of the problem , the sculptor F. Codre , who is an abstractionist, is the least appropriate artist to make a statue after Mestrovici's original because Mestrovici was a figurative artist . You can see that by comparing the art of Codre ( see the next e-mail concerning Codre) and a selection of Mestrovic art sent in a separate e-mail. Codre should have made something responding to his style, because the statue of HM Carol I he made looks like Mestrovici after plastic surgery.
3.The Romanian MCC officials must have given the media a lot of misinterpretation, wrong information and false claims , not to mention lies and slander (because I do not believe that the journalists have invented them) .
- It is not true that for 2 years negotiations went on with us.There were no negotiations since negotiations mean a process and there was only one single contact with us.
The exact chronology supported by documents is :
-30 March 2006 , before we were contacted in any way, false and suggestive information appeared in the media (see for example http://www.timpul.md/Rubric.asp?idIssue=284&idRubric=4394 ). It is slander that Mestrovici's heirs would ask 3 million Euro for the copyright of a small plaster or model (50 cm) of HM Carol I . The first lie is that we never asked for any amount of money - we never did ! We were never offered any money from any Romanian or Croatian Ministry of Culture official or any other state official! The plasters or models of HM Carol I and HM Ferdinand that are our private property are approx. 3 meters high, not 50 cm. (one is the property of my husband Matthew Mestrovic and one of his nephew.The statue, are in the Gliptoteka which mixed up their titles) .
-20 April 2006, the Mestrovic Foundation (Mestrovic Museums) director officially informed in writing the Romanian MCC who exactly are the four Mestrovici's heirs, incl. their addresses.
- June 2006, MCC delegation came to see the original plasters of the two equestrian statues of HM Carol I and HM Ferdinand kept in Gliptoteka (The Glyptotheque of the Croatian Academy of Sciences and Arts) in Zagreb . Nobody informed or invited the heirs on that occasion. Let MCC explain why nobody tried to see , talk or communicate at least with Prof. Dr. Matthew Mestrovic, Ivan Mestrovic's heir who lives in Zagreb ( besides residing in New York ) and who was in Zagreb during the visit of MCC delegation? Isn't it absurd if MCC really wanted something to be achieved ? At this point the Romanian MCC had the official information who are the four Mestrovic heirs, that jointly hold the copyright . The Mestrovic heirs heard about this visit much later from an unofficial source . Why are the Romanian officials excusing themselves with some alleged negotiations with the Croatian Ministry of Culture since the statues in question are not state property nor does the copyright belong to the Croatian state?
-20 July 2006,a letter to Matthew Mestrovic (also perhaps identical letters to the other three heirs) from Andrew Popper, Master of HM King Michael's Household, Elisabeth Palace , expressing the intention to re-erect the two statues- of HM Carol I and HM Ferdinand .
-11 August 2006 , letter to Matthew Mestrovic (identical letters were sent to the other three heirs) from Secretary of State Virgil Stefan Nitulescu(MCC), expressing the intention to re-erect the two statues- of HM Carol I and HM Ferdinand .
-21 August 2006* , answer to Andrew Popper by Matthew Mestrovic approving and strongly supporting the project and asking for the specific conditions, arrangements , technicalities etc. Some further contacts till Oct.2006 without specific success or final conclusion .
* forwarded to the Romanian embassy in Zagreb
-21 August 2006*, answer to Secretary of State Virgil Stefan Nitulescu , MCC, by Matthew Mestrovic greatly approving , strongly supporting the project and asking for the specific conditions, arrangements , technicalities etc. We never got any response to this letter.
* forwarded to the Romanian embassy in Zagreb
-11 Oct. 2006 , by e- mail first and only contact coming from H.E. Oana Popa (Ambassador, Romanian Embassy in Zagreb) .
-nothing...so we concluded that MCC gave up the project and decided that a Romanian sculptor would make modern statues of HM Carol I and HM Ferdinand...until 03 May 2008 when we were informed, again unofficially by some Romanian friends, about Codre's plagiarism - the statue of HM Carol after/inspired by Mestrovic (unveiled in Bucharest) .We still don't know what will happen to the monument of HM Ferdinand. Perhaps F. Codre will make another plagiarism after/inspired by Mestrovic?
- It is not true what ministrul Culturii, Adrian Iorgulescu said "that the Romanian state did everything to purchase the copyright" etc*.
The Romanian state never offered us (nor did we ever ask) the alleged 4 million EURO or any other amount of money for the copyright, just for the model of the statue of HM Carol I from the Croatian Ministry of Culture or by the Romanian MCC .
*www.cotidianul.ro/carol_i_acuzat_de_plagiat-45386.html )
This way the Romanian officials are accusing the Croatian government of playing unfairly or of a double game. The Croatian Ministry of Culture actually is accused for giving wrong information to the Romanian side or hiding from the heirs the negotiations that have been held behind the back of Mestrovic's heirs . Where are the proofs ? Let Mr. Oroveanu , Mr. Virgil Stefan Nitulescu or any Romanian official show to us or to you the documents on which are based all these invented claims. It is an attempt to manipulate Romanian society by the allegation that we , the heirs or one of us, caused the collapse of the project !
It is not true that by decision of the Tribunal in the Hague Ivan Mestrovic was paid by the Romanian state damages for his statues of HM Carol I and HM Ferdinand , that were destroyed in 1948 by the Communists ( we read this false claim in numerous Romanian sources ) .
Let MCC or any Romanian officials prove this false claim with some documents or at least let them say when such a monetary compensation was executed. It is only true that by law such damages had to be covered , but who can imagine that during the Communist Regime such a measure could have been undertaken, while Ivan Mestrovic was still alive ( he died in 1962). Since the democratic changes occurred in Romania nobody of the four Mestrovici heirs sought such a compensation in any court of law , even though it was a legal right .
I am the daughter-in-law of Ivan Mestrovic . I am of a Bulgarian-German descent , professor of Classical languages, specialized in Roman Law and World Heritage. My husband is Prof. Dr. Matthew Mestrovic , the son of Ivan Mestrovic. Matthew spent most of his life in the U.S. since his father left Yugoslavia because of the Communist regime. He holds a Ph.D. from Columbia University in Modern European History . He was a Contributing Editor of "TIME" magazine and for decades university professor of Modern European history in the US. He was the president of the Croatian National Congress, a deputy in the Croatian Parliament , member of Croatia's delegation to the Council of Europe and the Interparliamentary Union and Croatian ambassador in Bulgaria . So he doesn't lack the level for proper communication or negotiations with the Romanian state . But ...

There is an awful lot of confusion based on false statements . It's a shame and someone is just washing his hands...
Our point is that we do not insist on restoring the destroyed Mestrovic statues, but it is unacceptable that his art be plagiarized, deformed or abused . Let the abstractionist Mr. Codre make a dozen Carol I statues, if he wants and if the Romanian officials are eager to pay him from the taxpayer pockets , but let it be clear that his creations have nothing to do with the figurative sculptor Ivan Mestrovic. It is ridiculous that Mr. Florin defends himself from the accusations of plagiarism by stating that all the equestrian statues in the world look similar and that consequently they can all be proclaimed plagiarisms *...Sapienti sat ! Let him consult any lawyer specialized in copyright .
*www.cotidianul.ro/carol_i_acuzat_de_plagiat-45386.html ...
We hope that the most important is that the truth come out and that the democratic Romanian state give back to your people the real values and perspectives, lost under Communism. The history and the culture of a nation, of a state, define their future and prosperity. We are deeply convinced that the Romanian people will succeed in this.
Sincerely
Prof. Rumiana Mestrovic
Please find below some photos of other works by the sculptor, Ivan Mestrovic, received this evening: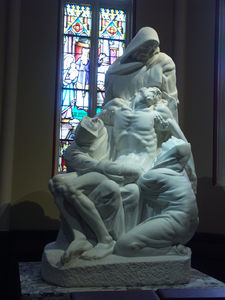 13 mai 2008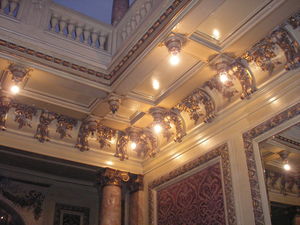 Dear All,
Brigitte and I arrived at the 21 Dec Association, 24a Str. Batistei (pic left), slap bang opposite the old Securitate building, to discover that everyone had left. But never mind! Carmen Dorotheea (pic right with Brigitte) was there manning the office and declaring war on paperwork. What a marvellous, elegant and cultured
lady she is. She insisted we go back to her's (who are we to argue?!) instead - and there unfolded a really spectacular evening of music, history, photos, good wine in the two-roomed apartment she shares with her husband Lucian, at the back of a lovely house. They could have left, but it's such a beautiful old villa. Their bedroom window sides onto a wondrous garden full of pusscats fed night and morning by Carmen. In a room furnished floor to ceiling with books, Carmen and I lost ourselves in conversation whilst Brigitte went over old memories with Lucian, stoked by black and white pix of 1989, Piata Universitatii.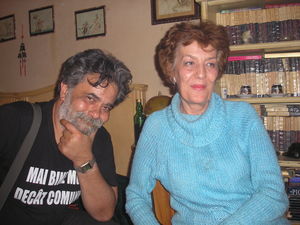 Both of them stalwart revolutionaries, they still have hope for the future of this most charismatic and paradoxal country, though are sickened by the idiots that run it, the state of education, the lack of interest for history, the new generation. Carmen, a physicist and engineer by profession and a mathematician by passion is fascinated by everything: astrology, ethymology, sociology, philosophy, poetry and literature...there seems no end to her interests. Her computer is hot from research and I think she could well enter into competition with Nicole for dates, places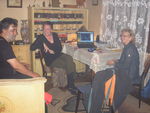 and people of history. Those two would just hit it off at once. Carmen, the most revolutionary I believe of the couple, looks far more like an elegant countess or duchess than an ex-enemy of the people. Her husband, Lucian, however, looks like your typical rebel and revolutionary. A kind of adorable Captain Pugwash with his t'shirt reading 'Mai Bine Mort Decât Comunist' (Better Dead Than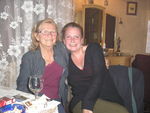 Communist) and beard. As cultured and fascinating to hear as his wife, the evening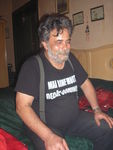 went by so fast that I couldn't believe it was 1h when I fished out my phone to check for messages.
What a fabulous couple. Courageous, strong, full of anecdotes and a love of life despite everything. I will definitely see them again with great pleasure. I loved Carmen at once and it was as if I'd known her for ages. Language wasn't a barrier, as she spoke elegant Roumanian, clearly and eloquently. I really think she always speaks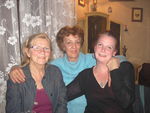 like that and it wasn't just for my benefit. My God, there's so much to learn. Will it never end? The stories that still make me want to cry, that make my hair stand on end and give me goose pimples? I hope the tales of sufferance and human sacrifice never cease to make me feel that way. If ever the day comes when I become immune, cart me off to the vet, my friends...
Love, Sarah xox
11 mai 2008
Dear Prof. Mestrovic,
Thank you so much for posting your comment on my blog re: the new statue of Carol I at Pta Revolutiei. I'm very flattered that you took the time to do so and would like to know if you would mind my putting it where my readers can also profit. (Dear all: you can click on the second entry of 'derniers commentaires' on the right to see what this is all about)
I realised of course, that it had caused a scandal, but not for the reasons you so clearly outlined in your mail. Of course, looking at the two statues - that sculpted by your father-in-law and that of Codre - the likeness is striking. With, as you say, a certain weirdness.
Wikipedia said the following: 'Prior to 1948, an equestrian statue of Carol I of Romania stood there. Created in 1930 by the Croatian sculptor Ivan Meštrović, the statue was destroyed in 1948 by the Communists, who later had to pay damages to the sculptor. In 2005, the Romanian Minister of Culture decided to recreate the destroyed statue from a model that was kept by Meštrović's family. In 2007, the Bucharest City Hall assigned the project to the sculptor Florin Codre, who is going to design an original statue of Carol inspired by Meštrović's model.'
Hence, I was of the impression that Codre had been commissioned to create the statue based on the original and therefore that similarity would have been quite normal. But 'original' means 'different'. Not copied. I stand corrected. It certainly isn't 'inspired'.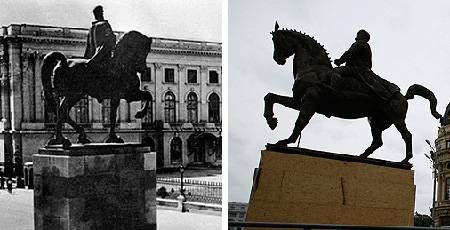 Roumania is a democratic country, full of (on the whole) intelligent and law abiding citizens, though I can't speak for the people at the top who run the show. In them I have little confidence and I'm not the least bit surprised that the Mayor didn't have the decency to contact you. Democracy takes time. First it must be understood and then it must be applied. Starting at the top of the pile, not from the bottom.
I apologise for replying to you via the blog, but there was no address left for contacting you.
Thank you once again for taking the time to read my blog and then to write to me. I would be very grateful if you could keep me up to date with the proceedings. I'm very interested to know what happens next. The people of Roumania have been squashed and flattened far too often and for far too long by those 'up there' and I'd be delighted to see someone say 'no!' for once. Laws are laws and must be adhered to if Roumania is ever going to be truely European, earning the respect that its people so richly deserve. I couldn't agree with you more.
I wish you every success in your battle and eventual peace of mind.
Very best wishes, Sarah
For other articles on afore-mentioned statue (in Roumanian), see: http://www.evz.ro/articole/detalii-articol/801483/Statuia-lui-Carol-I-din-Piata-Revolutiei-umbreste-Teapa-lui-Ghildus/
http://www.flickr.com/groups/romania-heritage_destruction/discuss/72157604812739332/