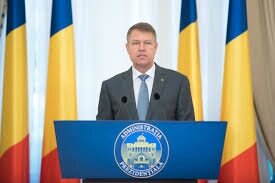 (Photo source) President Iohannis has rejected Dragnea's proposal of Sevil Shhaideh (hurrah) after taking the Christmas break to chew on it. Well done President Iohannis, and well done Secret Services. The choice was so absurd that one can only presume it was meant to fail.
Having weighed up the pros and cons, President Iohannis announced his decision in a televised statement earlier today. There was an elegant absence of explanations as to why, but the numerous arguments were pretty clear to anyone bothering to google. In addition to all that, Hotnews revealed that Mr Shhaideh's brothers were also connected to the regime in Damascas.
Dragnea is said to have been 'stupefied' by the president's refusal, vai de capu' lui. Gotta larf.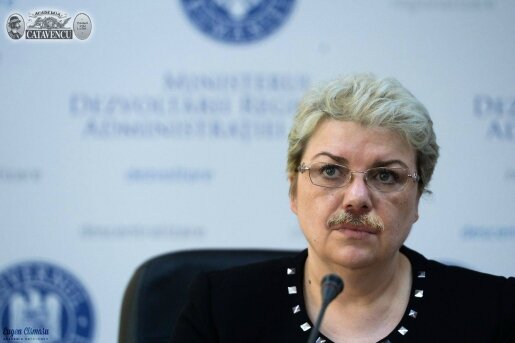 (Photo source - Catavencii: Servil Shhaideh pentru noi este Liviu Dragnea doi!)
PNL welcomed the decision:
"(...) The Romanian Government should not be transformed into a personal government of interposed people at the disposal of Mr. Liviu Dragnea. PSD told us they have tens of thousands of experts. If this is true, they will find other names of prime ministers, preferably individuals with a known political activity, without vulnerabilities and sentences," party chairwoman Raluca Turcan said.
Former-President Traian Basescu, now President of PMP and always generous when it comes to voicing opinions (wanted or unwanted), added his grain of salt - I can't believe I'm quoting him here but he is right: "In view of the new nomination as with the new government, people controlled by the secret services should not be considered. It is not the time for a political war between Dragnea and Iohannis. Any aspect relating to impeachment of the president should be left out."
According to Reuters, Dragnea saw no constitutional reason for the refusal - national security obviously doesn't feature on his list of prioroties - and would consider having Iohannis impeached in response: "If, after analysis, we reach the conclusion that it is best to suspend the president, I will not hesitate. But we don't want to jump head-first and plunge the country into crisis."
How thoughtful of him to consider the country.
Sounds more like plans (and a dreamed up excuse) for a putsch. There are no grounds whatsoever for impeachment. It is the president's duty and his constitutional right to approve or refuse the proposal of PM at his discretion. He cannot be forced to appoint someone against his will. Impeachment would take time, require a national referendum and be laughed out of the stratosphere before it had even begun. And yet I can't shake off the distinct feeling of a carefully scripted mis en scene which is, so far, going perfectly according to plan however bizarre things may appear.
So what happens next?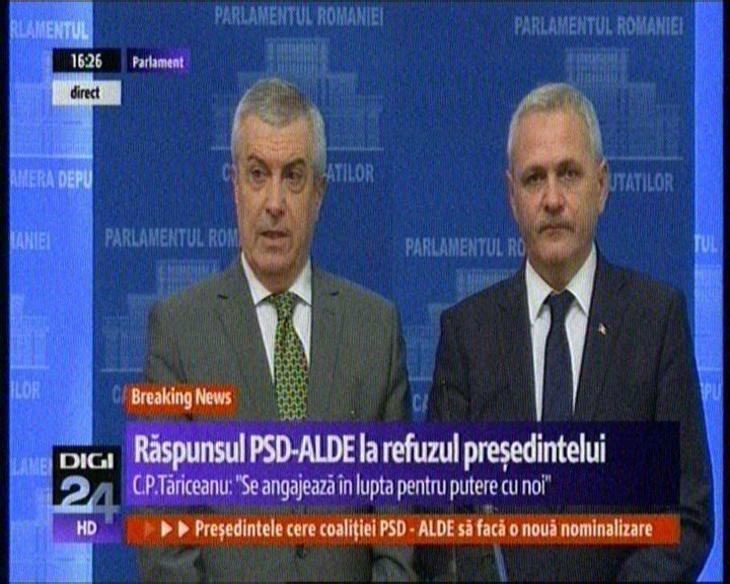 (Photo source) We'll listen to the purposely misleading howls for suspension, fire and brimstone lobbed at Iohannis for another day or two. Dragnea, backed by Tariceanu, will pretend to assess whether or not Iohannis broke the Constitution and probably come up with a few fictional creations to keep Antena3 viewers chomping at the bit. Ridiculous time-wasting theatricals to divert attention from what they're really up to (planning a coup d'etat to get rid of President Iohannis? Changing the Constitution to suit their ends? Both? With these guys, there is no 'too low') but it keeps the masses gossiping and emotions high.
Then Dragnea will nominate one last candidate for PM who must be accepted by the president as per the Constitution. If that does not happen, another election will be held. Or....other developments will have occurred by then.
Caragiale would have soooo much material for his end of year extravaganza.
Watch this space.
For more, please see Reuters, BBC and Agerpress.