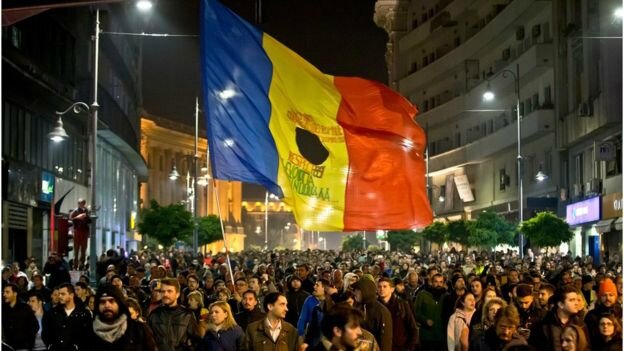 (Photo source) It has been an incredible week so far here in Romania and it isn't over yet.
On Tuesday night, some 20,000 protesters took to the streets in a peaceful but very angry demonstration after a fire at a nightclub over the weekend caused by corruption, incompetence and greed claimed the lives of 32 young people and injured almost 200. Calls for the resignations of PM Ponta, Minister of the Interior Oprea, and Piedone (mayor of sector 4 where the tragedy occurred) filled the air laced with 'Corruption Kills!' 'Shame on you!' 'Assassins!' The ambiance was one of complete solidarity. Crowds walking from Piata Universitatii to Piata Victoriei were joined in their calls by the supportive honking of horns in rhythm with the slogans all along Bd Catargiu. A fire engine stopped to flash its gyrophares and sound its sirens, at one with the voices on the street. It was an incredibly moving march. Emotional. Indignant. One voice with one demand. CHANGE. An END to this corrupt and elitist political class. Enough.
(Photo source) The very next day, PM Ponta resigned taking his government with him. Piedone followed shortly afterwards, his dreams of ever replacing mayor of Bucharest Sorin Oprescu (on house arrest under investigation for corruption) well and truly shattered. Having previously said he felt no responsibility for the Colectiv nightclub disaster, his tune changed as he left office to one of contrition admitting moral responsibility. Too little much too late, for Colectiv could only have been in business without basic safety measures if the three owners, currently under arrest on suspicion of manslaughter and involuntary bodily harm, had bribed the authorities.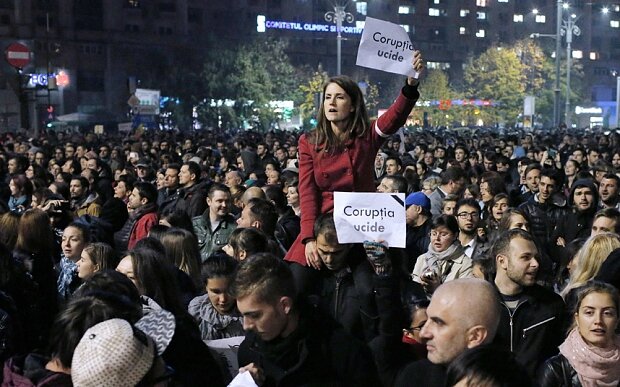 (Photo source) President Iohannis expressed his support for those on the streets via his Facebook page the same day. He was "impressed" by the civility, he said. "The next step has to come from the politicians who cannot ignore the sentiment of revolt expressed by the people." Having repeatedly called for Ponta to resign after the PM was indicted in September for forgery, money laundering and tax evasion, the president said he regretted that it had taken dozens to die before the government finally gave in to the pressure from the streets.
(Photo source) Last night, with their Prime Minister and government gone at last, protesters were out once more. Stronger than the previous night though equally peaceful and non-violent, the media reported numbers reaching 70,000 across the entire country and 35,000 in Bucharest. The Romanian diaspora in London, Paris, Rome, Munich and Barcelona showed solidarity in their hundreds. Ponta's resignation was not enough. It had to be the beginning of new political reform. From Piata Universitatii, the historically symbolic site for anti-government protests, they called for early elections and better governance. They later made their way to Parliament.
Tonight for the third night running, the streets are full once again and there now seems to be a real sense of organised mobilisation and civic movement emerging. As I write at 20h30, sources report around 7,000 people at Piata Universitatii.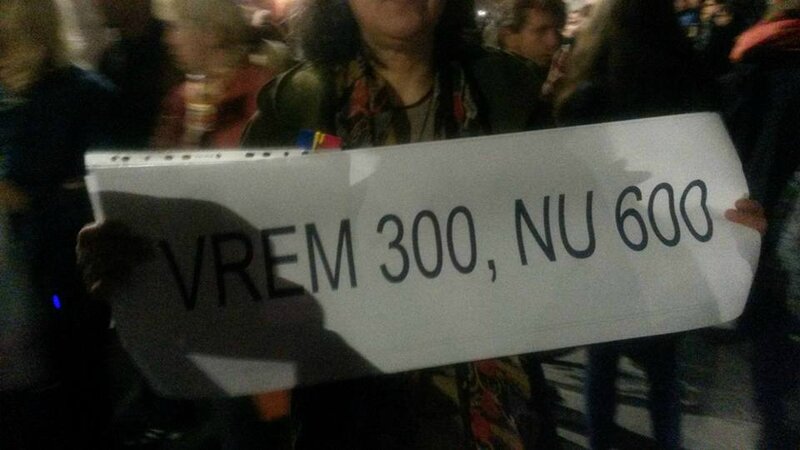 (Photo source) Journalists such as Vlad Mixich are trying to structure and clarify a clear and unmistakeable message with four specific demands (see Vlad Mixich's FB page):
- an end to privileges, ie. immunity for parliamentarians and government members
- a parliament of 300 rather than 600
- the confiscation of wealth three months from conviction for criminals of corruption
- the appointing of a Prime Minister who is NOT amongst the current Romanian political class
Protesters are also demanding the law of lustration, ie. the banning of convicted criminals standing for election.
(Photo source) On Facebook, the main social network here in Romania, the protest organisers are looking to appoint spokespeople. Proposals include Tudor Chirila, an actor, musician and symbol of social conscience to today's young Romanians. Vlad Mixich and Sabina Fati have both declined calls to be protester representatives, for what Romania needs, they say, is good, honest, decent journalists writing informative, accurate reports of what's going on. Please see recent articles by both Vlad and Sabina HERE and HERE.
President Iohannis has appointed ex-Minister of Education Sorin Cîmpeanu as interim Prime Minister who must now form a new government which needs to be approved by parliament. The aforementioned gets two opportunities to formally accept it and failure to do so will lead to early elections. The president had to choose someone from PSD, no matter how unpopular, due to its majority in parliament. Cîmpeanu does seem to be one of the less repugnant in a bunch of otherwise utter foulness.
Today, the president met with a PSD delegation that did not include Victor Ponta. PSD, still with the UNPR's support, has the largest number of seats in parliament although this is not reflected whatsoever in opinion polls. Liviu Dragnea, PSD party leader, has stated that PSD wants control of the interim government. President Iohannis, however, has said he wants to meet with ALL parties in parliament today and tomorrow. He ALSO wants to talk to both civil society and protester representatives. How strikingly different from 1990 when Iliescu labelled demonstrators golani (hooligans) and brought in the coalminers to crush the student uprising.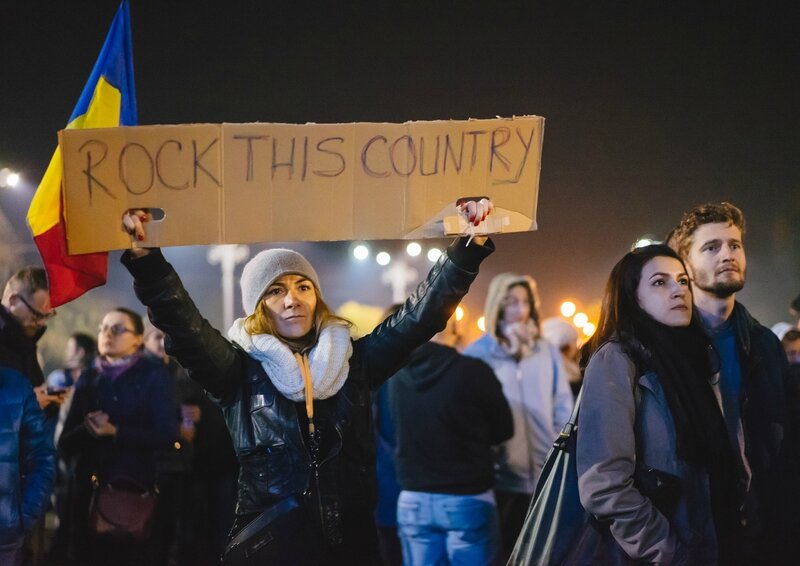 (Photo source) People from the grass roots are organising themselves too, sick and tired of disfunctional civic society. Young professionals have founded Initiativa Romania. From all walks of life and all political persuasions, members have one common link: to unite Bucharest's citizens and civil society in the search for those who can represent an alternative to the present political class in local and national public administration on both the long and medium term. They are calling firstly for the resignation of ALL political party representatives in the local council of Sector 4. Piedone has gone, but the rest must follow suit.
HERE is Initiativa Romania's manifesto. Members include Claudia Postelnicescu (jurist), Edward Dumitrache (economist) and Mircea Serdin (software engineer). The group - see FB page HERE - has written to President Iohannis explaining who they are, what they want and how they can be useful. Cotroceni are yet to give a time for the civil society and protester representative meeting tomorrow, which will include Initiativa Romania. See more about the group in Hotnews and Revista 22.
Expert Forum (including names such as Sorin Ionita and Laura Stefan) has sent an open letter to the president and parliament also in advance of tomorrow.
(Photo source) What is the atmosphere in Bucharest, friends abroad have asked me. There is hope. For the first time in 25 years. People are hopeful that the moment really has come for possible change. A taxi driver told a friend of mine today, "if we miss this train, it'll be the last one." The voices from Piata Universitatii echoed all around Romania know what they want and their demands are clearer with each rally. The amplitude of protesters seen is proof that the end of tethers has been reached. The terrible tragedy at Colectiv was the straw that broke the camel's back. Iohannis's openness towards civil society and those in the streets has been welcomed. This is the first time that a Romanian president, much less a politician, has cared two hoots about their views and wanted to actually spend time listening to what they have to say.
"I have a message for protesters. I saw you, I heard you, I will take your demands into account," Iohannis noted in a statement. "I will meet a group which represents civil society and the street. It is important. I want to hear their wishes and opinions," he added.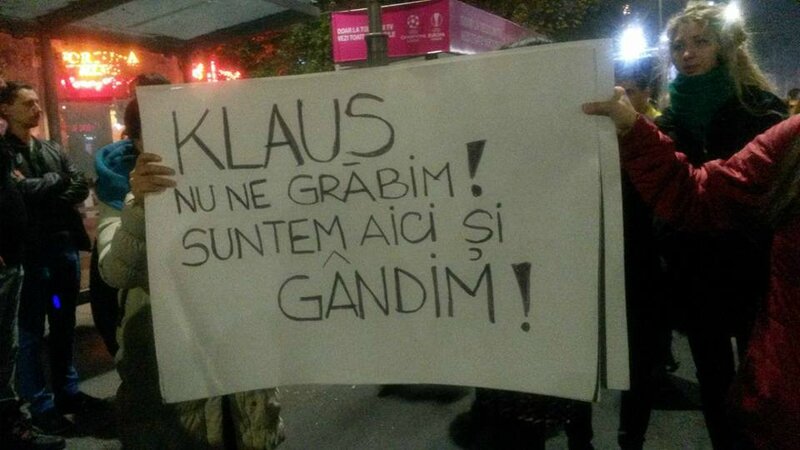 (Photo source) But it isn't enough. There's a new slogan on the streets tonight: "Klaus, we're not rushing. We're here and we're thinking." It's a rhyme in Romanian and sounds a lot better in VO, see left. The president who never seems to hurry anything has been far too quick in choosing his interim PM. Cîmpeanu, they say, is a mistake, for he comes from the very same pack of rats that has been toppled. Although Cîmpeanu isn't expected to be there long, this is not a good sign for the change so desired.
Calls tonight also include Ombudsman Victor Ciorbea's resignation, and for the president's presence at Piata Universitatii.
Protests will continue until all demands are met, says word from the square.
Please be wise, President Iohannis.