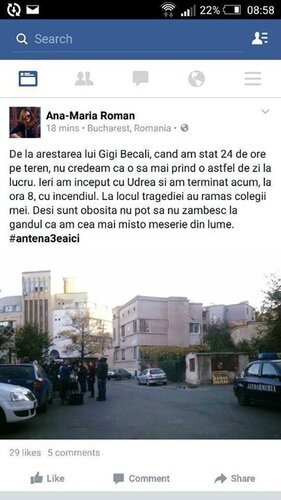 (Image source) One simply cannot comprehend (or stomach) reactions of insensitivity in the face of last night's appalling tragedy here in Bucharest - a nightclub fire that killed 27 and injured over 180.
Ana-Maria Roman, a so-called 'journalist' for Antena 3, posted the status you see left on her FB page today, deleting it a while later but not before it had been grabbed and shared agogo by disgusted readers and published by Adevarul.
It reads: "Since Gigi Becali's arrest when I spent 24 hours on assignment, I never thought I'd get another working day like that one. Yesterday, I began with Udrea and ended at 8 o'clock in the morning with the fire. My colleagues are at the scene of the tragedy. Although I'm tired, I cannot help smiling at the thought that I have the coolest job in the world."
Say what?!
She should be removed from the list of Romanian journalists for such an unbelievable lack of sensitivity. What an egocentric jerk. Shame on her.
Hundreds of medical staff were mobilised on Friday night in frantic efforts to save as many lives as possible, prompting Bogdan Oprita, a spokesman for the Floreasca Urgenta, to comment that it was the worst bloodshed since the 1989 anti-Communist revolution.
"It was like a war," he said. "Dozens of surgeons were called from home and asked to operate."
Meanwhile today, a surge of people queued at the various blood transfusion centres here in the centre of the capital to donate blood urgently needed for the disaster victims. The hospitals were not prepared in any way for such a catastrophe. Friends and families of the injured had to go to local pharmacies to BUY the necessary treatment for burns and other wounds, for the hospitals didn't have any. They didn't have enough available beds either, leading to the injured being sent to ten different institutions throughout the capital and wasting valuable time. This has shone a spotlight on the government's massively dangerous failure to provide a decent healthcare system for its people - the one we all pay a great deal of money for but pray we will never have to use. Abyssmal for an EU member state in 2015.

A shocked President Iohannis visited Floreasca Urgenta today and spoke to some of the casualties' relatives. Most of the injured were unconscious, their condition critical, he told the press. He has demanded that investigations be carried out swiftly and carefully, adding that regulations at the nightclub seemed to have been ignored. According to various press sources, the club didn't have ISU authorisation to host an event featuring pyrotechnics nor any other activity for that matter. Furthermore, pillars in the club were covered with sound-proofing foam (toxic) that caught light almost immediately, engulfing the walls and ceiling in a matter of seconds. In a confined space packed with around 400 people, there were only two exits - and one of them was locked. Desperate survivors had to break it down to get out. Horrific.

PM Ponta cut his Mexico visit short and declared a three-day mourning period for the victims effective immediately. That's a bit like dropping a bomb on a village and then distributing elastoplast. Clamping down on the ISU, stamping out officials on the take and resuscitating a necrotic health system long before now would have been ultimately more helpful.

There are hoards of clubs in Bucharest working without authorisation and/or little to no safety measures: knackered electrical systems, flammable materials and decor, inadequate exits, no fire alarms or water sprinklers... If nothing else, perhaps this appalling loss will be the wake up call to incompetent, corrupt authorities required to act and TAKE SOME RESPONSIBILTY instead of constantly passing the buck. This was nothing short of an act of criminal negligence.

Bucharest has been covered by what can only be described as a blanket of stunned silence today. Families continue to search for their children, their spouses, their siblings on hospital lists or via Facebook and Twitter; many of the victims were underage and had no ID on them. Several of the deceased were so badly burned it will take some time to identify them. The terror of Friday night will haunt us for months to come. May families and friends grieving tonight find the strength to get through what lies ahead, may they be spared heartless, self obsessed comments from 'journalists' such as those cited above and may those who died so young and so needlessly as a result of incompetence and indifference rest in peace.
I'll close with a quote from an excellent article by Ronnie Smith published today in Romania Insider:

"Everyone knows about the extraordinary levels of corruption that exist amongst those known as the 'political class' and their friends and partners in business. The long-suffering population's collective shaking of heads is no longer a viable reaction because good people are being killed doing perfectly normal every-day things like going out at night to have fun and driving along the road. They are being killed by the greed and carelessness of those who continually ask the people to vote for them.
Seriously, this corrupt culture of deadly chaos cannot be allowed to continue in Romania."
UPDATE 1 November:

The death toll has now risen to 30. Of the 184 injured, 140 are reported to be serious to critical and 10 are 'unconscious' (by which I guess they mean in a coma whether it be induced or otherwise). Terrible...
There has been an enormous outpouring of generosity from residents, institutions and companies in Bucharest in support and solidarity for the victims of Friday's tragedy and their families. People have come forward to open their homes (primary and secondary) to those stranded in the city; psychologists and psychotherapists are giving free treatment as are several medical centres; hotel and hostel owners are offering free rooms; Uber and Black Cab companies will drive blood donors to their destinations without payment and there's even an undertakers who will offer emotional support as well as organise and carry out funerals for the victims free of charge. It is truly wonderful to see so much selfless coming together in the name of compassion and humanity.
(Photo source - flowers and candles at Colectiv) President Iohannis visited the scene today stating that the disaster was a result of corruption and must be dealt with through compassion and admission of responsibility. He was followed by the American Ambassador Hans Klemm, and then French Ambassador François Saint Paul, who lay flowers and gave a speech in Romanian promising that France would be sending medics to assist Romanian surgeons, among them top specialists Vincent de Broucker (Burns Unit, CHRU, Lille) and Professor Marc Chaouat (Burns Unit, Hôpital St Louis, Paris). A team of plastic surgeons from the Israeli Tel HaShomer Hospital have already arrived. Also present to pay their respects were Princess Margareta and Radu Duda. Prime Minister Ponta was notably absent.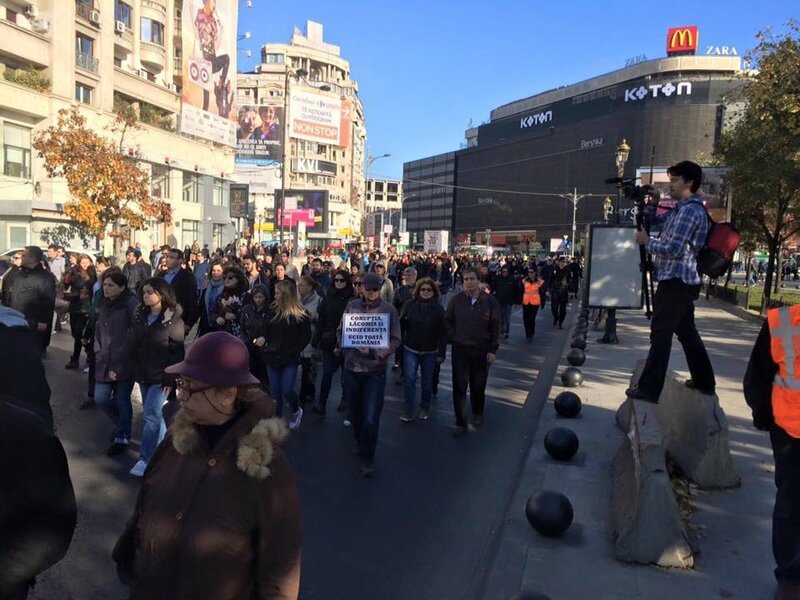 (Photo source) Meanwhile, 8,000 people made their way through Bucharest this afternoon in a Silent March from Piata Universitatii via Piata Unirii to Club Colectiv in memory and hommage to the 30 lives lost. The leader of the group organising the march was amongst the injured but did not require hospitalisation. Thousands left flowers and candles at the scene of the tragedy. A second march is programmed for 17h30 this evening.

A photography exhibition showing the works of journalist Teodora Maftei (ProTV), seriously injured in the blaze, will take place on Monday at The London Street Atelier here in Bucharest from 7pm. Teodora remains in intensive care in critical condition at Spitalul Clinic de Urgenţă Chirurgie Plastică, Reparatorie şi Arsuri.
A game of indecent Blame-Ping-Pong has broken out between the ISU (which depends on the Ministry of the Interior - today Oprea) who say they didn't know Colectiv existed as there isn't a single document in their possession relating to it so how could they have carried out regulation checks or given/refused any authorisations, and Cristian Popescu Piedone, mayor of Sector 4, who claims it's all down to ISU, the club owners and nothing to do with him.
The investigation is well and truly underway. The Prosecutor's office has stated that those responsible for the tragedy are looking at 25 years to life behind bars. An in rem jurisdiction is being exercised for manslaughter, and the main hypothesis is fire, not explosion.
A representative of the company who worked on soundproofing the walls of Club Colectiv reported that the club owners refused to buy decent quality fireproof material because it was too expensive.
George Gaman, director of the National Research and Development Institute for Mining Safety and Explosion-proof Protection investigating the cause of the fire, has so far confirmed a great deal of what we already knew: the club had only one exit (an 80cm-wide door); the walls and ceiling were coated with an extremely flammable sound-proofing material; no sprinklers; no system to cut electricity; a single fire extinguisher, too small to deal with such a blaze.

Bearing such findings in mind, it seems preposterous to just about everyone that George-Alin Anastasescu, Paul-Cătălin Gancea and Costin Mincu (the club owners) are still at large and that Piedone hasn't resigned. Nope. Instead, the owners are busy avoiding the press and getting their stories straight whilst the incompetent, corrupt officials chuck blame anywhere they can except at their own front doors. It feels like the Giulesti Tragedy all over again. Let's just hope this will not be pinned on some scapegoat (an electrician? A doorman?) letting the true scumbags walk away scot free. It wouldn't be the first time...
Piața Universității - Piața Unirii - Budapesta - Club Colectiv - See more at: http://www.b365.ro/mars-comemorativ-astazi-pe-traseul-universitate-club-colectiv_240211.html#sthash.8NPbBR1n.dpuf
in a Silent March dedicated to the 27 victims. Many of them stopped at the scene of the tragedy to leave flowers, messages and candles. Another march is programmed for 17h30 this evening.