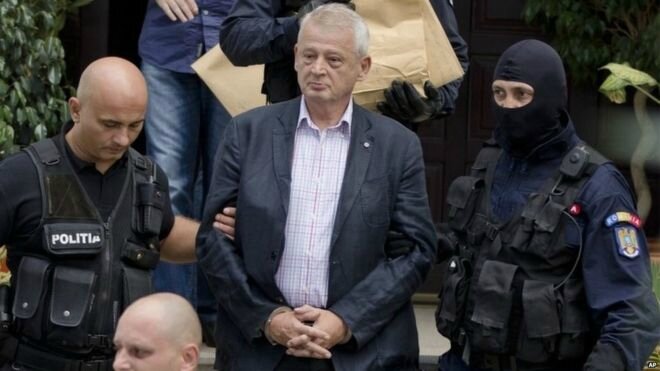 (Photo source) Woke up to the vertiginous news that Bucharest's mayor Sorin Oprescu was taken into custody by the DNA in the early hours (see video here) on suspicion of taking bribes between 2013-15. He was filmed receiving a nice fat back-hander last night, basically caught en flagrant delit. Had to pinch myself several times to believe it.
AP report: 'The anti-corruption prosecutors' office said in a statement that from 2013-2015, firms which had contracts with Bucharest city hall were obliged to pay up to 70% of their profits from work they did for the city hall to high-ranking officials. Of that, 10% allegedly went directly to mayor Sorin Oprescu.'
According to the DNA whose investigations are supported by the SRI, Oprescu is part of a well-established and equally well-organised group in public administration 'that asked companies to pay bribes to get public contracts from various authorities subordinated to Bucharest's City Hall.' Why doesn't anyone just call it a 'state criminal organisation'? That's what it is. Far worse than the mafia who at least 'helps' others soit-disant, this kind of 'organisation' exists only in the name of pure self-interest.
Despite a large number of city hall officials (including his personal advisor Solomon Wigler) done for bribe snaffling over the last few months, Oprescu has kept going, seemingly convinced he is beyond the law. Greed obviously knows no bounds. Little by little, the DNA are battling to clean up the quagmire in place for so long. Vanghelie and Mazare are just two mayors now in the slammer, but they are small fry compared to the almighty Oprescu.
(Photo source) Oprescu 'allegedly' took a 25,000 euro bribe (part of a total of 60,000 euros) from four people yesterday who denounced him to DNA prosecutors. The mayor was questioned last night and then taken into custody for 24 hours.
Arrested early this morning and carted off in handcuffs, some of the bribe amount was found on him whilst the rest was unearthed at his home. DNA prosecutors also swooped on 13 other locations belonging to or connected with people involved in the case including the PMB itself, the Cemetery Administration, the Cultural Centre for Brancovian Palaces at the Gates of Bucharest, the HQ of certain companies and homes of other city hall employees today.
One of Oprescu's lawyers, Alexandru Chiciu, has denied his client ever "asked for money from anybody, directly or indirectly" - wasted breath since this particular transaction was captured on film for all the world to see making the evidence somewhat overwhelming.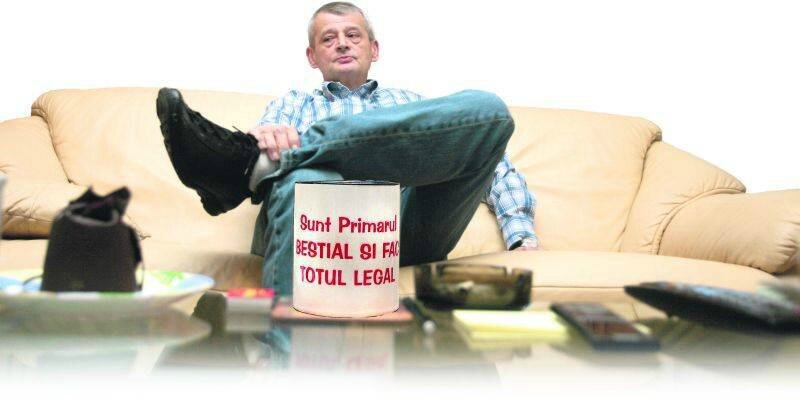 A further preventive arrest warrant of 30 days has been requested. If approved, Oprescu's mandate will be suspended. Deputy Mayor Cornel Pieptea has stated that, as far as he is concerned, Mayor Oprescu 'no longer has the legitimacy to occupy the position of Bucharest General Mayor.'
See more opinions of Oprescu's arrest here.
With a bit of luck, he'll also be stripped of his outlandish Légion d'Honneur along with the Order of the Crown bestowed by Romania's Princess Margareta and the 'Dr. Alexandru Safran' medal from the Federation of Jewish Communities in Romania. All these honorable distinctions (and many more) awarded for what? Undying dedication to the destruction of Bucharest perhaps? Or his exceptional displays of lying, cheating, illegal construction, demolition and eviction? Today's corruption case is just the tip of the iceberg.

The 30-day warrant should also mean he cannot be candidate again as Mayor of Bucharest. Enough is enough. Oprescu has been an unholy catastrophe for Bucharest in terms of both the economy and urbanism.
President Iohannis has stated that if the court approves the warrant for Oprescu's arrest, then it's clear his resignation from office is mandatory. PNL will call for him to resign today out of honour in any case. Unfortunately for Bucharest, he said, the position has been compromised. He added that although it was a sad case of affairs, it was a strong sign that the fight against corruption was going from strength to strength. The way forward was with a new administration. "We must look ahead," he said, "and to do that we must ask the Mayor of Bucharest not to taint the image of the institution he has lead for so long any further." Nicely said, Mr President.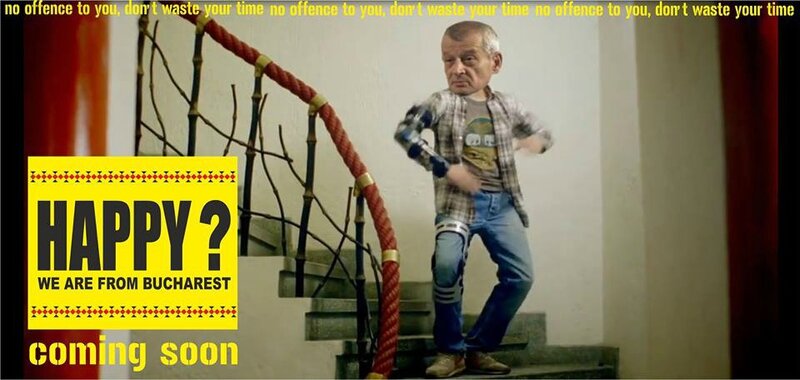 (Photo source) The news of Oprescu's detention has been greeted with unbridled joy here in Bucharest. This afternoon, several dozens of Bucharest cyclists met to celebrate. Announced on a FB event page entitled Alături de primarul nostru hosted by Comunitatea Bicicliştilor din Bucureşti, they started in Piata Universitatii and rode to the DNA headquarters to sing the Romanian traditional birthday song with slightly changed lyrics. "May he live many years" (Multi Ani treasca!) was beautifully transformed into "May he live many years in jail!" (Multi Ani primeasca!) You've gotta love it.
Awaiting news of the much-desired 30-day arrest warrant, I sit glued to the TV as more and more of Oprescu's dirty deals get plastered all over the screen. Out they leak, one by one. One of the informers admitted he'd given Oprescu 1mn euro in bribes over the last two years (news at 20h). 80% of the sums given in 2013 had come from bribes collected from businessmen for contracts concluded for the paving of alleys in the Brancovian Palaces Cultural Centre, he stated, whilst those of 2014 had come from "water and sewerage" work carried out at the Administration of Cemeteries and Human Crematories. Looks like Oprescu has well and truly cooked his goose. With champagne ready in the fridge I'm hoping against hope that Bucharest will soon be free of this bully, which can only mean brighter days ahead for patrimony, heritage and true, realistic urbanism. Go DNA!!!
UPDATE 00h16: YES!! The judges of the Bucharest Tribunal have approved preventive arrest for a further 30 days. The decision, taken just before midnight, may be contested at the Bucharest Court of Appeal. At once, Viorel Mocanu (another of his gaggle of lawyers) announced the decision duly contested, insisting on his client's innocence see here.
Meanwhile, Mircea Octavian Constantinescu (Economy Director at the PMB), Ruxandra Petroi Avasiloae (General Director of Brancovian Palaces Cultural Centre) and her partner Florin Șupeală were hauled in on preventive arrest accused of taking bribes this evening, along with Oprescu's chauffeur Cristian Stanca (known as Grenadă) who is accused of aiding and abetting the taking and giving of bribes and influence peddling, and businessman Claudiu Bengalici accused of money laundering. It's getting pretty crowded isn't it. Bogdan Popa, director of Cemetery Administration, and Romeo Albu were put on house arrest. Read more about what these crooks (particularly Grenada - what a colourful character he is) got up to HERE (in Romanian). It's truly mind-boggling.
Basescu had to have his say of course, and did so with a surprised "in 10 years at Cotroceni, I don't remember a single example of illegality committed by Oprescu." His memory must be dreadful... He couldn't believe, he said, that either Oprescu or Chiliman (suspended mayor of Sector 1) could possibly be involved in taking bribes.
Earlier this evening, Mr Mocanu, who seems to have become the spokes-lawyer, said that Oprescu was physically very tired after the 19h marathon he had undergone. Poor thing. He had been at the authorities' disposition all day long, except when driven to the DNA, from 00h30 this morning. His client hadn't had time, he said, to rest. You can almost hear the violins...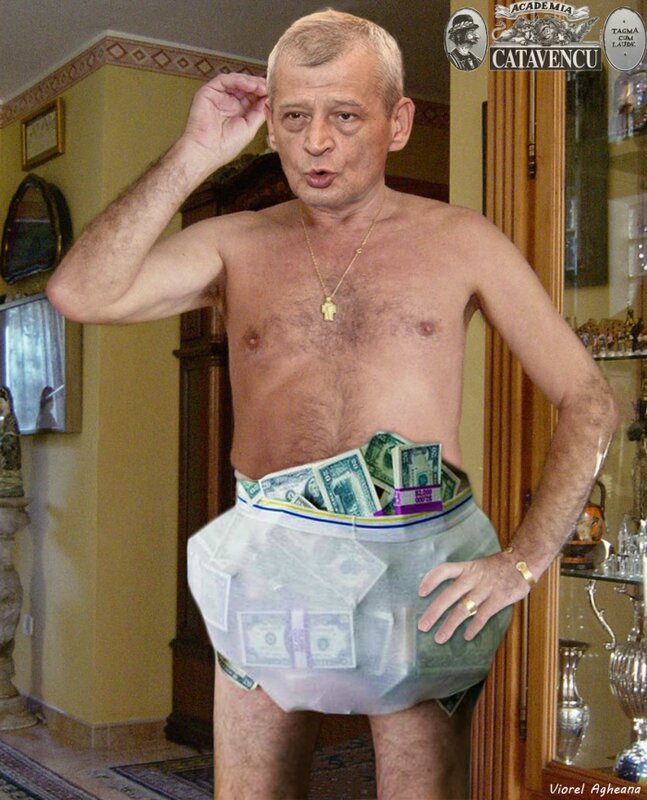 (Photo source) UPDATE 14th September: Oprescu's appeal for release fell on deaf ears at the Court of Appeal this evening. Judge Camelia Bogdan (I love this woman) denied the request, meaning he'll remain in custody for the full 30 days (and beyond, we hope), suspended from office within the next 48h. The decision is final and cannot be reappealed. His duties will be taken over by one of his deputies. The PMB General Council must now choose between Cornel Pieptea (PNL) and Dan Darabont (PSD). Five days ago, Hotnews reported that Pieptea didn't want the position of interim mayor for personal reasons, so the most likely outcome will be Dan Darabont.
Following the decision tonight, Alexandru Chiciu (one of Oprescu's lawyers) insisted that his client had nothing to hide and thus took no precautions, had done everything out in the open and corruption had nothing to do with anything.
According to sources, Oprescu is sharing his cell with 6 others, amongst them Mohammad Munaf who's doing ten years for the kidnapping of journalists in Iraq. The ex-mayor's roomies are not considered dangerous criminals (what a pity), most of them arrested for crimes relating to money...
I'm sure a doctor pal will soon show up to state Oprescu's insulin-dependent diabetes is all messed up due to the hard prison regime, lousy porridge and dreadful stress, recommending that he be released on health grounds at once.
More news as it happens.
For more in English, please see Bucharest Life, BBC, Romania Insider, Euronews, Voice of America, Agerpres and The New York Times.