(Photo source) Today, June 24th (the feast of St John as well as magical Sânzienele or Drăgaica), marks Ziua Universala a Iei - the Universal Day of the Romanian Blouse. As I walked down my nearby boulevard earlier this afternoon, almost every woman I passed was wearing one. Me too. We smiled at each other, stopped to comment on our blouses, where they'd come from, who'd made them. The short walk to the Post Office took me over an hour! But why is the ie (pronounced ee-eh) such an important national symbol?
Handed down from mother to daughter over many generations, every inch of the traditional ie from the material (cotton or linen of flax or hemp) to the beautiful embroidery is pure art painstakingly hand-sewn, and has remained unchanged for centuries. As well as being a statement of folklore and cultural belief, the decorative patterns on the ancient (and not so ancient) ie were a myriad of symbolic communication signalling gender and age, family ties, marital status, wealth and social position, occupation — and of course, style. Each unique piece had its own story to tell. The signs and symbols in geometrical and floral motifs all had their individual significance depending on region, seamstress and often the person for whom it was destined. When the Romanian peasant set about embroidering her blouse, she knew exactly what she wanted to express. The material was her easel upon which she 'painted' her future with needle and thread, using symbols for fertility, war, love, fragility, power and faith. Nothing can be taken at face value on an ie, for nothing is without underlying meaning. How can one not marvel at such a breath-taking masterpiece?
(Regina Maria and Principesa Ileana - source) Trees feature largely on the ie symbolising wisdom, life and rebirth. The fir tree is particularly popular especially in the countryside, representing eternal youth or immortality - a frequent element in Romanian mythology, ballads and poetry.
THIS post gives a little more insight: 'A circle or a sunflower signifies the sun, day or Divinity; since Romanians were traditionally an agricultural society, living off the boon of the land, the sun was of capital importance and was often associated with God and abundance. Likewise, depending on the region, more motives related to daily activities can be found: water (either as a river or as sea waves) and fish in the fishing villages along the rivers and sea coast, wheat or corn stems in agricultural villages, wheels or coin in crafting traders' villages, and so on.'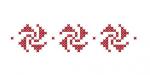 The 'Woven Wheel' (left) indicates the passing of time, the cycle of the 4 seasons caused by the 4 winds which pull the world into different directions
Colours too have their own distinct meanings according to region, pattern and destination: greens and golds for the plains; red, grey and brown for the mountains; blue and silver for the rivers. Young girls tended to wear lighter hues, but the colours darkened as they grew older to reflect their social status.
(La blouse roumaine by Matisse - source) The XXIc has seen a huge revival of the ie, and perhaps Henri Matisse should take a bow for the part he played in that. THIS post describes how it happened:
'In April 1940, Henri Matisse finished 'La blouse roumaine,' having begun the painting in November 1939. Theodor Pallady, a Romanian painter, had given him a beautiful collection of traditional Romanian blouses as a gift which eventually inspired Matisse to create this painting along with others currently on show in Paris at the Pompidou Centre's National Museum of Modern Art. Forty years later in 1981, these paintings were to inspire Yves Saint Laurent to dress his models for his autumn-winter collection presentation in Paris. And this is how the dusty streets of Romanian villages became a podium for the chic clothes worn by international top models.
That fashion collection was later exhibited worldwide in numerous museums. In 2009, a year after the death of Yves Saint Laurent, the collection arrived in Bucharest and stayed here for two months (28 May-26 July). Thus, the fashion designer succeeded to raise the Romanian blouse – the large sleeves, the open neck, the geometric figures embroidered on the chest – to a cult object. This was only the beginning, as after Saint Laurent, the Romanian blouse was also later used as a source of inspiration by other fashion designers such as Jean-Paul Gaultier, Oscar de la Renta and Tom Ford. For instance, Tom Ford reinterpreted the Transylvanian blouse with black embroidery specific to the region, which appeared in the American Vogue Magazine in March 2012 worn by the British singer, Adele.' Wonderful!
(Photo source) And so you see, the ie is so much more than just an item of clothing. It is a firmly preserved tradition and a very personal story rooted in an idyllic past. It is Romanian history itself and a wake-up call for its people to reconnect with heritage. Every Romanian woman should be immensely proud of her ie. I am not Romanian as you know, but mine are amongst my most treasured possessions. Whether I bought them myself or received them as gifts, they are stunning exemplifications of all that I love here in the country of my heart. Each is an enigma waiting to be solved. Just like Romania herself, one must have the love, curiosity and patience to explore beyond the superficial evidence for the meaning and richness that lies beneath.
When a woman wears the traditional clothes of her people, she wears the entire Cosmos.
– Pavel Panduru
For more, please see THIS wonderful post and enjoy!