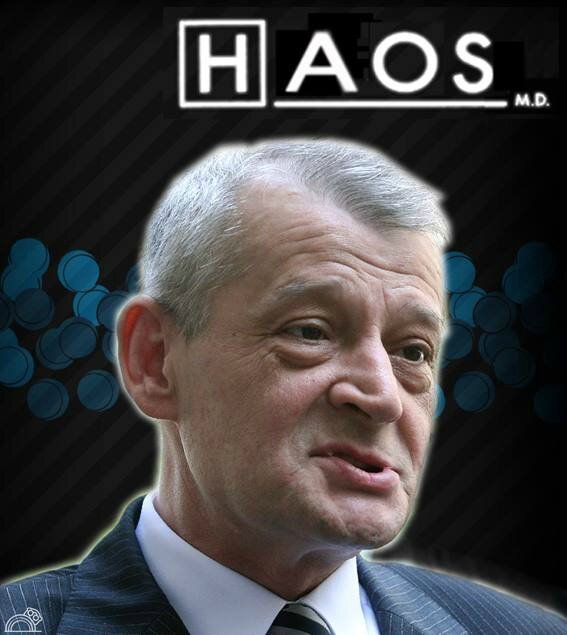 (Photo source) I cannot believe my eyes. Mayor of Bucharest Sorin Oprescu is to be awarded France's highest honour by Jean-Marc Todeschini, French Minister of State for Veterans and Remembrance, in a ceremony in Bucharest this Thursday 12th March at La Résidence de France (str. biserica Amzei 13-15) with François Saint-Paul, France's Ambassador, in attendance.
(Strada Biserica Amzei nr 13-15)in Bucharest.
What has Oprescu done to deserve such an honour? Is it his undying dedication to destroy Bucharest brick by brick perhaps? Or maybe it's his exceptional displays of lying, cheating, corruption, bullying, illegal construction, demolition and eviction? Add to that an extraordinary capacity for bad taste. Since his first mandate he has shown incredible flair for all the above and has excelled in all categories.
There is little mention of this auspicious event in the mainstream Romanian press, but there are reports (so far) from B365.ro and Radio Romania. I originally found it HERE in French completely by chance. Did City Hall want to keep it quiet until the last minute to avoid civic protest?
Well, there SHOULD be civic protest - and massively too. Street demonstrations, open letters from big names to the French government, petitions, articles condemning such a choice.
How on earth could this man receive such an accolade? True, Chevalier is the lowest degree of five distinctions, followed by Officier (Officer), Commandeur (Commander), Grand Officier (Grand Officer) and Grand Croix (Grand Cross), but it seems to be given out to the least deserving of folks just lately. Only last week, the Chairman of Romania's Senate Calin Popescu-Tariceanu was also decorated Chevalier at a ceremony attended by Princess Margareta, Prince Radu, Ion Iliescu and Emil Constantinescu. Did we hear about it? Was there any big-stuff media coverage? If there was, it completely passed me by. There wasn't the fanfare one would expect to accompany such an occasion in any case.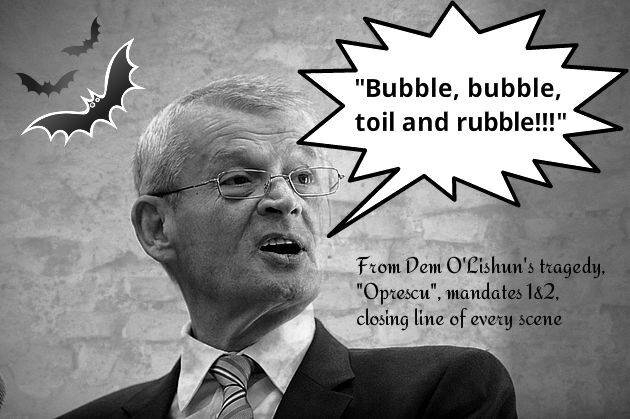 I truly cannot come up with anyone LESS deserving than Oprescu. He is a political puppet, a typical product of a national communist society and does not know the meaning of the word 'culture'. In addition to all that, he is an absolute disaster for intelligent urban development. His two great achievements to date (the National Arena and the Basarab overpass) cost more than twice as much as similar projects abroad.
If this serial killer of patrimony wants to build something and there happens to be a historic monument in his way, it gets whacked - usually in the dead of a winter's night when there are no journalists around to sound the alarm or activists to hamper his progress. We have seen it time and time again. No matter how many times Nicusor Dan drags him through the courts, no matter how often he is found guilty of abuse of power or illegal demolition, it's all much of a muchness. He has consistently ridden rough-shod over the law which is made for little people after all, not big-shots like him, and done the deed anyway, finishing off what Ceausescu began. Nothing and nobody seems able to stop him. He is a tyrant answerable to no one who should be prosecuted for the destruction he has wrought, not awarded for the mayhem, chaos and devastation he has reaped upon a city in the name of megalomania and greed.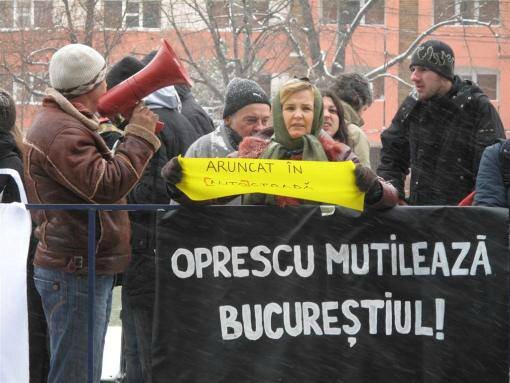 (Photo source) Those who care and grieve these losses at his hands are a tragic, shameful minority seen as nutty eccentrics standing against progress and modernity. There is no appropriate adjective to express the heart-ache, the nausea, the revulsion that Oprescu's handywork causes the precious few still fighting tooth and nail to save the city they love from this mayor's psychopathic massacring. In the style of his original profession (cardiac surgeon), he keeps right on going, ripping the heart out of the city, hacking up its arteries, mangling its organs and bludgeoning the breath out of it in any way he deems fit.
And France figures he deserves to be honoured for that?
Please sign and share THIS open letter addressed to Jean-Marc Todeschini and Ambassador François Saint-Paul, and if you are free tomorrow at 18h, a demo will be taking place outside the French Embassy in Bucharest also showing opposition to the choice - check out the Facebook page entitled În numele onoarei Bucureștiului. Very apt. There, you will find a long and comprehensive list (by no means complete) of all the reasons why such a distinction for such a man is so scandalous.
I'm too disgusted to write any more...