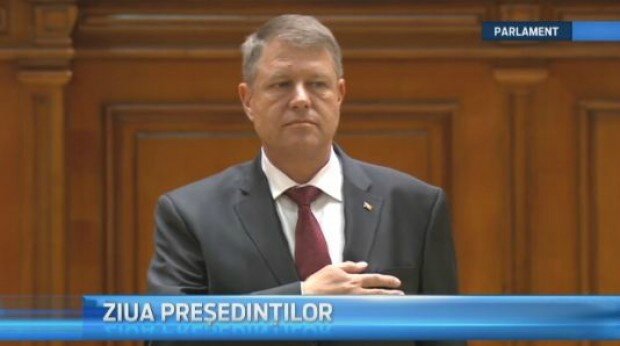 (Image source) At noon today, Klaus Iohannis was sworn in as President of Romania replacing Traian Basescu, almost twenty five years to the day the communist regime fell. The ceremony was attended by MPs; former presidents Ion Iliescu and Emil Constantinescu; Patriarch Daniel; Roman-Catholic Archbishop Ioan Robu; Prince Radu and a host of others.
The role of the President in Romania is for the most part ceremonial, but he has the power to appoint the PM, oversee foreign policies and veto draft laws.
"Today I stand here before you aware of the importance of this moment for the future of Romania. I am honoured by the confidence Romanian citizens have bestowed upon me," Iohannis said in his address after the swearing-in ceremony. The new head of state said he was "deeply moved by the love of the country - the driving force for voter turnout - and by the peoples' aspiration for freedom and prosperity." 25 years after the fall of communism, they had once again made democracy and involvement triumph.
"There is a need for the whole political class to understand there is no way forward for Romania except that of a country rid of corruption," Iohannis continued. "I want people to see we have made durable laws and solid institutions by the end of my term," he said. "Things are not going to happen over night. We must face traps at every turn. I am glad there is the good will to begin talks for a revision of the Constitution. We all want deep change for Romania. Mentalities need to alter. I want a Romania where there is no time for show. I want a strong nation."
"I want corruption gone from the public agenda", he went on. "Public institutions should work for the citizens and the political class should understand once and for all that they are working for the public rather than individual or group interests."
"Romania cannot remain the country of great expectations and paltry results, the country of squandered time and lost opportunities," he told the session, adding that he wanted to leave behind him "a stronger and more united Romania" showing Romanians that "projects are being carried through."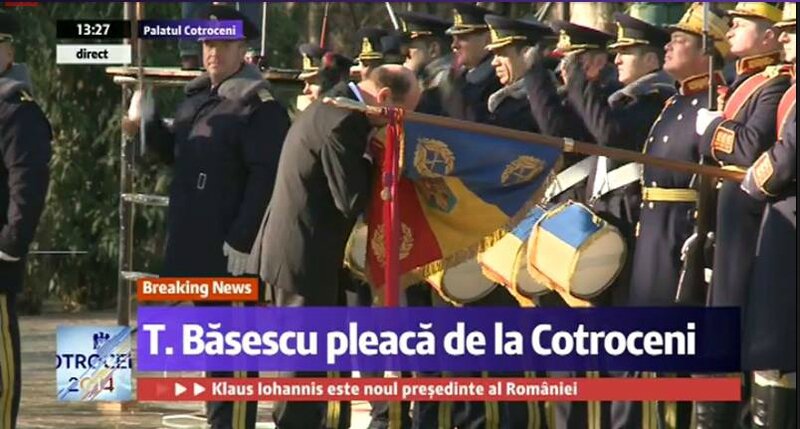 (Photo source) President Iohannis (it still feels so good writing that!) promised to seek a political consensus with parties from the ruling coalition and the opposition on key initiatives to address education, health and the judiciary; a decision on permanent dialogue procedure and an action plan to leave talking to one side so work could begin.
Iohannis also vowed to present Romania's national defense strategy in the first six months of his term, while framing a national consensus on the need to increase the defense budget to at least 2% of GDP.
It was a wonderful speech in just about every way. Warm, confident and full of vibrant assurance of his determination to transform Romania into a country worthy of admiration, trust and respect. I don't recall the last time a long-term plan for the nation was envisaged (let alone vocalised) by her president. Seriously. The country seems, at last, to have fallen into good hands. How moving it is to know that, finally, she has a president who truly cares, loves her dearly, will fight for her and protect her - and is hellbent on sweeping her off her knees so that she may sit at the international table at eye-level with the best of them. Klaus Iohannis brings hope and decency to the Romanian people. I am not sure how much he will be able to achieve in five years (the President has a right to a maximum of 3 mandates ) and I pray that Romanians will be patient. Rome wasn't built in a day, and the rebuilding of Romania will be a long and rocky road that requires unwavering support and perseverence. Cohabiting with ponta will be thorny. Painful, even. Let's hope that state of affairs will come to an end before the Parliamentary elections. I honestly believe that Klaus Iohannis's emotional (and deliciously surprising) presidential win last month is the beginning of a very positive, exciting new chapter in Romania's history.
Awarded the Officer's Cross of the Order of Merit of the Federal Republic of Germany (2014), Knight of the National Order of Merit of Romania (2011), The "Friend of the Jewish Communities of Romania" Medal of Honour (2010), Knight of the Order of the Star of Romania (2007) and The Federal Cross of the Order of Merit of the Federal Republic of Germany (2006) amongst other distinctions, his hard-working, precise and uncompromising reputation will stand him in good stead. May President Iohannis be blessed with success, wisdom and strength - he has a monumental task ahead. To coin the title of his book, "step by step"....
Merry Christmas, one and all!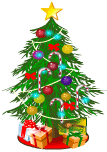 For more in English please see The Guardian, Euronews, Agerpress, Nine o'Clock, Reuters, Deutsche Welle, Bloomberg and the BBC.
For Romanian, please see Hotnews, Ziare, Gândul, Mediafax, Adevarul and blog CARResCo.