(Photo source: Romanian diaspora Munich prepared for a night in the cold) It's really something when the government of an EU member state that calls itself a democracy forces its diaspora to spend the entire night queueing in the cold (Munich: 4°C; London: 9°/rain) to be sure they'll not be denied their RIGHT to vote, but that's exactly what happened on Saturday night. Anyone saying "yeah, but they left", just remember where a LARGE percentage of Romania's GDP comes from (not to mention WHY the hell they left in the first place). There have been other incredible stories, such as the group of Romanians from the Swedish town of Goteborg with no polling station who rented a bus and drove 230km to vote in Denmark whilst in Canada, a Romanian girl flew 670km so she could exercise her constitutional right.... There was no doubt: the Romanian diaspora were determined to participate in the election of their next president yesterday.
The Romanian government/MAE/BEC did little to facilitate yesterday's 2nd round of voting abroad, following the shameful fiasco of 2nd November. Au contraire. Tens of thousands of voters for one polling station with a maximum of 7 stamps was the "norm". Apparently, granting more polling stations is 'against the law', but they managed to do so for the **Republic of Moldova (pro-ponta). Why all the obstruction? Because the western diaspora is notoriously anti-"red", ie. anti-PM ponta and his PSD party, who did ALL they could to obstruct, to corrupt and to steal as many votes as possible. Their electoral campaign was so riddled with abuse, indecency and illegality that I still cannot believe yesterday's 2nd round was permitted to go ahead, despite criminal complaints filed with the Romanian Constitutional Court and the European Commission.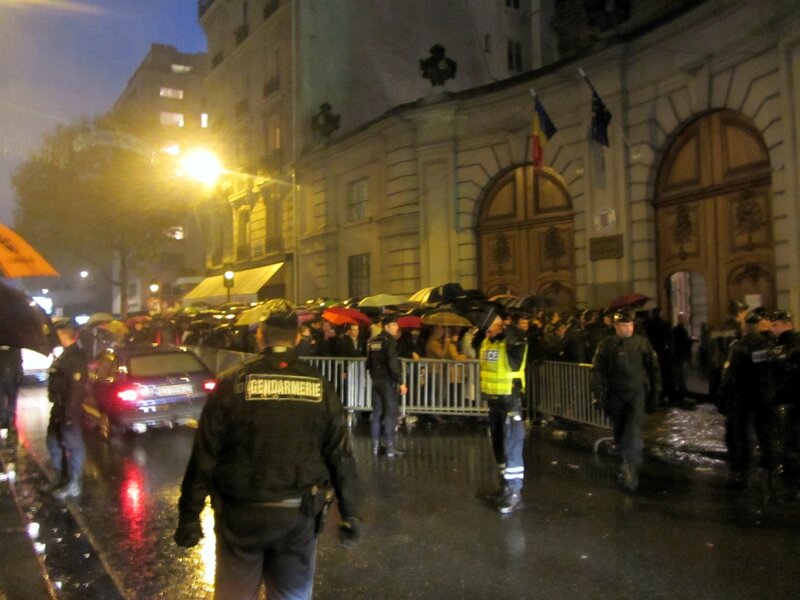 (Photo: Sarah in Romania - Paris, 17h30) Sunday morning, Voting Day, saw queues in front of the Romanian Embassy here in Paris as early as 5h30am. At 6am there were a good couple of hundred, and by 10h30, it looked like THIS. Incredible. Queues the length of rue St Dominique and reports of around 5,000 people. Many left to return later and two people needed medical attention. The rest waited. And waited. The voting was slow. Purposefully slow. During the 1st round, the embassy doors on the street were open. This time, they were closed and guarded by gendarmes who had clear orders to keep the peace. Obviously, the embassy staff did not want a repeat performance of two weeks ago, and were taking all necessary steps to keep the people OUT.
The police were out in force. Both sides of rue St Dominique were cordoned off with metal barriers so that cars could pass and traffic circulation remain (relatively) unhindered. When I arrived at 16h30, I had a great deal of trouble trying to get in to the street, now closed off to pedestrians except for the few who lived in the area. I asked a gendarme how I could pass, for I had come as a volunteer for FADERE and he advised me to take the other slightly less crowded side of the street. By sheer luck, I recognised Ciprian, head of the volunteers for FADERE, coming towards me. He had been there since 7h30 in the morning and was soaked to the skin. It was pouring with rain and the crowd, I was told, had hardly moved over the last couple of hours. Indeed, someone told me, the slow progress of the morning had become an old three-wheeled caruta since about 2pm. They were slowing down...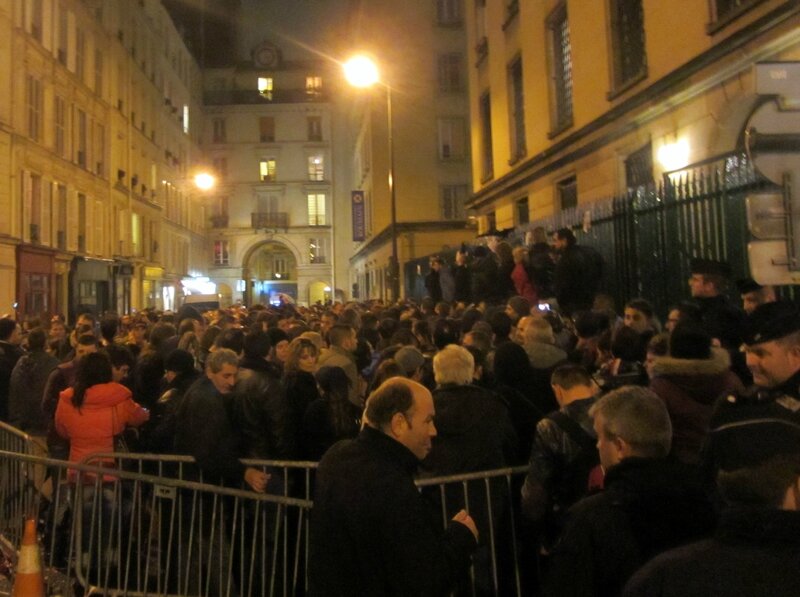 (Photo: Sarah in Romania - rue de l'Exposition, Paris, 20h) Torrential rain, pretty chilly and yet the Romanian diaspora stayed and waited. And waited. And waited some more. My 'job' was to ask people if they were happy with the organisation of these elections and if they weren't, to sign our form (getting soggier by the minute) which would then be given to FADERE who would collect them all as proof of the appalling situation for the filing of (I presume) official complaints at a later date. Nobody was happy of course, so there was no shortage of takers. This gave me the opportunity to talk to a great many people, hear their individual stories, and speak Romanian here in Paris - a rarity and a joy, even in such outrageous circumstances.
People told me they had been waiting hours. Some 5-6, some more. Others had stood in relay with friends and family, keeping the place in the queue in turns. As I sheltered from the rain (impossible to use the signature sheets at that point since it was raining so hard my forms had holes in!!), a couple came from the other side of the road. The lady was in tears, very flushed. She was exhausted, couldn't stand anymore. They had been there for hours. How could a government DO this to their own people. How indeed.... Shameful doesn't even cover it. Another FADERE volunteer standing with me gave her a bottle of water and fanned her with her clipboard. The poor woman looked as if she was about to pass out. "Go and sit in the café over there - have a hot tea. Warm up. Rest," I advised. But they were afraid they'd miss their chance to vote. And then, in a moment of lucidity, they realised they'd never be able to vote anyway. The rain was by now a deluge. The line was not moving. There were hundreds and hundreds of people. Perhaps a couple of thousand. Impossible to tell through the umbrellas, the failing light. Eventually, they left. Home? The café? I have no idea.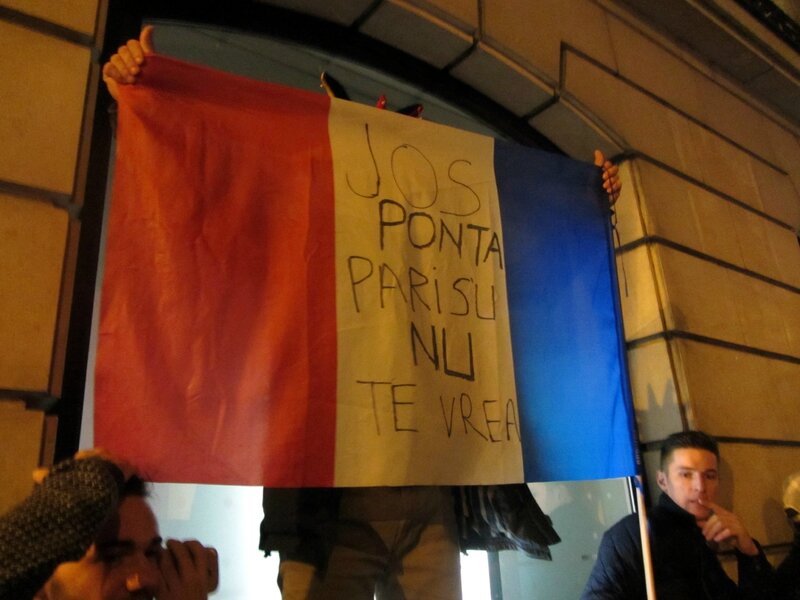 (Photo: Sarah in Romania - rue St Dominique, Paris) The rain eased a little. Up and down our 'clearer' side of rue St Dominique where people stood like sardines we went, asking people if they were happy. Many laughed, others said "have you found anyone happy here?" Actually, I did find one. A lady who smiled and smiled. "I AM happy to be here. I know I won't vote. They have taken that from me. But I am here with my people on this day, and that to me is just as important."
The desire to scream at the injustice of it all, combined with an equal desire to hug every one of these courageous people I met was omnipresent....
The hours slipped by. I chatted to a couple of gendarmes who were dripping, as we were, from the endless rain. The ones I spoke to were sympathetic, a couple even outraged. I asked how long they intended to stay and was told "as long as it takes". "Are you expecting trouble?" I asked one built like the Berlin Wall. "These people cannot vote. If this was happening to me, I'd sure be angry. Yes Madame, tonight we are expecting trouble," he replied. And he wasn't being sarcastic or ironic. He actually seemed sad, resigned. The police had been called by the embassy as THIS letter, in response to a complaint re: the scandalous 1st round (I think), from the French authorities attests. ALL the gendarmes I spoke to understood the situation and were sympathetic. However, as they explained, what happened inside the embassy on Romanian territory was not their business, but what happened out in the street on French soil WAS. They had orders to keep the peace and that is what they intended to do. Can't argue with that.
(Photo: Sarah in Romania - ICR, rue de l'Exposition, 20h - doors open) By 20h, the crowds had swelled. Don't ask me how many people there were. I couldn't tell you. A SEA of people both on rue St Dominique and round the corner in front of ICR on rue de l'Exposition. We wandered up there talking to people, listening to their stories. Pensioners, young families, students, professionals. They were from all over Romania - Baia Mare, Satu Mare, Brasov, Iasi, Galati, Bucharest, Craiova, Cluj, Sibiu, Sighisoara... And they had ALL been there for hours. I spoke to about a half dozen who HAD managed to vote earlier on and had come back to support their friends. One told me she felt 'closer to home here'. But the majority of my 'nemultumiti' had not yet voted.
More rain and it had grown colder.
20h40: a notice was handed around the queues in front of ICR saying that President Basescu had demanded an extention until midnight. The notices were passed down the queues. Down and down they went. I could see the expressions on peoples faces. Nobody really believed anything they were being told any more, but hope was not completely snuffed out. Not just yet.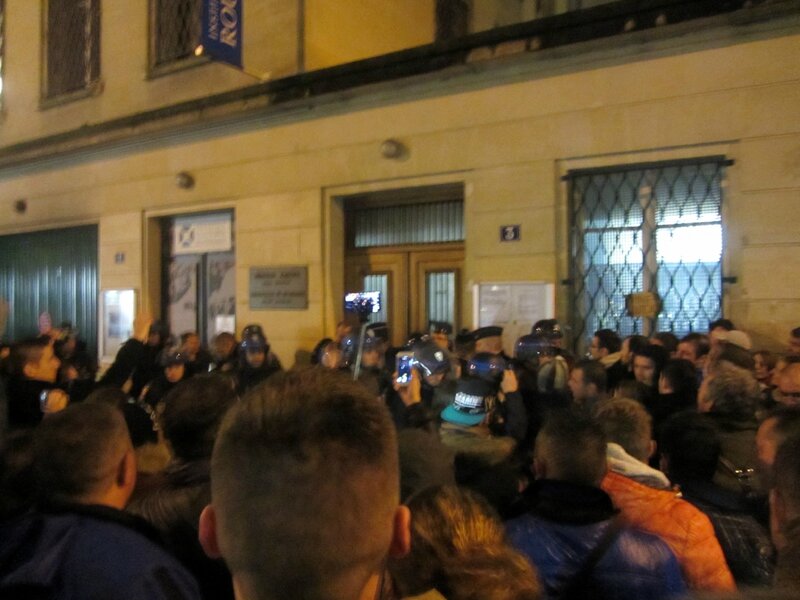 (Photo: Sarah in Romania - ICR, rue de l'Exposition, 21h - doors closed) And then a massive booing. Absolutely massive. It was 21h and the doors of ICR had slammed shut (see video HERE by Lucian Mândruta). Had we been so occupied with the notices about the extention that we had forgotten the time? On 2nd November when the embassy staff had tried to close the doors, the crowd pushed forward and blocked them. This time, all I could see was the queue, a bunch of CRS who maybe stopped resistence from anyone nearby and the double doors now closed. The booing was deafening. NUUUUUUUUUUUU people cried. NUUUUUUUU!! VREM SA VOTAM!! HOTII!!!!! IO-HAN-NIS!!! JOS PONTA!!! HOOOOOOTIIIIII!!!!! Over and over, people shouted their fury, indignance, exhaustion. Over and over the slogans ricocheted off the stone walls of the old buildings along the narrow rue de l'Exposition. Over and over. VREM SA VOTAM!! VREM SA VOTAM!!! I stood with Nicolae Teculescu from La Maison Roumaine and Patrice Eyraud, President of OVR in silence. We couldn't believe what we were seeing, although really, it should have come as no surprise. It had happened once already. IO-HAN-NIS!! IO-HAN-NIS!! Were they imploring his help or showing their allegiance to their choice of future president for everyone to hear? Both, probably, for I do not believe there could have been a single supporter for ponta in the entire crowd.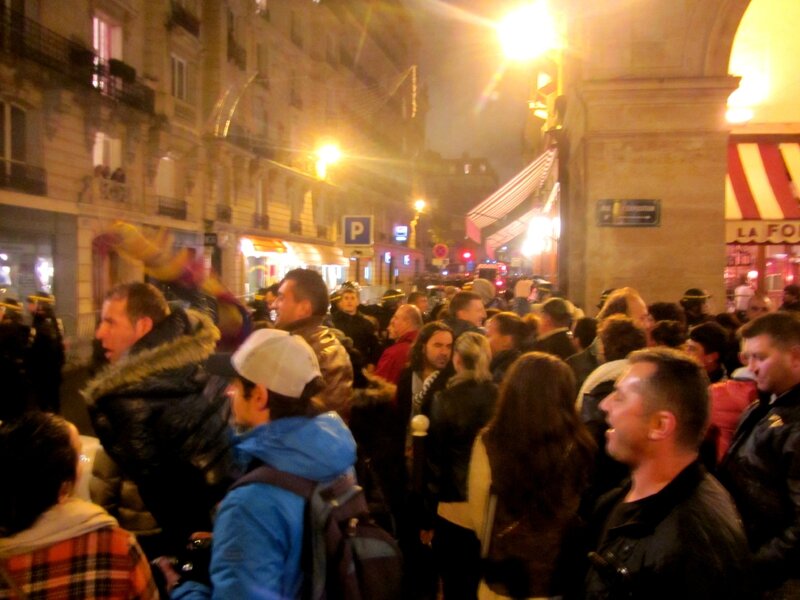 (Photo: Sarah in Romania - rue de l'Exposition / rue St Dominique - 21h20) My two musketeers Patrice and Nicolae, and I made for rue St Dominique. See this video by Lucian Mândruta. It seemed as if the entire world was shouting slogans, booing. RUSINE! RUSINE! RUSINE SA VA FIE!!! I'd never yelled so hard in my life and never with such anger, such rage, such disgust. After hour after interminable hour waiting in the rain, people had once again been denied their constitutional right and this time, they weren't going to be ignored. They weren't going to yell a bit and go home because there was another chance in two weeks. No. This was IT. There was no more voting to be done. JOS PONTA! JOS PONTA!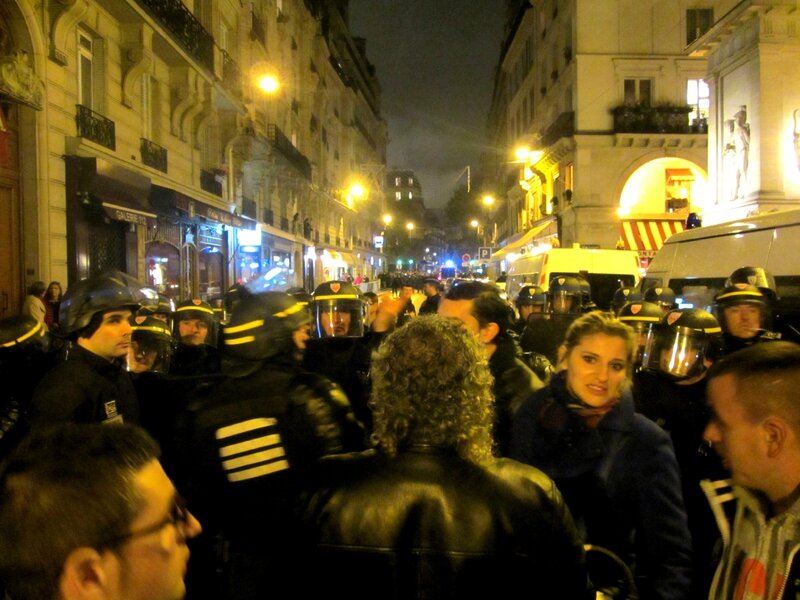 (Photo: Sarah in Romania - CRS wall) Into rue St Dominique and immediately a line of CRS (Compagnies Républicaines de Sécurité, ie. the riot police) with their helmets, batons and riot shields. See THIS video (L. Mândruta). As I stood on the corner by the arches leading into rue de l'Exposition (ICR), the chanting from in front of the embassy resounded loud and clear: VREM SA VOTAM! VREM SA VOTAM!!! Down in front of ICR, they took up the chant. Huge. Unbridled indignance. VREM SA VOTAM!!! As I watched, looking up towards the embassy, I saw stuff being thrown at the embassy wall. Plastic bottles perhaps? Hard to say from the distance. And then loud booing from the crowd. A police siren or two that is often given as a warning sounded. Mr Teculescu decided to leave at this point, for things didn't look good. I now know that this was the moment when the tear-gas that has been so vastly reported by the Romanian press occurred.
When eventually I got to the embassy taking a long route round since the road itself was blocked, I found friends (French and Romanian) who explained exactly what happened: It seems there was a bunch of provocateurs 'sent' to cause trouble who, when the doors closed at 9pm sharp, started throwing bottles and other projectiles both at the embassy (that's what I saw from my spot further down the road)) AND the police. What did they expect in return? A bouquet of flowers? Tear-gas was sprayed, I was told, in the direction of these trouble-makers and yes, people in the vicinity definitely would have got a lungful since there was such a huge and very compact crowd. People today are asking "who ordered it?" NO ONE ordered THAT. But in THIS video, you can see what happened VERY clearly indeed. Check out the 'provocateurs' fighting near the door, literally HURLING a metal barrier at police lines. Frankly, I think French law enforcement were pretty restrained considering the circumstances.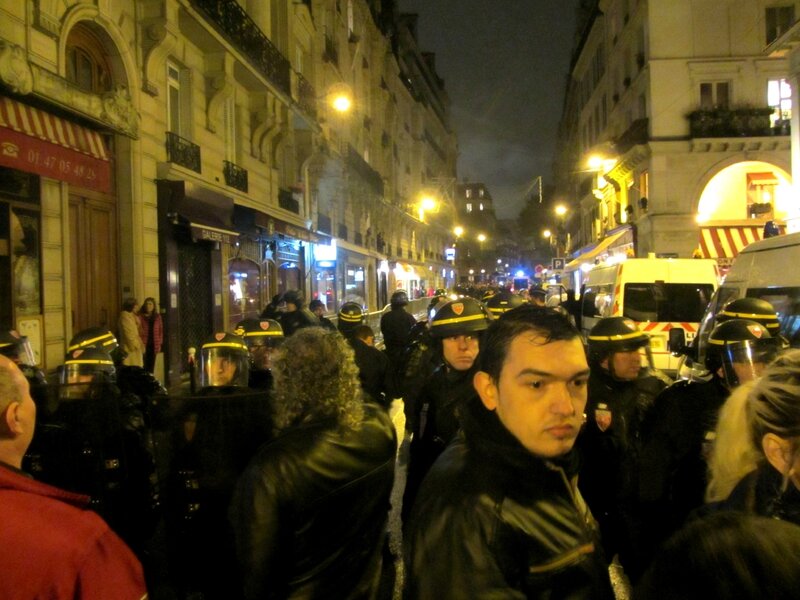 (Photo: Sarah in Romania - rue St Dominique) Meanwhile, further down the road where I stood, the CRS were in line formation to create a wall, and slowly advanced down rue St Dominique, pushing people away from the embassy. One man fell (I saw that) and yes, the police should NOT have pushed, but they had been ordered to clear the area and since we had no intention of moving, this was their strategy. One or two of them could have pushed with a little less enthusiasm, however.
Down the street we were slowly herded, but we could still hear the chanting further up around the embassy. We chanted too. A lady near me was crying, her husband's arm around her shoulders. As our eyes met, she shook her head, shrugged her shoulders in such a terrible, defeated manner that I couldn't help it. I hugged her and cried too. Those bastards had done more than deny people their votes. They had robbed them, humiliated them, forced them to stand for hours and hours in the rain with NO intention of giving them what their constitutional rights allowed.
(Photo: Sarah in Romania - Romanian Embassy, 21h45) Finally, with Patrice, we left rue St Dominique via a side street and made a circle, returning once again to avenue Bosquet and the top part of the not-yet-cordoned-off rue St Dominique. Crowds and crowds were shouting for their right to vote (see video HERE). The shock, really, had by now worn off and there was a complete sense of togetherness, of joint determination rather than that momentary individual pain that had sparked for a little while after the doors closed. It was a community again, a family, together against ponta and his cesspit of abuse, illegality and corruption. From that point, the evening turned into a street party with singing, slogans, and later a hora, for no Romanian evening would be complete without a hora. Even the police were amused. It was a lively atmosphere especially when rumours began to circulate about the results: our IO-HAN-NIS had won and everyone at 'home' was taking to the streets. Fantastic news that gave us such a lift despite being tired, cold and pretty wet from the rain. What were the results? 48.5% ponta / 49% Iohannis? No, no. Iohannis had more! But really, it wasn't clear. We knew he was ahead, but by how much was a mystery. Adriana, one of the FADERE volunteers (a wonderful, energetic person to whom I thank for being so warm, passionate and encouraging throughout) dashed about spreading more news: 10,000 in Timisoara!! Cluj! Sibiu!! EVeryone's out in the streets with us. Wonderful news. The crowd struck up "Desteapta-te romane" with more feeling than I've ever heard.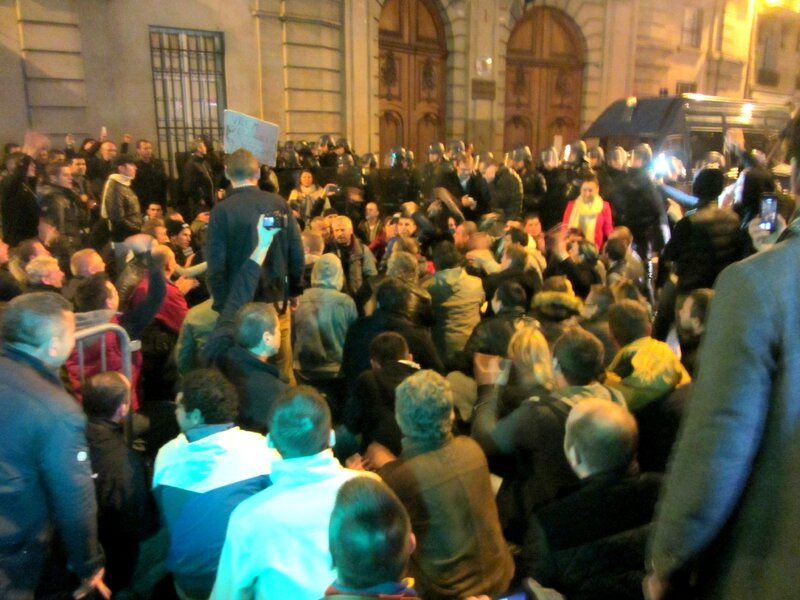 (Photo: Sarah in Romania - Sit-in) The two huge police vans edged forward a little. Everyone sat down firmly on the wet road. "Noi de aicea nu plecăm, nu plecăm acasă /Până nu vom câştiga libertatea noastră!!" How incredible to sing that right there and then, with the police vans wanting us gone. Seemed that law enforcements quite liked the rendition as they stopped and the evening progressed with no further interference. "On s'amuse!!" one policeman told me, smiling, "Ils sont géniaux, ces roumains!" They are indeed.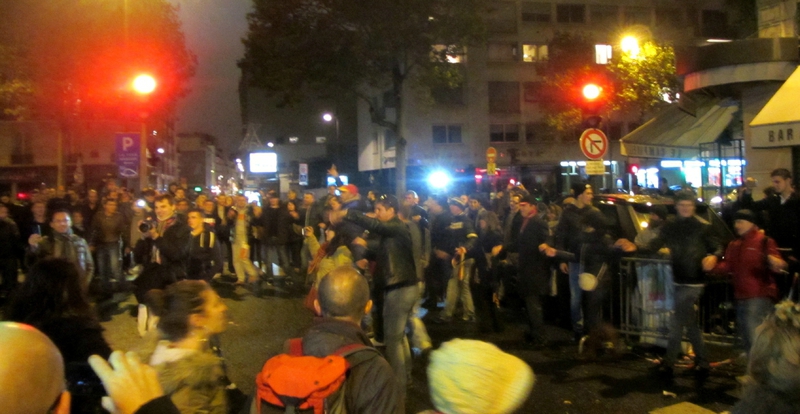 (Photo: Sarah in Romania - Hora) I left with Patrice and Caroline (president of Pro-Patrimonio France) at around 22h30. How much longer the 'party' went on, I cannot say., but when I got home and heard the news that yes, it was true, Iohannis had won and by a HUGE 10%, I burst into tears and cried and cried. Despite EVERY possible effort to fraud, steal, bribe, abuse and obstruct, ponta and his lousy party had LOST THE ELECTIONS and Iohannis was the new PRESIDENT OF ROMANIA!!!! It seemed unbelievable. Even now, it's hardly credible. For those supporting Iohannis, we had put our hopes on a miracle - never tell me they don't exist.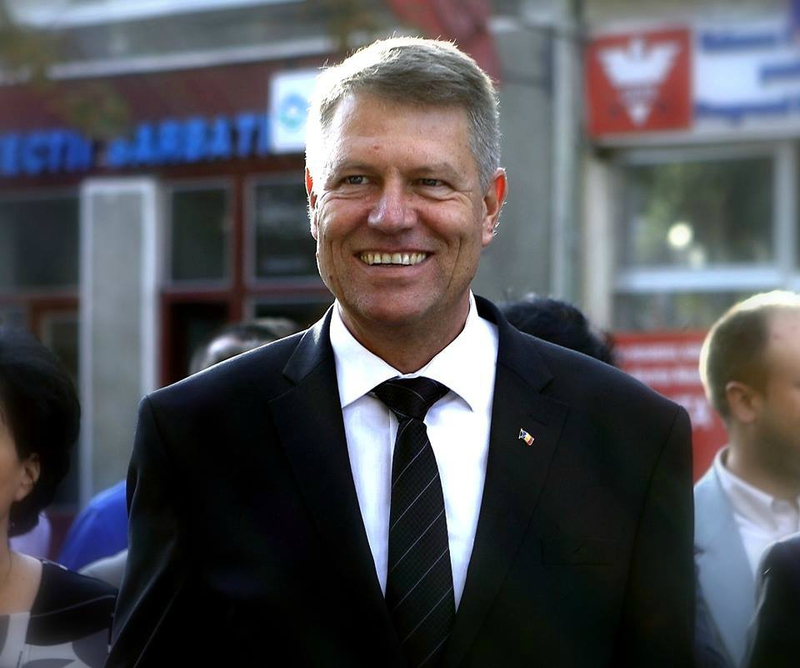 (Photo source: Klaus Iohannis) This morning when I woke up, I rushed to my computer hoping against hope that it hadn't all been a terribly vivid dream. But it had not. Sure enough, Iohannis really DID win - and with a massive 11%! Perhaps people weren't as easy to 'buy' after all. From the two polling stations in Paris, 96.14% of the votes had been for Iohannis. Well, of course they were! ponta the magnificent had planned so hard it had all blown up in his smug, ugly face.
The main news of today, this brand new day that promises a new, better Romania, is that ponta refuses to resign from his post as Prime Minister, which means that Iohannis will have to work with him - not an easy task. I so hope ponta and his lousy party will be forced to sell their properties, cars, etc to reimburse the country for the entire cost of their repugnant electoral campaign, though I doubt that'll happen. Presumably, austerity measures will have to be applied for that. This evening, protests are once again under way all over Romania demanding ponta and his governments resignation. I doubt they will listen, for their arrogance and immorality has made them deaf as posts. Iohannis has a tough job ahead and I do not envy him. I pray the Romanian people will be patient. Cohabiting with ponta will be thorny. Painful even. Let's hope that state of affairs will come to an end before the Parliamentary elections next year.
For now though, Santa Klaus (as many call him) has come early, and for the first time in 25 years; hope is alive once again in the country of my heart. And it is beautiful to see.
**PS. Just for the record, the Republic of Moldova, considered pro-Ponta and thus given extra polling stations, wasn't that pro-ponta after all. Klaus Iohannis - 78,59%, Victor Ponta - 21,41% LOL!! BRAVO Moldoveni!!!!!
***
(Photo source: Teodor Melescanu) UPDATE 18th Nov: Foreign minister Teodor Melescanu resigned this morning after less than a week in office. "Since we live in a country where nobody is keen to take responsibility and the only concern is to shift blame, I, as a man of honour, take this responsibility and tender my resignation," he told reporters. He apologised to Romanians abroad who were unable to vote through no fault of their own, and blamed the 'rigid legislative framework'. He said that the ministry had made every attempt to solve the problems from the first round. Yeah, right. They didn't try hard enough. Melescanu was in Paris on Sunday and told the crowd he would stand in line with them, cast his vote with them. Then... he vanished. I expect the rain, cold and standing for hours on end was too much for him. La revedere, Melescanu. Close the door on your way out. pontaur has nominated Romania's ambassador to the EU Mihnea Motoc to fill his shoes.
Mr Iohannis has asked President Basescu to withdraw ALL ambassadors from the countries where Romanians were humiliated in their fight to vote on Sunday. "All ambassadors and consuls from those countries where Romanians were humiliated must be withdrawn," he said. Quite right. Then fire them, make them donate their bank account contents to charity and let them live on minimum wage and the lowest pensions for the rest of their days, please. "Someone will pay the consequences for the catastrophic voting organisation abroad," said our new president (I still can't believe it!!! Heeeeeeeeeeeeeee!!!!!). He continued, "I would like, once again, to express my respect for the Romanian diaspora who understood the importance of voting, and spent many hours in the rain, the cold, so that they could do so. Thank you."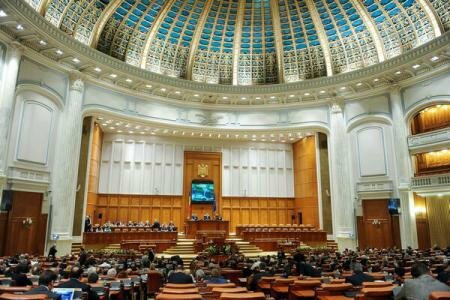 (Photo source) Furthermore, President Iohannis instructed Parliament to keep its word and reject the draft law on the controversial amnesty and pardon bill last night. The legal committee did so, and the Chamber of Deputies followed suit today. It is done!! After one year on the back burner, it has finally gone. The vote was unanimous: 293-1 with 1 abstention (wonder which solitary soul voted in favour..?!). There will be NO pardon for prisoners serving sentences of up to six years for non-violent crimes (ie. corruption, money-laundering, influence peddling, fraud, etc), so the likes of former PM Adrian Nastase, Gigi Becali, Dan Voiculescu and other officials and magistrates currently in the slammer for such misdemeanours will be staying there until their sentences are served.
there will be no amnesty for inmates serving sentences of up to six years for non-violent crimes - See more at: http://www.novinite.com/articles/164842/Romanian+MPs+Turn+Down+Amnesty+Bill#sthash.7bXr1eyN.dpuf
Mr Iohannis had insisted on the overturning of the bill throughout his campaign and has shown to be as good as his word. This is a signal of much-needed change in Romania, and an EXCELLENT step towards true democracy and justice which will be welcomed as much on the international front as at home. The president has also ordered that Parliament approve all requests regarding the launching of criminal investigations into legally challenged MPs. The Chamber gave the go ahead for Ioan Adam (PSD), Mircea Roșca (PNL) and Ion Diniță (PC) to be remanded in custody today. Another Liberal deputy, Akos Mora resigned.
Mr Iohannis made it clear today that his party intends to be the major powerhouse of Romanian politics for years to come. "We, the new PNL, wish to take power in 2015 or after parliamentary elections in 2016 at the latest," he said. According to Reuters, in his capacity as PNL leader, Mr Iohannis stated that his party may look to forge new alliances to unseat ponta from as early as next year. Good.
It's been quite a day! More news as it happens...