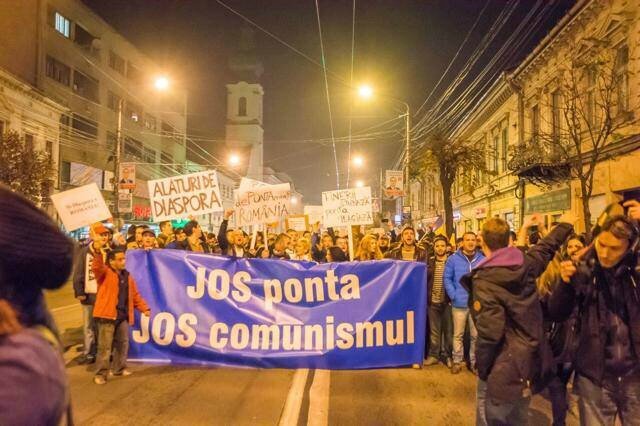 (Protest 8th Nov., Cluj - Photo: Andrei Avramescu) It's only been a week since the first round of Romania's presidential elections left so many of us gob-smacked. What an exceptional performance of PSD fraud, obstruction, illegality and merciless slaughtering of democracy it was. The last seven days have been a constant stream of the kind of stories one would expect to find in a predictable telenovelo with the most lamentable of scripts. I don't think I'll even bother to go into them since you must be as sick to death with the lack of decency, elegance and integrity as I am.
How ironic it is that, as we remember 25 years since the falling of the Berlin Wall and the first anti-communist protest in Bucharest (1945), we are faced with the very real threat of a return to dictatorship in Romania should ponta win these elections. There can be nothing worse in store for the country than ponta. What can one do but pray that those who've allowed their votes to be bought with flour and oil, obeyed crooked officials and priests, and been brainwashed by A3 will suddenly wise up through a reality jolt before next Sunday's second and final round.
(Protest Cluj, 8th Nov - Photo: Mediafax) In the category of admirable, heart-warming things to tell you, around 10,000 took to the streets of Cluj yesterday, another couple of thousand in Timisoara and hundreds more in Bucharest, Constanta, Brasov, Oradea, Deva, Targu Mures, Sibiu and Craiova in protest of the government's willful obstruction of diaspora votes last Sunday. BRAVO!!!! Calls were made for ponta to resign, though I doubt he gives a toss.
Although ponta has ordered his gophers to assure there are no balls-ups on 16th (he has spent the entire week pathetically blaming everybody but himself and making up fiction as he went along), Foreign Minister Titus Corlatean (why hasn't he been fired by now?) has announced there are to be more voting booths, but no additional polling stations, according to Reuters. The declaration forms that were so glaringly absent in the diaspora are available online in PDF, and one can only hope the government has sent all polling stations extra stamps. Three per centre last week was nothing short of absurd.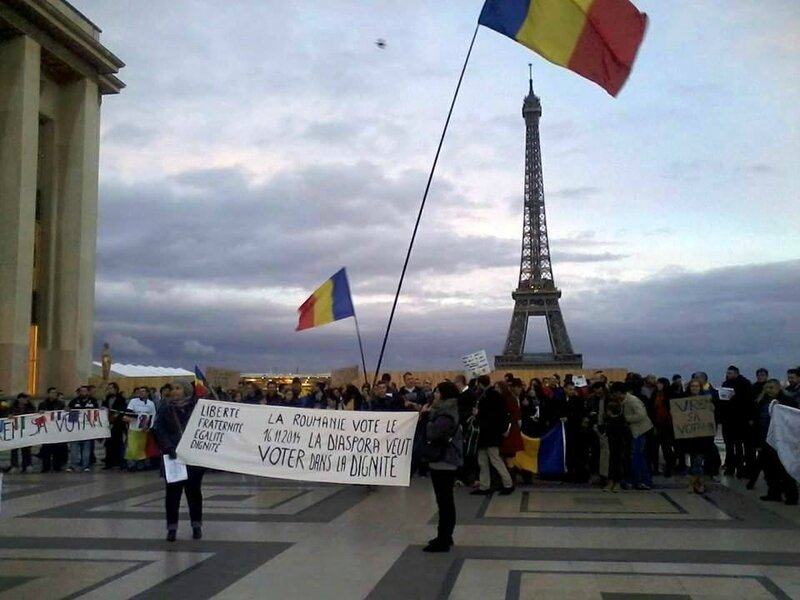 (Paris, 9th Nov - Photo: Sarah In Romania) Hundreds of Romania's diaspora protested in London, Dublin and Vienna today whilst, here in Paris, Trocadéro bore witness to a coming together of around 4-500 more in the name of voting rights, respect for the constitution and the upholding of democracy. If ponta thought he could intimidate those living abroad by denying them their fundamental and constitutional rights, he truly shot himself in the foot - maybe both feet. The Romanian diaspora in Paris is more determined to vote than ever on 16th - and I'd feel confident betting veeeery few of them will be ticking the box for ponta. As it is, the 160,056 (of some 550,000 registered) Romanians living abroad who managed to vote last Sunday against all odds gave 46% of their support to Iohannis leaving ponta scrambling about in the mire with only 16%. These are people who have LEFT Romania. They CANNOT be bought, bribed, dictated to by priests or brainwashed by Antena3. Many are students at estimed universities, professors, doctors, architects, lawyers. They can think for themselves and do so very well, thank you very much.
(Paris, 9th Nov. Photo: Lucian Popescu) If a single Romanian news site DARES report violence, people paid to demonstrate or anything else equally low linked with Trocadéro today, I and hundreds of others can vouch that it is a lie. This was a wonderful, good-natured, friendly community gathering to speak with one voice. Never, in all my demos with the Romanian diaspora here in Paris, have I seen so many young people present. With heart-felt renditions of "Deșteaptă-te române" and "Treceti batalioane romane Carpatii", slogans, banners and the tri-colore flag against a marble-grey and rapidly darkening sky, they stood in a vast semi-circle around the parvis des droits de l'homme, the very spot where, so symbolically, the Universal Declaration for Human Rights was adopted.

As night fell, this wonderful, gutsy crowd of Paris's Romanians knelt or sat for a minute's silence in memory and respect for the victims of 1989 who had died fighting for a better Romania, her freedom and for democracy - terribly moving. Closure came with a huge hora that covered the whole surface of the Esplanade, and shouts of "Romania, trezeste-te!" (Romania! Wake up!)
For the first time this week, I felt the spark of hope, optimism and pride. Already terribly moved by such an enormous turn-out and so much warmth, their energy, indignance and determination was deliciously contagious. I left smiling - something I have not been able to do particularly well since last Sunday.
Thank you, Romanian diaspora in Paris. Thank you Romanians everywhere out in the streets, writing articles, reporting honestly, filing criminal complaints and doing all you possibly can to stop your country from toppling into the abyss. Thank you. To those doing sod all, I have nothing to say...
***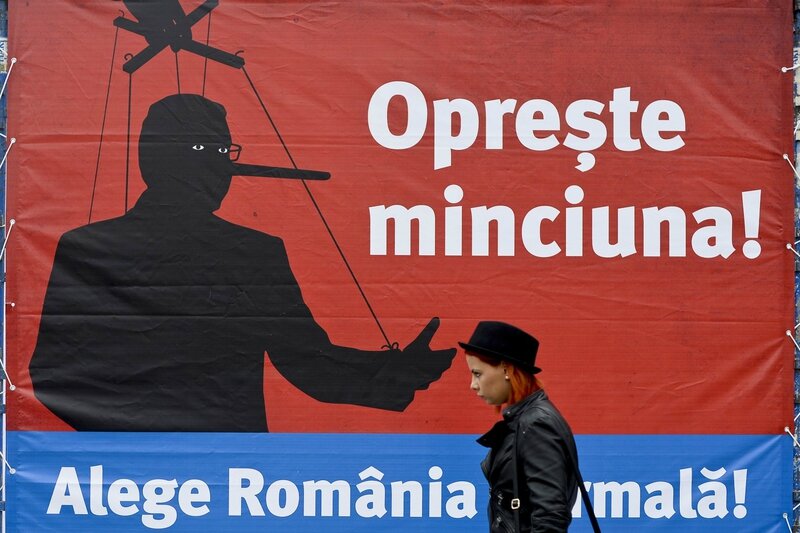 (Image source) UPDATE 10th Nov: Corlatean 'resigned' or rather, 'retracted' according to the press which is more like it, from his position as head of the MAE after massive street protests both in Romania and in the diaspora demanded guarantees of their constitutional voting rights in the second round. As a friend of mine pointed out, this will surely make him the 'martyr of voting fraud'. Well, if it hadn't been this puppet, it would have been another and I, for one, have absolutely NO sympathy. ponta has replaced him with ally Teodor Melescanu. Aoleeeeeeu!!!! Who better to run the Ministry of Foreign Affairs than the ex-director of Romania's Foreign Intelligence Service (SIE) - the very same guy who managed to clock up ALL his signatures to run for presidential candidate as an independent in just TWO DAYS. He announced his support for Ponta's candidacy after obtaining 1.09% of votes in the first round.
On announcing his 'retraction' (impossible to translate it as 'resignation' or 'stepping down', as that would infer some semblance of decency of which there is zilch) which had nothing to do with accepting responsibility in denying people their constitutional rights, Corlatean blamed the incumbent President Traian Basescu (who had called for him to go) and Iohannis for his departure. He could "not accept the Ministry of Foreign Affairs breaching the law on Mr Basescu's and Mr Iohannis' electoral grounds", he said. Being pressured to allow extra polling stations, he claimed, would break the country's voting rules although the Central Electoral Office said this would not be a problem. You'd think the CEO would know. Corlatean's 'retraction' is nothing more than a strategic mis en scène.

Melescanu, Corlatean's replacement, echoed that extra booths would be provided for the voters abroad, but additional polling stations would be impossible. His profound phrase of the day, "It's very clear that nothing is clear", just about sums things up. In an announcement earlier today, he said that he would be sending the maximum number of stamps permitted to each polling station: seven. SEVEN!!! Better than three, but still insufficient. Stand by, as they say, and let the fox see the rabbits... This does NOT bode well for the diaspora on Sunday.
If you thought that wasn't enough to be going on with, there's more news.
Senator Cristiana Anghel has suggested a law be introduced stipulating that, unless Romanians have spent at least three months in the country over the last year, they should not be permitted to vote. This is absurd when you consider that many who DO live in Romania on a permanent basis haven't the FAINTEST idea what the hell is going on from one day to the next - much less in politics. You may remember my post about a bunch of country folk who didn't even know in which country they lived. I rest my case. Another pro-ponta ploy to gag the diaspora.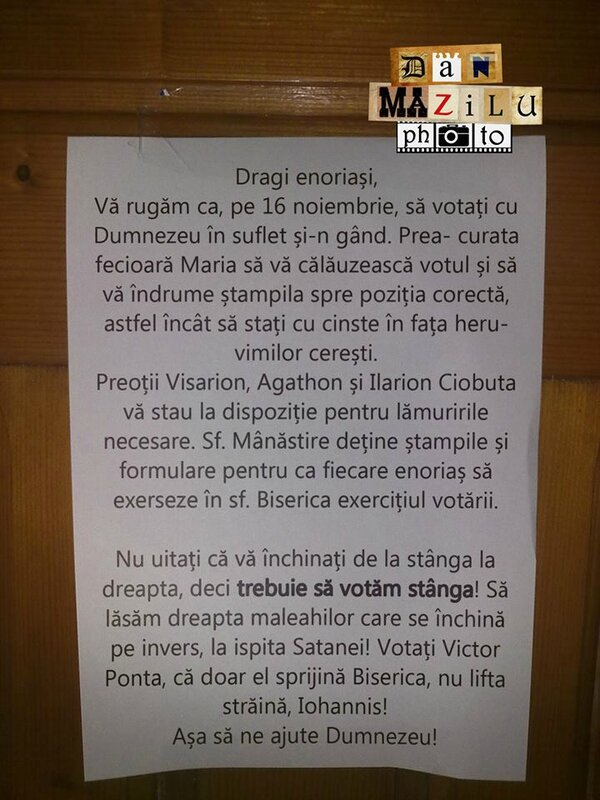 (Photo source) Meanwhile, the BOR have been busy canvassing for their dear ponta who has been giving them millions of lei in handouts all year. In Cluj, Maramures and Giurgiu, congregations have been told to think about God whilst voting on 16th which means NOT electing a non-orthodox president (Iohannis is Lutheran). Hallucinating, right? For shame. Did you know that ONLY the orthodox christians make the sign of the cross correctly? That is what church-goers were told. News to me. In Romania these days, the closer one gets to the church (a thriving business thanks to the uneducated, simple and naïve) these days, the further one is from God...
The photo of a notice on a church door (see left) was taken by Dan Mazilu in Giurgiu. We are told: "don't forget that we cross ourselves from left to right, so WE MUST VOTE LEFT! We leave those who cross themselves the wrong way round on the right, tempted by Satan! Vote Victor Ponta, for he alone supports the church, not the foreigner Iohannis." What an odious ranting of utter cobblers... However, if Ponta gets 99% of the votes in Giurgiu, you'll know why.
Appearing on B1TV, journalist Radu Banciu commented on the implication of church interference and the fact that Iohannis's religion has become a subject of the electoral campaign. "Ponta is not 100% orthodox either," he said, "CVT converted to orthodoxy when he married at aged 40, and Tariceanu is catholic. Religion is not a criteria. This is outrageous discrimination. Why should someone who is catholic, black or white have no rights in Romania? We are part of the EU, along with 27 other countries. This cannot be tolerated." Quite right, Mr Banciu.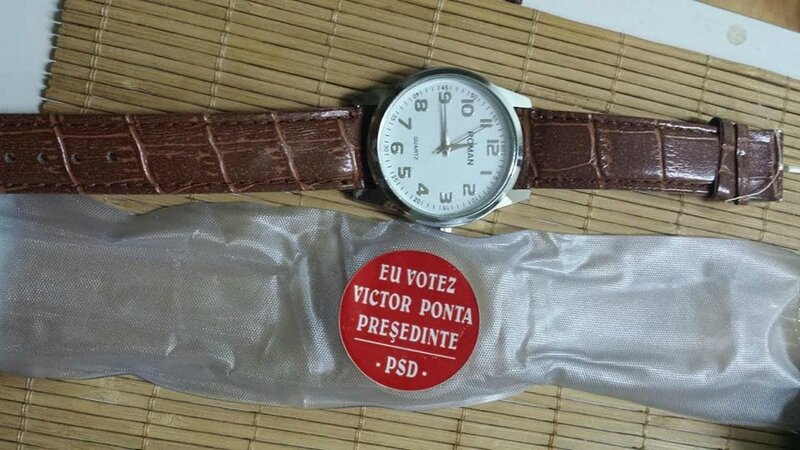 (Source: Ionel Stoica) ponta and his PSD have been busy coming up with 'douceurs' to tempt anyone still undecided. The latest 'pomană electorală' comes by way of Chinese-made "Roman" watches. I kid you not. The wearer will be reminded he is a proud Romanian every time he checks the time. ACL Arad has accused PSD of exceeding the legal limit on value permitted for campaign promotional material. PSD denies it, assuring that the watches cost under 5 lei (1.13 euros) a piece. You couldn't make it up. ponta has been rather a pest in Arad, it seems. In a press release Monday, ACL Arad representatives say that PSD has been distributing the wrist watches in the streets of Arad, along with flyers and other promotional campaign material with the name and picture of Victor Ponta. According to Law 370 of 20 September 2004, all this is classified as electoral bribes and must be punished as such. ponta punished? THAT would be the day. ACL Arad told Mediafax that the watches were in bags along with printed campaign materials and a lighter, exceeding the 10 lei limit. The bags were "received accidentally" not only by the public but also by members of the Alliance. Oops. PSD spokesman, Flavius Ghender, said that the party did not offer watches at all (those guys really need to communicate with the Mother Ship), only bags, pens, lighters, key chains, calendars and printed material "whose total value is less than five lei". Oh well, that's alright then, innit. The watches were a figment of the imagination.
Finally for this evening, Iohannis promised last week to prioritise the abolition of the immunity law which protects the President of Romania. I find this a little odd since it is a law applied to many constitional systems across the globe with the exception of Islamic states as far as I know, but getting rid of it (which the French have just opted to do) gives comforting transparency. If the president himself is not above the law, then it sets a precedence. Romanians lack good figure-heads they can admire these days. The only worry is that any such president would have a nightmare of a time getting a fair trial while still in office - hence the law as it stands whereby immunity ends when the mandate terminates.
He has also called (yet again) for ponta's resignation following the 'irregularities' of 2nd November. Good luck pursuing that tack, Mr Iohannis - you have our full support.

More updates as they come...