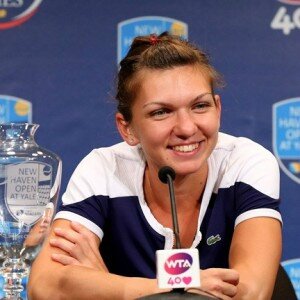 Tennis player Simona Halep doesn't shriek or grunt when she hits the ball, serving or otherwise. She doesn't sulk, doesn't stomp, wiggle or partake in court theatricals. She doesn't get involved in scandals. She isn't a sex bomb and neither does she have legs up to her ears. Simona Halep is the nice, respectful girl-next-door. She struggles with injuries. She is small. She is quiet. She is shy.

Simona's rise in tennis has been fast and brilliant, and yet she is STILL largely ignored by the international press. WHY? Ranked n° 47 at the end of 2012 and n° 11 at the end of 2013, she is now n° 3 behind Serena Williams (1) and Li Na (2). She is the only player to have won titles on clay, grass and hard courts during that stretch. Making it to the finals at Roland Garros and defeated by Maria Sharapova (5), she is now going great guns at Wimbledon and in to the 4th round. On 27th June, her rally with Ukraine's Lesia Tsurenko was Shot of the Day on BBC Sport.
'Every few weeks in tennis, an underdog bursts from obscurity to a breakthrough that nobody could have foreseen. But then a much greater challenge looms: building on the breakthrough. Most overnight sensations fail that test, becoming one-hit wonders and answers to trivia questions. And yet a handful of them have passed the test, taking crucial strides toward becoming members of the sport's elite. Count Simona Halep among those who have passed.' - Tennis View Magazine
'In my opinion, it's only a matter of time before Halep closes in on the top 10, and could ultimately represent a new style of play in women's tennis – one that is neither the extreme of "big babe" tennis nor the defensive or crafty approaches of players like Errani and Radwanska. Watch out.' - (Aug. 2013) Mind the Racket
'It is unwise to ignore Simona Halep. She is on a run few others can dream of (Steffi Graf was the last player to win her first six WTA crowns in the same year)...' - (20 Jan. 2014) Australian Open
'It's refreshing in this era of the blood-curdling shriek and the abuse of the clenched fist to see a player as basically undemonstrative as Halep. Like her rival Radwanska, she gives nothing away. She's no drama queen or intimidator. What she is, though, is relentless, focused, multi-faceted, and mobile.' - (13 May 2014) Peter Bodo, Tennis.com
'A select band of players have the ability to make the game look effortless. Count Halep among them. She moves with grace, strikes with purpose and is free of the shrieks, tics and fist-pumps of her contemporaries. It is an enchanting combination....' - (24 June 2014) Michael Beattie, Wimbledon.com

These are just some of the commentaries about Simona and her game from sites online. See more HERE (in Romanian). But why aren't there more in the main-stream press. When one googles 'Simona Halep', the listings are still full of reports about her bust reduction surgery rather than her game and professionalism. The media's obsession with that has not gone unnoticed on social networks, where a vocal contingent has called for more focus on what she's done on the court. As far as I'm concerned, she's done all she can to make her tennis the topic of conversation. Now it's really up to the media to do the same.
her interviewer barraged her with incessant questions about Halep's breast-reduction surgery. Halep responded that she felt it was a good decision with regard to her game. But the reporter didn't stop there. "What about outside [itals ours] of tennis?" the interviewer pushed. - See more at: http://www.damemagazine.com/2014/01/22/congratulations-your-victory-now-about-your-boobs#sthash.7HdKU0wj.dpuf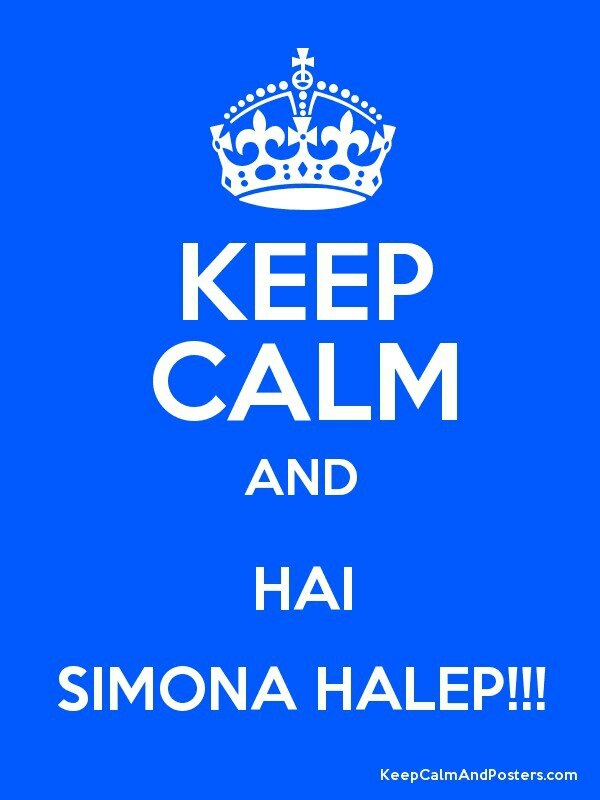 Russian Maria Sharapova (5), also known as Shriekapova, Screechapova, The Wailer and The Siberian Siren, is the 'darling' of tennis. A superb player, she is also the undisputed queen of grunts with her climactic shrieks of 'the blue-movie variety'. She has been known to hit 105 on the decibel counter - louder than a motorcycle, lawnmower, or a small aircraft landing, about the same as an ambulance siren, and only five decibels quieter than a lion's roar. She disappears off court for lengthy periods and takes ages between services. She sulks, she pouts, she flirts, is a diva to her bones, and gets mountains of press coverage for it all. Sports journalists (particularly across the pond) adore her. She also hits the headlines with stories such as THIS, THIS and THIS. Oh - and just recently, there's THIS one, too.

Simona Halep does none of that.

She is the only one of the top three seeded players to have won her matches and make it further at Wimbledon this year (Serena Williams ad Li Na are both out) though, and yet hasn't made headlines. Following her fourth Wimbledon win against Belinda Bencic 6-4 6-1, Simona gave a press conference. And guess what? Not a single British journalist showed up. Not ONE.


The Bleacher Report gives five reasons why they believe Simona to be so overlooked:
1) She isn't blonde. When it comes to tennis hype and endorsements, blondes may well get more funding, silly though that may sound. 'Perhaps it's mere coincidence that since switching from red to blond highlights late last year, Williams has scored an endorsement deal with Berlei sports bra company and appeared in a Beats headphones ad,' says the article.
2) She's not an Amazon. Halep is 5'6". That's average height. But Sharapova is 6'3". Ana Ivanovic, Venus Williams and Victoria Azarenka are all 6' or taller.
3) Her accent. 'Having an American accent has helped Sharapova, a Russian who has spent most of her life in the U.S. Bouchard is Canadian. Halep speaks thoughtfully and clearly measures her words when speaking English. You have to wonder: If she were an Americanized star on a meteoric rise, would we know more about her?' says the Bleacher. See her in an interview HERE.
4) No big wins in grand slams. 'Up until this year, she had never moved behind the fourth round of a Grand Slam. In 2012 she failed to advance beyond the second round and lost in the first round in all but the U.S. Open. She reached the quarterfinals at the Australian Open. If she performs better in the biggest events, that will go a long way toward winning some hype.'
5) She's still considered a minor leaguer. 'When Halep starts winning bigger matches and bigger events as she has this year, she'll garner the hype she deserves.' THIS site echoes the same reasoning as to why Simona has flown under the radar.
When I wrote THIS post during the Roland Garros tournament, I didn't think much of the Bleacher's suggestions, and I'm still not convinced. What Simona lacks in height she makes up for in timing, she made it to the French Open finals and is now wowing Wimbledon. She has also found ways to compensate for not being as powerful as other players through admirable speed and agility. Isn't that enough to 'garner' her some hype?
"It's pretty obvious that Halep has become a significant force in the women's game, yet nobody seems to know quite what to make of her. It would be easy at this point to condemn the media and pundits for ignoring yet another fine player whose greatest shortcoming is the failure to attract attention. But some of that is all-business Simona Halep's own doing, and I'm not so sure she'd have it any other way," says Peter Bodo in an excellent article for Tennis.com.
Hmmm... perhaps. But I still believe that it really IS because, without a major Grand Slam win as yet, Simona just isn't 'interesting' enough to cause any noise for the moment. Unassuming, decent, scandal-free people (despite obvious talent) just don't make headline news these days. However, Simona is not some passing comet about to disappear back into the realms of obscurity. She is here to stay and at some point, the media are going to have to give her her due.
Tuesday 1st July: Et voilàààà! Simona breezed through her match on Court 2 today beating Zarina Diyas (72) 6-3 6-0 in 57 minutes. BRAVO SIMONA!!!! The press are buzzing!! See HERE, HERE and HERE for starters. She will face last year's Wimbledon finalist, Germany's Sabine Lisicki (19), on Centre Court tomorrow at midday for the quarter finals.

Maria Sharapova has been knocked out by Angelique Kerber 7-6 4-6 6-4. Great job, Angelique!!! I'm a little sorry not to see Simona play Sharapova once again - it would have been a spectacular match. But right now, I could hug Angelique Kerber to bits!!!

QF matches so far scheduled for tomorrow: Eugénie Bouchard (13) will be playing Angelique Kerber (9) on Court 1 from midday. Andy Murray (3) v Grigor Dimitrov (11), Roger Federer (4) v Stan Wawrinka (5) and Novak Djokovic (1) v Marin Cilic (26) are all programmed - the first two on Centre Court and Djokovic/Cilic on Court 1 (after Bouchard/Kerber). Milos Raonic (8) will face the amazing 19-year-old Australian Nick Kyrgios (who just beat Raf Nadal - incredible!), also on Court 1.

The forecast for SW19 tomorrow is 23° and sunshine all the way!
Enjoy it!!!

Wednesday 2nd July: Fantastic! Simona won her 11th match in a row today, beating Sabine Lisicki 6-4, 6-0. She will face Génie Bouchard, who beat Angelique Kerber 6-3 6-4, on Centre Court for tomorrow's semis. It promises to be a sensational match. The winner will play either Lucie Safarova (CZE) [23] or Petra Kvitova (CZE) [6] also head to head tomorrow, in the finals.
'Halep was rock-solid against the big-hitting German, tracking down countless Lisicki blows that would have been winners against other opponents, maintaining great depth on her ground-strokes, and rarely letting her level drop. From 4-1 down in the opening set, the No.3 seed reeled off 11 straight games to end the contest in 57 minutes,' says Matt Trollope for the Wimbledon website.

Here are some of the comments about Simona from readers on the Wimbledon FB page:
"Halep is so often forgotten about by commentators, but then this probably works in her favour. She can just get on with winning matches, without all the publicity." (A. Price)

"I think Simona is going to win it. She is quite a talent. She just keeps her head down and gets on with the business in hand. Love her demeanour." (R.M. Amin)

"No screams, no violent acts, no tricks to earn more time when she is in difficulty with the opponent. She's amazing!" (M. Ptr)

"I love tennis and I just want to play". That's simple but I love that spirit! (A-C Le Diot)

"This match was the first time I've ever properly seen Halep play. Over and over again, Lisicki was in command of the point, with Halep running all over the place... then in the blink of an eye, Halep is inside the baseline setting up for a winner... I have never seen anyone consistently turn defence into offence like that before." (H. Burke)

The press can ignore Simona Halep no longer! Please see BBC Sport, The Express, The Daily Telegraph, The Guardian, The Daily Mail and The Independent for articles in the UK press. There's plenty of international buzz, too - The Sydney Morning Herald, The NY Times, ABC Online, Deutsche Welle, Spiegel, Le Monde and Le Figaro for starters.

Other results of the day: Grigor Dimitrov (BUL) [11] has beaten Andy Murray (GBR) [3] 6-1 7-6 6-2; Novak Djokovic (SRB) [1] has won his match against Marin Cilic (CRO) [26] 6-1 3-6 6-7 6-2 6-2 and Federer (SUI) [4] has defeated Wawringa (SUI) [5] 3-6 7-6 6-4 6-4. Milos Raonic (CAN) [8] has also made it through to the semis beating Nick Kyrgios (AUS) 6-7 6-2 6-4 7-6. I'm so sorry! I'd love to have seen Kyrgios continue to storm Wimbledon this year and grab the title.

For Day 10's schedule at Wimbledon, please see HERE.
Keep it up, Simona!! Not far to go now. Let's see you land at Otopeni with that trophy under your arm!!!
Friday 4th July: Ohhhhhh what a pity. SImona lost to Génie Bouchard 7-6, 6-2 on Centre Court yesterday, hampered by a twisted ankle caused when she caught her foot on an uneven bump in the court surface - probably from the previous match. You'd have thought they would have smoothed down the courts between matches at least... Poor Simona. What a way to lose - and not much of a win for Bouchard either, though she must be delighted to get into the finals.
This from the Independent:
Halep, normally a highly effective mover on court, had strapping applied and played on, but she could not twist and turn as smartly as normal. Sport at this level is ruthless and Bouchard immediately began aiming for the corners, working Halep's injured joint.
"It was difficult to continue because I twisted my ankle," Halep said. "I felt a big pain in the moment. It was better with the tape but still I couldn't push any more in my leg. My first serve was really bad after that."
(...) Halep's injury was unfortunate because the match featured two of the new faces of the women's game, the two who have won most matches on tour this year. Despite her handicap, however, the first set was absorbing and full of good tennis.
No worries, Simona - you have been absolutely sensational and we know you'll be back to sweep Wimbledon next year. Now, please take care of that ankle and let's see you storm the US Opens in September! Congratulations and bravo!!!

HAI SIMONA!!!