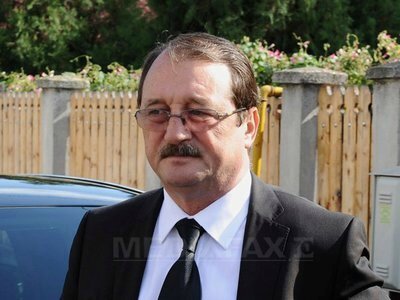 (Photo source: Mircea Basescu) Never a dull moment when it comes to scandals in the Romanian news. The latest polemic involves President Basescu's brother Mircea, who was placed under preventive arrest for thirty days last Friday for his alleged role in a corruption case. He is under suspicion of taking a bribe amounting to 250,000 euros in return for influence peddling to secure a reduced sentence for convicted underworld mobster, Sandu Anghel.
Sandu Anghel (better known as Bercea Mondialu') was convicted in May 2011 to 8 years and 9 months behind bars for attempted murder (he stabbed his nephew, Ionut Anghel, alias Mercedes), see HERE. His son, Florin also got a five year sentence for complicity.
Media sources say that some time between 20/02/11 and 22/02/12, Mircea Basescu received 250,000 euros from Florin Anghel (Bercea Mondialu''s son) via an intermediary, Marian Capatana (also now in custody for thirty days), for his promise to intervene with the magistrates hearing his father's case. Bercea Mondialu' was not released however, and Florin Anghel paid another 350,000 euros to intermediary Marian Capatana for another bash at it. Of the total 600,000 euros forked out by Florin Anghel, Mircea Basescu 'allegedly' received 250,000 euros, while Marian Capatana empocketed 350,000. It was all money out the window though, since Bercea Mondialu' was convicted and sentenced to a hefty time in jail.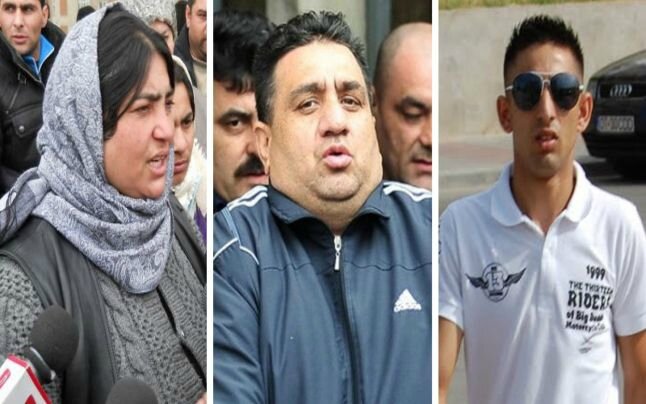 (Photo source: Bercea Mondialu', his wife and son, Florin) And so, the Anghels are accusing Mircea Basescu of accepting hundreds of thousands of their euros in bribes, and Florin Anghel has filed a criminal complaint against him for influence peddling (or rather, perhaps, not peddling it well enough to curry favour for his father), embezzlement and misleading the investigators in a case where he himself (Florin Anghel) is accused of blackmail. Get it?

Bercea Mondialu's family members are meanwhile fast filling the prisons. His daughter (Izaura) and son-in-law (Marius Constantin) are in custody after being caught blackmailing Mircea Basescu in May. They wanted 280,000 euros for their silence on 'alleged' corruption acts. Also behind bars at the time of writing are Fanica Anghel (aka Stela - Florin's mother and Bercea Mondialu's wife) serving a year for perjury and extortion and Florin and Izaura's little brother Grinica Ion (a minor aged 17) accused of aggravated extortion.

On Wednesday, Florin Anghel released a controversial video (prompting Mircea Basescu's arrest) of secret recordings to Romanian TV station Antena 3, suggesting Mircea Basescu had indeed received cash for trying to sway magistrates. They also suggested President Basescu's knowledge of his brother's dealings.
President Basescu, whose image has been seriously shaken both at home and abroad by his brother's adventures, has publicly denied any involvement.
"Being the president's brother does not exempt you from being subject to the law. Let me assure you that between the need to consolidate the judiciary and the natural impulse to defend one's brother, I choose consolidating the judiciary," he said. (Reuters)

President Basescu is having rather an embarrassing week when it comes to family matters. Being the president's son-in-law does not exempt you from being subject to the law either (though it helped for a while). Lawyer Radu Pricop (married to President Basescu's daughter, Ioana) and four others are currently being prosecuted for deception and fraud in a case of land restitution that involved trying to rip off the Bratianu heirs using forged documents to obtain multi-million euro damages for property seized under the former Communist regime. It turns out that a death certificate produced to support the claim for the 90 acres of land in Stefanesti (jud Arges) was total fiction. The Mr/Ms Bratianu featuring on the document is still very much alive and kicking. Oops.... Pricop told Romanian media that a "mistake" had crept into one of the documents, but that it had not influenced the outcome of the damages case. Yeah, right. Such a bloop doesn't only say a great deal about the kind of pondlife who would try to fleece an old, respected and admirable Romanian family, but also highlights the negligent, lazy and frankly useless defence (IMHO) who should have spotted the fraud before it went any further. Ugh. Please read more on this HERE.

Mircea Basescu's wife, Doiniţa, publically apologized to president Basescu and his family for not having " lived up to the standards of dignity and rank they had reached", and explained that she and her husband had been 'close friends' with Bercea Mondialu' and family to 'try to fight racial prejudice against gypsies'. Mircea Basescu is naş (godfather) to Bercea Mondialu's granddaughter, named at a time when there was an impressive list of criminal allegations against him (Mondialu') and his family - which triggered much media attention.
Yesterday, Mircea Basescu admitted that he had accepted money, but it was in repayment of a loan and had nothing to do with getting a lighter sentence for Bercea Mondialu'. He also admitted to having met with Florin Anghel.
For PM Ponta, all this is like Christmas come early. He is having a field day and hasn't wasted any time in demanding President Basescu's resignation "to eliminate any pressure on the judiciary".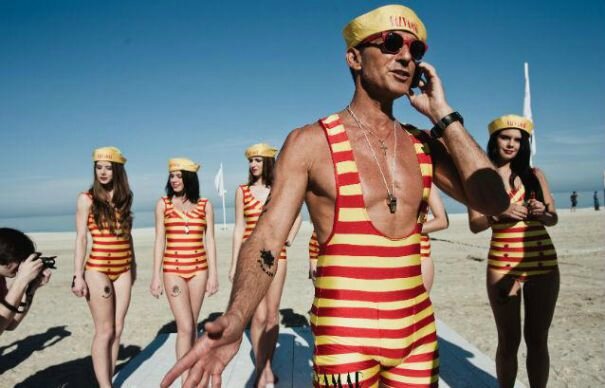 (Photo source: Radu Mazăre) The mayor of Constanța, Radu Mazăre (recently arrested on charges of corruption), is equally delighted. Just a little earlier today, he thanked the gypsies for having saved Romania. To celebrate, he is letting them sell pufuleți and other nibbles on the beaches tax-free. It's true. I swear. (so much for trying to write a serious post!)
But that's not all. Joking apart, it gets murkier....
Agerpres reported that while en route to the DNA for hearings on Thursday, Bercea Mondialu' told journalists through an open window of the police van that a sum of 2 million euros in exchange for his release had reached Judge Livia Stanciu (the High Court of Cassation and Justice), DNA chief prosecutor Laura Codruta Kovesi and Vasile Blaga, President of PDL. Ouch.
"Livia Stanciu promised me. We have info on Livia Stanciu", he stated.
Of course, Mondialu's accusations' were immediately grabbed by Voiculescu's media channels which launched a virulent media campaign against Kovesi. Only a few days ago, Voiculescu, charged with two criminal cases investigated by the DNA, accused Kovesi of being ignorant of the law and seriously wronging him.
On Friday, Kovesi filed a request with the Superior Council of Magistrates (CSM) asking that her reputation be protected against Bercea Mondial's statements. She added that she would also be notifying the CNA of the "slanderous accusations" clearly designed to destroy her credibility along with that of DNA prosecutors.
Judge Livia Stanciu said the statements made by Bercea Mondialu' were a serious attack on the independence of the Justice system. Shortly afterwards, CSM chairman Adrian Bordea asked the Judicial Inspecting Body to carry out checks on judiciary independence following the media statements that threatened the rule of law.
I wonder if there are any more 'secret recordings' about to hit the air.
What a mess. Talk about 'dangerous liaisons'...
See more in Deutsche Welle, Euronews, US News, Washington Post, English Hotnews, Global Post, ABC News, Romanian Insider and Guardian News Website,
UPDATE 25th June: Laura Codruta Kovesi, head of the DNA, has announced that she is suing Antena 3, Mihai Gadea (its director) and journalists Mugur Ciuvica, Tudor Radu, Razvan Savaliuc and Bianca Nae for 1 million lei (250,000 euros). The decision was taken following the broadcasting of allegations that she had received an alleged amount of money from the family of Bercea Mondialu', along with other claims relating to her personal life. She has said that if she wins the suit, she will donate the money to humanitarian and charitable causes.
She also filed a complaint to the National Audiovisual Council for alleged violation of the Broadcasting Code (aired June 19, 2014) by Antena 3 and Gadea. See HERE.
Statements highlighted by Kovesi from the broadcast of June 19 at 21:30 as having "no factual basis" and being "doubtful they were made for defamatory purposes only" include the following:
"- Laura Codruţa Kovesi gave personal protection to Mr Traian Băsescu and his family ...;
- Kovesi should be arrested for having covered up this file for several days (...) ... Kovesi tried to hide this file, close it, bury it...
- Laura Kovesi, head of the DNA must stop lying (...).
- She is accused of taking bribes to intervene in favour of Sandu Anghel
- .... last November, she had a mysterious meeting with a judge of the High Court. The judge in question was none other than Valentine Horia Şelaru her former adviser .... the parking lot ... a mobsters' meeting between punks, mobsters, possibly from the Securitate exchanging information, but in no case was it a meeting between representatives of the highest independent judiciary in Romania."

If this IS all an effort on the part of Voiculescu and his media channels to discredit and undermine both her and the DNA, then good for her. If there's any truth in it however, then may she not be above the law.

Looks like Mircea Basescu's arrest has opened an even larger can of worms than anyone could have possibly imagined...
More news as it happens.