(Photo source) Simona Halep, the first Romanian woman to have made it to a tennis Grand Slam singles final since Virginia Ruzici (today Halep's manager) in 1978, has given her compatriots a good and worthy reason to be proud of one of their own. It comes at a time when unearthing a contemporary national figure to look up to is more than just a struggle (check out the politicians for proof of that), and the love and support poured out for Simona is all over the social networks. I have seen 'proud to be Romanian' again and again... I understand. I really do. But the 'baseline' is this: 'pride' should NOT be due to Simona being Romanian, but due to the fact that she is a talented, hard-working sportswoman who has slogged her guts out since she was four years old to get to where she is today. Atât. THAT is what is admirable and worth cheering for. THAT is what merits the pride. Simona's rise in tennis has indeed been fast and brilliant. Ranked n° 47 at the end of 2012 and n° 11 at the end of 2013, she is now n° 3 behind Serena Williams and Li Na. Incredible or what! Raaaaaaaaaaa!!!!!
But who actually is she? Apart from a sensational, inspiring tennis player, I mean. I've no idea. She must be an immensely private person since I've had trouble finding anything about her (apart from her tennis career and the one thing she doesn't want to discuss) online. She is surely right to keep the 'private Simona' under wraps.
Simona, aged 22, was born in Constanta on 27th September, 1991 to an Aromanian family. Her father, Stere (ex-footballer at Săgeata Stejaru playing in the lower leagues), owns a dairy products factory. At home, she speaks Aromanian and, according to her father, loves Aromanian music and plăcintele cu ștevie and urzici. His daughter is shy, he says, and hates to be the centre of attention.
All the more reason then, to admire her for all that she has achieved in such a short time - and to be a little sensitive to the nervousness she faces at the beginning of every one of her matches. How she must be feeling before the finals at Roland Garros tomorrow, one can only imagine.
In this little interview for Outside the Ball, Simona says she likes Gerard Butler, Richard Gere and 'Pretty Woman', though she doesn't have much time for films. When she isn't playing tennis, she loves shopping and going into town with her friends. A normal 22-year-old. And yet not.
She is one of the most modest sports stars I have ever seen. There is no hype, no tra-la-la around Simona. She just seems to go in, do her fabulous stuff and leave. No shassy diva stuff, no noise, no scandal, no fuss. Just nice, well brought-up, respectful modesty. One thing puzzles me, though. She is, of course, well-known at home in Romania and now also in France. But before her success so far at Roland Garros this week, who else had heard of Simona Halep?
The Bleacher Report gives five reasons why Simona seems to be under-marketed. I'm not sure I agree with any of them, but still, it is food for thought. The very fact, though, that she upset Li Na at the U.S. Open in 2011 whilst playing on a sprained ankle should have been enough to earn her some stardom across the pond. But anyway, whatever the reasons for being less well-known than she deserves to be, it looks as though she's putting that right as we speak!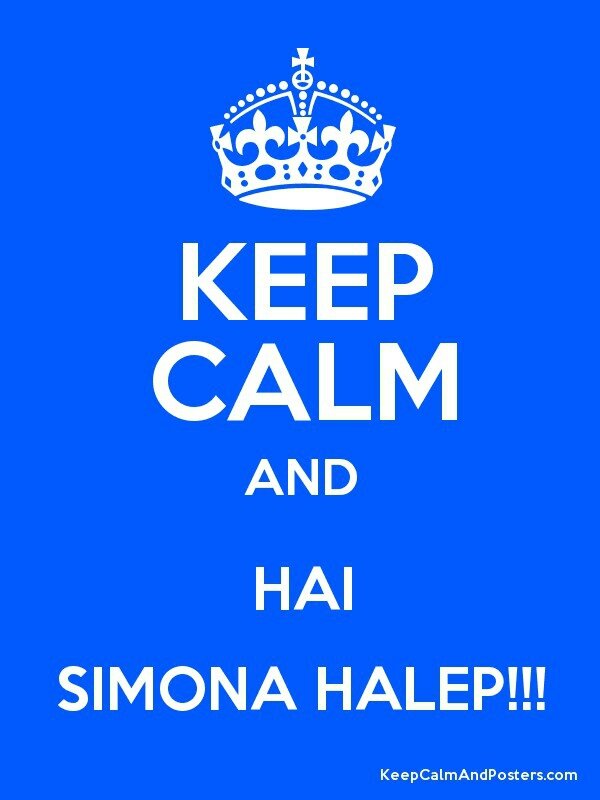 (Image source) Crossing fingers with all our hearts for Simona and her match here in Paris tomorrow against Maria Sharapova, and wishing her a peaceful night, only 'good' nerves and another phenomenal performance. Whatever the results, she has been incredible. I would SO love to see her knock their socks off at Wimbledon which begins on 23rd June.
If you are in Bucharest tomorrow, you can see the match aired 'live' in Parcul Herastrau from 4pm. Go! Be proud! But be proud of Simona's talent, dedication and brilliance - not because she just happens to be Romanian. That would be sadly displaced pride and overshadows everything else...
HAI SIMONAAAAA!!!!!!!
For more, please see these two excellent articles (in Romanian) by Vlad Mixich for Hotnews and Andrei Manolescu for Dilema Veche.