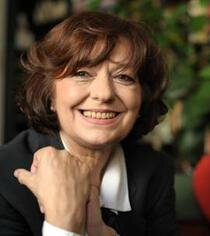 (Photo source) How difficult it is to find words rich enough that describe Ana Blandiana, one of Romania's most outstanding contemporary poets. With every bit of the country of my heart that gets destroyed and abused, my faith in humanity dies a little. People like Ana Blandiana, Doina Cornea, Ion Varlam, the not-long deceased Vasile Paraschiv, the much-mourned Cicerone Ionescu and others like them bring that faith back to life again....
I must admit to having become something of an 'Ana-groupie' over the last fourteen years. Sighetu Marmatiei, Bucharest, Paris... Buying her (translated) books, getting them signed and meeting her is always a joy, for wherever she is, that incredible warmth and that lovely smile simply overwhelm everyone and everything else within a two mile radius. Her humanity and goodness are so enveloping that she lights up an entire room. Her courage through such unthinkable times, her tableaux of honesty, decency and fate painted through the words of her poetry, and her constant battling for freedom make her a rarity. The world needs more Ana Blandianas. Far more.
If the name 'Ana Blandiana' draws a blank for anyone out there, let's nip that in the bud at once.
(Photo source) Otilia Valeria Coman was born on 25th March, 1942 in Timisoara. When she was fifteen, she and a group of school friends who would read poetry to each other decided to have a contest on who could come up with the best pseudonym. Otilia put Ana together with Blandiana (the name of her mother's village near Vintu de Jos in Alba County) to rhyme and ended up winning the contest. Sending two poems to a magazine in Cluj (Tribunal) under the newly found pen-name, they were both published. However, afraid of getting into trouble for using a false name, Otilia wrote to the magazine admitting it was a nom de plume. One of the editors, obviously recognising her talent, replied: "Your name is staying as it is. From now on, you are Ana Blandiana." And that, as they say, was that. Ana Blandiana was born.
She described what happened next in an interview in 2003 with Naomi Frandzen of Georgetown University (Washington DC):
"Unfortunately, within two weeks, the authorities of Oradea had found out who I was (remember I was just a child of 15 or 16) and sent a memo to all literary publications across the country. After '89, this very memo was published in a collection of documents that I read only recently in the archives of Iasi stating, "We call your attention to the fact that the daughter of the enemy of the people, Gheorghe Coman, currently in prison, is hiding under the name Ana Blandiana and should not be published." This was my first ban. After '89, I remember saying in an interview (which later became famous) that the paradox of my destiny was that I was known as a banned writer before I was even known as a writer. No one knew who I was, I had only published two poems and yet the whole literary community knew that there was a little girl who was censored..."
Her father, Gheorghe (1915-1964) was originally a high school teacher who became a priest when he was forbidden to teach, and spent many years in communist prisons. He died in an accident a couple of days after his release through a general amnesty. Her father's influence is not only seen in her intrinsically spiritual vision of existence, but also in her dissidence and independence of thought.
Marrying essayist Romulus Rusan in 1960, Ana studied at the Babeș-Bolyai University in Cluj from 1963-7. After graduation, she settled in Bucharest and worked as a literary magazine editor and fine arts librarian. Ten years later, she was able to write full-time - not only poetry and prose fiction but also regular columns for cultural newspapers. From 1974-91, she wrote for the major weekly Revista Literara, with a number of gaps during which the Ceausescu government censored the publication of her work.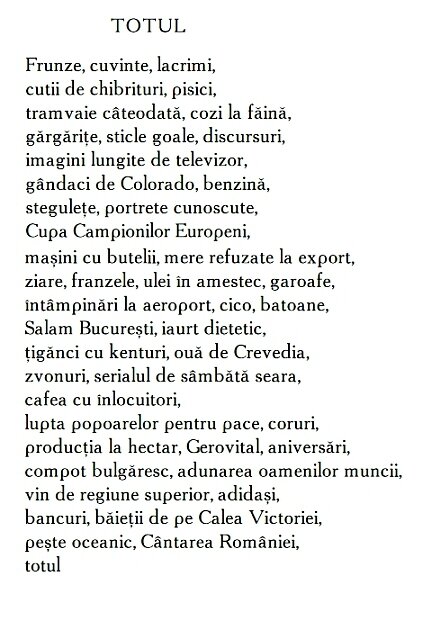 (Image source) In 1984, Ana Blandiana's unforgettable poem 'Totul' ('Everything' - see HERE in English with explanations) was briefly published in the literary magazine Amfiteatru. 'Totul' was a list of elements of daily life in Bucharest at the time, contrasting the 'official' view of life in Romania with the peoples' perception of its monotonous drabness and gloom. The upshot was the withdrawal of Amfiteatru's edition within hours of publication and the firing of all editors. Nevertheless, the poem appeared in translation in Western media and also had limited underground circulation in Romania.
In 1988, she was denounced to the authorities as being the author of "Motanul Arpagic", a thinly disguised fable which ridiculed the Conducator, represented by a tomcat (hers, in fact!). Although she was not arrested, she became a virtual prisoner in her own home. Her post was restricted, her phone cut off, she was put under constant Securitate surveillance and her visitors were intimidated. These conditions would probably have gone on for a great deal longer had Ceausescu not been overthrown in December 1989. Restrictions were then lifted and the Securitate surveillance car parked in front of her house finally disappeared.
Ana Blandiana's stature
in Romania in the early '90s was of a greatly respected writer and a widely known voice of decency and freedom, honoured for her defiance and resistance. Fundamentally non-political, she nonetheless played several prominent roles during and after the
lovilutie
. A member of the provisional government briefly from 1991-3, she was president of a non-partisan coalition of opposition interests. She was also president of the
Romanian PEN Centre
(today presided over by Magda Carneci) promoting literature and freedom of expression, which she helped organise after 1989.
.
Her works have won numerous prizes at home as well as the Herder Prize in Austria and international fellowships to the United States (the Iowa International Writing Programme) and Berlin (the German Arts Academy). Almost half of her 46 books have been translated into as many as 16 languages.
.
I believe that we are a botanic nation
Otherwise, where do we get this calmness
In which we await the shedding of our leaves?
To start sliding ourselves on the sleep-toboggan
I believe that we are a botanic nation -
.
(from the Mascara Literary Review, translated by Daria Florea)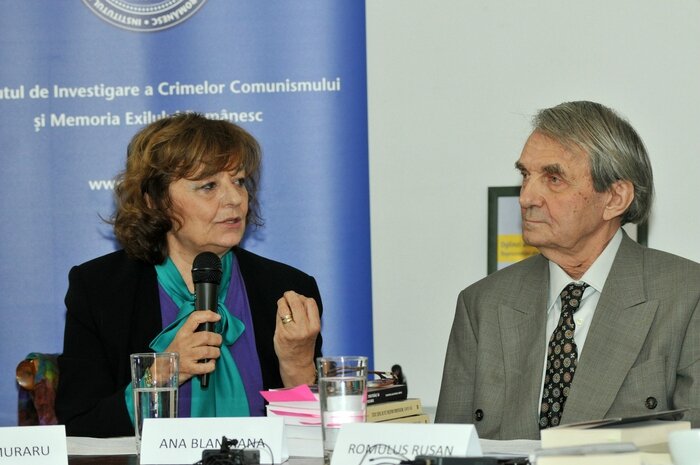 (Photo source) Ana Blandiana and Romulus Rusan (creator of NGO Alianța Civică in 1990) are both known and much admired in Romania (and beyond) for the founding in 1993 of The Memorial to the Victims of Communism and to the Resistance at the notorious penitentiary in Sighetu Marmatiei, northern Maramures. Both the museum there and the International Centre for Studies into Communism (in Bucharest) have shattered the barriers of taboo on crucial topics and previously unexplored territory stimulating debate via symposia, seminars, workshops and round-table discussions.
"In Romania, we discovered that more than 200 revolts of farmers took place against forced collectivisation but had remained unknown to the public," says Ana Blandiana.
"Understanding what took place - the repression we felt for 50 years - one can understand the hangover from this period of totalitarianism in Romania, and why the country still struggles to establish the rule of law and a solid democracy," she adds.
The
memorial's web-page
says: "
The greatest victory of communism, a victory dramatically revealed only after 1989, was to create people without a memory – a brainwashed new man unable to remember what he was, what he had, or what he did before communism.The creation of the Memorial to the Victims of Communism and to the Resistance is a means of counteracting this victory, a means of resuscitating collective memory.Made up of the Sighet Museum and the International Centre for Studies into Communism based in Bucharest, as well as holding Summer Schools, the Memorial is an institution of Memory, unique in that it is simultaneously an institute of research, museography and education. To the question, "Can memory be relearned?" the answer of the Memorial to the Victims of Communism and to the Resistance in Romania is a resounding "Yes"
.
.
And that, to me, sums up Ana Blandiana. Her soul-searching
poems
are deep contemplation on human fate and moral responsibility whilst love is her inspiration. Throughout it all, her generosity of heart, compassion and continual quest for truth, justice, freedom and democratic change have never waned. She was never tainted. There is only one Ana Blandiana. God bless her.
.
I have never run after words,
All I have sought
Was their long
Silver shadows,
Dragged by the sun through grass
Or drawn by the moon over the sea;
I have never hunted
Anything but the shadows of words -
It is very skilful hunting
Learned from old people
Who know
That within a word
Nothing is more precious
Than its shadow
And they no longer have a shadow,
The words that have no souls.
(from The Hour of Sand, Selected Poems 1969-1989, p.58, translated by Peter Jay and Anca Cristofovici)