(Photo source) Oh, how sad... I have just seen a post on the Facebook page of La Maison Roumaine by its president Alexandre Herlea on the recent death of writer, resistance fighter and political prisoner under the communist regime Cicerone Ionitoiu. Here is a translation of Mr Herlea's words:
'Cicerone Aristotel Traian Ionitoiu, the great Romanian anti-communist resistant, died in Paris today, 26th January 2014.
La Maison Roumaine announces the death of one of the most representative of Romanian anti-communist resistance fighters at Hôpital St Antoine with immense sadness.

Born on 8th May 1924 in Craiova, he joined in the fight against soviet occupiers and their allies immediately after the Second World War. From a modest peasant family, he was a student of history and part of the youth leaders of the PNT (Parti National Paysan Roumain) - the largest democratic party in the country. With a courage and determination that seemed to have no bounds, Ionitoiu tirelessly lead the fight for the freedom, democracy and dignity of the Romanian people.

Arrested by the communists, he was sentenced to a total of 26 years - he did 10. Released in 1964 when pressure from the West opened up the political prisons, he continued his fight first in Romania and then, after 1979, in France where he sought refuge following intervention from President Président Valérie Giscard d'Estaing.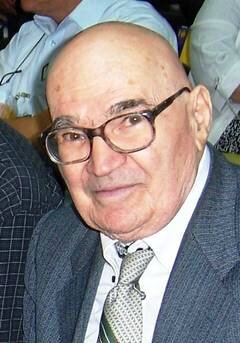 (Photo source) In Paris, he continued to be extremely active. After the death of Nicolas Penesco (1982) he took over the position of leader of the PNT in exile, organising an "Association des Anciens Détenus Politiques Roumains" together with Remus Radina, and above all, developing an extraordinary activity for the denunciation of crimes committed by the communists in Romania. Ionitoiu wrote a number of highly impressive works, amongst them: "Tombes sans croix" (Graves without crosses), the "Dictionnaire des victimes du communisme" (Dictionary of the victims of communism), "La persécution de l'Eglise en Roumanie" (The persecution of the church in Romania), "La résistance armée des Roumains dans la montagne" (The armed Romanian resistance of the mountains) (1944 - 1960). His last book, "Figures de légende" (Faces of legend) appeared in Decembre 2014.
After 1989, he took an active role in the rebirth of the PNT, helped its president Corneliu Coposu and denounced the acts of those who were really in power in Romania: the political police and the nomenklatura. With firmness and lucidity, he refused any form of collaboration with either.

Cicerone Ionitoiu was a credit to Romania and to his generation. May he rest in peace. La Maison Roumaine sends its sincere condolences to his loved ones.'

(Photo source) Almost more upsetting than his death (to me) was that had I not seen Mr Herlea's post, I would not have known he had left us. The Romanian press hardly batted an eyelid except for Adevarul who published a good piece by Alex Stefanescu. Surely, the passing of such a man could not have gone unnoticed. Someone who remained faithful to his conscience and moral values in such an unequal struggle that resulted in exile, suffered such inhumane brutality at the hands of the communists, lived (and survived) the horrors of just about every jail in Romania including Jilava, Râmnicu Sărat (article by Ionitoiu) and Pitesti, and then devoted his entire life to documenting their heinous crimes, surely deserves better. Could it be that he really is simply unknown in his native homeland? If so, then for shame.

Eye on Romania says that it was mentioned in "three small newspapers - all of them just reprinting a press release from the PNTCD party. No additional research or background material was provided as the "journalists" literally just printed the press release word for word." How disgusting. Please do read Sam's excellent post on Ionitoiu - it's absolutely overflowing with information.
What a travesty that the loss of this incredible man was not given more importance in the very country for which he waged such a courageous war against the evils of an oppressive, insane regime for liberty and the future of our children. Instead, I learn of it from the president of an association here in Paris and an American living in Cluj... Thank you, Romanian press for your absence of respect, effort and embarrassing indifference.
May Cicerone Ionitoiu rest in peace at last - and may all those like him who tirelessly fought for the freedom and dignity of the Romanian people not get too dizzy turning in their graves as they see what has become of the population for whom they so relentlessly battled...
For more, please see Contributors, Revista 22 (very brief), Adevarul, IICMER (the Institute for the Investigation of Communist Crimes and the Memory of the Romanian Exile) and Război întru Cuvânt. Hotnews and Mediafax, what happened to you?