(Photo source: Roza Zah) I don't want to go into details of the dramatic forced landing of a plane (misleadingly reported as a 'crash' by the majority of Romanian press) in the Apuseni mountains near Cluj on Monday afternoon. You can find reports all over the web. Suffice to say, this is another affirmation of "Copilul cu multe moașe rămâne cu buricul netăiat" (too many cooks spoil the broth) with tragic consequences underlining a fatal allergy to responsibility, accountability and professionalism in positions where dedication should be a prime factor....
On board the fated plane were two pilots and a medical team of five on their way to Oradea to perform surgical resection on a liver that had to be taken to Bucharest for organ donation.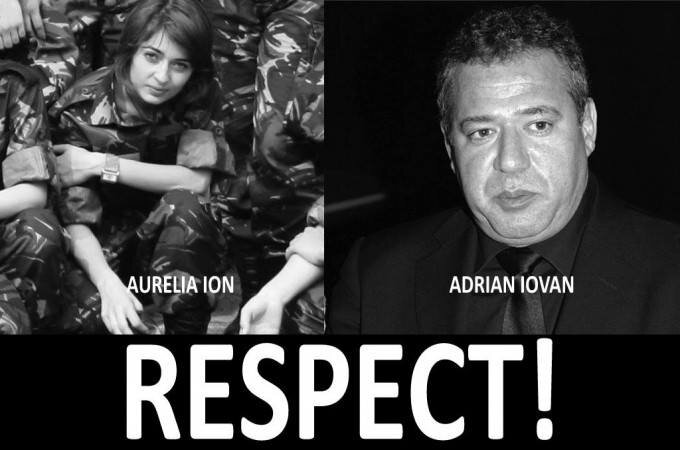 (Photo source) All seven passengers survived the moment of impact itself, but two tragically succumbed whilst waiting for emergency services that took a mind-boggling SIX HOURS to show up. I do not want to speak of the dispicable bungling, the unbelievable ineptitude and the scandalous arrogance of Radu Stroe (Interior Sinister) and Ramona Manescu (Sinister of Transport) either for it would simply unleash a great spewing of invectives on my part (and perhaps yours too). You can read it all HERE in any case.

The five surviving passengers are currently hospitalised, reported to be stable and under constant medical supervision.
An enquiry is currently underway to clarify WHY it took so long for help to arrive at the crash site. So far, reports say Ponta has fired the Ministry of Internal Affairs (MAI) Secretary of State Catalin Chiper, and asked the Transport Minister to replace two managers (general and operations) at ROMATSA (the state-owned company that administers air traffic services in Romania). He seems to like Stroe too much to get rid of him, however.
"My first conclusion based on the report drawn up by Deputy Premier Gabriel Oprea is that there were unacceptable deficiencies in the search and rescue operations. In three important institutions, the Interior Ministry (MAI), ROMATSA and STS, things went unacceptably slowly", said Ponta. "Irrespective of subjective reasons such as human error and unfavourable weather, on the basis of the report I have in front of me I believe the intervention on Monday was a failure," he continued.
Too bloody right it was a failure.
The report presented yesterday by Deputy Prime Minister Gabriel Oprea shows that ROMATSA did not take the "necessary measures" to establish the whereabouts of the crash site, begin search operations or ask for help and backup from the Ministry of Defense's Air Operations Centre. Realitatea reports that the pilot (not Adrian Iovan) was asked by ROMATSA to turn off the 406 alarm signal because the sound was bothering them. Whaaaaat?!?!? In other words, standard procedure was NOT followed. In yet more other words, systems meant to protect people are overseen by morons. See more on the heads currently rolling (not enough of them by far) HERE and see HERE re. Ion Burlui, the head of the General Inspectorate for Emergency Situations (IGSU) resigning, but Stroe not having the same decency. Au contraire, Radu Stroe has stated that he has no intention of taking such action, although he 'regrets the tragedy happened during his term in office'. How big of him...
The pilot Adrian Iovan, 55, was well-known (and controversial) and had 16,000 hours of flying experience with companies such as Blue Air and TAROM under his belt. He died of hypothermia and trauma from multiple fractures. Radu Zamfir, a doctor and passenger, credited Iovan for saving the lives of those on board.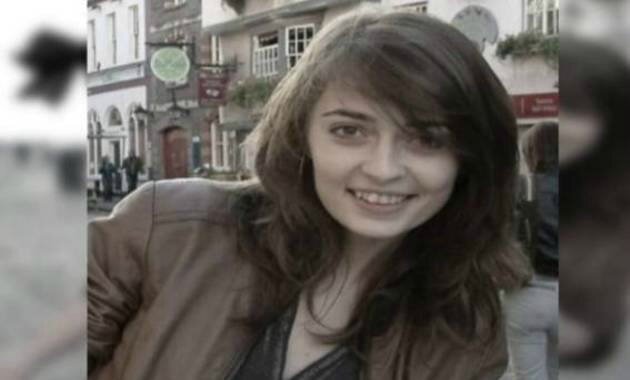 (Photo image) The second victim was Aurelia (Aura) Ion, a 23-year-old fifth-year student at Institutul Medico-Militar who had volunteered to accompany the medical team. She is reported by the Romanian press to have died of hypothermia and respiratory complications, though this is yet to be confirmed at post-mortem. If the emergency services had found her earlier, IF they had done their jobs, followed procedure and maintained standards, she would have probably survived. She was young and healthy after all. So many 'ifs'. See THIS and weep.

Aura has been promoted to Lieutenant posthumously and lies tonight in the military chapel. Tomorrow she will be buried with military honours. Candles glow and wreaths have been left for her and Adrian Iovan at the Statuia Aviatorilor (Eroilor Aerului) in Bucharest. Mourners have been paying their respects all the afternoon, amongst them singer Mirabela Dauer, Gheorghe Gheorghiu, Marcel Pavel and gymnast coach Octavian Bellu. At least the military have given her more respect and consideration than the Minister of the Interior, the emergency services and the rest of the muppets who should have kept her safe.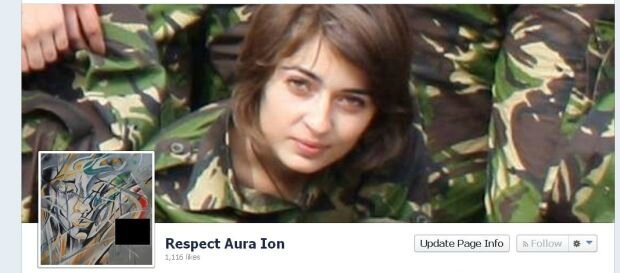 (Image source) The Respect Aura Ion Facebook page is an emotional place to be - her death has touched the hearts of a nation. Hundreds of thousands of messages have been flooding in continually - condolence, sympathy, comfort, admiration. In one day alone, 30,000 people visited out of respect for this selfless young woman who had paid for the inept running of her country and the general je m'en foutism with her life. Dumnezeu sa aiba grija de sufletul ei.
How decent (and normal) it would be to have a scholarship created in Aura Ion's honour. That is what people do in civilised countries at moments of unnecessary, shameful loss that could have been avoided had people done their jobs. While parasites enjoy illicitly acquired millions, Aura Ion enrolled to be a VOLUNTEER to give rather than take. There should be a MASSIVE outpouring of love, sympathy and support for her family and I hope a foundation or a scholarship in her memory AT THE VERY LEAST will be established. Anything less would be an offence, not to mention an admission of the blatant bungling stupidity, criminal incompetence and supreme arrogance rife across the whole spectrum of the political and ruling class.
(Photo source: Roza Zah) Today's Romania did not deserve her. It does not deserve selfless, generous-hearted, compassionate and altruistic people. There are, I know, more of them than the Pontas and Stroes. But it is this piddly minority of Pontas and Stroes who have the clout whilst those like Aura Ion must fight to survive in such a climate (or leave)...
If you would like to DO something that may end up having some kind of effect, PLEASE sign THIS petition currently at 3,090 signatures demanding the firing of all those responsible for the plane crash in which Aura and Adrian lost their lives. Aleodor Marian Francu, chief of ROMATSA, resigned this afternoon - not because he feels it's his fault in any way at all, but as a matter of principle. How sacrificial. Of course, once resigned, he and others equally guilty can wash their hands of the whole thing, avoiding any can-holding which could lead to possible jail time (if the justice system were to do its job properly). An attractive option.
Next week, this will be old news and after a flurry of firing a few one-minute wonders and beating chests, it'll all be forgotten - except by the survivors and those who grieve.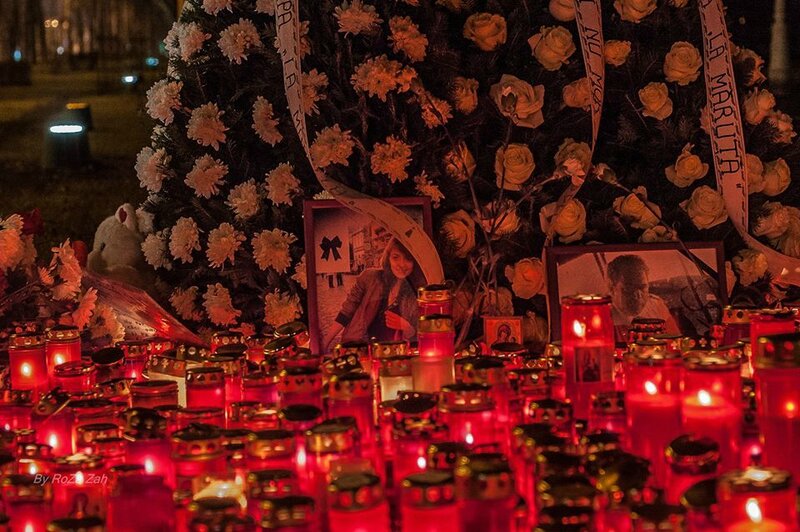 (Photo source: Roza Zah)
For more info, please see Hotnews, Capitalism pe pâine, EVZ and Adevarul.
My thanks to 'Roza Zah' for the beautiful photographs taken at Statuia Aviatorilor this evening.
News Update Thursday 23rd January
Radu Stroe the Interior Sinister has resigned. I guess this ex-securitate agent left feeling pretty pleased with himself, for he threw in the towel he said, out of 'honour'. Smug git. President Basescu signed the necessary blurb for his departure this afternoon. Delighted to see the back of him, but rather concerned this will mean he will not be held accountable.

Ponta continues to hold STS and ROMATSA entirely responsible for Monday's plane disaster and the subsequent loss of human lives.
The conclusions of the government report by VP Gabriel Oprea tell of immense gaffes and blunders, erroneous info, time-wasting and useless phone calls. That much is true. But as long as Ponta protects Stroe, Manescu and anyone else, it is purely subjective. ROMATSA is as guilty as sin but they are not the only ones in the massive anthill of quite brilliant incompetence. They will be the scapegoats though. I'm quite sure of that.
News continues to flood in re: all that went pear-shaped. Some of it is so insane you wonder whether the author was on drugs. Probably not. This is Absurdistan after all, where anything can happen.
For example, Capitalism pe pâine writes that ROMATSA refused a tracking software offered FREE by the UK and Germany, preferring to fork out 48,000 euros for a Romanian version (which was far from functional). Genius. Words just don't do it, do they.
TVR says that the authorities knew the plane had come down 15 minutes after impact, but bodged up search procedures - and when they finally set out, they had three different location co-ordinates... you couldn't make it up if you tried.
As time passes, we discover wide-eyed and disbelieving the huge structural deficiencies within the system (what system?) that lead to this terrible tragedy. There was such an accumulation of negligence and stupidity that one could be forgiven for thinking it a hilarious script for a new French farce. See HERE. There is NO question that jail-time should be served to those DIRECTLY involved for professional negligence and involuntary manslaughter. If there was a sentencing for idiocy, now would be the time.
(Photo source) Co-pilot Razvan Petrescu's condition meanwhile remains serious. He has suffered worrying thoracic and facial injuries (operated today for a broken nose) and will require further surgery on his lower limbs tomorrow. Three of the survivors are under constant observation and unable to be airlifted back to Bucharest for the time being. Sorin Ianceu (doctor at Spitalul Judeţean Oradea) has needed facial surgery; Cătălin Pivniceru (doctor at Spitalul Sfânta Maria din Bucureşti) has suffered broken ribs and facial trauma and Valentin Calu (surgeon) is suffering from thoracic trauma. Dr Radu Zamfir, was discharged from hospital yesterday according to Digi24. He will continue to be monitored at Institutul Clinic Fundeni where he works, however.
Aura Ion's post-mortem has revealed that she did NOT die of hypothermia as previously reported by the Romanian press who have been surmising and assuming all kinds of fiction from the very start, still insistent on calling the disaster a 'crash'.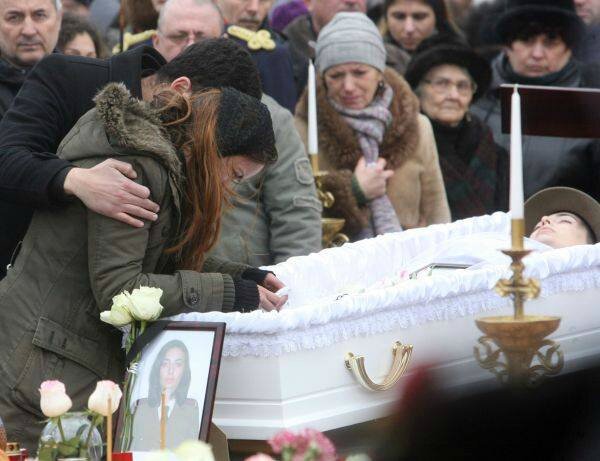 (Photo source) According to the SMURD chief in Bihor, Aura suffered a fractured cervical spine and massive abdominal haemorrhaging. From the moment of impact, poor Aura was probably tetraplegic. Her agony and terror for the hours she lay waiting for the emergency services to appear is unimaginable. They arrived too late to save her - and it's really no good anyone assuming that she couldn't have been saved anyway. Of course she could. She died hours after the crash - and had the medics arrived within the hour as they should have done, the likelihood is she'd still be alive to tell the tale, albeit paralysed (plausibly temporarily, depending on the damaged vertebrae).
Aura Ion's funeral took place in Bucharest today. Please see some of the photos HERE. The images are overwhelming with the pain of loss and grief, caused by an incompetent state with a warped vision of responsibility and professionalism. For shame.

Update: Friday 24th January
(Photo source) Seems the left hand doesn't know what the right hand is doing. Aura Ion's death certificate contradicts the opinion of Bihor's SMURD chief who stated yesterday that she had died from a broken neck (fractured cervical vertebrae) and massive abdominal haemorrhage. He insisted more than once that hypothermia had not been a cause. The certificate written by Dr Georghe Vieru on the other hand reports that she died of hypothermia and thoracic trauma (ie. prolonged chest-wall compression).

I simply cannot understand how the chief of SMURD could have said one thing and been SO emphatic that hypothermia was NOT a cause, whilst the paperwork done by Dr Vieru says the contrary. So, either the SMURD chief didn't know what the hell he was talking about and should have kept quiet (though he was there on site) or Dr Viaru has written a Mickey Mouse post-mortem. And why would he do that?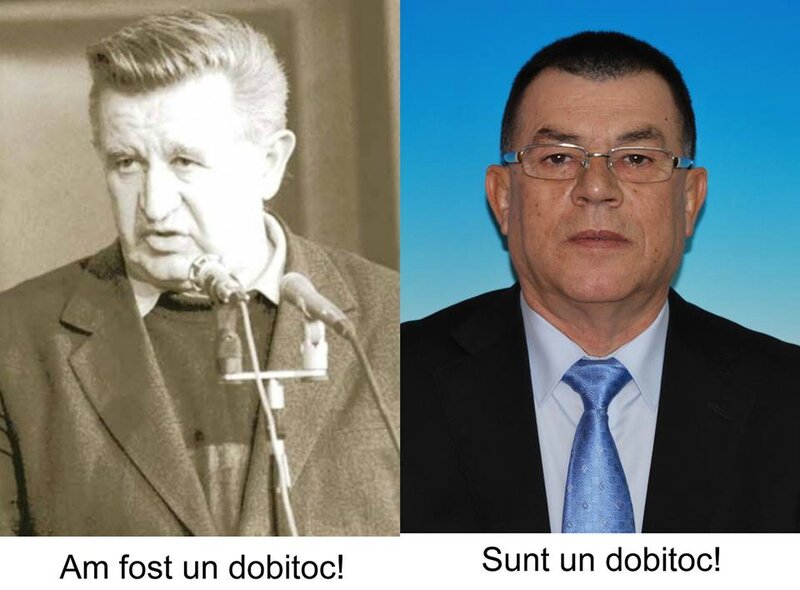 (Photo source: Tudor Postelnicu, 1989: "Am fost un dobitoc!" Radu Stroe, 2014: "Sunt un dobitoc!") So much fiction doing the rounds. So much guff. In the end it doesn't matter a jot. Had the emergency team shown up earlier, she'd still be alive today. Had people done their jobs, this whole sorry tragedy would never even have happened.
So far, four senior officials including stroe have resigned or been fired. That's not nearly enough. People WILL pay. The question is, will it be the right ones or will it be the usual tune of the little people getting whacked while the real perpetrators lean back in their leather chairs and plonk their feet up on their desks for another day of useless ineptitude?
"The government generally does nothing, and in this case they did nothing to locate the plane. A woodcutter had to find them," aviation professor Nicolae Serban Tomescu said. "The rescue operation was like Swiss cheese. There were holes everywhere."
Local villagers and a woodcutter are now known to have found the plane and its survivors 4 hours after it was forced to land 1,400 metres above sea level in a forest - that was TWO HOURS BEFORE the medical teams showed up, reportedly ill-equipped. It begs belief. Wonderful stories of determination are coming in such as THIS one where a doctor from Cluj says it was the villagers who were the real heros, NOT the emergency services. It was the villagers themselves who wrapped the passengers in their own coats despite the freezing temperatures. In the icy rain, with snow to their knees and sometimes waists, they made stretchers, lit fires for warmth, immobilised fractures with their clothes and branches. They were determined in saving who could be saved. True acts of selflessness.
Meanwhile, the stories about what the emergency services got up to on arrival are so absurd that I'm not going to even bother commenting on them, much less link them. What I will say though is that the ridiculous '2010 protocol for CPR' mentioned by Adela Golea urgently needs to be revised. In addition, Cluj hospital, the idiots, have officially said that the survivors' conditions are favourable due to the speed in which the medical teams acted. Excuse me while I howl with ironic mirth. 16 doctors, 17 assistants, 2 resident doctors, 1 paramedic, 1 medical student, 7 stretcher carriers, 4 nurses, 2 general dogsbodies and a partridge in a pear-tree. Apparently they were all gathered in a conference hall and congratulated. Numai 'pupat Piata Independentei' lipseste...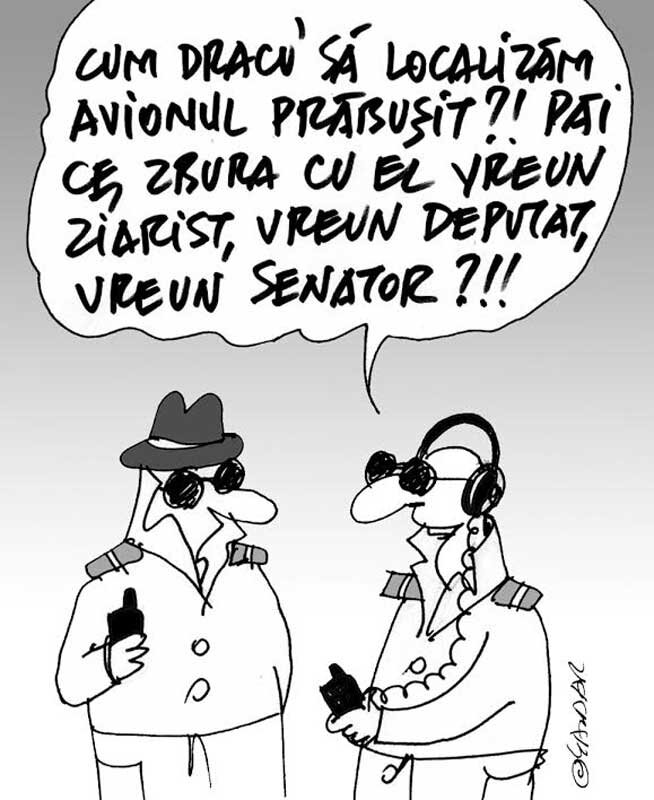 (Photo source) Government officials can continue to defend the tragic comedy of errors with excuses of weather conditions, darkness, difficult terrain etc. But it won't cut with the people who are sick and tired of such shoulder-shrugging ineffectuality and idleness. The government is unable to provide decent and functional equipment to rescue crash victims, but is quite happy to invest resources in surveillance. Romania, a country of 19 million with no foreign enemies has SEVEN intelligence agencies, including main domestic and foreign spying agencies. Trific. I'm sure everyone feels marvellously safe as a result.
The much-boasted telecommunications agency (one of the seven afore-mentioned 'intelligence' agencies) frittered away a small 40 million euros in bolstering up the country's national emergency number to make it efficient and functional. What happened to Radu Zamfir's calls, then? A couple of them ended up in Moscow. Go figure.
Ponta meanwhile is trying to salvage the little credibility he has left. Today, he promised that authorities would be "much more efficient" in the future. How will he manage that, I wonder. We know how everyone is terribly good at talking in Romania, but when it comes to action, well, one shouldn't hold one's breath. Ponta has not handled the tragedy well by any means - protecting stroe was just one snafu. On Monday evening, he went on a talk-show and stated that all seven people on the flight had survived. Oops. Another bloop.
More news as it comes to light, though I must admit to being a bit frayed with all the BS and contradictions. Someone must pay for it, though. And those someones are up there on Mount Olympescu, whether they have resigned or not. The big cheeses of ROMATSA are as guilty as sin. STS too. But they are NOT alone. stroe and Manescu MUST pay. If they do, Aura Ion and Adrian Iovan will NOT have died in vain.
Further news: 27th January

Was Adrian Iovan responsible for the plane accident? See Adevarul, EVZ and Yahoo News. Almost certainly. When a plane crashes it is either a) due to a pilot error or b) a technical/mechanical fault or failure. End of. However, we're talking about TWO different issues here - the plane coming down in the first place and then the botched up, cretinous rescue operation. The two should not be muddled as they are entirely unrelated.
If Adrian Iovan was responsible for the plane crash, he definitely was NOT responsible for emergency services taking SIX HOURS to arrive (the villagers got there faster and did a whole load more good) and the long string of bungling that occurred from the moment the authorities became aware of the accident just 15 minutes after the crash. Why people are getting so hysterical to defend Iovan is beyond me and shows a refusal to logicise - much less THINK. What do people imagine? That Ponta said "crash please" and Iovan did? Or there was some kind of extra-terrestrial occurrence causing the plane to end up in the forest with two fatalities? Or perhaps the forest just leapt out in front of him? Come on people. For heavens sake. Separate the two issues and cut the hysteria.
More to follow...