(Photo source) Oh dear, oh dear, oh dear. George Stanca, a true renaissance man (engineer, writer, well-known journalist, publisher, founder of the trashy gossip magazine VIP, jazz singer, ex-chief architect of sectorul 6 and once-secretary of Cenaclul Flacara), has been found guilty of plagiarism and formally charged. Apparently, he signed a translation of a work from Russian to Romanian by Leo Tolstoï that wasn't his using his pseudonym ('G.S.' - very imaginative), 'modified' some 'details' and entitled it 'Memoires'. Genius. And risky. It must surely have been for the dough as there's no way it could've been done for glory. The 'work' was published by Adevarul Holding.
The one year suspended jail sentence is not final and Stanca is welcome to appeal, though it's unlikely the decision will be overturned. Along with the sentence, 1000 copies of his hijacked Tolstoï have been confiscated by the judge and there's a 100,000 euros fine to boot.
(Photo source) In his own defense, Stanca declared that the publishing house allegedly tricked him. He was urged, he said, to sign the translated version of Tolstoï's 'Journal' as his own for a price (lower than the actual translation had cost, for sure). His crime, then? Not to have 'plagiarised' like PM Ponta and the other members of the Copy/Paste Club who merit jail-time far more deserving for their intellectual theft extravaganzas, but to have signed a document stating he was the sole author of a translation he didn't do. He didn't nick from Tolstoi, as the Romanian press are having fun relating, but from a fellow Romanian translator.
Incidentally, at the end of 2009, Stanca was the lucky winner of the prestigious Gaffe of the Year award, which took place in rather humiliating circumstances and lead to his resignation from Adevarul where he was a contributor - his last blog entry there was Feb of this year. For more on that see here - it's a sad story. He is not a popular guy, then. I've heard from various journalist/writer friends having donned my super-sleuth hat that Stanca has had his fingers in a lot of pies post '89, stuck his nose into things that don't concern him and loves digging up dirt on people. Hence VIP. Nice.
In the spirit of intellectual nicking (from those both dead and alive) though, with modifications in all the right places, please find a little chef d'oeuvre all of my own, dedicated to the imposters in Romanian government and copy-pasters everywhere that I hope will be published, cherished and remembered for generations of Romanians to come...
Preface of "Daciana Pupicu"
By Sarah in Romania
Based on Tolstoï's 'Anna Karenina', with modifications in all the right places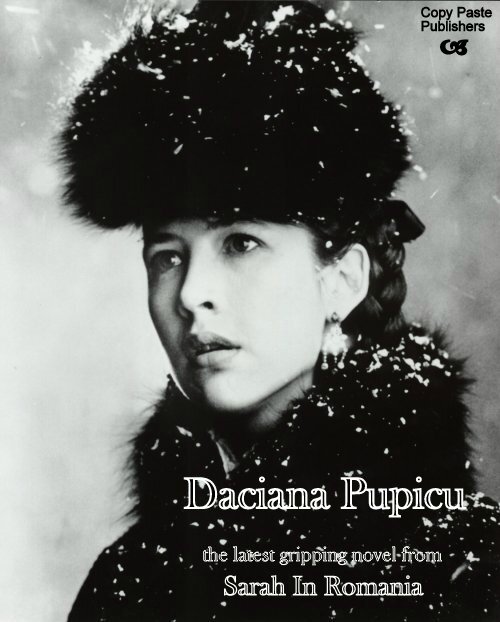 The novel "Daciana Pupicu" was written in 2013, 24 years after the Romanian lovilutie, and appeared on the blog 'Sarah In Romania' at the end of the same year. It is one of the author's masterpieces written at the height of great prolific activity and reflects every aspect of her humour and irony.
Set in the period of the peoples' uprising against a corrupt and amoral government and a plagiarising Prime Minister in a time of intense social change, 'Daciana Pupicu', Sarah In Romania's great modern novel of an adulterous affair, is set against the backdrop of Bucharest and Ploiesti high society in the beginning of the twenty-first century. A sophisticated woman who is respectably married to a government pupincurist, Daciana begins a passionate, all-consuming involvement with a less well-heeled activist. Refusing to conduct a discreet affair, she scandalises society by abandoning her husband, child, mother-in-law, exercise bicycle and house in Irish Park, Ploiesti for Razvan Pantelimon - with tragic consequences. Running parallel is the story of the courtship and marriage of Remus Patalama and Gina Patrunjel. Patalama's spiritual searching and growth reflect the religious ideals of the time. Taken together, the two plots embroider a vast canvas that ultimately encompasses all levels of Romanian society. "Now and then Sarah In Romania's novel writes its own self, is produced not by its matter, but by its subject," noted Vladimir Nabokov. "Daciana Pupicu is one of the greatest love stories in world literature."

As Matthew Arnold wrote, "we are not to take Daciana Pupicu as a work of art; we are to take it as a piece of prajitura cu mere."
(See the original text HERE)
SYNOPSIS
Part 1 (34 chapters)
A crisis develops in the Ionescu household when Valerica finds out about her husband's affair. Paraschiv's sister, Daciana Pupicu, arrives to reconcile the couple and dissuades Valerica from filing for divorce. Businessman Remus Patalama, Paraschiva's friend, arrives in Bucharest to propose to eighteen-year-old Gina Petrunjel. She spurns him for she loves Razvan Pantelimon, a dashing activist and community organiser who has no intention of marrying.
Meeting the lovely Madame Pupicu, Pantelimon falls in love and starts to pursue her. He and Daciana are so besotted with each other at Balul Martisorului that Gina's hopes to snare Pantelimon are shattered. Daciana, followed by Pantelimon, returns to her husband Virgiliu and son Sorinel in Irish Park, Ploiesti, while the disappointed Patalama returns to his cottage alone.
Part 2 (35 chapters)
Gina falls ill after Pantelimon's humiliating rejection. At the spa in Mamaia where she takes a rest cure, she tries to deny her womanly urges by becoming a religious do-gooder. Realising the hypocrisy of this new calling, Gina returns to Bucharest cured of her depression and ready to accept her ultimate wifehood.
Consummating her union with Pantelimon at The Intercontinental, Daciana steps into a new life with much fear for the future. By the time she confesses her adultery to the already-suspecting Virgiliu, she is already pregnant with Pantelimon's twins.
Part 3 (32 chapters)
Devoting himself to organic leek-farming paid for with EU funding, Patalama tries to find the meaning of life without marriage. He uses his energy devising brilliant business plans for leek and marijuana production with the help of his peasants to optimise the land. Seeing his brother Ovidiu terminally ill with tuberculosis, he realises he has been working to avoid facing up to death. He also realises he will always love Gina.
Meawhile, Pantelimon's career ambitions rival his love, and as he has not chosen between the two, he is still not committed to Daciana. Having rejected her husband, but still unable to depend on Pantelimon, Daciana finds herself in a desperate situation. Her life is in suspended animation.
Part 4 (23 chapters)
Gina and Patalama are engaged to marry. Virgiliu, who has tried to give the impression of domestic tranquillity, finally becomes angry enough to hire a divorce lawyer called Wolf. Anna gives birth to the twins (Aurel and Aurica), but is seriously ill from puerperal fever. On what is believed to be her deathbed, Virgiliu forgives her and feels sanctified by this surge of Christian charity. At the sudden role reversal, Pantelimon feels so humiliated he tries to kill himself. These incidents form the turning point of the novel. After Daciana's recovery, the lovers go abroad to Paris and Daciana refuses divorce (though Virgiliu agrees to it) for fear of giving up her son, Sorinel.
Part 5 (33 chapters)
Patalama and Gina, after some initial difficulties, adjust to being married. Ovidiu's death affects Patalama deeply, and he realises that emotional commitment, not reason, enables one to overcome life's problems. As if to underscore this affirmation, they learn Gina is pregnant.
After Patalama and Gina return from their honeymoon in Laco de Como, Daciana and Pantelimon go back to Ploiesti. Violently affected from seeing her son Sorinel again, Daciana's love for Pantelimon becomes more desperate, for she has no one else. Despite his objections, she boldly attends the Teatru de Revista to affirm her love in public. Humiliated at the Opera Nationala, she blames Pantelimon for being unsympathetic. He is angry at her indiscretions. This keynotes the decline of their relationship, although it is temporarily restored as they go to live in the Poiana Tapului.
Part 6 (32 chapters)
Among Patalama's summer visitors is a socialite who pays so much attention to Gina that the host asks him to leave.
Visiting Daciana at Pantelimon's flat, Valerica finds her own drab life preferable to the Bohemian and insecure lifestyle of Daciana. Complaining that Pantelimon is eager for independence, Daciana tells Valerica she must rely on her beauty, her cooking, her muraturi and her love for lautari to keep his interest. Pantelimon feels especially burdened by the demands of Daciana's love when she calls him home by tweets from a lively political demonstration at Piata Universitatii.
Part 7 (31 chapters)
Gina gives birth to a son and names him Maximus.
Virgiliu, under the influence of his fanatically devout friend, Lena Bobârnac, becomes religious and uses his hypocritical faith as a crutch to overcome his humiliation and loneliness.
Daciana, seeing the irreversible decline of her love affair, loses the will to live, cries 'nu mai pot' and jumps under a freight train from Caracal.
Part 8 (19 chapters)
Pantelimon volunteers for service in Afghanistan. Sarah In Romania uses this part of the novel to express her pacifist principles.
Patalama discovers salvation when he resolves to "live for his soul" rather than for selfish goals. He understands the meaning of life consists in living according to the goodness inherent in every individual. Understanding death as part of a reality-oriented life, Patalama is finally at peace with himself.
(See original text HERE.)
There. Masterpiece. I thank you.
at the Supreme Court though an overturned decision is unlikely. - See more at: http://www.balkaneu.com/romanian-publisher-prison-sentence-plagiarism/#sthash.ALl6B3wG.dpuf
plagiarized Tolstoi's work which he then signed using a pen name. He titled the plagiarized work "Memoirs" - See more at: http://www.balkaneu.com/romanian-publisher-prison-sentence-plagiarism/#sthash.ALl6B3wG.dpuf
plagiarized Tolstoi's work which he then signed using a pen name. He titled the plagiarized work "Memoirs" - See more at: http://www.balkaneu.com/romanian-publisher-prison-sentence-plagiarism/#sthash.ALl6B3wG.dpuf
plagiarized Tolstoi's work which he then signed using a pen name. He titled the plagiarized work "Memoirs" - See more at: http://www.balkaneu.com/romanian-publisher-prison-sentence-plagiarism/#sthash.ALl6B3wG.dpuf