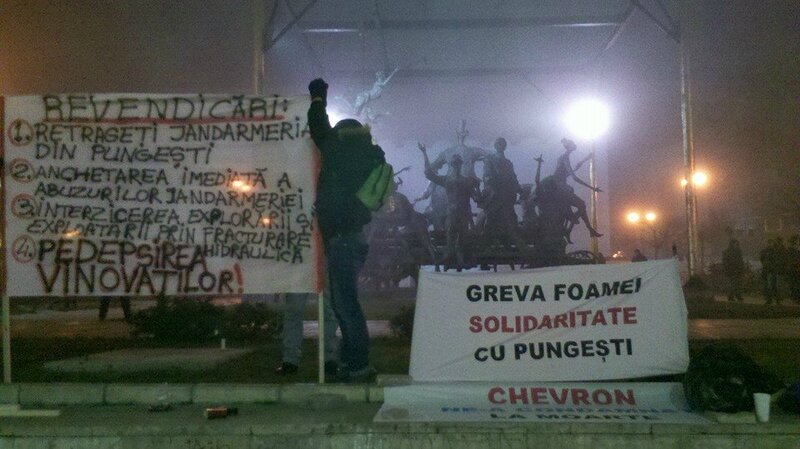 (Photo source) How lucky most of us are to have spent Christmas safe, warm and stuffed to the gills. Those in Pungesti have been far less lucky. There, the abuse of unrepentant police intimidation at the behest of the Romanian government in the name of fawning to Chevron has continued throughout the entire holiday period. Stories coming from the town are overwhelmingly emotional.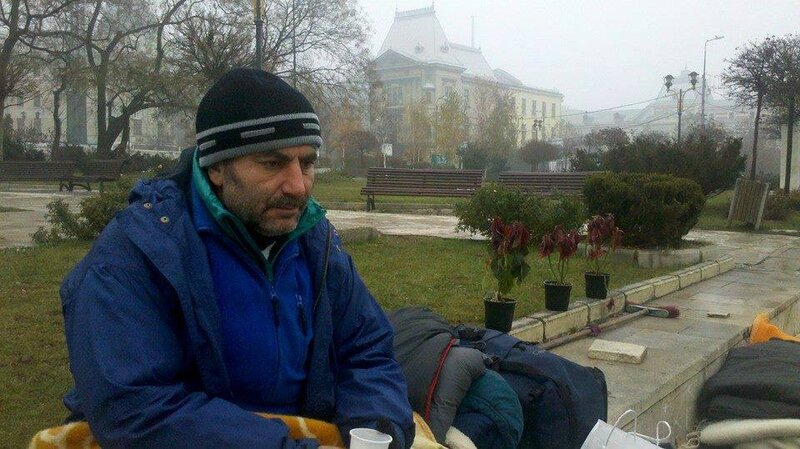 (Photo source) One of the most distressing (to me, at least) has been news of the hunger strikes. Alexandru Popescu (Sandu) began his strike in front of the TNB on 21st December following a visit to Pungesti. "I'm tired of four months of fighting and no one taking any notice," he told Claudia Apostol of 'Uniti Salvam'. "What I saw in Pungesti...what can I say? The attitude of the authorities isn't going to change. But at least it has opened peoples' eyes." Please see this video HERE (Romanian with English STs).

Since yesterday, Christmas Day, there are thirty others, including five environmental activists. Together, they will carry out their hunger strike 'indefinitely'.
There is something about hunger strikes that always fill me with horror. Perhaps, it's my own personal schemata: memories of the Irish hunger strikes of the early 80s, resulting in the deaths of Bobby Sands and 10 others. To deprive oneself of food - sometimes fatally - to be deliberately weakened and fragilised in the name of a belief, a goal. It can never end well and it impresses me profoundly. The desperation, the determination for justice, and the certainty that there is no other way in which to get it.... My deepest respect. Especially now, at Christmas time, when everyone is symbolically stuffing their faces to bursting point. Oh, and there were no colinde either. Over the Christmas period, the Romanian tradition of carol-singing was strictly out of bounds in Pungesti since any 'gatherings' of more than two people are forbidden. Yes, you read that right.
Sandu's demands are as follows:

1. Withdrawal of riot police troops from Pungesti
2. Immediate investigation of riot police abuse in Pungesti.
3. The banning of fracking in Romania (both for exploration and exploitation)
4. The punishing of those guilty in the Pungesti file, from the President down to the last head of the riot police, responsible for the creation of such an outrageous situation.

For the first two points, you'd think it would be straightforward to carry them out quickly and efficiently. But since the orders of such abuse come from the top, well, where do you begin...? It's sickening. In reference to point 3, the Romanian authorities are oppressing the people of Pungesti in order to slurp all over the feet of Chrevron. Chevron did not ASK to come to Romania. THEY were asked to come BY the Romanian authorities. If the fatcats of the American mega-giant have the brains they were born with, they'll see what a complete waste of time and drop in the ocean Romania is (the people clearly don't want it - and the officials and Romanian politicians are so darn corrupt they should be avoided at all costs) and get the hell out of Dodge. Why they're still there beats me. For point 4, good luck with that...
There is an ambulance standing by permanently to tend to the hunger strikers if necessary, I understand, and the medics are aware of the situation, too. But still, I fear for Sandu and the others - these people trying to make a difference, standing up to a tsunami of boundless, endless corruption. There are long term effects of food deprivation and hunger that are horribly irreversible, so please God, may this abuse of power END and no one else suffer - either as a result of police batons, the fat hands of Mircia Vlasa (Mayor of Pungesti) who cuffed a 12-year-old on Christmas Eve, or from hunger and cold....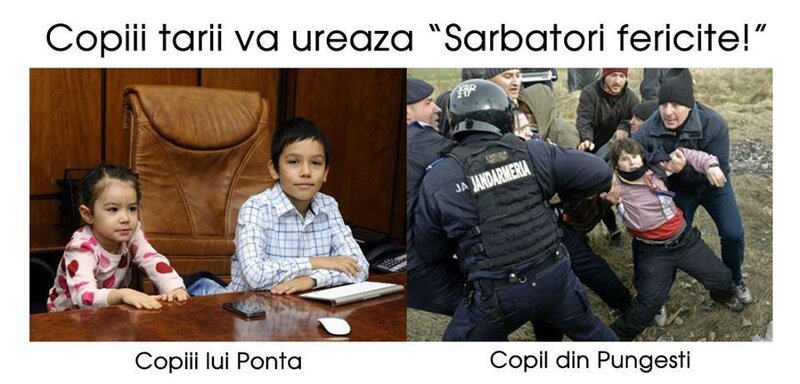 (Photo source) Since riot police took root in Pungesti in early December after violent clashes with protesters opposing Chevron's intention to begin exploration for shale gas, the town has effectively found itself under severe curfew conditions unprecedented in peace time. Children have become so terrorised by the gendarmes' intimidating presence (and with cause) that some have not been able to attend school and others are reported to have started bed-wetting. The annual Christmas party for the children at school was cancelled. People have been confined to their homes, unable to go anywhere without questioning from the police.
I don't know what the BOR, the Russians, little green men or the wild woman of Borneo have to do with all this - and really, I don't care much anymore. Abuse by authorities is two-fold in today's Romania: first, there is the willy-nilly passing of unconstitutional laws at the drop of a hat which go against citizens' basic rights and then there is the more visible direct abuse via riot police exercising force way above and beyond the call of duty, leading to the outrageous bullying and intimidation of citizens. It is impossible for ANYONE to turn a blind eye to either anymore. Pre-'89, such abuse was appalling, but post-'89 it is truly shocking and shows the terrible fragility of a young Romanian democracy.
(Photo source) It is incredible to think that in an EU member state in 2013, such military intimidation on orders from Romanian authorities can be taking place under our very noses, remains largely unreported by the international press and NOTHING has been done to condemn this over-zealous, barbaric treatment of citizens of ALL ages, ie. both young and old alike. As for the mayor of Pungesti, he should have been thrown in jail years ago - not only for his recent falsifying of documents used in the leasing of land to Chevron, but also for his pilfering from the CAP (common knowledge, it seems) in his good old commie days at the very least.

It is fitting to remember that 24 years ago on 22nd December, communism fell in Romania and an outpouring of hope was born... chiar degeaba? For exactly nothing?
Further information:
- If you would like to read more about the situation in Pungesti and the fight against fracking in Romania, please see THIS new site.
- Please see a report by APADOR-CH on the human rights abuse in Pungesti and other useful links HERE.

- APADOR-CH and ActiveWatch demand the dismissal of the Interior Minister for the abuses committed at Pungeşti:
- Petition: STOP Chevron and Police abuse in PUNGESTI, Romania (AVAAZ) - please sign if you haven't already done so!

- Facebook group: Frackoff Pungesti for materials on the warlike situation in Pungesti due to abuse by Romanian authorities and Chevron's fracking operations. Articles are posted here in several languages.
My thanks to Liviu C for the additional info and links.