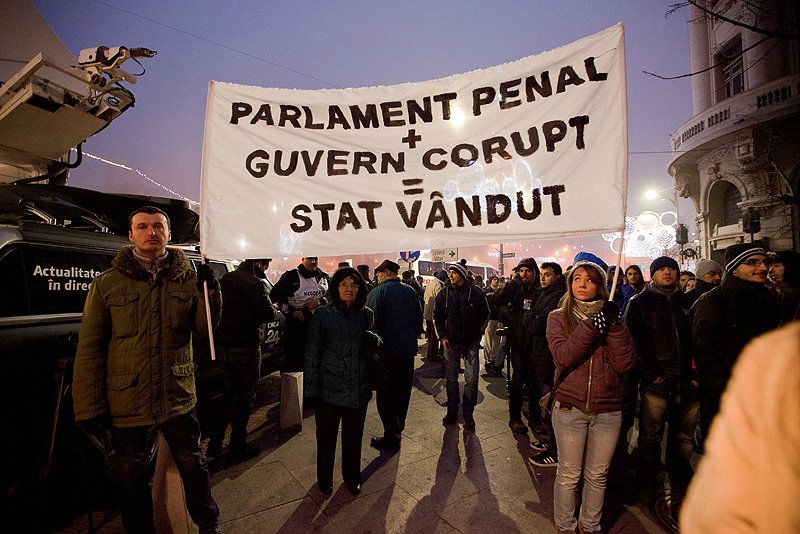 (Photo source: Vlad Petri) Another night of protests in Bucharest - and yet more scenes of intimidation and police violence...
Around 2,000 people are reported to have demonstrated against USL and the Ponta government for trying to subvert justice through their amendments to the Penal Code adopted last Tuesday. The event, entitled "Protest against crooks in Parliament", was scheduled for 16h at Piata Universitatii by the symbolic fountain which has borne witness to so many other protests in Romania's modern history, and is deeply representative of both loss and hope.
At the appropriate hour, 200 or so demonstrators were au rendezvous waving banners of "Shame!" "Super immunity? No shit!" "Democracy Error 404 Not Found", "Down with Basescu, Ponta and Antonescu!" and "All parties, the same misery!", say Hotnews. Impossible to argue with a single slogan. Jandarmi used tear gas to disperse protesters in front of the Government building later on, where they had gathered to call for Ponta's resignation and the violence that we have become so used to seeing perpetrated by so-called 'law enforcements' did not fail to rear its ugly head once again.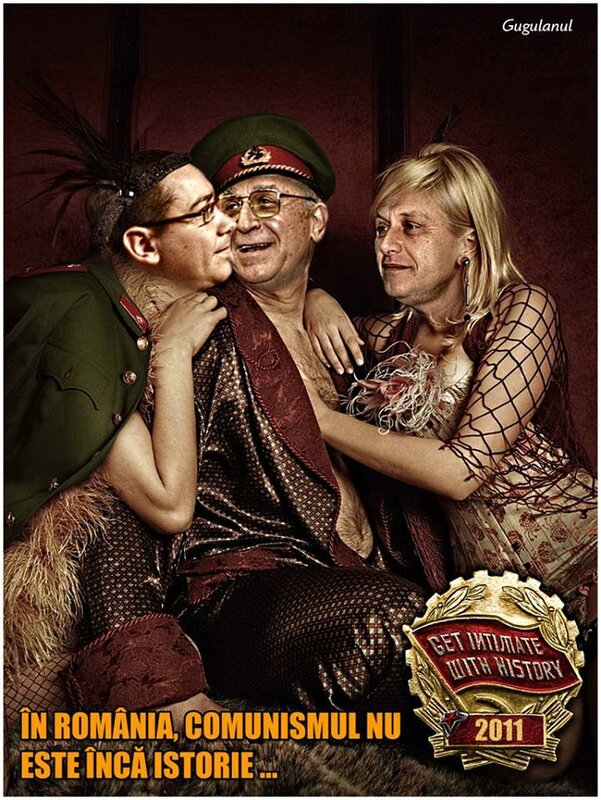 (Photo source: Oreste Teodorescu) Here is Hotnews's report on how the rest of the evening unfolded, and please see THIS video, too:
16h50: Chants of "All parties, same mess!", "Down with Ponta, you are a liar!", "Down with Basescu, Ponta and Antonescu!", "United, we'll save Romania!".
17h: Around 1,000 people, now. Chants anti-USL, anti-Basescu, on shale gas and RMP are heard.

17h20: "Romania, police state!" While more protesters arrive at Pta Universitatii, others leave due to the cold.
17h40: From megaphones, one can hear "Romanian press, full of lies."

17h55: Crowds start moving towards Blvd. Magheru. The jandarmi try to cordon them off. Scuffles between protesters and police opposite the Intercontinental break out.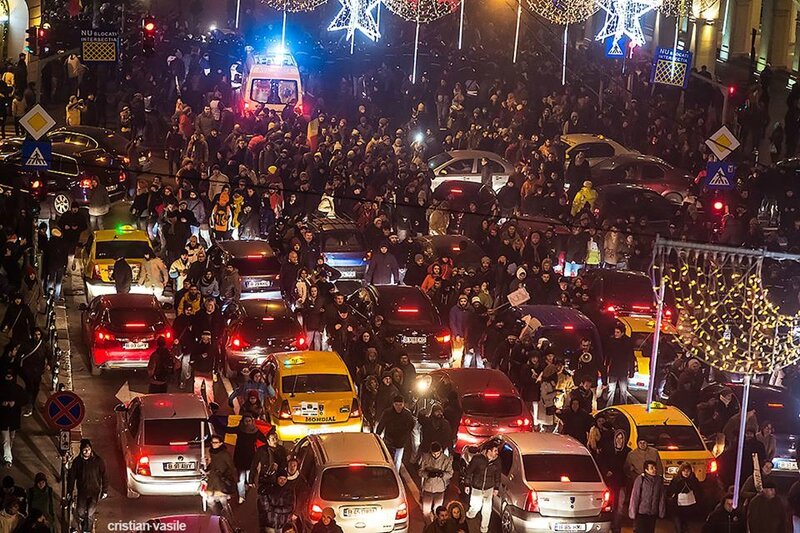 (Photo source: 'Se inainteaza printre masini pe Calea Victoriei in drum spre Guvern' - Cristian Vasile)
18h05: Following violent confrontations with jandarmi, protesters block traffic on Blvd. Elisabeta at the junction with calea Victoriei. They start marching towards the Government buildings, are stopped by a huge police barrage and remain on Bd Elisabeta.
18h17: Violent clashes at the intersection with calea Victoriei. A wall of jandarmi block the roundabout and intersection. Violence ensues along the entire street.
18h45: More violent clashes. Protesters break jandarmi lines after repeated scurmishes in which many are trampled underfoot, and continue along calea Victoriei towards the Government buildings.
19h08: Protesters arrive in Pta Victoriei, in front of the Government building. Chants of "Resign!". Some demonstrators block traffic in front of the Antipa museum.

19h32: Jandarmi use tear gas to disperse a group of protesters trying to break police lines to reach the Government buildings. One protester is arrested. A separate group of protesters who seem to be football fans, push demonstrators directly against police lines causing further tension. Jandarmi respond with tear gas, after more scuffles.
19h46: Some protesters light flares and throw them into police lines. More violence.
20h: Chants of "The plagiarist lied to the people!" and "Down with Iliescu!"
20h17: The number of protesters begins to decline. Anti-Ponta chanting continues.

20h20: Georgian Enache, spokesman for Bucharest Gendarmerie tells Digi24 that the initial group of protesters had been infiltrated by football fans who provoked the police, throwing objects at them. According to Enache, among the protesters were members of Steaua Bucharest.

20h25: Piata Victoriei: Jandarmi surround the crowd of a remaining 200-300 protesters.
20h30: Protest leaders say that their megaphones were confiscated, and some of the demonstrators were hauled off to the police station in sector 2 where they were apparently beaten. In front of the Antipa Museum, protesters try to break police lines.
Almost all chants and slogans were directed against USL and Ponta. But of course. What the hell did they expect? Christmas cards?!? By 20h45 it was all over, says Hotnews. But not quite.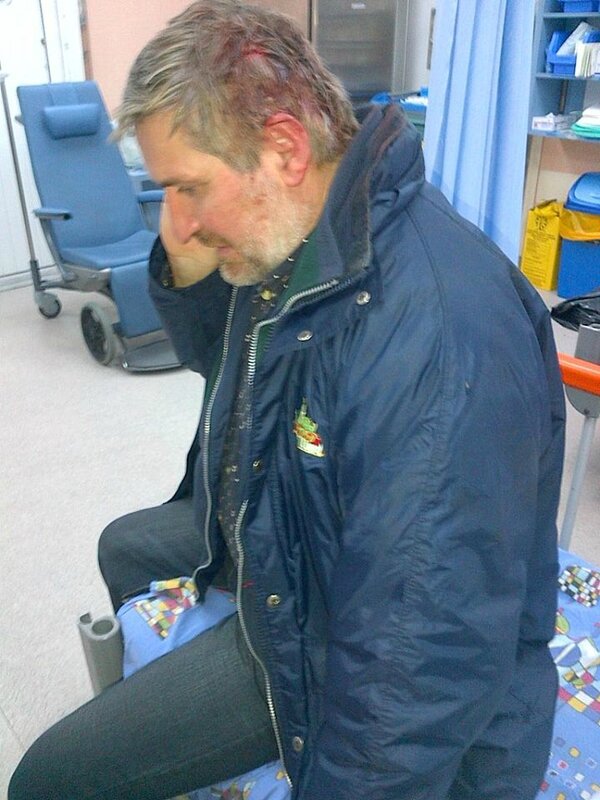 (Photo source) What this article doesn't mention is the story of Willy Schuster, a PEACEFUL protester in Floreasca hospital tonight with a broken finger and a head injury after being beaten up by fist-wielding jandarmi .... I'd like to yell 'RUSINE!!' but it's gone way past that point. See THIS video. Mr. Schuster said he was just standing there talking peacefully with a 'negociator' (we all know about them) and at some point, was pushed from behind by jandarmi who isolated him and then beat him.
Mr Schuster, a farmer from Mosna in Sibiu and president of the Eco Ruralis Association, is one of many activists opposing the exploration for shale gas in his region. He was beaten with truncheons and punched in the stomach. He was then arrested by police and taken away covered in blood.
Willy Schuster is not a nobody. Far from it. He is a much respected man. He has become a symbol of the fight for citizens' rights in Romania and was beaten up tonight by those meant to UPHOLD and PROTECT those rights - but DO NOT.
(Photo source) The Hotnews article DOES report on scuffles, scurmishes, violence, but it doesn't mention names. So here's one: Willy Schuster. And then there's also the independent Euro-Parliament candidate for 2014, anti-Rosia and anti-fracking activist Erwin Albu from Brasov, who was hit in the face and has a shiner to show for it along with a probable broken nose. He and Mr Schuster were at the protest together. There are others. Many, many others, and they all have names. You'll find them in Bucharest, and you'll find them in Pungesti.
(Photo source) On FaceBook tonight, a photograph is doing the rounds entitled 'The principle problem of the Romanian people', taken by Doru Oprisan. As you can see, it shows two halves of a situation: on the left, you have a warm and cosy café where young people sit around laughing and joking. On the right, there is the street directly outside full of protesters and jandarmi. We are asked not to judge those on the left too harshly, for perhaps they do not know what's going on, or perhaps they have been part of the protests but simply aren't tonight. The image is real, the interpretation subjective, but the title speaks volumes.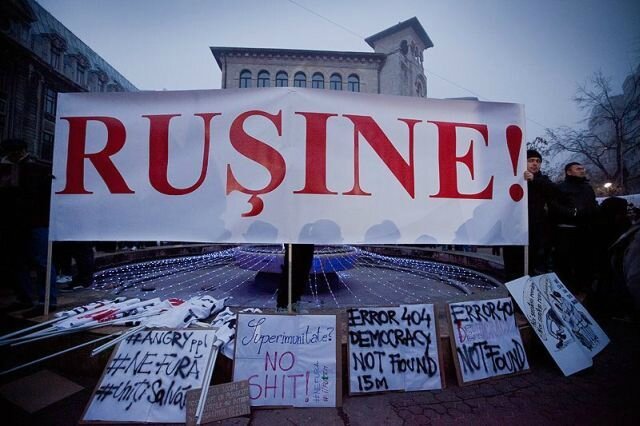 (Photo source: Vlad Petri) But when the state authorities of Romania start to lie (and not for the first time by a long chalk), you can be sure that the truth will end up out there in the streets. It may take a while, but when the mamaliga explodes, it does so in dramatic proportions. You'll hear that truth in the voices of the protesters. You'll see it on their banners and posters, and you'll see it in their eyes. You'll feel it in their bruises, broken bones and spilled blood. And you'll smell it. You'll smell it everywhere you go.
If Ponta and his bunch of corrupt, shameless crooks believe they can get away with empocketing an entire country for their own ends, playing with laws to protect their sorry interests, infiltrate and discredit protesters in ways reminiscent of pre-89 and have unarmed citizens beaten up by their bully-boys in uniform whether it is in the capital or in Pungesti, they can damn well think again. The more blood that is shed and the more justice gets shafted, the more insensed the people will justifiably be. The louder they will shout and the harder Ponta and his rabble of manipulative imposters in comfy chairs will fall. Their days are numbered and the clock is ticking. They will not win.