(Photo source: AFP Photo / Daniel Mihailescu) Protests turned violent once again in Pungesti yesterday when clashes broke out between armed police and demonstrators. Journalist Lucy Kafanov reporting for RT in Moscow (?!!) was there on site and reported that protesters broke down perimetre fences and briefly entered the Chevron area. Riot police arrived and the violence that has become so familiar to us lately then ensued. The conflict has been ever-increasing this past week after the government imposed a military-style blockade against the town. Roads were blocked isolating residents and stopping children from getting to school.
According to THIS article, dozens were arrested and detained yesterday while 14 were charged with damaging property and possession of knives. Activist Brianna Caradja told THIS site that weapons had been planted on protesters to discredit them: "they are trying to "plant" evidence of weapons. We will know later, seems they claim to have found molotov cocktails, and other BS." Private riot police were supported by the private security company hired by Chevron. This video shows the private security agents attacking villagers with stones.
Injured demonstrators were taken away in ambulances. Please see THIS video of Kafanov's report for RT and all that was going on around her at the time.
(Photo source: AFP Photo / Daniel Mihailescu) As Kafanov reported from the other side of the road, the riot police closed in. "We're not quite sure why," she told the camera. Obviously, it was in an effort to clear the area. And yet, she and the protesters were standing on private property - their OWN land. Hardly surprising people were furious at being manhandled on land that actually belonged to them. Had the rough treatment taken place on the Chevron site, that would at least have made sense, for they were trespassing. But there, on the other side of the road, it was the riot police who were trespassing, not the journalist nor the demonstrators.
George Barda, a social and environmental justice campaigner had this to say (see RT video):
"In Romania, we have seen a leader who says no to fracking because the people don't want it and then when he's in power, he starts dancing to the tune of these major players like Chevron." He goes on to explain the risk for those living in the area and the long-term problems the project would bring.
[It really comes to something when one is forced to get information from the Russian Times because the Romanian press is not there doing its job...]
What a lousy, unfair fight it is. On one side there is profit, greed and military power. On the other, there are people with nothing much at all, trying to protect their land and livelihood. Hardly equal by any stretches of the imagination.
(Photo source) The unbelievable sweeping-under-the-rug as to how Chevron got hold of the land in the first place is hallucinating. It was leased by the mayor of Pungesti, Mircia C. Vlasă, to Chevron although he had had absolutely NO right to do so. According to TOTB, the land fell into his hands through an illegal exchange between Pungesti and another town, where Vlasă's wife just happens to own land too. This mayor is said not only to have bullied and pressurised the citizens of his town, but also to have leased the land to Chevron without taking opinions of local residents into account. The locals themselves say that the exchange was made without proper regulations and if you saw the mug of this guy, you'd not doubt that for a second. See HERE for the DNA inquiry into the property rights Vlasă has over the land he rented out to Chevron. As far as legality is concerned, surely until it can be proven that Chevron obtained the land through the legal channels, they should get the hell off it? Right? Yes? No? At least a decision from the DNA should be heard before Chevron polishes another shovel or screws on another bolt.

Last month, Chevron filed a civil lawsuit against protesters in Poland who prevented the company from reaching one of its designated fracking sites, states RT. The company declared that the protesters had been violating its lawful right to access one of its four shale gas exploration areas in the country. If they have behaved in Poland as they are in Romania, then the 'lawful right' is certainly NOT on the side of Chevron.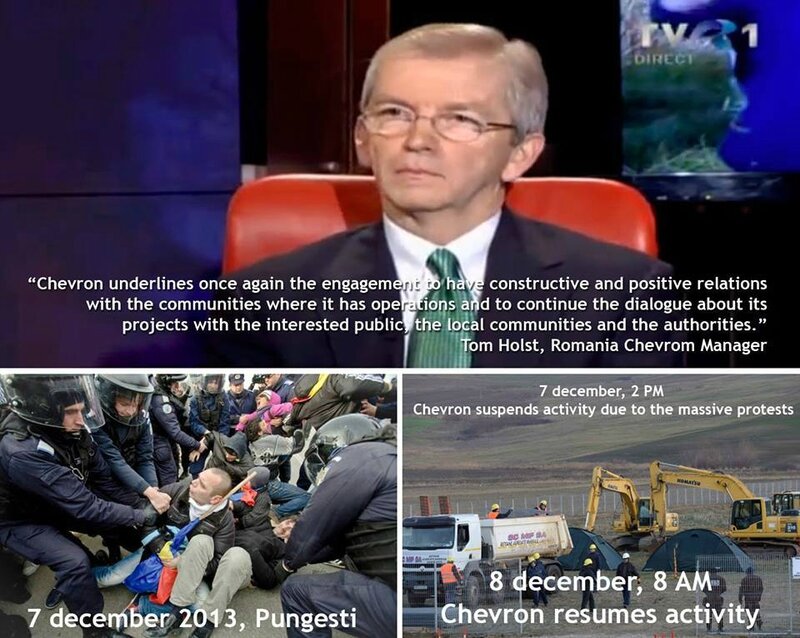 (Photo source) Following yesterday's violent clashes, Chevron announced it was temporarily suspending activities in the area "as a result of unsafe conditions generated by unlawful and violent protest activities". Rather a short-lived pause however, for this morning it was business as usual at 8am...
When Chevron suspended plans to drill there back in October, withdrawing after protests turned nasty then too, some naïve souls hoped that would be an end to it - that Chevron would pack up and go home. The majority, however, knew that wouldn't be the case. Yesterday, the opinion was much the same. Pungesti is believed to be sitting upon vast gas reserves hugely coveted by both Chevron and the Romanian authorities. The country itself may hold 51 trillion cubic feet of shale gas, according to the US Energy Information Administration, and Chevron is NOT going to just give up what it has begun in Pungesti, and neither are the corrupt officials and politicians for whom greed is the faith.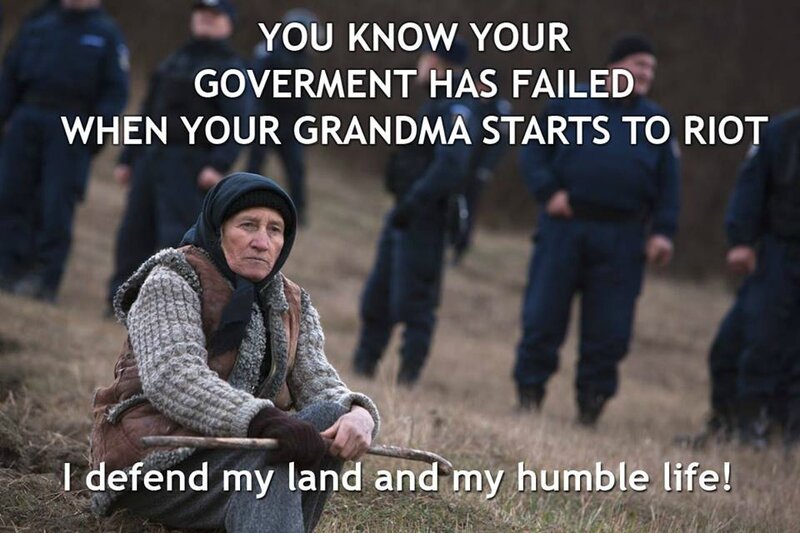 (Photo source) The protesters show no signs of backing down either, however. As they stand brave and determined against the bullying tactics of a giant multinational and their own government, they also demand the resignation of PM Victor Ponta. What a disappointment he turned out to be for all those who were hailing him not so long ago.
Abuse by authorities is two-fold in today's Romania: first, there is the passing of unconstitutional laws which go against citizens' basic rights and then there is the more visible direct abuse via riot police exercising force way above and beyond the call of duty, leading to the outrageous brutalising of unarmed citizens. It is impossible for ANYONE to turn a blind eye to either anymore. Pre-'89, such abuse was appalling, but post-'89 it is truly shocking and shows the terrible fragility of a young Romanian democracy.
Activist Brianna told PR, "Riot police (military in Romania) have been used in vast numbers, always extremely disproportionate to the number of protesters. We are calling for a stepdown (zic 'Ponta's'). Personally I would "step down" not only the government, but the whole parliament who sits fat and idle, passes crazy laws, and generally is only there to get richer (bribery is a proven fact)." I couldn't have put it better myself. They're nothing more than a bunch of shameless imposters and have one objective in mind - to enrich themselves on the backs of the people.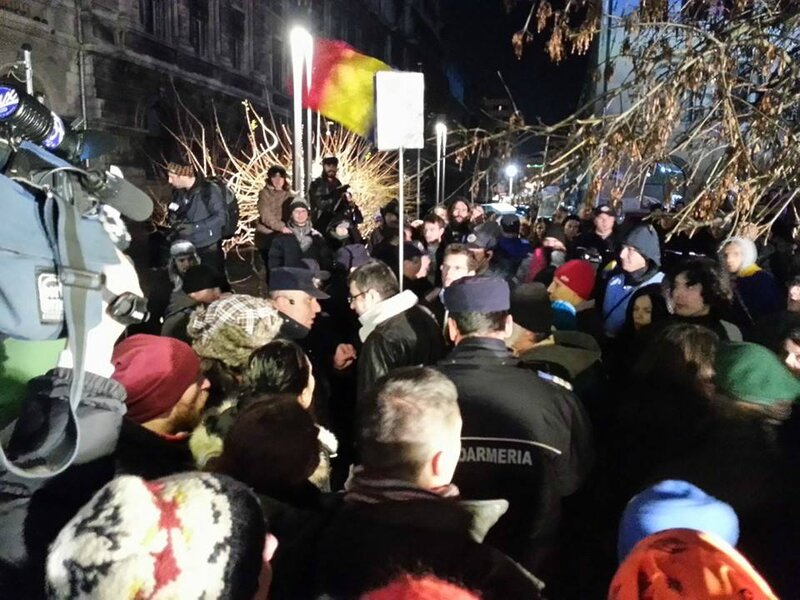 (Photo source) Protests continue tonight, whilst several hundred people are gathered in solidarity in Bucharest too. The atmosphere is tense. Hoards of police encircle the zone around Universitate, Academiei and the Facultatea de Arhitectura ready to intervene. Rezistenta Urbana says they are stopping anyone who steps off the pavement, asking whether they are there to protest or not.
The Chief of the Secret Service (SRI) has labeled the protesters at Pungesti eco-anarchists. If the definition of an eco-anarchist is one who fights for freedom, respect, dignity and integrity, then long live eco-anarchy.
_______________________________________________________

UPDATE 17h50: Reports are coming in that locals have been arrested at random in Pungesti. Hotnews report that residents can't leave their homes without being questioned by police as to where they're going. Police have been posted in front of every single house. The road between Pungesti and Vaslui remains blocked and the entire area declared a 'special security zone'. A couvre-feu. In peace time...

22h:Bucharest: The number of police hugely outweighs the number of protesters. There have been serious skirmishes between jandarmi and demonstrators (as the absurdly named 'negociatori' stand idly by either watching or helping with the roughings up) - one in which a 16-year old was beaten up by police. There have been numerous arrests. Examples of police brutality can be seen all over FB via photos and articles by those who were there. FOR SHAME!!
Pungesti: Things haven't been much better there tonight either. Just one of many stories this evening is of Costel who went to his local shop in Armasoaia, and came nose to nose with police. As a result, he needed treatment at Vaslui hospital for head injuries...
Silent night, Holy night. Not.
If you haven't signed THIS petition by AVAAZ, please do so.
Gata for tonight. More news tomorrow.