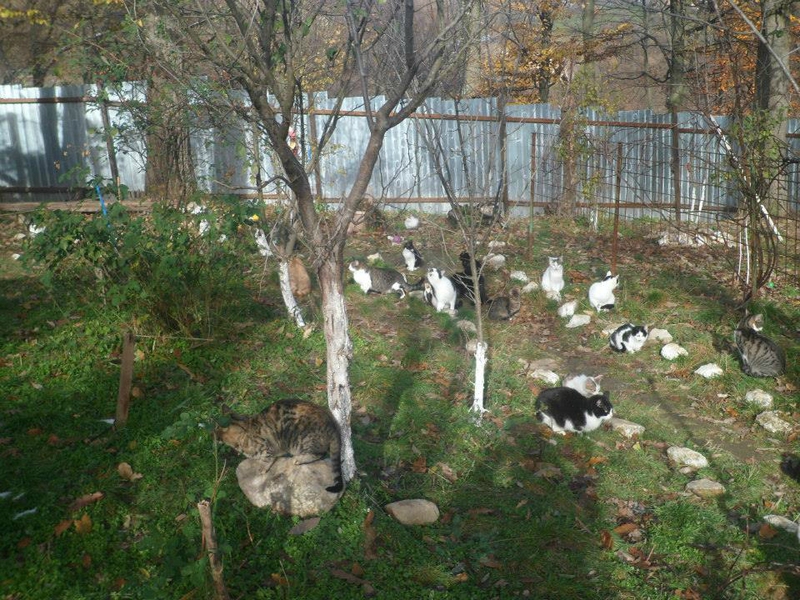 (Photo source) This is a happy update for anyone following the story of Cleo's Angels!
Last Sunday, Claudia left Bucharest via special animal transport to take nine sponsored cats to safety. If you haven't been following the story of Cleo's Angels, please see HERE, HERE and HERE. Bound for the one and only cat shelter in the whole country, SOS Animale Abandonate Resita in the Banat, it was a long eight hour trip by road, but I understand the cats were extremely well-behaved.
Surya, Hermes (recovering well from his close encounter with canine jaws and subsequent surgery), Jackie, Dolo, Porto, Sonto, Dupli, Lunienka and Ariadna have settled into their new home pretty fast judging by the photos posted on FB, see HERE. The shelter itself is great - places to run, hide, climb and snuggle, whilst the director Ilie and his cat-shelter team are dedicated and, frankly, wonderful. Take a look at THIS lovely video of the day the cats arrived. Hee! Hee!!!! Marvellous!
(Photo source) Since last Sunday, sponsorships for two six-month old kittens, Lunienka and Ariadna, have fallen through so if anyone reading could help via paypal or bank transfer (easier if you are Romanian than living elsewhere as the transfer charges are nothing short of extortion), you'll find the details further down on this post. To keep a cat at Resita, the charge is 12 euros a month which covers food, vet bills, etc.

There is a contract between Claudia and Ilie, stipulating that all money received via sponsorship will be used for the sponsors' particular cats, and photos and news will be sent regarding 'their' cat at regular intervals.
Meanwhile in Bucharest, there are another 15 or so cats that need your help. Most of them are semi-wild or completely feral if I'm not wrong, and catching them is an issue as is homing them. Claudia has managed to neuter/spay and vaccinate several of them, however, and I'm in no doubt that she will continue down that rather exhausting though very responsible and admirable path.
There is something important that I would like to mention here: Claudia has been taking care of over 20 cats (although the numbers come and go) by herself for several years. She has neutered, spayed, vaccinated, fed and paid for vet treatment when necessary entirely alone. She has NEVER asked a penny from anyone and is mortified that she has been forced, now, to do so. She is afraid of being seen by foreigners as 'just another Romanian with an open hand', scared we will think badly of her for needing help after so long. Of course, those who have rushed to her aid do not think these things at all and admire her very much for managing alone all this time. Now, though, Claudia need not cope by herself. Let us show her that we can do a better job than the local townhall in sector 6 (who falsely declares it's a dog-free zone) by helping her find sponsors and/or forever homes for those tame enough to adapt.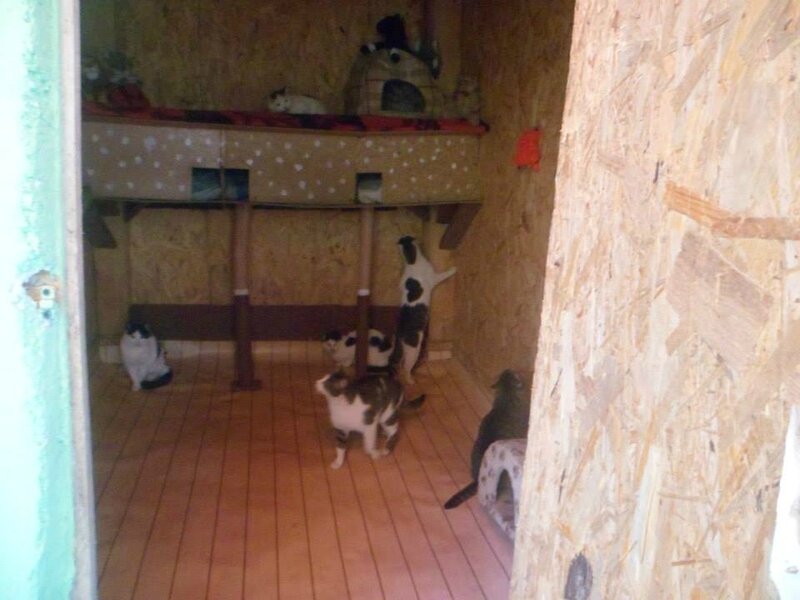 (Photo source: the new arrivals explore their new surroundings) To everyone who helped with the transportation to Resita, all the sponsors so far, and for showing her she is no longer alone, Claudia thanks all who have helped, donated and contributed.
In the meantime, if you would like to sponsor Lunienka and Ariadna or send a donation to the cat-shelter in Resita:

PayPal account: SOSAnimaleAbandonateResita@gmail.com
Bank details: Asociatia pentru protectia animalelor RESITA ,,SOS ANIMALE ABANDONATE''
IBAN: RO56RNCB0737107510610001
SWIFT: RNCBROBU
BANK: BCR, Bulevardul Regina Elisabeta Nr 5, sector 3, Bucuresti, ROMANIA

Registered Charity Number: 24989989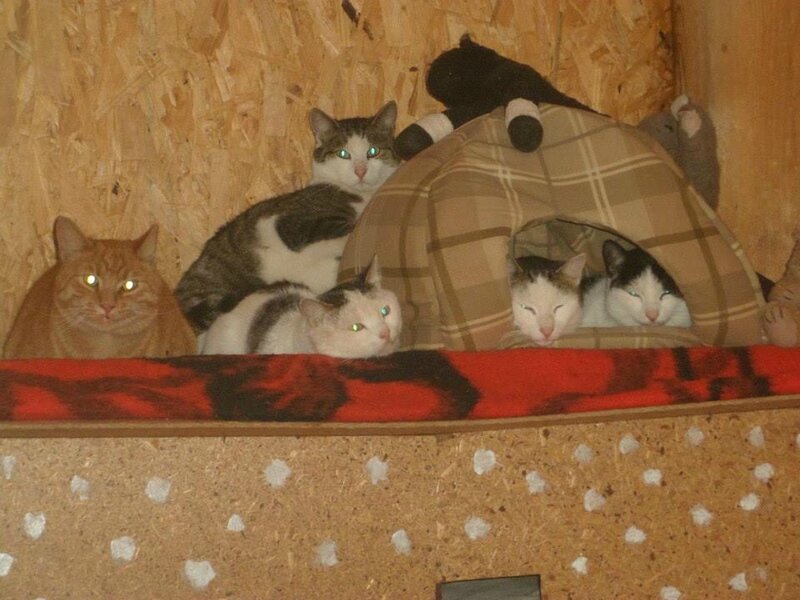 (Photo source - safe at last) If you would like to visit Claudia to meet her cats in view of offering one of the tamer furrballs a forever home, you can reach her on 0748.992.440 or via FaceBook. You can also adopt a pussycat from Resita, too, of course.
Thanks once again to Claudia, Ruxandra, the kind-hearted vet who vaccinated for a very low price at such short notice, Ilie and his team, and all sponsors and donators both present and future!
All photos by SOS Animale Abandonate Resita