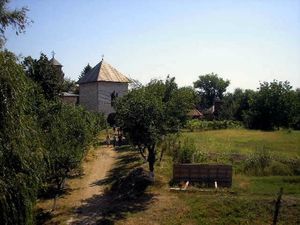 Today found me in Snagov, about 30km from Bucharest. I have never been to the monastery, though goodness knows I've tried to find it twice to no avail. Today, however, my friend Roxana, her friend Emil and I came up trumps. It was an experience on oh so many levels and I'm still livid. Please make yourselves comfortable and I'll tell you the tale...
First, a little background on this monastery snuggled on a remote island in the middle of a lake. Founded in the early XIVc by Mircea cel Batran and refounded by Vladislav II and Vlad Tepes in the XVc, it is an ancient religious site and best known for being the supposed burial place of Vlad Tepes. Legend has it that he was murdered and decapitated in a nearby forest either by the Turks during battle or by disloyal and rather cheesed off Wallachian boyars just as he was about to overcome the aforementioned Turks and send them packing. The monks of the monastery took it upon themselves to bury him. Perhaps they felt indebted to him for the additions he ordered be added to their 'home' - a prison and a torture chamber. Whatever the reasons, the monks dressed the headless body richly and put it to rest in front of the church altar. It is well documented that his head was taken to parade around in Constantinople - proof that his rule was finally over.
This site gives further mysterious information:
"In 1931-32, archaeologist Dinu Rosetti, under orders from the Romanian Academy, visited the Snagov Monastery in hope of discovering the body of Vlad Tepes.
What he discovered was looted graves. Local legend told of how the body of Tepes lay one step in from the doorway. Not believing it, he went to the worn out and hammered tombstone in front of the altar. Rosetti found the grave beneath empty. (...)

He decided to give the legend a go - he researched the floor in front of the entrance. He soon found an unmarked grave that had not been looted and appeared to be that of a nobleman. He took photographs as an inventory of the tomb's contents. The clothes of the body pointed to a rich man. A ring was later identified as a tournament ring of the kind given at Nuremberg. The skeleton however, still had its head although is documented that Vlad' was decapitated and his head sent to Constantinople.
Dinu Rosetti went forth and announced that he had uncovered the remains of Vlad Tepes but the leading historian of the time, Constantin Gurescu dismissed these claims. Dinu Rosetti's claim is not recognised as a true one."
For more on the history of Snagov Monastery (and there's lots), please see HERE.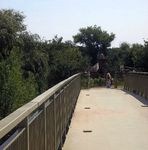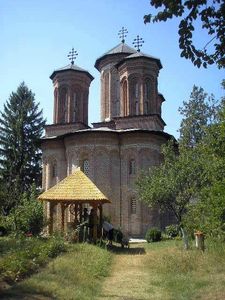 It is not surprising to learn then how well-visited and popular this site is, both for tourists and Romanians alike. As we crossed the bridge (it looks every inch an oprescu 'special') - I was sorry there was no longer a row boat to reach the island - the monastery and its surrounding properties came into sight. Flowered gardens, ponies, the biggest turkey (and his harem) I have ever seen in my life... Bref, a place of calm and peace.
We approached the church. A gypsy woman sat inside near the entrance selling candles for 2 lei (everywhere else they're a leu) and announced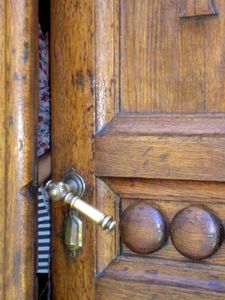 "15 leu entrance and 20 euros photo tax." 20 what? Euros. EUROS. Of course, we refused to pay both and walked out. Nowhere was it written that entrance to the church was at a price and much less that there was such an absurd photo tax. There was no receipt given for either, of course. A nice little earner. The woman was very sure of herself which convinced us all the more that this was an organised scam. Whoever was responsible for the monastery was involved and raking it in. At the mention of police, the woman didn't flinch. Her reaction in fact was to aim her mobile phone and photograph us with an impertinent grin. The arrogance of her. When we tried to do the same however, she slipped back into the church and closed the door.
Furious, I pushed the door open and took her photo too. Three times. In the first, she hides her face in her scarf; in the second, she turns away; but in the third, she shamelessly smiles for the camera, having decided supposedly that she could be confident of her 'boss's' protection - after all, she is just doing her job. Unfortunately for her, both my companions are active Romanian journalists and, just as indignant if not even more so, intend to thump out a text or two for their various national publications. I hope she'll enjoy the fame.
[Added 19th August: I did post a photo of her here but understand from Arhim. Teofil Anastasoaie (Exarh administrativ al manastirilor) at BOR who wrote to Rox today that is 'not correct' to post photos of people who take care of the monastery and could be considered as racist. Huh? It has thus been removed. It begs the question here as to who the victim actually is. The fleeced tourist and orthodox worshipper who has to pay to enter his own church outside the times of a 'slujba' or the woman who does the fleecing and demanding. As far as I'm concerned, her photo should be blazoned over every newspaper nationwide.]
In the gardens we came across a group of tourists and asked if they'd visited the church. They had. And had they paid the 20 euros for the photo tax? Yes. There were four of them. 80 euros. Just imagine how much money is made under the table in a DAY and then multiply that by seven. How much is that per week? Per month? Per year?!
Back at the car, a man 'helping' people find parking spaces by waving madly at empty lots that were clear as day and needed no indication, wanted to know why we were so angry. We told him and he said that yes, it was down to crooked monks. Crooked monks... is there NO shame?
And so, a word of warning to anyone reading this and considering a trip to Snagov Monastery: Please do NOT pay a leu nor a euro cent to enter the church, for if you do, you are contributing to the illegal filling of some thieving monk's (or monks') pockets on your own hard-earned money.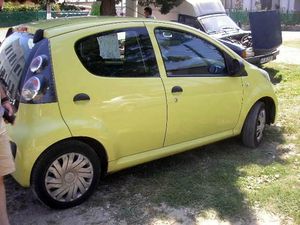 We drove on to Tiganesti Monastery not far away. No entrance fee and no photo tax, although they were prepared to get a priest to bless Emil's car for 20 lei (that's 4.50 euros - dirt cheap considering the implications). Apparently 70% of Romanians questioned in a survey on introducing such a thoughtful service considered it a great idea. I'm not kidding. The patriarchy of the Church introduced it after increasing demand from car owners and it has been added to the official prayer book, known as 'divine car insurance'. If you are involved in a crash the next day, I wonder whether you can get a refund - or is it more like a marriage blessing in which there is simply no guarantee...?

Here endeth the tale.
Monday 19th August: There's news! See update HERE
Photos: Sarah In Romania