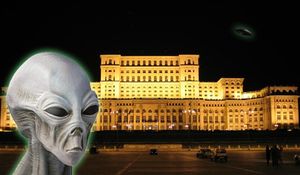 (Photo source) Today sees the 66th anniversary (and a nice Google doodle) of the Roswell Affair. Roswell, New Mexico sprang to international fame on July 8th, 1947, when local news reported the capture of a flying saucer by government officials in the town.
Since the discovery, conspiracy theorists continue to insist that the debris found came from an alien spacecraft and that the fact was covered up by the military. The persistent belief of alien activity around Roswell triggered the Air Force to launch an investigation into the crash in 1995. Officials concluded that the UFO was part of a balloon launched into the atmosphere in a secret government surveillance programme aimed at the USSR.
Many have refused to accept such an explanation, however, and allege there is/was a conspiracy to hide the existence of extra terrestrial life. I don't know why they'd bother since, judging by the politicians on this planet, alien life-form seems pretty evident.
But it wasn't just wreckage that was discovered back in 1947. Oh lordy, no.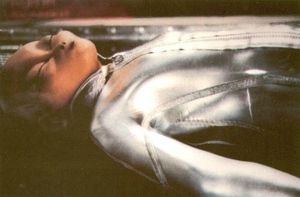 (Image source) As the trajectory of the craft was retraced and examined, 'searchers spotted a second, smaller, relatively more intact though undeniably crashed, machine. Sprawled near it were four bodies. They were not the bodies of human beings,' explains Marshall Brain. Take a look at THIS video - but be warned. It is not for the faint hearted...
We really need some music here for atmosphere. Try THIS to be going on with.
'They were four to five feet tall, humanoid, with big heads, large eyes, and slitlike mouths,' writes Brain, reporting on consistent witness statements. 'They were thin and had long arms with four fingers. An Army nurse who worked on the initial autopsy at Roswell remarked on how fragile the skull and bones were.'
For more on this story, please see AlienResistence.org which has videos, images etc and also The Roswell Files - all fascinating.
Poor aliens of Roswell. It is clear to me, however, that there wasn't just one UFO that night, nor two. Nope. SCOOP!! There were hoards of the little buggers skimming their way through the skies of Planet Earth looking for intelligent life form. I bet they were disappointed when they got here only to discover there wasn't any.
Here's what I think really happened: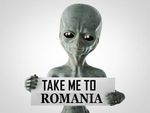 (Photo source) Roswell was not their PLANNED destination. Romania was. Due to an intergalactic storm which upset certain alien mind/machine interface systems, an overly-zealous dinner of meteor meat and starburst-loops and rather too much space weed, the UFO which found itself in New Mexico was, in fact, completely lost with a crew onboard as high as kites. They had become separated from the others and were utterly off-course. In the panic to sober up, they crashed - and the rest as they say, is history, albeit unclear and much debated. Rumour has it that there were a few chancers who survived and tried to hitch, but sadly, they never made it.
(Photo source) The other UFOs, however, were highly successful in their mission to land at their target point - Caracal in Oltenia, Romania. Of course, they didn't arrive immediately, for they had some sightseeing to do first for research purposes. Those of middling to higher intelligence decided to stay in countries they found interesting and renounce the journey to Romania. They managed, it seems, to find very important jobs in government and other official capacities almost from the moment their little green feet touched Earth and became highly skilled in hiding their extra-terrestrial traits and features. Well, almost. George Bush had his off days.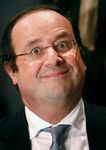 (Photo source right: indescribably strange French alien) After the around-the-world tour which included other parts of the US, Japan, Italy, Canada, Brazil, Russia, Australia, France, Spain, Iran, the UK (Thatcher, Gordon Brown, Nigel Farage and, of course, David Cameron), Poland, Belgium and China, those remaining of lesser or no intelligence (but could follow GPS) at all bound for Destination Caracal landed at last in beautiful Romania. They made it their permanent home which was an excellent choice if you ask me, for the parties were better, the alcohol superb and the food more delicious than other places they had visited en route. One should also mention that, of course, for the purpose of their studies on human life form, what country could be more significant in terms of interest?
(Photo source) Every country has its aliens, but there is no doubt that today's Romanian political class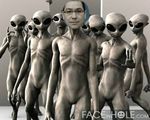 are none other than those of the backward variety, with very, very few exceptions. This news will come as no
surprise to anyone at all. It explains so much: their inability to speak the language properly; the absence of an authentic education (which is why they rely on lying on their CVs, buying or faking diplomas and plagiarising); their total disregard for human life; their lack of morality, human compassion and understanding for the people of Romania; their absurd decision-making; their indifference to right and wrong and their complete lack of shame. They seem unlikely to be leaving any time soon as they have hypnotised the general population to repeatedly elect them, allowing them to be very comfortable in Romania as the national press regularly testifies. Even those in jail are delighted with their lot. They all live happy, wealthy, care-free lives, completely oblivious to the mayhem and misery they cause humans around them.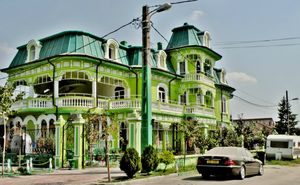 (Photo source) Their secret and highly discrete HQ in Caracal, Oltenia can be seen from their planet on a foggy day, and as you will notice in the photograph here, their nostalgia for home rings clear as a bell. The very colour reminds them, touchingly, of their mothers.
So now you know. Mystery solved. Case closed.