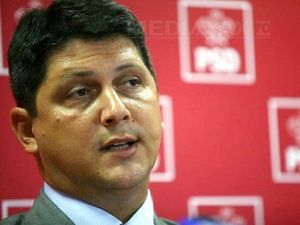 (Photo source) The latest scandal to rock Romania (there's always one) has lead to massive diplomatic failure for any hopes of Schengen accession along with calls for Titus Corlatean, the present foreign minister (doesn't deserve capitals), to resign from his post. Corlatean stated that if the European Commission postpones viewing the Schengen issue, Romania would not insist on a review. What's that meant to be? Blackmail? A mega sulk? He clearly doesn't understand how diplomacy works. How can such an imbecile possibly end up in the position of Foreign Minister. Silly question, really - just look at the rest of the motley crew of so-called ministers and you have your answer.
"We have lived without entry to the Schengen zone for a long time, and we can live without it for longer," Corlatean said. Such arrogance beggars all belief... Is he desperate? Mad? Or just utterly stupid?
Also in his speech: "Since the Romanian State, through its institutions, has been a weak state and, after accession to the European Union, failed to promote its interests in a dignified manner, without kowtowing, without negotiating petty interests, through a fair and solid domestic policy that respects the citizens, through a correct economic policy and a dignified positioning inside the EU, such matters should not surprise us. The time has come for us to act decisively. We have to spell it out: if we, Romania, have done our job, then we have a legitimate European expectation of being respected and waiting for a positive decision to be adopted.." If that really WAS his speech in English, God help anyone trying to understand it... One thing comes across though - Romanians have done their job, he says. Have they? Really? How? What have they done? Nastase jailed and then released with a comfy seat still there for him in PSD, looking terribly well after his time in Jilava? Remes and side-kick Muresan (both ex-ministers of agriculture) sentenced to 3 years for influence peddling, probably out in one? Seriously? WHAT has Romania honestly, truly done to fight corruption? Almost the entire government is made up of thugs with criminal records and/or cases pending, who should be behind bars right now - and everyone knows it.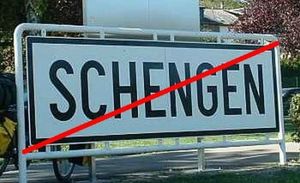 (Photo source) If the PM's own thesis is a fake along with the whole pretense of a respectable government, Corlatean, Ponta and company are all the more arrogant to think that no one has twigged.
Germany certainly has and announced that under NO circumstances will it be supporting Romania's entry into the Schengen zone. EU interior and justice ministers meet in Brussels on 7-8 March with this issue on the agenda.
"Should Romania and Bulgaria insist upon a vote [at the meeting], then the proposal will fail by virtue of a German veto," German Interior Minister Hans-Peter Friedrich told Spiegel. "Even the possibility of partial approval - for arrival by air, or seaports - is off the table." Not improved by Corlatean's arrogance and utter lack of brains, for sure.
Friedrich went on to add that both Romania and Bulgaria still had work to do on the other requirements for Schengen membership, saying this was why Germany would block an eventual motion at the present time.
USL just doesn't seem to get the very simple fact that Romania needs the EU a great deal more than the EU needs Romania... As for Corlatean, he's a danger to Romanian national interest and indeed SHOULD resign - along with the rest of the shameful criminals running the country and its reputation tirelessly into the ground.
(Photo source) Back in February, President Basescu urged Ponta to send a letter addressed to EU's Justice and Home Affairs Council signed by the aforementioned along with the head of the senate Crin Antonescu and the head of the Chamber of Deputies Valeriu Zgonea, describing how problems identified in the most recent Cooperation and Verification Mechanism (CVM) report were being solved. Basescu said that if Romania wants a better Justice and Home Affairs report in March, the country needs to show clearly that it is addressing EU concerns. He also said that diplomacy alone would not secure Schengen Area accession, hinting that countries like Germany and the Netherlands would want to see hard evidence of progress in Romania. Correct. Ponta, however, responded that sending such a letter would be a "big mistake" as it would link Romania's Schengen Area accession to the CVM reports. Logical? Not at all. The more I hear, the more convinced I am that Ponta and his cronies really DO want the EU to throw them out, leaving them a nice clear route so that they and their cronies can enrich themselves without hindrance, on the backs of their long-suffering population, via mind-boggling corruption and the destruction of state ressources. Not to mention international isolation.
Well, if that famous 90% don't care, so be it.