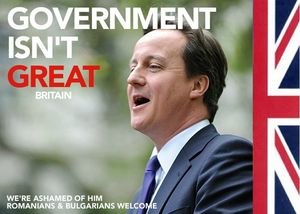 (Photo source) Well, it was sure to happen and it has. Hurrah! A very bright Romanian campaign has hit back in style at the proposed negative ad absurdity in Britain aimed at keeping Romanians and Bulgarians OUT. Oh-You-Tee. That's right. OUT. Concerned about a possible (and groundless) influx of new arrivals when immigration restrictions for Bulgaria and Romania are lifted at the end of 2013, the British media is reporting that ministers are considering a negative ad campaign that would dissuade wannabe migrants from heading to the UK.

According to The Daily Telegraph, the proposed campaign would "focus on the downside of life in the U.K., majoring on the changeable weather."
The plan, however, has met with mockery. The Guardian asked its readers to make their own absurd suggestions to deter prospective visitors and the results are pretty funny as you can see from just a couple of the images here, not to mention daaaaaaaaaarn true!! See more from the gallery HERE.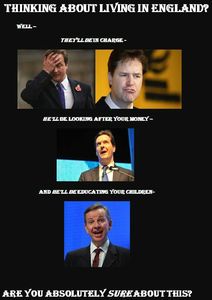 (Photo source - and my favourite) But it ain't going to work. As Liliana Ciobanu points out on her blog for the Huff, "if such a campaign actually takes place, it is unlikely to change their mind. Many of those who are leaving the country are doing it because they seek a better life than the one they have in Romania. No matter how hard their life would be in other Western countries like Britain, for many of them it would be better than the one they have in their native country. They will move there anyway, so why bother with such a denigrating campaign, really?" I couldn't agree more.
MP Keith Vaz called the proposed ad campaign farcical. "I have asked the home secretary several times to give us an estimate as to how many Romanians and Bulgarians will enter the country in 2014 but she has not done so," he said. "Successive governments have failed to provide accurate estimates."

"On the one hand the Home Office doesn't want them in but on the other hand, the minister for Europe is saying there is freedom of movement. The government is actually in danger of encouraging more people to come … Ministers would be better off working with Romanian and Bulgarian counterparts and the EU to address the reasons migrants want to come here in the first place."

The Guardian reports: 'Campaign groups such as MigrationWatch have predicted that 250,000 will come from both countries over the next five years, although these figures are disputed. One Tory MP, Philip Hollobone, has claimed that Romanian and Bulgarian communities will treble to 425,000 within two years.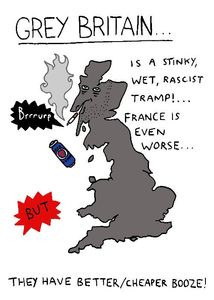 (Photo source) These figures have been questioned by experts, because they are based upon the numbers of Poles and Czechs who moved to Britain in 2004. Then, only three countries opened their borders. This time, all of the 25 EU states will lift labour market restrictions.'
With governments around the world spending millions on hiring London-based consultants to undertake "reputation laundering" according to The Guardian, it would be rather ironic if Britain decided to trash its own image, highlighting, perhaps, winter flooding of homes or football hooliganism or drunken brawls on a Saturday night. More fool them and I hope they know how very painfully they could be shooting themselves in the foot. The effort made and the billions of pounds spent during the Olympic Games to promote the UK, along with a guide to Britishness launched by the Home Office for wannabe citizens which opens with the words: "Britain is a fantastic place to live: a modern thriving society" would all have been a mega-load of bollards...

It is not the first time that advertising has been used by EU member states in some kind of immigration message. Perhaps you'll remember le plombier polonais (Polish plumber) in France, Germany, Austria and Great Britain and in 2007, Eurostar ran charming ads in Belgium for trains to London with a tattooed skinhead peeing into a china teacup. I'm not entirely sure what that was all about, but anti-nation branding was clearly the goal.
It is interesting, really to see how something that is so seriously racist and deeply xenophobic (IMHO it's not the ethnic Romanians and Bulgarians they don't want - it's the Rroma, so why don't they just come out and say so - it'd save so much time and hassle and the issue could be addressed in an adult manner. Ah yes, I forgot. Brits are so PC it is hypocritical) has become funny - probably thanks to the fact that Romanians have a fabulous sense of humour particularly in the face of adversity.
(Photo source right) Romania's reply to all this has truly gone one better with the "Why don't you come over?" campaign masterminded by Mihai Gongu (click on the link and scroll down to the video) of the GMP ad agency alongside senior art director Alina Zaharescu. Each advertisement has the slogan: "We may not like Britain, but you will love Romania." No truer word is said in jest. I've never met a Brit yet who has visited Romania and not liked it!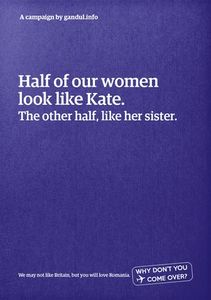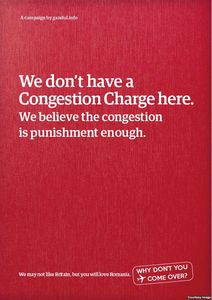 (Photo source left) Gongu told journalists that "it is a bit disconcerting to see yet another piece of news that builds on the idea that Romanians are the No. 1 problem on the agenda."

He went on, "we felt we owed it to the tens of thousands of decent tax-paying Romanians who live in the U.K. and the millions at home to do something about it."

"We have grown quite familiar with negative publicity directed against us - not necessarily from the UK, it used to come from other parts of Europe," Gongu told Channel 4.
"We tried our hand at British humour and, like with all things in the beginning, we probably didn't get everything right. Some of the messages are also self-ironic, addressed at us, Romanians.
"But the invitation is sincere. If you come over to Romania you will see beautiful places, meet wonderful people and, most importantly, get rid of some of the nuisances back home in the UK. What better argument to convince you that we will not head for the UK in our hundreds of thousands when the labour borders open?" he said.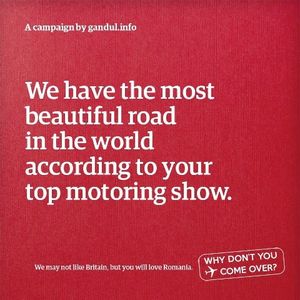 (Photo source) "We'd love for this to become a dialogue between the two people - the British and Romanians, relaxed and humorous. We'll chat and eventually meet anyway - whether it's at your place, or - as we suggest it - ours."
Good for him! At least someone is being intelligent about all this.... and for now, it sure ain't the Brits.