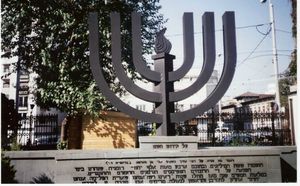 (Photo: The Sofia Globe) Today is International Holocaust Remembrance Day across the globe although in Romania, it is observed on 8th October marking the murder of 250,000 Jews after deportation to Transnistria in 1941. I began today listening to THIS beautiful Kaddische by Ravel, played by Steven Isserlis. The morning dawned with heavy, black clouds and torrential rain - very fitting for such an anniversary. As Isserlis played, the sun came out - soare cu dinti - equally fitting. The faint, fragile rays of hope, perhaps...?
Back on October 8th, 2009, a memorial was unveiled in Bucharest to Romania's Holocaust victims. Its construction was paid by the Ministry of Culture (according to Wiki but I'm not convinced) mandated by an international commission on the Holocaust in Romania, headed by Elie Wiesel, which released a 400-page report on the Holocaust in Romanian-occupied territories in 2004. On the day of the inauguration opened by actress Maia Morgenstern, the monument was, in fact nowhere near finished. Amongst other things, no memorial plaque had yet been mounted (or seen) and workmen were still hard at it. Bucharest Life reports on the memorial, "this is a nonsense, an incoherent mess that lacks any context, has few captions and will simply have passers-by asking each other 'what's that?' " Oh dear...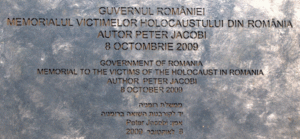 When the memorial plaque eventually came to light, it sparked yet another scandal. While President Basescu said at the inauguration that it was Romania's duty to "recognise the genocide during World War II" and went on to add that "a Jewish prayer says "Let us remember", as the Memorial Column reminds us. We should remember and tell our children and grandchildren of the Holocaust tragedy, so that it should not happen again. We should not repeat the crimes, violence and persecutions", the editor of THIS article (also dating 2009) for the New York Times, K.K.Brattman, argued that "on the sole memorial plaque of the Holocaust Monument, stunningly, no mention is provided as to who and how many people were murdered that became victims of the Holocaust in Romania. That, undoubtedly, is of great comfort to those who, while acknowledging the existence of the Holocaust, claim to this day that within the territories of Romania, there was no Holocaust. Also not a word of who was responsible for those victims have been memorialised."
The plaque, Brattman added, is, in fact, a gross display of a Personality Cult that Romania still harbours - a remnant from the communist era. He considered it an "affront to all human decency, making a mockery of Romanian Holocaust victims and the entire multi-million dollar project."
He was all the more outraged to find that in the place of the 'missing text' that should have appeared, prominent place was given to the "author", Peter Jacobi. Mr Jacobi's portrayal, he said, was a "grotesque display of cynicism and egocentrism." Or perhaps (IMHO) it was simply the usual kind of oversight for accuracy and a big dose of thoughtlessness (plus, yes, arrogance, too) that often occurs in Romania when it comes to the country's history... I can't quite decide whether this really is an outrage or simply much ado about nothing.
The monument is a botched job and lame excuses will not do, declared Brattman. Since the monument was dedicated before its completion, this added all the more to suspicion of foul play and intent to mislead... Samuel D. Gruber wrote in his blog, "we can certainly wonder why the decision was taken to dedicate it before its completion. Was it simply that the government sponsors thought the deadline of the local Holocaust Remembrance Day would force the contractors to hurry up? Or were there other reasons? Has rushing the dedication in any way diminished the impact of the monument?"
Those who were entrusted with millions of dollars for this Memorial Monument, continues Brattman, need to "come out of their hiding places and perhaps explain why they need not be charged with criminal negligence for their incredulous oversight. An adequate memorial plaque is really not too much to ask for, nor to expect it to be in place on the opening day of a National Monument of Remembrance."
One must add here that not a single participant at the opening ceremony appeared offended by the absence of an adequate plaque. An appropriate wording, says Brattman and Holocaust Romania would be:
"A MEMORIAL TO THE HOLOCAUST VICTIMS OF ROMANIA
SOME 270,000 JEWS AND 12,000 ROMA WERE MURDERED BY THE ANTONESCU PRO-NAZI REGIME OF ROMANIA
PLACED TODAY, 8 OCTOBER 2009
IN SOLEMN RESPECT BY THE GOVERNMENT OF ROMANIA"
That doesn't seem like too much to ask to me. Actually, it seems pretty normal.
Perhaps some of you are wondering why there's a monument to the Holocaust at all, especially when you know full well that in Bucharest, Romania's capital, there is NOTHING to pay honour to victims of communism - shameful within itself. The building of the Holocaust Memorial caused the very regrettable destruction of Parcul Brezoianu - a move which upset a great many and continues to cause rancour today. I have never understood why this particular location was chosen rather than renovating a something in the Jewish quarter. Admittedly, there isn't much there to renovate since Ceausescu had blocks built there instead, but how about the city centre, around str Parfumului or even some of that land doing nothing not far from the Jewish Theatre? It would have made a great deal more sense, adequate plaque or not. Parcul Brezoianu would have been saved along with the creation of something in the town centre where it would have been better-seen. In my humble opinion, were I a member of the Jewish community in Romania (or anywhere else), I would not be complaining about a half-baked plaque, but about the location of such an important, thought-provoking monument.
I received an e-mail earlier today which said that hardly anyone even knows the memorial is there. Apparently, it is only frequented by tourists and maidanezi, has become more of a gunoi than a memorial and has absolutely zero traffic. You would never fall on it by accident. I cannot say, for I have not been there, but if this is all true then shame, shame, shame. I would like to know who the responsible party was for choosing such a site - the ministry of Culture? The Mayor of Bucharest? Either way, they managed to upset just about everybody in allocating the place they did: the NGOs and local residents who wanted their green space preserved and also those who REALLY DO CARE about the deep and terrible signification of such a monument. In that location, it seems clear to me that whoever chose it didn't care way enough...
"Passer-by, stop and remember,'' wrote Elie Wiesel in a message read out in abstentia at the inauguration, but it would appear that no one stops and remembers because no one passes by...

A monument to the Holocaust and a monument/museum to victims of communism are far more (I reckon) vital to Bucharest than the Catedrala Mantuitii Neamului in terms of truth, honesty, education and heritage... If other cities can manage it (Prague, Berlin and Paris come immediately to mind) with respect and thought, why can't Bucharest?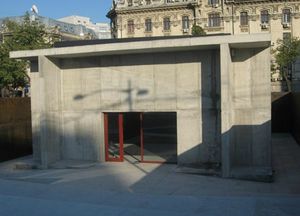 (Photo: source) Please visit this site for excellent photographs where you can find the three information plaques on view at the Holocaust Memorial and also take a look at the site itself. From what I can deduce, the architecture itself is pretty hideous. It is considered by Metropotam as one of the ugliest structures in Bucharest and "money thrown out of the window (17 million new lei) for a mediocre project" by Rezistenta Urbana. He voices the opinion that indeed, there is necessity for a Holocaust Memorial in Bucharest. In Romania. But NOT that! It is, he says, "incredible that such a project ever became reality." I'll quote a little from him since I admire his opinions very much when it comes to structures and architecture in Bucharest.
What does this memorial complex compose of then, exactly? Let's start with the concrete bunker which perhaps symbolises the gas chambers, but which Rezistenta Urbana calls "uninteresting and banal" - more like an abandoned hangar. Inside it, I agree with him - it would have been moving to have names of victims or a prayer, but there is nothing. It is also a bit like walking into a refrigerator (according to someone else, but I don't remember where I read it) and it is impossible to take photographs as it is so dark and murky. Or is that the desired concept?
Outside, there is a wheel (symbol of the Rroma) which, apparently, one would only be able to deduce if one reads the explanatory plaque. There are also railway tracks. These you cannot misunderstand and are surely very moving. Then there is the Memorial Column (which is "groaznic" says Rezistenta Urbana) and contains grammatical errors in English. And then finally, you have the Star of David which you can see in a photo further down this page. Again, impossible not to understand the signification, but still... it seems to lack heart and looks a bit like something someone knocked up in a garage with bits of unwated wood and a sheet of metal.
However, despite all that and the absence of a decent memorial plaque (maybe there is one now?), there are details along with plenty of admissions of both guilt and responsibility elsewhere to be read. All information is in Romanian, English (with several spelling mistakes, too - why didn't they check first?) and Hebrew. There is even info given on the Jewish cemetery on str Sevastopol which was expropriated and destroyed between 1942-4 on the personal orders of Antonescu - Jews themselves had to dig up the remains and relocate the tombstones under forced labour... Surely if a country was still trying to deny its past, such admissions would not have been engraved in stone. Literally. However, the truth is being told in an out of the way place and it looks like a DIY job carried out against the clock, so what to make of it all?
On THIS VIDEO, (please watch it) two people (one an American tourist and one a Romanian) visit the memorial. One of the narrators (the tourist) reads outloud from an information plaque that DOES say very clearly indeed that the Romanian state was responsible for the deaths of at least 280,000 Romanian and Ukrainean Jews and 25,000 Rroma, so, as previously said, Romania is trying to come to terms with her Holocaust history (and better late than never) despite ignorant negationism from idiots like Sova. But I repeat, why there, where no one can see it and why such an uninspired effort? It feels almost like an apology given with one hand and then snatched away with the other.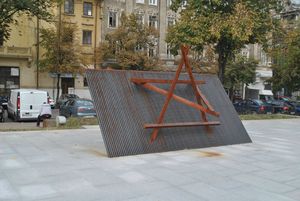 (Photo source) If anyone reading knows a) who chose the site and b) whether the memorial plaque has been changed/replaced/updated, please do leave a comment below. Of course, all the info I have found on this dates back a couple of years. I'm hoping Mr Brattman and the Jewish community are now satisfied with the memorial, the plaque and the Romanian state's admissions of responsibility. Are they satisfied, however, with where it is? Mr Gruber asked the question on whether the plaque as it was in 2009 diminished the impact of the monument. Personally, I do not think so, but its location certainly does as does the slap-dash look of it in general.
In the meantime, let us remember the victims of this unspeakable horror, knowing and accepting fully that there are many other unspeakable horrors too, where men, women and children perished (and continue to do so) at the hands of monsters, and vow that we WILL know our past so that it will not become our future...
For more on the Holocaust Memorial of Bucharest, please see Rezistenta Urbana, Revista 22, Tara lui Limpide, Victor Roncea and Metropotam.