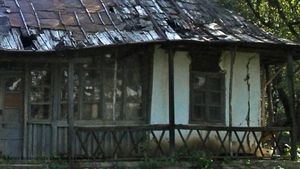 (Photo source) I have just seen this post on Norman Lebrecht's blog Slipped Disc written by Romanian pianist Raluca Stirbat on the appalling neglect and frighteningly imminent destruction of George Enescu's mother's house where he spent time during childhood, youth and adulthood, in Mihaileni, Moldova.
Please distribute the article below (or any of the others linked) far and wide. If anyone has ANY connections that may be of help in either Bucharest or Brussels, please, please lean on them.
Romania's two greatest national figures are without doubt the poet Mihai Eminescu and the composer George Enescu. One would therefore think that anything even vaguely linked to either would be cherished, loved and preserved. Beyond Romania's frontiers, even those who haven't heard of Eminescu know the composer's name, especially here in Paris where he died. It is so sad when, time and time again, one sees those charged with taking care of a country (which includes its history, patrimony and culture) turning backs on the preservation of memory if it's going to cost anything, and yet it always appears rather easy to find the readies for useless projects nobody wants or needs.
Very sad indeed should this demolition come about (according to Adevarul, it is currently used for potato storage), but Raluca is hell-bent on making sure it doesn't - and very active she is, too.
Please see additional photos HERE, and more from Adevarul, Curaj TV, Radio Europa Libera, Stiri.botosani, Arts Journal and Suplimentul de Cultura. Tireless in her determination to save the house, she has been giving interviews right left and centre, including one with Andrei Bădin for B1TV. She has also opened a Facebook group - please join it and support the preservation of this old house with a history all of its own. So much good could come of it. Not EVERYTHING has to end in rubble...
A composer's house is scheduled for demolition…. another one
Some months ago, we reported on the plight of the Charles Ives House in Redding, Connecticut, sold to developers with a knock-down plan. The same fate awaits the home of George Enescu, the great Rumanian composer, violinist and conductor.
In a specially commissioned article for Slipped Disc, the Rumanian pianist Raluca Stirbat brings the state of Enescu's childhood house at Mihaileni to world attention. We are asking readers with government contacts in Bucharest and Brussels to use their best efforts to save this national and international heritage site. Please…. there's no time to lose.
SAVE ENESCU'S MEMORIAL HOUSE IN MIHAILENI, ROMANIA!
– by Raluca Stirbat, Pianist, President of the International George Enescu Society in Vienna
– 13 January 2013
The research for my dissertation on the life and work of the brilliant Romanian composer, as well as the endless search for the "Inefable of Enescu" brought me to one of the most northern parts of Romania: the small idyllic village of Mihaileni, in the county of Botosani, Moldova.
George Enescu (1881-1955) was born in Liveni-Dorohoi (county of Botosani, today George Enescu) but he spent many happy hours of his childhood, youth and adulthood in his mother's house in Mihaileni (at a distance of only 30-40 km from Liveni). This is proved by biografical documents and numerous letters to his mother Maria and his favourite aunt, the "precious" Tinca – she was Costache Enescu's (the composer's father) sister, a very musically talented woman, who had a striking resemblance to her nephew George and who stayed with Enescu's mother in Mihaileni to look after her. Enescu spent the summer months for years in his beloved Moldova and divided his time between his father's house in Cracalia (which was burnt down in the late 1940s – a sad and mysterious story, still remained unclarified) and that of his mother's family in Mihaileni.
Maria Enescu, the composer's mother, was born in 1839 here on the banks of the small river Molnita, as the daughter of the priest Ioan Cosmovici and his wife Zenovia, née Vogoride. After "Jorjac's" departure to study in Vienna, her illness and life-saving operation in the Austrian capital, the separation from her husband and the dramatic attempt at retiring to the monastery Varatec, she went back to her parents' house, where she passed away in 1909.
Enescu was in Paris when he received this sad news, but he was unable to get back in time to accompany his beloved mother on her "last journey". He returned every year to Mihaileni to pay his respects according to the Greek Orthodox religious practice (in Romanian: pomenire) to his mother and grandparents, who lay togheter in the old cemetery of the village. He always spent a few days within his childhood walls, where he used to compose and happily made music with his mother and aunt. It was here that – among other great works – the Sinfonia Concertante Op. 8 for Cello and Orchestra originated while he was looking after his sick mother in November 1901.
All this must be reason enough to save this house and to turn it into a museum – one stage on a cultural-tourist route: "Enescu's way in the north of Moldova: Liveni, Cracalia, Dorohoi, Tescani, Iasi". But one needs a wellthought-out strategy as well as political will and honest interest, so that the responsible Romanian authorities from Bucharest immediately co-ordinate a conservation/renovation plan of action!
Unfortunately the most recent information is that Enescu's house from Mihaileni is used as a barn and the local owner intends to demolish it as soon as possible…