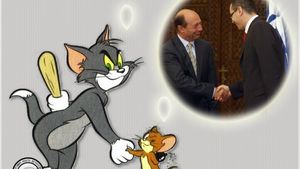 (Image source: Acuvio) And so another year comes to an end - a year that has been particularly shameful in Romania on the political front as much from the point of view of those on the inside looking out as for those on the outside looking in. Let's take a quick scoot backwards for highlights (or lowlights as the case may be)...
2012 has been colourful to say the least - filled with the kind of intrigues, accusations, gossip, slagging off, frauding, lying, insulting and scamming that would merit a low-budget soap opera for the feeble-minded. It has been LIVE and DIRECT, however, not from a lousy telenovelo with a cheap and crappy script but from the daily circus of a European country's politics in 2012. I won't even mention the ridiculous referendum and all that surrounded it back in the summer, nor the recent elections with its corrupt rigging of votes and the blatant electoral tourism that went on. Welcome back, Ilici, incidentally. A greater criminal you'll have trouble finding in Romania, but people either have terribly short memories or an abyssmal grasp of their country's history...
We have seen the position of Minister of Education in Ponta's government become a revolving door. There seems to be no one in the entire party able to take the post who hasn't frauded their CV, added courses they never attended or faked and/or copied/pasted their qualifications with the conceit of those who convinced they will never be caught for they are cleverer than everyone else. We have seen plagiarists unearthed like rats in the metrou from the very top all the way down the greasy pole - and with little or no consequences, for no one has had enough bijoux de famille to take responsibility for stripping somebody important of a fraudulent title. In any other country, the shame of such an indecent piece of cheating is so humiliating that those caught in the act resign. Not in Romania, the land of supreme arrogance so unbelievable that we westerners cannot even begin to realise its proportions. In Romania not only does Ponta have a proven-to-be-plagiarised PhD but he also has an extraordinarily high mark in Ingâmfarologie... Bravo. The government is full of imposters and frauds. But only a minority of the population seem bothered by such a disgraceful association for their country. Apparently, more than half the population (53%) has been reported to 'yearn' for communism - maybe there is a certain nostalgia for Elena Ceausescu, Humoris Causa. I jest, of course, but there's a parallel in there somewhere.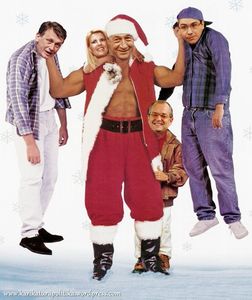 (Image source: Karikatura politika) We have seen migrations from one party to another at such an alarming rate that one can only deduce that a manifesto means nothing and self-gain is, in fact the political core of the country. But then, we knew that and anyone who didn't must be in a coma. One votes with one's pocket, with favours owed and whilst watching one's back with absolutely NO concern for the country itself. Nothing has changed in the last 23 years in that respect, but then again, old habits die hard.
We have seen demolitions galore of Romania's patrimony, more illegal than legal and more bare-faced as they go. Along with them, we have seen (tax-payers') money thrown out the window for the most outlandish projects of off-the-planet hideousy (I don't even know if that word exists but it does now), the wilful destruction of memorial houses and the constant, vile attacks made on places of culture that any other country would revere. Shame on Oprescu. Shame on the real estate mafia and shame on the so-called architects responsible for such greed-driven annihilation of a country's history fpr they have no right to use the term 'architect', a label for an admirable profession...
We have seen ICR - Romania's image abroad - hacked to death and taken over by one of the most ignorant, oafish men (also a plagiarist) seen to date who has NO culture whatsoever, looks like a butcher and has turned the country's image more than once into a laughing stock. This same man has been found to have snitched for the Securitate by the CNSAS but NOT to have been a collaborator. Once again laughable. Absurd. An insult to those who were persecuted, imprisoned and died because of scumbags like Marga. An insult to the intelligence of an entire country. An insult to memory. The CNSAS have lost credibility along with all other bodies and institutions throughout the country. Lucky Romanians have such a great sense of humour.
Today we see Becali writing legislations, Rizea labelled geostrategic (a subfield of geopolitics) and that repugnant Mazare now elevated to 'man of culture'. On the other hand, the real men of culture such as Plesu, Patapievici and Mircea Cartarescu have all grown so fed up with the insults, the smearings and being punch-bags to a band of ticalosi who fac umbra pamantului that they have resigned themselves completely for there is nothing else they can do. Distant drums of the past fill the air... They no longer wish to be part of such a stagnant pool... Cartarescu is considering leaving Romania once and for all - and frankly, who can blame him. What are the limits of abuse and humiliation one can put up with, after all. All these despicable acts of shaming a country and dragging her through the mire carried out by her politicians (note, those responsible for taking care of her) have been barf-worthy, whether played in the gardens of Ponta's USL or Basescu's ARD. Both 'clans' are, as far as I am concerned, equally useless, equally filled with mai-bai criminals who should be behind bars and equally dangerous to the country of my heart's future which, as far as I can see, is teetering on the brink of depotism. As long as I have been involved with Romania, I have never known things to be this bad, the level of society to be so pitifully low and for hope to be so desolate. Never. Last night I read an article that actually gave me insomnia - Oprescu is considering standing for President of Romania in the next elections. The scariest thing about that is that he'd probably be successful.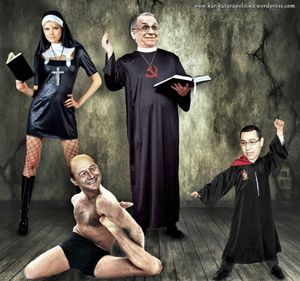 (Image source: Karikatura politika) I quote Vasile Dancu, a former PSD leader : "Chiar daca nu ne place, Parlamentul Romaniei este o Romanie in miniatura. Arata foarte bine nivelul la care am ajuns ca si cultura si civilizatie. Atata putem in acest moment si trebuie sa fim constienti ca este nevoie de un proiect de societate care sa includa si strategii pentru dezvoltarea democratiei si a culturii politice." Clearer than that, more tragic than that, one cannot get.

The end of a year and the start of another should be filled with celebration and gratitude for all we have received. We should be reflecting on our resolutions and learning from what went wrong in 2012. My Romanian heart knows this will not be happening in 90% of households throughout the country for they either do not know since they have no understanding of such things nor the consciousness that change can happen because they are used to being obedient (to the party chief, the mayor or the local priest) which is nothing new and is an element that the ruling classes always used and exploited - or they do not care because they are busy with their own survival. My Romanian heart doesn't feel grateful for anything at all that has passed this year (except for my own personal visits there with friends I love so dearly in a country I hold with enormous affection). My Romanian heart feels pained, chagrin and is tight with fear for what is to come. It has lost faith in the possibility that the population can make a decent, honest choice, for 'decent' and 'honest' exist but as a trickle these days. People vote for who bribes the best or for who stole the least. And that is considered normal. Criminals in government are also considered normal. How many times have I heard, "yes, he did such and such but him over there, wow, he was FAR worse." It is a terrifying prospect to begin a new year, seeing who holds the reins in Romania today. In 2012, Romania seems to have mentally leapt back twenty years. Or more. Materially, as THIS post says, there HAS been progress: "Was it really 10 years ago when everyone was driving a Dacia 1310 and washing clothes by hand and no one had a credit card?" But mentally, politically, it seems to be unravelling and I do not know where it will end...
Another perfect example of where we're at: Tonight on Money TV, 22h, should you have nothing better to do you can see 'ASR Prințesa Lia and Prințul Paul of România'. Again, imposters, white trash, liars, cheats... I've run out of words but you can surely find more. With maximal vulgarity and far more than her dose of chutzpah, Lia, supposedly mother at 60, has an honourary title that she does NOT deserve for she has NO link whatsoever to the Casa Regala. In addition, tomorrow is the 65th anniversary since the forced abdication of Regele Mihai in 1947. So, can anyone tell me WHY such an interview, clearly an offense to King Mihai, could possibly be taking place tonight? Nerusinare dusa la extrem...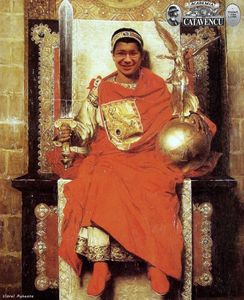 (Image source: Karikatura politika) With heavy heart and apologies for being such a humbug, I wish one and all a New Year of awareness, courage to stand up and say NO together (rather than the usual way of everyone doing their own thing leading to utter mayhem, disorganisation and no effectiveness whatsoever) and greater strength of character because we're going to need it. May it be a year of inspiration and indignance which propulses us once and for all to STOP things getting any worse.
2013 is the Year of the Snake in Chinese astrology, which will apparently bring unexpected changes and instability. According to THIS site, one must plan ahead well in advance and evaluate carefully before taking any action. Care and caution to be applied at every turn, but 'care' and 'caution' are not words suited to Romanian politicians...
I wish Romania, beloved country of my heart, a miracle. For that is what she needs and nothing else will do...