(Image source) The pix on FB have become so hilarious, the jokes so delicious, the FB page (with 2,091 appreciative 'likes' as I write) set up dedicated to Marga and his bloop so funny that I can't resist writing a post on the ICR director's latest strategy to promote Romania's new cultural values through science and technology. What's wrong with that, I hear you say. Romania deserves to be recognised for its science and technology as much as for its artistic successes. Indeed. But did Marga suggest Henri Coanda's invention of the first jet engine for example, or Timisoara's status as the first city to introduce the horse-drawn trolleybus and public lighting? Nope. Unfortunately, he did not.
It was the radiator, the lowly radiator, that Marga picked on. It is, he said, a Romanian invention which should be promoted by the ICR, along with others (he mentioned cosmic flights for example - seems like he's on one of his own). Brilliant. With a director like that, the Romanian Cultural Institute's future looks veeeeeeeeery promising.
On Realitatea TV, Marga stated that promoting the radiator would be part of a new direction for the institute. Yup. You can say that again. Even HR Patapievici hadn't come up with such a splendid idea.
"The institutes have been focused on film, music and arts and plastics," he explained, "but there are hundreds of other things which were invented in Romania. I'll give you an example: the radiator was invented in Transylvania. How many of you knew that?" How many, indeed...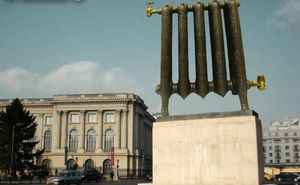 (Image source) Films? Books? Expositions? Music? Nuuuuuuuuuu! Vax! Mofturi! Prostii! Subiectivisme de doi lei! Marga has come up with a much better cultural symbol for Romania. And in doing so, he has given the whole country a lovely, large, blunt instrument with which to bash him. And there's a stampede.
Here's just a handful of the hilarious responses to Marga's declaration (sorry to non-Romanian readers):
"Mo Yan, câștigătorul premiului Nobel pentru literatura, își găsește inspirația lângă calorifer"
"Ungarii ne-au luat-o înainte încă de anul trecut. Nici un eveniment cultural fără calorifer!"
"Caloriferul meu e tare,
Iarna-mpreună o vom trece,
Eu, cu temperatură mare,
Iar el, nemuritor şi rece."
"ICR = Institutul Caloriferului Român"
"Poate ne scapă nouă ceva la povestea calorifer. O fi ca la piramida nevoilor (Maslow). Îți tb întâi calorifer ca să poți ajunge la cultură"
(Image source) As Minister of Education, Marga was probably one of the most lamentable specimens to ever hold the position (and that's really saying something). As director of ICR, he is even more inept, if that could be deemed possible. Single-handedly, with his trusty steed the radiator, Marga is systematically undoing all the good that ICR has established over the last few years. Joking apart, it's a tragedy...
Even without the radiator idiocy, Marga has been in the firing line for staunch criticism. Most recently, it has come from the Goethe, Cultural Italian, Swiss, Egyptian, Taiwanese and Canadian institutes in Paris over his decision to 'let go' ICR Paris's director, Katia Daniela and the assistant director, Simona Radulescu. Both are admired in Paris for the work they have done through ICR to promote Romanian culture in the French capital. Thanks to them, Romania has been invited to participate at the Salon des Livres (Porte de Versailles), France's largest editorial event, in March 2013. You can read the letter addressed to Marga HERE. It surely isn't the first and it definitely won't be the last.
Incidentally, the radiator was invented in 1855 by Franz SanGalli, a Russian businessman of Polish origin living in St. Petersburg from 1855 to 1857. He was the first to produce a system of central heating and patented his invention in Germany and the US. No mention of Romania, much less of Transylvania...
A parting shot from THIS blog : "Daca nici acum n-aveti "notiuni de cultura elementara", mai bine mergeti la alt film. ICR ecranizeaza "Al 5-lea element".
For both the serious and the absurd, see more here: Ziare.com, Bucharest Life, Gandul, Hotnews, Kamikaze, Revista 22, Romania Libera and Catavencii.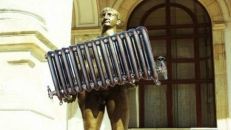 (Image source)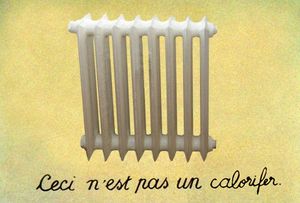 (Image source)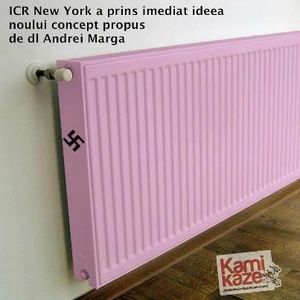 (Image source)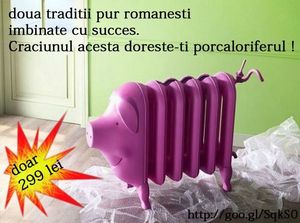 (Image source)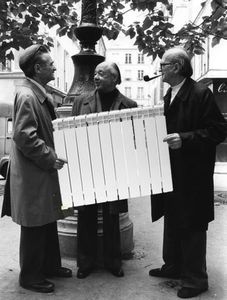 (Eliade, Cioran, Ionesco si caloriferul: source)
(Image source)