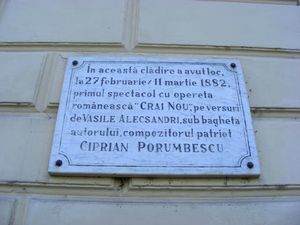 (Photo source) When I dropped by FB this morning to see what was new in the country of my heart (along with the rest of the world), the first thing I fell upon was a photo (see left) of a plaque from Colegiului Andrei Saguna, Brasov, marking the very spot of the first ever performance of Ciprian Porumbescu's operetta, 'Crai nou' (New Moon). Off I went to find it on youtube. I recognised it at once, not because I had heard it in concert, oh no... but because those opening bars of the first aria are the very same as those played on a xylophone before announcements at Ploiesti train station! What a wonderful way to share culture!
Should you wish to read more about Romania's beloved composer and conductor, Ciprian Porumbescu (1853-1883), please see HERE.
'Crai nou' was composed in 1882, a year before Porumbescu's untimely death at the age of twenty-nine. By 1900 it had become the most popular of Romanian works in its genre. For political reasons, Porumbescu was confined to a specific district becoming a leading musical organiser and musician of the area. He conducted, composed and helped to establish a society for students. Subsequently, his music became the rallying cry for many young Romanians. Popular music was Porumbescu's inspiration. He composed most of his works during his later years whilst in service at St. Nicholas' Church in Brasov.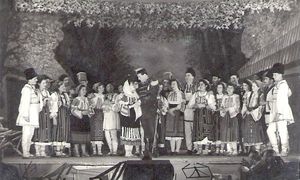 (Photo source: A performance of Crai Nou, 1957) As a student at the Vienna Music Conservatory, Porumbescu was very drawn to the operettas of Strauss, Suppé, Offenbach along with a myriad of others. His supreme goal was to replace the 'frivolity of subject-matter' (says Wikipedia) in the fashionable operettas with a plot reviving old Romanian traditions. 'Crai nou' incorporated a nationally-composed libretto with folk music, in which the new-born moon will fulfill every lover's dream of happiness (collected and published by Vasile Alecsandri). It was Romania's very first operetta.
Research reveals that along with the premier of the operetta and the recognition of Ciprian Porumbescu, the self-acclaimed 'people's composer', two historically significant advancements were made making 'Crai nou' even more important than I could have imagined: it lead to the initiation of Romanian folk music and national traditions into Western culture and to the continued expansion of national music schools which provided the opportunity for Romanian students to regionally develop into "cultured" musicians. Ciprian Porumbescu deserves a great deal of thanks, then - and not just for his glorious music.
(Image source) This work really does exude a world that seems practically lost to today's Romania. Please click on each link below for extracts, making up the operetta in its entirety - then thank Ciprian Porumbescu, lose yourself in rêverie... and enjoy! Happy Sunday!
3 - Corul fetelor si flacailor
4 - Scena Leonas-Anica: Anico, Anico
5 - Scena Bujor-Dochita-Ispravnicul
7 - Duetul Ispravnicul-Dochita
9 - Scena Anica-Dochita-Bujor-Leonas-Ispravnicul
11 - Scena Ispravnicul-Corbul si Corul final