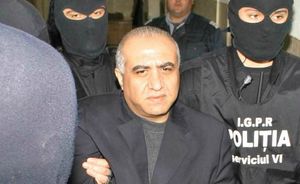 (Photo source) I have just read the news of Omar Hayssam's two year jail sentence for skipping the country in addition to 20 years for terrorism, says Ziare.com. I wonder how many he'll actually do?
For those of you unfamiliar with this story, I'll rewind a little.
Hayssam arrived in Bucharest as a student at the beginning of the 1980s, graduating from the Railroads, Roads and Bridges Faculty of the Bucharest Construction Institute, according to Wikipedia. He married Adela, had seven children, and became a Romanian citizen post-'89. Hayssam continued doing business from then on, which resulted in 'problems' with the Financial Guard.
Hayssam, a Syrian businessman and close (veeeeery close, some say) to Ion Iliescu, was a member of PSD. This rather 'successful' (shall we say, for want of a better word) businessman with friends in extremely high places was rumbled on various financial felonies: cigarette smuggling, dabbling in dodgy credit deals (cars, for example) and the exportation of false documents (Volvo and Volvo spare parts). But he could do even better than that. He masterminded the kidnapping of three Romanian journalists in Iraq in 2005 to get himself out of a spot of bother.
Back to Wiki again for more on the kidnappings: Prima TV reporter Marie Jeanne Ion, cameraman Sorin Mişcoci, and Ovidiu Ohanesian, a România Liberă journalist, were abducted on March 28, 2005 in Baghdad, where they were covering the Iraq War. On April 1, the kidnappers transferred them to the Mouadh Ibn Jabal Brigade, who locked them in the same cell where Florence Aubenas, Hussein Hanoun al-Saadi, and five other hostages were being held. The kidnappers demanded the retreat of the 860 Romanian troops in Iraq in return for the journalists' safe release. They were finally rescued after 55 days in captivity.
Arrested for terrorism on April 5th, 2005, prosecutors charged Hayssam and Mohammad Munaf, the journalists' Iraqi guide and Hayssam's business partner, with masterminding the abduction to help Hayssam escape from organised crime charges. According to the prosecutors, Hayssam organised the kidnapping because he was being investigated for several cases of financial fraud, and was looking for a way to leave the country with a large bag of swag. His businesses at that time included mineral water bottling, shops, a car dealership and manufacturing, etc, etc. Romanian media speculated that Hayssam had hoped prosecutors would drop the organised crime charges when he presented himself as a go-between. He would then unblock his bank accounts, which had been frozen as part of the financial investigation, pay a fictitious ransom, and become a "national hero" when the hostages were released. Very theatrical (and reminds me a bit of the whole silly Nastase mis en scène. This however was far more serious and far more dangerous).
According to THIS site, Hayssam also had an interest in winning an auction for 25,000 tons of sugar in Iraq. He offered to sponsor the journalists and help them meet several Iraqi officials with the aim that they would give him some positive lobbying. His plans went a little pear-shaped, however. Once in Iraq, Mohammed Munaf was not able to control the group of kidnappers, and from the testimony of the Romanian journalists, there were times when Munaf himself thought he would be killed. He was either a very good actor or his understanding with the group of kidnappers had fallen apart.
Hayssam received 'precious support' from his good friends in high places during the trial. The next (and rather unsurprising) bit of the story will sound familiar: Doctors suddenly declared Hayssam seriously ill with colonic cancer and in need of urgent surgery. So, the poor, sick patient was allowed to leave prison in April 2006 for 'humain' reasons, so he could recover from his operation at home. The Alliance in power at the time reportedly declared Hayssam's liberation "a great success for Romanian politics" and "proof to our partners in NATO that we can solve our problems responsibly". Um... no. Profiting from this window of opportunity, Hayssam did a bunk, leaving Romania in June 2006 aboard a freight boat transporting sheep to the Middle East. Clearly, his good friends in high places had been working very hard indeed. Freedom was obviously good for him, as, miraculously, his cancer vanished as quickly as it had appeared. His escape triggered the resignation of the chief prosecutor and the heads of Romanian Secret Services in July 2006.
In Iraq, more than 90 people were arrested for connections to the kidnapping; some were Munaf's relatives and others were part of a specialised kidnapping network....
In 2006, Marie Jeanne Ion, Sorin Mişcoci, and Ovidiu Ohanesian filed a civil suit against Omar Hayssam, each one demanding 2 million euros in damages for trauma caused in captivity; on June 13, 2007, the Bucharest Appeals Court ruled in favour of the plaintiffs.
Power was changing hands in Romania, meanwhile, and after long negotiations with Syria where Hayssam was unearthed, he was finally extradicted back to Romania for trial.
Today the sentencing was heard - and he got two years for skipping the country in addition to his twenty for terrorism decided in abstentia. However, only Ziare.com mentions the twenty years. Every other piece of media speaks only of the two, so I do not know what to think. Two years or twenty-two? If he does more than 8 months of the whole lot, though, I'll eat my hat. Apart from anything else, Hayssam's lawyer this time round, I'm told, was a securist from Oradea, a certain Ioan Cigan and his wife just happens to be vice-president of Oradea's Court of Appeal. How cosy. Isn't it lovely to have extremely good friends in high places. Isn't it, just!
For more in Romanian, please see here: Stelian Tanase, B1 TV, Ziare.com, Tumblr and Adevarul.