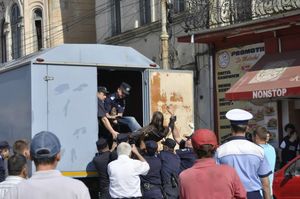 (Photo source: A.Oglinda) I'm so appalled I can barely write, though I suppose one should have become used to such scenes by now. 25 people were arrested and bundled into a police van (more like a lorry) near Hala Matache in Bucharest today. Why? Because they dared stage a peaceful protest without authorisation against the imminent destruction of the monument which Oprescu says will simply be 'moved' 37 metres along the road, although we know full well that such an action will be the end of Hala Matache once and for all...
Many of those arrested were reported by Active Watch to have belonged to the NGOs Salvați Bucureștiul, Miliția Spirituală, ANBCC, SDD, Ce-RE, ProDoMo and the aforementioned ActiveWatch. Nicusor Dan, president of Salvati Bucurestiul and candidate for Mayor of Bucharest in the last local elections and Doina Vella, vice-president of Association ProDoMo were amongst them. See video HERE.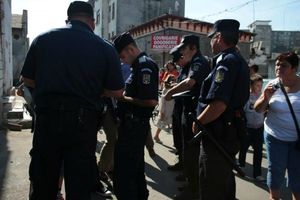 (Photo source: Active Watch) Police steered demonstrators away from the old covered market-place that was once the core of a community but stands today in a state of devastation. Such behaviour by so-called law enforcement can only underline the lack of Oprescu's verticality still further (as if anyone needed any more proof). Up until now, he and his minions have done nothing but spin lie after lie with regards the destiny of Hala Matache. For more on that see HERE. He has turned a blind eye to the looting and thieving of Hala Matache's structure over the last year or so, done nothing whatsoever to increase its protection from thieves and given misleading (or blatantly false) statements from the very word go. One must not forget that the area was demolished by Oprescu's bulldozers to make way for his road (a project dating back to Ceausescu, so really, he's just continuing where another dictator left off) completely illegally and fought in court (and won) by Nicusor Dan. Today, the area of Berzei/Buzesti resembles Kabul on a bad day - and yet there are idiots who blame Nicusor Dan, rather than Sorin Oprescu, for its state. We obviously don't read the same press releases.
Hala Matache may well be a wreck today. Indeed, there may be nothing left to save, thanks to Oprescu, so intent on destroying it to the bitter end. But that really isn't the point. The point is that if it is moved, Oprescu gets what he wants. Again. He has removed yet another historic monument, yet another piece of Romania's patrimony and yet another memory from the map. If it's in the way, bulldoze it, bludgeon it, destroy it. Legally or illegally (mostly the latter, rarely the former), slash, slash, slash. He is slicing his path through Bucharest as easily as a cardiac surgeon cuts through flesh. And he has done far more hacking at Romania's capital than he ever did as a so-called surgeon - and with far greater precision... Hala Matache is far more than just a wreck. It has become a symbol of all that Oprescu and the whole click of real estate mafia have destroyed in Bucharest. Those who wonder why anyone is bothering to protest for a building that is on its last legs are simply not seeing Matache for what it has come to represent.
(Photo source: Active Watch) The police arrived shortly after the peaceful demonstration began, determined to clear protesters from the area. Those arrested were told they were protesting illegally. Maybe, but Hala Matache has been neglected, practically annihilated and is about to be moved illegally, too. No one but these protesters have lifted a finger to stop it. For shame. Those wearing vests stating they were 'negociator' clearly weren't there protesting against the destruction of the monument... there doesn't seem to have been any negotiating going on at all. One-sided. Unjust. Negotiating? Nope. Bullying? Yup. I look at the photos circulating on FB and see many faces of people I know - those who are constantly and bravely fighting for justice, battling against a tsunami to save their patrimony. Part of that famous, tiny, admirable 10%. To see them again and again out there in the streets at flashmobs or demos fills me with utter admiration. But today, along with that admiration is an icy cold hand that grips my heart, for that tsunami of destruction will have what it wants whether the courts rule against it or not. Oprescu and the real estate mafia seem unstoppable. The 10% keep trying, but the day Bucharesteans voted in Oprescu as their mayor once again was one of the very saddest since 1989... They were not only voting for a mayor of supreme corruption, but one hell-bent on wiping their capital off the face of the earth. The 10%, tenacious though they may be, continue to stand against the tide. They are but tiny voices in a sea of indifference, ignorance and/or greed.
It comes to something when a small group of people such as these are intimidated by police in such a pugnacious manner and at an overpowering ratio of 5:1, I've been told. They weren't yelling (though I understand the local residents were), weren't throwing stones, weren't behaving in any manner one can term as threatening to law and order except that they were there. Fine, they didn't have permission to demonstrate and yes they had posters and signs, but arrests? Shoved into that lorry which doesn't look like it was meant for people at all... Democracy? Freedom of speech? Huh! Looks like both of those well and truly died in Bucharest today...
Update: It seems that those arrested were released quite quickly and got away with a warning. I have spoken to several people who were there yesterday and ended up in the police van. They are angry, indignant and a couple were very distressed. Who can blame them. The police were acting, one can only guess, on Oprescu's orders. Bucharest has such an open-minded, communicative mayor who's all for freedom of expression. Except of course, i'm talking about his own freedom of expression and no one elses.
I've been told that it is, in fact, impossible to have authorisation to protest in this area (just as it is in Bd Uranus). NGOs such as ActiveWatch, Salvați Bucurestiul, Pro-Domo and many others have been demanding permission for the last two years and have always been refused for a myriad of unbelievable reasons. Therefore, the demonstrations have become 'spontaneous' - how else to get out there and stand up for an end to the real estate mafia, the constant demolitions and the long-term abuse? Forbidden to protest? Doesn't sound like democracy to me...
What occurred yesterday at Piata Matache is outrageously shameful. And it should shock anyone who sees it. If it doesn't, then whoever remains unmoved has a problem. I hope the videos and photos of the whole happening will be shared and distributed far and wide for all the world to see. Intimidation. What was the point of 1989 if this is the result (and there are so many others) 23 years on? Makes you wonder...
Please see more on yesterday's demonstration here:
Articles and TV: Hotnews, Cronica Romana, Realitatea, Romania Libera, Antena.ro, TVR Info
Blogs: Area28B, ActiveWatch,
Videos: THIS is an excellent one by Vlad Petri that should be distributed far and wide. The mentality of the police and (even more shocking in my opinion) that of the local residents who just DON'T get the point, begs to be seriously questioned. See also THIS one. And ANOTHER.