15 juillet 2012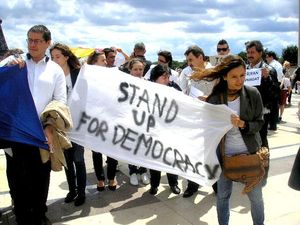 Approximately fifty members of the Romanian diaspora in Paris braved the rain and wind to call for democracy in Romania once again at Place du Trocadéro this afternoon.
Slogans visible today:
"You have the right to remain silent, but we don't recommend it"
"Democracy not Oligarchy!"
"Democracy not Pontacracy!"
"Save ICR/Sauvez ICR"
"In mourning for Romania's Democracy"
"Please respect: the Constitutional Court, the Rule of Law, State Institutions!"

"On veut un gouvernement qui nous rend fiers, pas un qui nous fait honte!"
"La justice indépendante"

"Incetati intimidarea justitiei"
Bravo to the organisers and to all who turned out to express their concern and indignance.

The slogans speak for themselves - no further comment needed.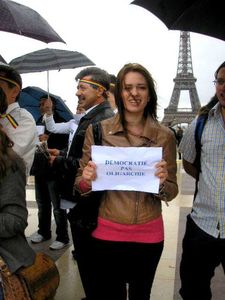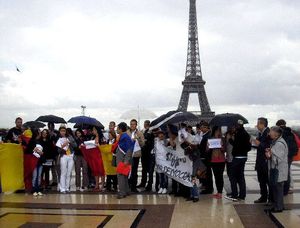 A third protest is planned for next Sunday (22nd July) at 14h. Please see HERE for further info.

Commentaires sur Protestul Demnitatii - Place du Trocadéro, Paris