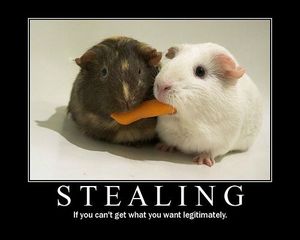 Update, 30th June: (Image source) A comment left by Anda under yesterday's post (thank you!) reads that the panel who ignored Liviu Pop (the CNATCDU) was not the one in charge of the task of analysing the thesis (University of Bucharest's ethics committee), but one formed based upon political criteria by the former minister of education, a panel that has never ever analysed a PhD thesis before because it would have meant to act beyond its competences.
Sam very kindly came to my rescue and explained the following:
"CNATCDU is the organization that met Friday morning at 9am. This is a panel that normally meets once a month anyway but sometimes they have "autosesizare", which means they schedule a meeting for a particular specific reason. Two weeks ago on CNATCDU's website they said "hey 29 June we're meeting to discuss Ponta's thesis".

9am they meet, 13 of 20 members are present. Rule is 2/3rds must be present for a quorum. They vote, okay Ponta is guilty of plagiarism, etc, etc. Shortly later, Liviu Pop (interim Education minister) first says "there wasn't a quorum as they needed 14 so vote isn't valid". 2/3rds of 20 is 12.67 so that effort fails.

11am Pop gets published in Monitorul Oficial a new rule which says now there are 45 members of CNATCDU instead of 20. This means that Pop can now add another 25 "friends" in the CNATCDU so he can make sure all future cases are stacked with PSD allies.

Next move was to say well the CNATCDU isn't the one who should be judging this but the Univ. of Bucharest's ethics committee

Then PSD got several of its allies, particularly the rector of Babes Bolyai here in Cluj, to say no, CNATCDU can't decide on this until a "panel of specialists" first weighs in and then passes it on to the right committee. Pop says CNATCDU's decision is "null and void" for all reasons above.
The "problem" so to speak is that there is no one single track (according to the law) to determine whether a diploma, doctoral thesis, etc, has been plagiarized or there's some cheating, etc. There are several panels, CNATCDU (the main one), CNCS (council of university ethics and management) and the CNE (council of ethics) of the CSDTI (research, development, technology and innovation).

In other words, if you stole someone's research, probably CSDTI's ethics panel would convict you, if you embezzled some university funds probably CNCS but if you plagiarized a thesis, CNATCDU. The "problem" here for Ponta is that CNATCDU was created by former PDL education minister Funerariu and therefore is full of his political "enemies", at least in his mind.
In addition, the CNATDCU chief is supposedly "Basescu's boy" so there u go, one more example of "its all politics to blame" angle.

So on every level, whether this CNATCDU thing or the CCA (Constitutional Court) or ICCJ (court that convicted Nastase), the judges or people doing the judging were of course picked somewhere along the line by someone in the government so they all have a political angle. Don't like their decision? Just claim that it's about politics and not the laws/rules."
He also sent me the link to THIS article from Hotnews for clarification. Thank you, Sam. That clears that up.
Enfin bref, although technically the CNATDCU seems to have lost its legal authority through the violent and very desperate intervention of Liviu Pop, the verdict is clear and everyone knows it: Mr. Victor Ponta, the Prime Minister of Romania, is guilty of blatant plagiarism, with 87 pages copied word for word. No one can argue with that.
This from Hotnews written yesterday afternoon with a little more info for us on how the dissolution could have possibly happened, for, let's face it, it is mind-blowing:
'Sources told HotNews.ro and other media on Friday afternoon that the body of scholars studying the charges, CNATDCU, have found that Ponta was indeed involved in an act of plagiarism. The body had convened in the morning to study the charges.
But the CNATDCU council in its latest form had just been dismissed through a decision late on Thursday by interim Education minister Liviu Pop. The minister's decision was published by the Official Gazette first thing in the morning on Friday.

It was one of Pop's last decisions, as today was his last day in office. And it could be published hastily in the Official Gazette thanks to a Governmental decision on Wednesday, which moved the Gazette from the authority of the Chamber of Deputies to that of the Government.

It was thus possible that the changes to the CNATDCU structure - expanding it from 20 to 45 members - be applied before CNATDCU in its latest form could make an official decision regarding Ponta's doctoral thesis.'
These sweeping actions of changing laws and legislations, riding rough-shod over procedures, leap frogging Parliament, throwing obstacles into the course of justice and dissolving commissions and deciding bodies which, as Cristian Tudor Popescu said, are reminiscent of the coming to power of the Nazi regime in Germany 1933, should be of great concern not only for the citizens of Romania, but for the entire EU, to which Romania now belongs. Hungary now has its own dictator and the country is right next door. We do not want another. This must STOP.
Should you wish to sign a petition signed by the members of CNATDCU to contest Pop's actions and their dissolution, please find it HERE and check your spam box for the response mail with a link you must click on in order for your signature to count. It will be well worth 2 minutes of your time.
________________________________________________________
29th June: So, it's official. Kinda. News just in that after analysing Ponta's thesis page by page, 85 out of the 307 were lifted. Marius Andruh, head of the National Council for Certification of University Titles, Diplomas and Certificates said it was 'copy-paste plagiarism'. Take a look HERE and see for yourself. You don't even need to understand Romanian for the similarities in text are flagrant.
Ponta told journalists yesterday that if the accusations of plagiarism were proven to be just, he would resign. Mr Ponta, the door is over there... adieu - and close it on your way out.
Except that he ain't going, I'm sure. According to the press, the interim minister of education (who has questionable rights to take such decisions since he is just that - an interim minister until elections in November) Liviu Pop, whose mandate expires tonight at midnight incidentally, dissolved the panel before the decision was officially announced, stating that he wanted more new members and to increase their number from 21 to 45. The panel completely ignored him, refused to dissolve and continued anyway. Pop declared the ruling as politically motivated and furthermore invalid, because eight of the 21 members were absent, thus, no quorum. Jeeeeeez.....
Mr Ponta, meanwhile, is still on his all-important (and unauthorised) mission in Brussels that has caused so much trouble these last few days and will not give a statement until he has returned to Bucharest.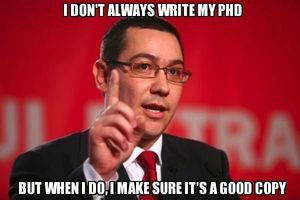 (Photo source) According to The Romanian News blog, he accused presidential adviser Daniel Funeriu of going to Munich, where he met with representatives of Nature magazine to feed them the plagiarism story, protecting himself as an anonymous source. He went on to say that he appreciated that the Romanian press had not wanted to get involved in such a claim (I bet!), forcing Funeriu to take his story abroad... In the end though, it was in Funeriu's favour. Nature is an internationally read magazine and written in English. The news travelled much faster than had it remained in Romanian newspapers, written only in Romanian and thus read only by Romanians.... Additional points to Funeriu.
The Economist published THIS article today (re: the scandals of both Brussels and the plagiarism) that merits a read and plenty of cringing with embarrassment, but even more deserving are some of the comments that follow it. Here are a couple of examples:
HbLCqvLkCF says: "As a Romanian citizen I want to add to this excellent article some information that you might not know: Mr. Ponta`s government already took care to control various independent institutions. He now controls the official gazette of Romania, in which all the promulgated bills, presidential decrees, governmental ordinances and other major legal acts are published. Also took care to control the institution that has the right to decide if he really made a plagiarism case, the Romanian Cultural Institute, responsible for the romanian culture in other countries, the National Television. They are defying all democratic rules, trying to control every public institution."
Camil Golub comments: "This isn't just a political war between the president and the prime minister. There are actual charges of plagiarism against the prime minister, supported by overwhelming evidence. The Economist should not forget what is at stake in this plagiarism scandal: in a country where academic cheating and plagiarism are endemic, it is crucial that the prime minister, once found guilty of plagiarism, be forced to resign, lest such practices become even more deeply entrenched in society.
The following article is from Associated Press and was published in Yahoo News amongst a hoard of other news sites this morning. As you will see, it sheds a very unpleasant light on Romania - a country where 'cheating starts early' and 'teachers accept bribes in exchange for turning a blind eye'... not very nice to have that read by the whole world, is it? One would deem from this that if the Prime Minister (let's not even mention the country's General Prosecutor, Codruta Kovesi, whose thesis was also found to be plagiarised but no one seems bothered particularly) cheats, then what hope is there for the rest of the population? One can argue that this isn't true - so argue away. It is doing the rounds on every news site I am clicking on whether one agrees or not. And who will the international community believe? Associated Press and Reuters, of course. This is a serious national embarrassment that does nothing to improve Romania's reputation abroad. It doesn't help either that Ponta's thesis director was none other than Adrian Nastase who has just started a two year jail sentence in Rahova on corruption charges. The two facts should not be linked, but unfortunately, one cannot help but make the connection. All in all, a pretty bad day for Romania in terms of international opinion...
BUCHAREST, Romania (AP) — An academic panel ruled Friday that Romanian Prime Minister Victor Ponta plagiarized large sections of his doctoral thesis and called for him to be stripped of his Ph.D. The announcement adds to the political tensions in this Eastern European nation, where the president and prime minister are jockeying for power.
The 39-year-old Ponta had earlier said he would resign if found guilty of plagiarism, but he issued no immediate response to the ruling. Just hours before the decision was announced, the education minister had dissolved the panel, saying he wanted it to have more members.
But the panel members apparently ignored the order to disband. Marius Andruh, who heads the 21-member National Council for Attesting Titles, Diplomas and University Certificates, said it had determined 85 pages of the 307 pages it assessed had been copied without proper attribution.
The subject of Ponta's thesis was the International Criminal Court. The prime minister has conceded that he credited sources in the bibliography but not always in footnotes. Ponta also insists the charges are politically orchestrated by his rival, Romanian President Traian Basescu.
Education Minister Liviu Pop, a Ponta ally, dissolved the council earlier Friday, saying he wanted the panel to have a larger membership. He claimed that the ruling issued later was politically motivated and added that it was not valid, because eight of the 21 members were absent.
Ponta was attending a European Union summit in Brussels on Friday. He is the latest high-profile European politician to be embroiled in accusations about plagiarism. Former Hungarian President Pal Schmitt and ex-German Defense Minister Karl-Theodor zu Guttenberg both resigned after facing similar claims.
Plagiarism and other forms of academic dishonesty are endemic in Romania, a country of 19 million.
After communism fell in 1989 and Romania pursued free market reforms, a large number of private universities and institutes opened, offering what some say were spurious academic qualifications. Cheating starts early in Romania and is widely acknowledged as common in schools. Teachers are known to accept bribes in exchange for turning a blind eye to students who copy during exams.
There have been widespread reports about cheating in university finals. Medical colleges have been accused of selling exam papers and questions in advance to students, eroding trust in doctors.
_________________________________________________________________
More news in tonight from Gandul: Ponta has said following the verdict of plagiarism that there's no question of his standing down. He considers that the Council's decision was both political and illegal, and an act of Basescu's revenge for his going to Brussels unauthorised. He went on to state that he had respected all the rules and that he would not renounce the job he had begun because of this 'attack'.
Um...no. How about this: The verdict is that almost one third of the thesis (85/307) was lifted with no reference or credit given to the original authors. It looks pretty undeniable. Citing work used in the bibliography, as every student knows at this level, is not the way to write a thesis. Copying and pasting other authors' work without citing source is an act of flagrant theft - known in academia as plagiarism. One only has to look at the documents for proof - see HERE. It was either plagiarised or it wasn't. How can that be politically motivated. Basescu did not get hold of the document and rewrite it, did he? No. So...?