(Image source) Unbelievable... the latest news on Adrian Nastase and the whole dramatic telenovelo engineered to keep him out of prison for sure, is that he was operated on for wounds inflicted when he allegedly tried to kill himself and is currently in intensive care.
They obviously think we are morons, for reports also say that the bullet passed through his neck, narrowly missing a major artery and hitting the larynx but with no damage caused to his vocal chords... Considering that when he was taken to hospital in the ambulance complete with his neatly tied $395 Burberry scarf, there was no blood, no IV and no oxygen mask, I'd say (as an ex-nurse), that this is medically impossible... Bearing in mind also that the larynx IS the voice box or vocal chords and if anything such as a bullet had hit it he'd be voiceless, this was all made and produced in Fairy Land. Had all this really occurred, Mr Nastase would have been in great pain. The photos of yesterday, however, show a serene, relaxed Mr Nastase on his way to hospital. It's so insulting to imagine that people will gob such a ridiculous story where things just don't add up - but some do.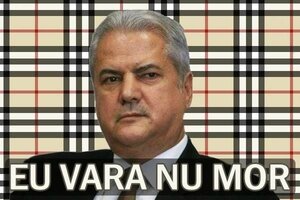 (Image caption a para-phrase on the hit Vara Nu Dorm by Connect-R - mersi Mara!) It has since come to light that Ioan Rus, the Minister of Interior, called Nastase last night to warn him that he was about to be taken to the clink... and I guess then was the moment for the script to be put into action.... Question: Where else have you ever heard of a minister of the interior warning a criminal he was going to be arrested at any moment? This is also how the lawyer, Covaci, was alerted so promptly. E ciudat, Romanian politics.
Mr Nastase was, of course, visited during the time he was agonising lyrical with his self-inflicted gunshot wound. The Economist reports: "His first visitor was Victor Ponta, the prime minister, who is a close political ally. "I am wondering if Mr Basescu is happy now and if he can sleep well tonight," Mr Ponta said at the end of his visit referring to Traian Basescu, the president and a longstanding political foe of Mr Năstase."
Only in Romania would a prime minister speak like that of his president, even if they are in opposing parties and even if they are known arch-enemies... no decency, no elegance and absolutely zilch integrity... probably Mr Basescu wouldn't have behaved much better so I'm not going to take sides, but still. Pretty low mud-slinging there while the press are mopping it up with effervescent gusto (and a lot of ad lib)...
"Mr Năstase and Mr Basescu," continues The Economist, "have been attacking each other since 2004, when the two ran for the presidency. Mr Năstase was defeated by Mr Basescu. Subsequently he has said many times that he is the victim of political harassment and accused Mr Basescu of being behind the trial." For sure, Basescu is behind getting this crook charged and into jail - exactly where he should be. However, it is Ponta who is behind this circus of vai de mine, nu mai pot and lasa-ma draga... (there is an aoleo in there too, but I didn't want to overdo it)
The milking of this Oscar-winning performance has been overwhelming. Crin Antonescu said that last night was a very sad one in the history of Romania...what???? I don't know when Crin became such a national disgrace to PNL, but that's really the icing on the cake... Nastase is a criminal, an embezzler, a crook. he deserves to go to jail. Punct. Sad night for the history of Romania my eye.
(Image source by Revista Kamikaze) If there are still people who believe all this tripe, then more fool them. Someone told me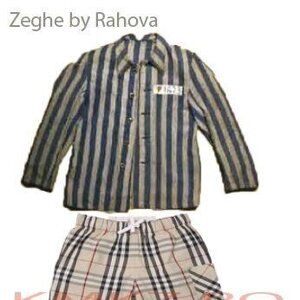 it was a bad script from Cotroceni. Nope. Cotroceni is trying to put this man behind bars. This is a mis en scene by Ponta and his cronies. That's all it is - and it isn't a bad script. It has been cleverly orchestrated right down to the policeman just happening to be there to save Nastase when he bodged up his suicide attempt (consider how a right-handed man would try to shoot himself in the left side of his head - believable? Nope. Possible? Only for a contortionist.) to the ambulance team waiting for the journalists to show up before taking him (looking very well I must say) to ITU at Floreasca for a surgery that didn't happen for wounds that don't exist and a larynx that is bine mersi. Check the pix from yesterday's blog again.
As for Ioan Lascar, the doctor 'treating' Nastase (and I say that most loosely), he is a specialist in cosmetic surgery (who just happened to be on call that night), aaaaaaaaand an honorary counsellor of the Ponta government. Cosy.
(Image sources) Lascar released several statementson the bullet's trajectile. They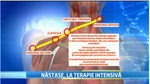 were only interesting because the statements were different each time. Perhaps the good doctor was so sure of the passion and hysteria of anti-Basescu supporters wailing the plight of poor Nastase that they wouldn't notice. He was right. The absurd obsession this has caused is hallucinating. Nastase's (and PSD's) supporters are convinced he tried to do the deed, that he has been humiliated, that we are so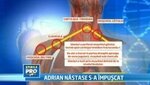 cruel to imagine this could all be a big fake when he is suffering so... oh, gimme a bucket. I have had virtual 'friends' remove me from their FB lists because I don't believe there is any truth in any of this, but they obviously do. Imagine that. Imagine how very seriously many are taking this and are incapable of seeing it for the pantomime it is. And worse still, they hate you when you DARE have a different opinion from their's. "My way or the highway." A civil discussion is out of the question. Sad.
Another very interesting point I just read on a comment by Giuseppe HERE which really gives pause for thought: "I'd like to add another strange bit: the ambulance that the Interior Minister himself sent to Adrian Năstase's home was one from a privately owned ambulance service of a company called BGS. So the Interior Minsiter doesn't send an ambulance belonging to any state emergency service… no, he sends a private one!
BGS, probably the largest Romanian private company that deals in all manner of safety and protection services, is well know for its shady links with The Powers That Be. For example: Marian Oprişan, a well known PSD local baron, was accused of signing a 700.000 Euro contract with BGS for the protection of the Vrancea County Council building." Hmmm...
The Economist says, "Mr Năstase is not without merits, He made an important contribution to Romania's ascension to NATO and the European Union during his time as a prime minister, from 2000 to 2004. Many consider him to be one of the best prime ministers Romania had since Ceauşescu's communist system collapsed. He is an appreciated intellectual. His arrogance and the corruption scandals were Mr Năstase's downfall. He gradually lost his once-considerable popularity." One of the best prime ministers? Really? Not according to THIS article. He was known as 'atotputernicul' (the all-powerful) after all - judge for yourselves. Please see THIS article too. As for 'an appreciated intellectual'? Oh come on, purleeeeez... Isn't this circus rather beneath a man who was once considered 'all-powerful'?
Le comble... Before he apparently tried to shoot himself (and missed, vai de capu' lui - he was an experienced hunter - can't have been a very good one if he missed his own head), Nastase apparently left three suicide notes... guess what? His son is going to take up position in front of the TV channels to read one of them tomorrow as it's his father's birthday. He even reads Paunescu's 'Colind pentru tata bolnav', which stands to reason - birds and feathers.... Can it get any more pathetic?
[23rd June note: Andrei Nastase did NOT stand on the steps and lament as his father wouldn't allow it. However, a completely illegal and unlicensed demo took place yesterday in front of Floreasca Hospital - a group of daft well-wishers got together to sing Happy Birthday to him and shout support and encouragement. Normally when there is a gathering without official permission, the police get pretty nasty and move everyone on sharpish. Last night, nimic. No police at all. That should tell you who's in charge of Romania today.]
Apparently, Nastase is going to take his case to the EU Court of Human Rights. Good luck to him. 'It is not only the corruption case Mr Năstase has been defending in recent months', says The Economist once again. 'Earlier this year, he got a three-year suspended prison sentence after he was convicted of blackmail while in office. In another case, he was accused of bribing the former head of Romania's anti-money-laundering agency, but prosecutors found him innocent. ' Indeed. Time he paid for his sins like people should.
So much for that historic moment when a senior ranking official gets done for corruption for the first time since 1989 just to keep the EU happy. On paper perhaps but what good is that? That court ruling isn't worth the paper it's written on. Whilst our grandfathers in Romania took care of their families bravely and stoically before being taken to unthinkable prisons by the communists for crimes they hadn't committed and for beliefs that were tortured out of them at Pitesti, Aiud, Jilava and Sighet, this rat tries to wriggle out of a just sentence for crimes he DID commit in any way possible. A pathetic, miserable coward with no 'oale' to count.
Please see more on Silvia Colfescu's always-marvellous blog HERE, Stelian Tanase HERE, THIS from Schimbarea.ro, Capitalism pe Paine's blogpost HERE (hilarious!) and THIS PEARL from Simona Tache (all in Romanian). Other sites with articles deserving a visit: Revista 22, Romania Libera, Medlive and RTV (is this for real? It gives you the chills). For English, see Paul's blogpost HERE and this very funny (and informative - see comments too) article 'The Mysterious Case of the Suicide Attempt That Wasn't' on the 'I'm More Romanian Than You' blog.
I'll leave you with this, just as a parting shot - just coz Nastase got sentenced to a two-year jail sentence doesn't in any way mean that justice is alive and well in Romania...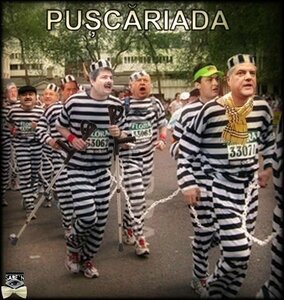 Image source: Sare'n ochi