(Image source) It's been a busy day in the Romanian news. I can hardly keep up. Most of it is pretty laughable, though some is repugnant. In fact, it's all both laughable and repugnant which makes it all the more...repugnant, if you get my jist.
Can't be bothered to write a blogpost on the subject of Ponta's plagiarism, though... If it is as he says and a dirty tricks campaign from Basescu's bunch, then I'm appalled for they have other more pressing things to be dealing with. If he really did what seems to have been proven that indeed he did, then he should resign forthwith, just as happened not that long ago with Pal Schmitt, President of Hungary and the Defence Minister Zu Guttenberg of Germany. Having protected his ex-minister of education (doesn't merit capital letters) from PROVEN accusations of plagiarism by firing the commission who found him guilty, Ponta has proven that he makes the law work for him at his bidding. He is happy to change legislation at the drop of a hat if it suits him. Resign? You must be kidding. He is far too arrogant and will blame everyone else for his own misdeeds.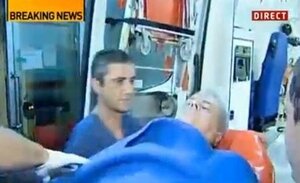 (Image source) Romania's once-Prime Minister, Adrian Nastase, was sentenced to 2 years of jail term today. To show us how impartial Ponta is, perhaps? He was handed the mandate at around 23h Romanian time tonight for his spell at the notorious Rahova prison. According to Mediafax, Nastase was so upset by the court's decision to jail him that he became suicidal and an ambulance team had to be called to his villa in str Zambaccian..... Apparently, he tried to shoot himself when he asked if he could go and get some books to take to prison with him, but a heroic policeman jumped in and stopped him. The news from various sources was all rather confusing after that until about ten minutes ago when it went from daft to nail-bitingly dramatic with reports that he really had tried to shoot himself - and when the policeman leapt in to stop it, the bullet grazed his neck. Reports varied from a bullet being stuck in his head, some said in the neck and others in the throat and shoulder - the human body is a lovely canvas for an adventurous bullet.... In any case, he was taken to Floreasca Hospital just down the road from his villa with a Burberry scarf wrapped round his neck (see image left from Mediafax) looking actually
rather well in terms of hue and reposed expression on his face. You will notice from the photos that there is no IV and no oxygen mask - odd for someone suffering from a so-called gun-shot wound. Even stranger is that in the photos you see here, there is absolutely NO trace of blood - and yet necks, throats and shoulders have a rotten habit of bleeding profusely. This is all the more bizarre as Antena 3 now says that he is in intensive care and will have to undergo surgery to remove a bullet. So, under the knife (apparently - nice ruse,if you ask me) to remove a bullet that no one seems to be able to locate - and if there is no bullet then why surgery? Of course, there is NO operation - but maybe, as someone mentioned on FB, Floreasca will be the first hospital to implant a bullet!!! Intensive care and didn't even need an oxygen mask in the ambulance. What a load of rahat...
Obviously, this has all been very carefully orchestrated - pre-planned with much care, and has fooled rather a lot of gullible people from what I see on FB and in my own e-mail inbox. Nastase is playing his role perfectly and really deserves an Oscar. But it's clear as day to me. Mr Nastase will be judged too sick to go to prison and will later be excused on grounds of nerves, anxiety, bodged harakiri, diabetes/cardiac problems/high blood pressure (why not throw in cancer, too as that's the usual diagnosis for would-be jailbirds) and a very terminal case of bullshititis... he'll be home within the fortnight... watch this space. I'm willing to bet a bottle of vodka that he will never spend more than a couple of days in the bowels of Rahova, if any. Talk about Opéra de Quat'Sous...
Wondering what will happen with Vantu now who was also sentenced today to immediate imprisonment for a year. Stand by for another episode... oh, if only Caragiale were here....
More vaguely amusing news of the day is that Udrea is now also accused of plagiarism. Just as well she's decided to take up motherhood to replace politics - hope she's better at motherhood... Why I find it funny I really can't say - possibly because the whole thing has become so ludicrous. Half of Ponta's cabinet is made up of a copy/paste brigade and now this. Isn't there a single minister in Romania who can write their own articles, theses, books and texts? I guess not. Diaconu, the guy whose work Ponta is said to have nicked, says he doesn't mind, isn't even interested that his work was copied. Pupincurism at its best. Of course, he purposely misses the point, which, for an intellectual, is odd. Tune in for the next exciting episode for this is, as you know, an epic saga.
Long live the BowTies and all power to them is all I have left to say, and with all my heart... Long live those who are battling for respect for intellect, culture, heritage and patrimony, with an end to these imposters running the country - these fakes who think they can ride roughshod over what good there is left.
Here's an article below from the BBC on the accusations of plagiarism against Ponta, saving me giving further details. The German press have been particularly scathing, I'm happy to say. Oh yes, it has gone around the globe with reports in the NY Times, The Telegraph, Independent Online, Le Figaro, Washington Post, Huffington Post, GlobalPost, CBSNews, Hotnews, LiveScience, ABC News, FoxNews, Montreal Gazette, Romania Insider, Frankfurter Allgemeine, El Mundo, France 24 etc etc... What a pity that when Romania once again hits international headlines, it is to report on something so shameful...
Romanian PM Victor Ponta rejects plagiarism claim
Romania's Prime Minister Victor Ponta has rejected claims that he plagiarised large sections of his doctoral thesis, which was published in 2003.
A report in the science magazine Nature suggests more than half of Mr Ponta's work was made up of copied text.
Mr Ponta has strenuously denied the allegations and resisted calls for his resignation.
He says the claims are politically motivated and says President Traian Basescu is behind them.
The British-based magazine says it has been shown documents by an anonymous whistleblower that shows that "substantial" sections of text on the workings of the International Criminal Court are "identical" to material written by other law scholars.
It says the evidence shows that more than half of the 432-page thesis for Mr Ponta's doctorate at the University of Bucharest was copied.
Continue reading the main story " Start Quote I am not mad about titles, I don't care about this one" End Quote Victor Ponta Romanian Prime Minister The study was published in book form in 2004, and also formed the basis of a 2010 book on liability in international humanitarian law.
A former PhD student, Daniela Coman, is named as co-author.
The magazine quoted Marius Andruh, a chemist at the University of Bucharest and president of the Romanian council for the recognition of university diplomas, as saying: "The evidence of plagiarism is overwhelming."
'Political weapons' Prime Minister Ponta says the bibliography lists the papers he consulted. He has pointed out the foreword has been written by Ion Diaconu, one of the writers whose work he is accused of plagiarising.
The prime minister said he was prepared to submit his work to the education ministry commission for checks.
"If the commission tells me I wasn't supposed to list the bibliography at the end but insert it as footnotes, of course I will give up my doctor's title immediately. I am not mad about titles, I don't care about this one.
"If this is a mistake, then I am willing to pay for it," he told a news conference.
There was "no way" he would resign, he added.
Victor Ponta became Romania's third prime minister in less than six months when his left-wing-dominated Social Liberal Union (USL) alliance took charge in May 2012.
The previous government had been unseated in a no-confidence vote, just two months after taking office.
Mr Ponta has vowed to fight "injustices" caused by austerity measures of the outgoing cabinet.
Parliamentary elections are due in November.
President Basescu has close links with the centre-right opposition Democrat-Liberal Party (PDL), and Mr Ponta told journalists that trust between the two leaders was "zero".
"You know very well this is a pretext of a political war between President Basescu and me, a war each of us leads with their own weapons," he said.
Officials in Mr Basescu's office have declined to comment.
Plagiarism charges have forced several European politicians to step down in recent months, including Romania's education minister.
Hungary's president and a German defence minister who was tipped as a possible successor to Chancellor Angela Merkel have also resigned over plagiarism rows.