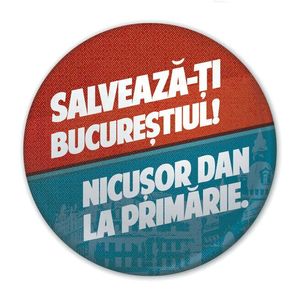 (Image source) This morning, I received an e-mail from Alexandre Almajeanu asking me to publish a post for him - any supporter of Nicusor Dan is a friend of mine. He says, "I'm Romanian born and come to Romania once a month. Recently I've seen your post about Nicusor Dan and I want to congratulate :-) I've joined the impulse too... I've decided to write a few lines taking position but as I have no blog, I kindly ask 2 or 3 local important bloggers to "guest" me for a post. Attached the text. If you consider it can help, please do not hesitate to publish on yours." So, here it is forthwith - thank you for taking the time to write to me, Alexandre.
"Nu am ca obicei să comentez politica din România. Pentru că nu urmăresc politica din România. Ca mulți din România și ca mulți români din afara ei, nu mă simt reprezentat de o femeie sau un bărbat politician nici în țară, nici în cadrul Parlamentului European.
Dar dacă nu ne ocupăm de politică, se ocupă ea de noi. Și, din păcate, știm cum.
De data aceasta, este vorba despre București, orașul unde m-am născut și unde revin cu plăcere, o dată pe lună. De fapt mă face de două ori fericit Bucureștiul: prima oară când mă întorc și a doua oară… când plec. Plec ușurat să știu că mă îndrum spre altă capitală europeană, unde pot merge pe trotuar, unde nu mă tem că un cățel l-ar putea mușca pe copilul meu și unde am alternative adevărate pentru a nu circula cu mașina.
Dar și Bucureștiul ar putea fi un oraș adevărat european. Este vorba de voință, de oameni și, din când în când, de alegeri.
Nu am ca obicei să mă laud cu banii pe care îi donez. Dar de data aceasta este vorba de Nicușor Dan. Și cum citesc așa de multe neadevăruri în jurul lui, am decis să scriu public că fac parte din cei, numeroși, care au donat pentru campania lui. Mulți bani pentru o țară ca România, dar puțini bani având în vedere ce posibilități au cei care «fac» de 23 de ani politică în România. Bani de dat, când ai, este cel mai simplu; cel mai frumos este tot timpul, prețios, pe care l-au dat, îl dau și îl vor da toți voluntarii care cred că și capitala României se poate schimba.
Suntem mulți români în afara țării care l-am vota pe Nicușor Dan, dacă am putea și care ne dorim să revenim într-un București schimbat.
Suntem mai mulți decât cred ei."
Please see also Silvia Colfescu's post Banii lui Nicusor Dan.