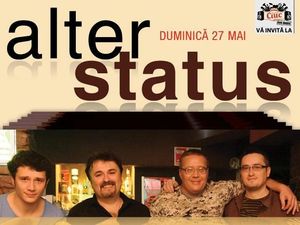 To all of you in Bucharest wondering what to do this Sunday evening to round off your weekend, here's a recommendation!
Take yourself off to True Club, Splaiul Independentei, corner of Selari (str. Franceza 52, sector 3) at 20h30 for a night of live music with Alter Status in concert.
With Radu Popescu (lead singer and guitarist), Razvan Dumitrache (lead guitarist and vocals), George Petcu on bass and Alex Petcu on drums, you'll regret missing what promises to be a great night of well-known pop/rock covers and perhaps some originals too - and all that in the ambiance of True Club in the centre of the Old Town. Yey!! I'd say you'd be well and truly spoilt!
Oh - and it's free entrance, too. Christmas come early!