17 mai 2012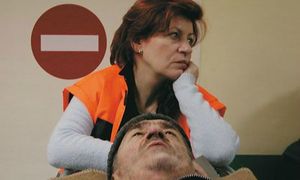 ("Intense realism": A scene from "The Death of Mr Lazarescu" Photograph: Tartan Films)
Romania is a gold mine of outstanding films. Cristi Puiu's The Death of Mr Lazarescu, Catalin Mitulescu's The Way I Spent The End of The World, Corneliu Porumboiu's 12.08 East of Bucharest, Radu Muntean's The Paper Will Be Blue, Ruxandra Zenide's Ryna, Cristian Nemescu's California Dreamin', and of course Cristian Mungiu's 4 Months, 3 Weeks and 2 Days come immediately to mind in terms of "Romania's new wave" films. If you haven't explored them (and so many others), then you're missing out on a treat. Of course, they are often terribly tragic, drenched in bleakness and melancholia, but they are also beautiful, sensitive and profoundly memorable. Exactly what one would expect from Romania's turbulent and, more often than not, painful, history. As Romanian film critic Eugenia Voda wrote in the early 1990s: "The Romanian cinema needs to start again from scratch. It has to regain a sense of everyday reality and it has to render truthfully an important slice of recent history which has been horribly falsified. A blast of neo-realism is practically a moral obligation for our cinema at this time in its history."
According to The Guardian's film blog, there was much speculation about what made the "Romanian new wave" special and there have been worries that the bubble might burst. How did Romania, one of the poorest countries in New Europe, manage to produce so many successful films? British critic Nick Roddick suggested that the Romanian film industry, such as it was, had no infrastructure and found it hard to produce films with larger budgets. The venerable David Robinson felt that the strength of the films was the way the directors made virtue out of necessity. Whatever the reason, fabulous films just keep coming and there's no sign of dwindling.
The Cannes Festival 2012 has just kicked off with the red carpet and ball gown brigade. It is wonderful to see that Romanian film directors are regular visitors there - and winners, too. Nothing has changed this year.
Cristian Mungiu's relationship with Cannes started back in 2002 when his debut film Occident was screened in the Quinzaine des Réalisateurs. Five years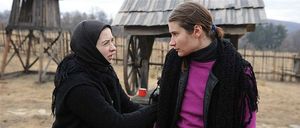 later, in 2007, he returned with the outstanding 4 luni, 3 saptamâni si 2 zile (4 Months, 3 Weeks and 2 Days - written more, I believe, to educate non-Romanians on life under communism than a Romanian audience) winning a well-deserved Palme d'Or. In 2009, Amintiri din epoca de aur (Tales from the Golden Age), a collection of court-métrages written by Mungiu and directed by him and others, was screened in the section Un Certain Regard. Since the festival has screened ALL his feature-length films plus some of his court-métrages, he promises to be a strong contender with his new film Dupa dealuri (Beyond The Hills).
Dupa dealuri is said to be based on the non-fiction novel "Deadly Confession" by journalist Tatiana Niculescu Bran, which documents the true story of a young novice, Irina Cornici, who died in 2005 after being subjected to an exorcism ritual (chained to a cross for three days) in the Moldavian monastery of Tanacu. Incidentally, the priest responsible for the exorcism and subsequent death of Irina Cornici, a certain Daniel Corogeanu, was sentenced to 7 years for murder in January 2008 and released in November 2011 for good behaviour. The case shocked Romania deeply, dominating the media for weeks, with one newspaper declaring "Romania in the Middle Ages!" on its front page - pretty justifiably, IMHO. The appalling story of Irina Cornici will live once again through 'Beyond The Hills'. And rightly so - it (and she) should never be forgotten. If a lesson wasn't learned from that grisly tale of ignorance and fanaticism, then the tragedy is all the greater still...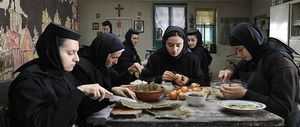 (4 photos left from "Beyond The Hills": source) A number of first-time actresses, with the exception of Valeriu Andriuţă who played a significant part in Mungiu's first feature, Occident, spangle the cast list of Mungiu's latest, including his two leads, Cosmina Stratan and Cristina Flutur
'Like "4 Months, 3 Weeks and 2 Days", the narrative of "Beyond The Hills" hinges on the strained friendship between two young women: Alina (Cristina Flutur) and Voichita (Cosmina Stratan) have been like sisters since meeting as children in an orphanage, but have been separated for several years following Alina's move to Germany. They reunite in a remote Romanian convent, where the newly devout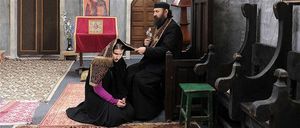 Voichita has made a home for herself - to the exasperation of Alina, who wants to take Voichita back to Germany with her. As Alina challenges the church for custody of her friend, the convent residents fear she is possessed and order an exorcism. It's heady-sounding stuff, but should afford room for both the director's keen political insight and grim sense of humor.' (Hitfix)
With five years having passed since "4 Months," the pressure on his next feature to deliver is pretty hefty: rumour has it, though, that he's pulled off something very special.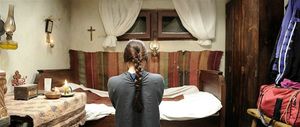 See here: CLIP 1, CLIP 2, CLIP 3 for a taster of what's in store.
'Beyond the Hills', filmed in Campina and Bucharest between November 2011 and February 2012, is produced by Mobra Films and co-produced by Why Not Productions, Les Films du Fleuve, France 3 Cinema and Mandragora Movies. It secured US distribution with Sundance Selects back in February, which suggests it should easily reach the same international 'arty' audience that was wowed by Mungiu's last film.
Keeping fingers crossed and both eyes on Cannes....
Update 27th May, 2012: The Cannes 2012 jury, headed by Nanni Moretti, has awarded the prize for best screenplay to.... Cristian Mungiu for "Beyond the Hills"!!!
Mungiu told Le Figaro: "behind my story are people who truly suffered. My prize cannot change that but it can help improve the future."
Judge Jean-Luc Wachthausen stated, "The first good surprise of this festival and, without a doubt, the most moving and the most original of the selection."
And that's not all - Cosmina Stratan and Cristina Flutur both picked up awards as best actress. BRAVO!!
"It's unbelievable - we're hardly off the plane! Thank you Cannes and thank you Cristian Mungiu," said one of the actresses to the clicking cameras and frenzied journalists.
Congratulations! And sooooooooo well-deserved!
The Palme d'Or was awarded to Austrian film director Michaela Haneke for his film "Amour". For more info on other awards and the festival in general, please see Le Figaro and Canal Plus,
Commentaires sur Romanian Cinema: "Romanian new wave" and Beyond the Hills...