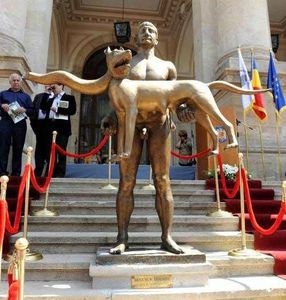 (Image source) I wasn't going to add to the already multiple articles on the controversial statue of Emperor Traian and the She-Wolf on the steps of Bucharest's National History Museum inaugurated last week by Sorin Oprescu, but... I just can't help myself and anyway, it's a rather amusing (if not hideous) diversion from what's happening in government right now.
Dear, oh dear, oh dear... The capital has been 'adorned' with so many eye-sores these last few years that it begs comprehension - Charles de Gaulle in Herastrau (the General looks like a butler), Nicolae Balcescu splashing about in the fountain of Piata Pache Protopopescu, the famous tooth-pick and the potato at Piata Revolutiei, Codre's plagiarised and frankly appalling Carol I in front of the Royal Palace on calea Victoriei, the indescribable 'Caragiale' at the National Theatre that defies any adjective I can think of and oh, so many more. Please see this superbly tongue-in-cheek post from Rezistenta Urbana for images and further info. It has been said that a city has the monuments it deserves. I don't know what on earth Bucharest did to merit such apologies in the name of art, but boy, it must have been pretty bad!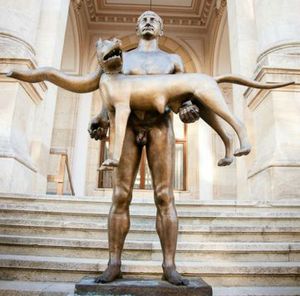 (Image source) The unflattering (and rather disrespectful) bronze statue of Emperor Traian in his birthday-suit holding the Dacian she-wolf by super powers of levitation (unless she just happened to be flying by which would account for the Biggles-style scarf flapping behind head and tail) has been a topic of dispute beween Bucharest City Hall and the National Museum of History, on whose steps the statue was plonked in the autumn of last year after having been under plastic wrap since November. A shame they removed the wrapping! Both tourists and Bucharesteans alike have flocked to see it, snapping away and posting their pix all over the social networks not because they think it's an incredible work of art, but because they simply cannot believe how awful it is.
The director of the National History Museum, Ernest Oberländer Târnoveanu, said the statue would not be there for long, despite the fact that it was legally placed there, with all the required approvals. It was okay'd in 2009 by City Hall and the Ministry of Culture (presumably along with Stefan Damian who was head of Heritage within the Department of Historical Monuments at the time) and recommended by academician Răzvan Theodorescu at a total cost of 200.000 lei. The tax-payers of Bucharest must be thrilled to see where some of their hard-earned money has ended up.
(Image source) A (sparse) few do like it, though. Mihai Oroveanu, director of the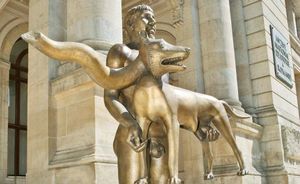 National Museum of Contemporary Art and president of the Public Monuments Commission told Mediafax: "It is a modern work, from one of our best sculptors, of an impeccable professionalism. […] I think these people would refuse even a Brancusi these days."
The statue was created by Romanian sculptor Vasile Gorduz (1931-2008) and is part of a series of three identical pieces, one in Seville (the nearest modern city to Traian's birthplace), and another in Rome. The statue in Bucharest completes this series, commemorating Traian's victory over the Dacians and the inclusion of the area that is 'roughly now modern Romania in the Roman Empire'. That may well be, but Emperor Traian looks anything but powerful and does little (actually, it does nothing at all) to inspire a sense of national pride. It does, however, inspire much finger-pointing, laughter and ridicule which wasn't really the aim.
Incidentally, 'Traianus Maximus Penibilis' (as it has become known) has made quite a mark in the international press - please see The Telegraph (very funny - same article appears in several other publications including France 24), Yahoo News, the BBC and Turkey's Hurriyet to name just a few.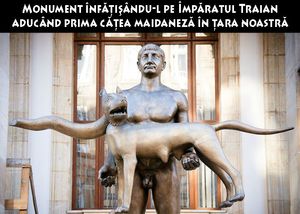 (Image: TNR) You can't be sure of much in Romania, but one thing you CAN rely on without risk of disappointment is the fabulous sense of humour. The satirical website Times New Roman (in Romanian) commented that "Bucharest's mayor has just inaugurated the first monument dedicated to Romania's stray dogs" (see image left - ohhh, how I chuckled!). A reader, Sousake, added his comment: "The orginal name of the statue was: Romanian man after paying his taxes." "I don't get it, the guy has no underwear but the stray dog wears a scarf, so is it cold or is it warm?" wondered NL on HotNews.ro. An excellent observation. "I suggest the statue should be called 'Centurion Biggus Dickus (as in Monty Python's 'Life of Brian') and the Levitating Dog'," wrote another. See also Catavencii and Latina vulgara on the 'Moshe & Mordechai' blog. The latter is really a scream. Nice one, Mordechai!
Joking apart, it would be a crying shame, however, if those that had never heard of Vasile Gorduz up until now were to judge him on his Traian trilogy. Gorduz was, indeed, an impressive sculptor and deserves respect for his work, rather than ending up the butt of hilarity and ridicule. What induced these three weird wonders is anybody's guess. Please see more on Vasile Gorduz HERE, HERE and HERE (an exposition at Mogosoaia) if you have a Facebook account and HERE if you don't. Take a look also at Gorduz's statue of Eminescu in Montreal, Canada - hard to believe it's the same artist.
And so the giggles and derision continue (see photos HERE) whilst the dispute rages on: should it stay or should it go? Those in favour of it remaining are understandably few and far between - no surprise there...